Dryer Vent Cleaning Kansas City
Allow the Certified Dryer Exhaust Technicians (C-DET) at Full Service Chimney to maintain your dryer vents. We've served as your local chimney sweep in the Kansas City Metro for over thirty years, now let us keep your dryer exhaust performing.
Need Dryer Vent Cleaning? 
We've helped thousands of families in the local community with their regular home maintenance services like Chimney and Dryer Vent Cleaning for over 32 years. We can help you too.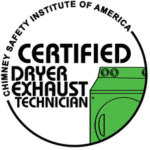 "Allow your trusted friends at Full Service Chimney to keep both your dryer and chimney safe and functional."
Robert Berry – Owner / Master Chimney Sweep
4 Reasons to Maintain Your Dryer Appliance:
Keep in mind, the value in having your dryer vent serviced.  Shorter drying times, longer life from equipment and reduced risk of a dryer fire.
The cost of having your dryer vent cleaned, could pay for itself in gas and electrical usage in a few months.
A dirty dryer vent clogged with lint and other debris can cause problems such as:
When was your last maintenance?
Why Dryer Vents Need Cleaned
The answer to "why clean your dryer vent" is in the understanding of what happens if your dryer vent is dirty or worse yet, your dyer vent is clogged. When the vent to the dryer becomes soiled with dryer vent lint or animal deposits it will overheat and slow down the rate exhaust exits your home. This creates a back pressure issue that will cause the vent (and dryer) to overheat.
The same heat that dries our clothes may create a dryer vent fire. You can find dryer vent safety tips here.  By hiring Full Service Chimney for chimney and dryer vent cleaning in Kansas City, we can help prevent dangerous or even deadly dryer vent fires from occurring in your home.
How Much Does it Cost?
Dryer Vent Cleaning service performed by a trained technician, costs $250 to $350. It takes a dryer vent cleaner about as much time as a chimney sweep and includes several steps to ensure the condition of the dryer vent is suitable for continued use.
A visit from a dryer vent cleaning service in a Kansas City home, typically saves the family the cost of the cleaning in utility costs in less than a year.
How Often Do You Need to Clean a Dryer Vent?
Dryer Vent Cleaning is needed every year, at least. Annual inspection and cleaning of a dryer vent is the recommended interval to this important fire safety maintenance.
The vent will clog with lint much sooner if:
The dryer vent is longer than 15 feet with two elbows
Excessive use of fabric softener is used in the laundry
The dryer vent connector is fastened together with screws, as they allow lint to collect much sooner than if they are properly connected.
Full Service Chimney was featured in a 41 Action News broadcast regarding devastating, yet preventable home fires caused by unclean dryer vents. Watch the video below to learn more about why it is in you and your family's best interest to contact Full Service Chimney for the most thorough dryer vent cleaning in Kansas City: