Johnson County Home and Garden Show 2019
Full Service Chimney will be attending the Johnson County Home and Garden Show 2019.  The event takes place on March 8-10 starting at 10:00am daily. Our Certified Chimney Sweep Technicians will be on site to answer questions about your chimney and fireplace needs. We can provide new ideas to help you get your homes hearth ready for action in 2019!
Join us at the Overland Park Convention Center on March 8-10, 2019
Show Days and Hours: 
Friday, March 8th 10:00am – 9:00pm
Saturday, March 9th 10:00am – 9:00pm
Sunday, March 10th 10:00am – 6:00pm
Save on Home + Garden Show Tickets
Receive discounted tickets with this Johnson County Home and Garden Show Coupon: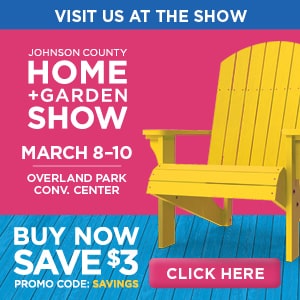 Buy your tickets online to receive up to $3 off by using the Promo Code: SAVINGS.
Doors open at 10 am.
See you at Full Service Chimney Booth #1101
See Our Display
If you've been to the Home and Garden show before then you already know we do
Fireplace Remodeling,
but it doesn't stop with design and rebuilding. What you may not know is that we are truly a FULL SERVICE Chimney Company and we do
darn near everything
 chimney, fireplace, and yes… we even service wood-burning stoves!