Your Certified Chimney Sweep, Chris, and his team completed this Prefab Fireplace Install in Overland Park, KS. The crew performed a complete demolition of the old fireplace, then
remodeled the interior fireplace system with a new facing
, a new firebox, and a new
factory built liner
. Ensuring the home's heating is up to code for safety and up to the homeowners standard for beauty.
The family can now enjoy the hearth year-round!
Project Details
After a
Level 2 Inspection
the project started with our Concierge sitting down with the customer and going over design options. Safety is our foremost concern, but for our customers, the end result must be stunning to meet expectations.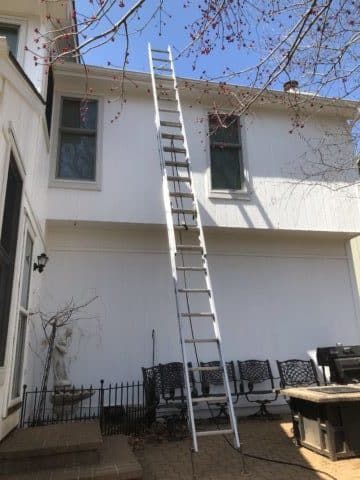 Ladder to Roof for Chimney Inspection
So together they reviewed some hearth and fireplace facing styles. With the ability to see and touch the stone veneer and other textures in person, it really helps create a new vision for the living room. Once the work was quoted and approved, our office and warehouse teams got straight to work on ordering parts and scheduling repair dates for the extensive chimney and fireplace repairs.
Our office and warehouse teams work together to make sure our repair crews are always set up for success!
Prefab Fireplace Install
Our repair technicians first assembled scaffolding on both sides of the house to access two chimneys on opposite sides of the home. Then, detached exterior siding and trim work, so they could start demolition on one indoor fireplace. Work Performed:
Removed old faulty piping
Demolition to remove old outdated tile facing and tile on outer hearth.
Removed defective prefab fireplace unit
Install new factory-built fireplace with 30-ft of new stainless steel piping
Rebuild fireplace facing and paint the trim
Removed damaged chase covers on two separate chimneys
Installed two new, custom-sized, stainless steel chase covers with storm collars
Installed a prefab chimney cap on both new prefab units
Removed and replaced siding/trim around the top portion of the chimney chase
Installed new siding and trim for a nice finish