Are you looking for a meaningful new career?
We're Always Seeking Talented Professionals to Join Our Growing Team!
Unlock a World of Career Possibilities
Here at Full Service Chimney™, we are dedicated to helping our team members grow professionally, personally, and financially. Our ideal candidates are team players on a mission toward personal and professional development. Excellent communication skills, quality work ethic, and dependability are a must for every member of our team.
We're a long-standing, family-run business with a fun and friendly culture. We maintain an "open door" policy with a management team who genuinely values new ideas, feedback, and employee engagement!
Full Service Chimney™ offers a competitive compensation package with unmatched benefits, earned job autonomy, and endless growth opportunities.
Invest in your future with a company that wants to see you succeed.
Did you know that the owner of Full Service Chimney™ was the first CSIA Certified Chimney Sweep in Johnson County? That makes us the "original" certified sweep to serve the entire Kansas City metropolitan area.
Full Service Chimney™ has been Kansas City's most trusted chimney and fireplace service company for over three decades. As a family-owned and operated business, we hold each inspector and repair technician on our team to the same professional education and training standard.
Full Service Chimney™ has worked hard to create an inclusive and nurturing company culture. You can expect to be treated like family when you join our team. Our primary goal is to help you become the best chimney inspector, chimney service technician, chimney sweep, or chimney construction project manager possible.
Each team member brings an additional attribute to our overall company experience. However, we all have some things in common, like dependability and a great work ethic. From our office to field staff, we work as a team of friends. In return for this dedication, we offer large company benefits in a small company setting.
No career is complete without a full benefits package. And at Full Service Chimney™, we know just how significant benefits are to our team members. That's why we have developed one of the most comprehensive benefits packages available in the Kansas City metropolitan area.
Upon hire, all repair technicians are provided a company work truck to use during business hours, required tools, work clothes, an iPad, and access to the full benefits package after a 90-day probationary period. 100% paid training starts on your first day, and reimbursement is also available for personal vehicle mileage when used for business purposes.
Some of the other benefits that you can expect include:
Medical Insurance (Health/Dental/Vision)
401K Retirement plan (3% Matching)
9-Paid Holidays
2-Weeks PTO in the first year
Tuition Assistance (*for qualified applicants)
Monthly cell phone stipend
Annual Performance Bonuses
Free Snacks and Beverages (all day-everyday)
Free Daily Hot-Lunch options
On-Site Gym
Major Holidays and Time-Off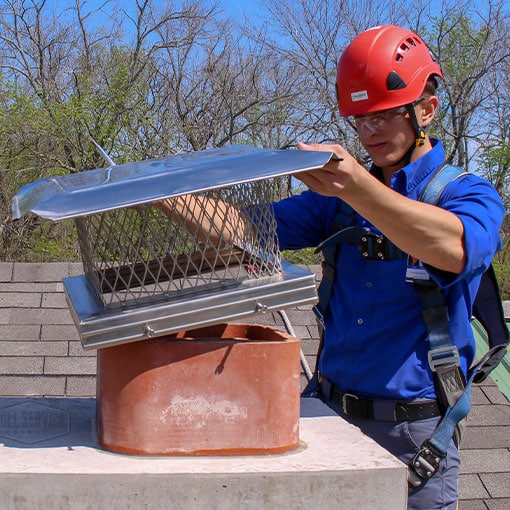 Military Friendly
On-the-Job Training
Service Members and Veterans Strongly Encouraged to Apply
Full Service Chimney™ understands the unique talents and skills that military service members and veterans have to offer to the Kansas City metropolitan area. For this reason, we strongly encourage individuals with military experience to apply for any positions posted by our recruitment and hiring team.
In our experience, the service members and veterans that have applied for our positions are hardworking, disciplined, and results-oriented. If you respond well to high-stress situations, can problem solve, and can make quick decisions, we want to help you explore career options at Full Service Chimney™!
Invest in your future with a company that wants to see you succeed.
Instructions:
Click a Job Description to read the full details of the position.
Click any  APPLY NOW  Button to submit the web application form.
If selected for an interview, a hiring representative from our team will attempt to reach out to you via email, text, or phone.
Are there other ways to apply?
Yes. We accept resume submissions; however, applicants are still required to complete the full application for employment. The best way to apply is to follow the apply now buttons from this page, upload your resume and complete the application.
Other easy ways to submit your resume:
TEXT  your resume to (913) 349-8828.

EMAIL

 

your resume
MAIL your printed resume to: PO Box 10144 Olathe, KS 66051
If you have problems, don't hesitate to contact us via our Text-Only Help Line: 913-349-8828.
Thank you for considering us during your career journey!
Now Accepting Applications
It's FAST & EASY to APPLY!
Click any open position title to view the full job description and apply directly. It will open a new site window where you can upload and submit a resume with your application.
Thank you for your interest in applying for a job with our company.
Do you like using tools, working outdoors, and the feeling of accomplishment after building something?
If so, we'd like to chat! Apply for your spot in a Registered Apprenticeship Program (RA) in Fireplace and Chimney Repair to take advantage of an explosive growth opportunity in an in-demand career field. Participating in this program ensures that you are trained to industry and company standards.  
Are you looking for a stable career with growth potential?
If you're a natural leader willing to get your hands dirty, we are hiring immediately for our Field Management Team. Every job is a new challenge, so you must be adaptable and comfortable with change. You must be committed to safety, familiar with business and construction procedures, and provide an outstanding experience to our customers.
Construction Job Openings in Johnson County, Kansas:
Hard Work is Rewarded at Full Service Chimney™
Full Service Chimney™ is your #1 chimney and fireplace inspection, cleaning, and repair provider in the Kansas City area. We are a family-owned and operated company committed to providing world-class services to our local communities since 1987.
Personal and professional growth is important to us. We offer career-minded people an opportunity to grow into a position that fits their skills. We give you the equipment and software you need, plus train you to use it. We're always looking for talented people with quality skillsets who want to find a long-term career, not just another J.O.B.