Your Trusted Local Specialist Since 1987
Schedule an Appointment Today!
4 Advantages of Gas Fueled Fireplaces
There are few things better than enjoying the glow, warmth, and comfort of a fireplace in the colder months. Typically, when you think of a fireplace, you imagine the classic wood-burning system, with loud crackles and that distinct smell of logs slowly burning; however, many homeowners have switched to gas fireplaces in many instances.
While both wood-burning and gas systems are great assets to your home, there are multiple advantages to installing a gas burning unit.
1. Low-Maintenance
Expert installation is the key to a safe and nearly maintenance-free gas fireplace. These fireplaces don't produce creosote, which means no clean-up is necessary! If installed properly, an annual inspection from a certified chimney technician is the only maintenance required.
2. Cost-Effective
Gas fireplaces can save you money on heating costs! If your fireplace has a zone heating feature, you can turn off your home's central heating and heat only the specific room you're relaxing in. Why spend a fortune on heating costs when you don't have to?
3. Easy to Operate
It only takes seconds to feel the instant satisfaction of warmth and comfort. Most gas powered models require simple remote controls, switches, or thermostats to turn the fireplace on. Of course, a wood-burning system requires a wood supply, extra time to start your fire, and frequent attention due to the risks of sparks and keeping the fire going over a long period of time.
4. Stylish
Many modern gas fireplace designs add to your home's style and aesthetic. From beautiful, natural-looking gas logs to color-changing fire glass crystals, the Full Service Chimney technicians will install a fireplace that is visually pleasing, cozy, and comfortable 24/7.
Your #1 Local Fireplace Experts
Installing gas fireplaces across the Kansas City Metro for over three decades!
Allow us to help you with all your hearth care & maintenance needs.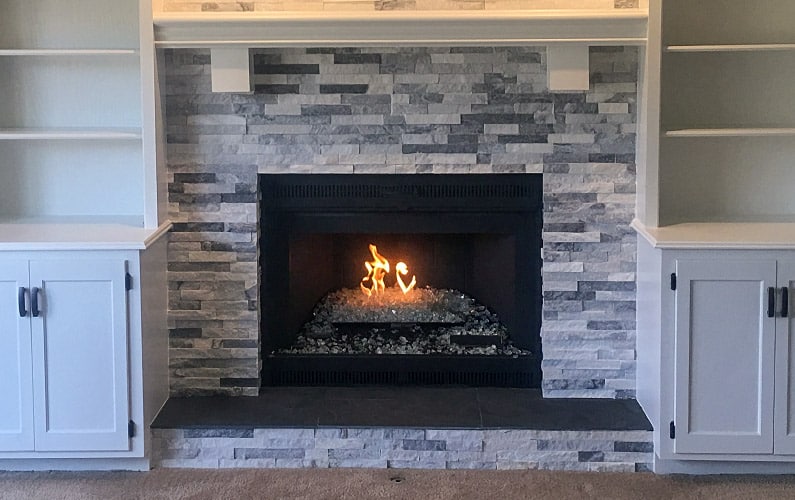 Gas usage in your home is both a lovely convenience and a serious responsibility. Full Service Chimney, Kansas City's chimney expert, has and will continue to be the trusted company of all of your gas hearth needs.
As with chimneys, maintenance and service are necessary for mechanical equipment to have a long service life. That is why when we install a new direct vent or gas logs, we schedule the first service appointment for the following year. That is one of the many ways Full Service Chimney brings quality service to the metro's home and hearths needs.
We Offer:
A grand selection of ceramic log sets, gas fireplaces, and inserts.
New Gas Log Installations; many take less than one day to install.
Many other decorative media options to choose from, like glass, stones, or lava rocks.
Remote control operation makes it easy to use
Regency, Napoleon, and Majestic are a few of the hearth products we carry.
Maintaining Gas Burning Systems
Today's gas fireplace systems are built with ease of operation in mind. Design components like the oxygen depletion sensor, flame rectification circuitry, thermocouples, and other features make your new gas fireplace a welcome addition to your home.
After spending three decades servicing and installing gas hearth products, we have seen the consequences of substandard installs or customers who decided to hold off on annual servicing.
There are two keys to maintaining your gas fireplace: Expert Installation and Annual Maintenance. Using only trained technicians for the placement of hearth products for our customers, we have developed a reputation for unparalleled satisfaction.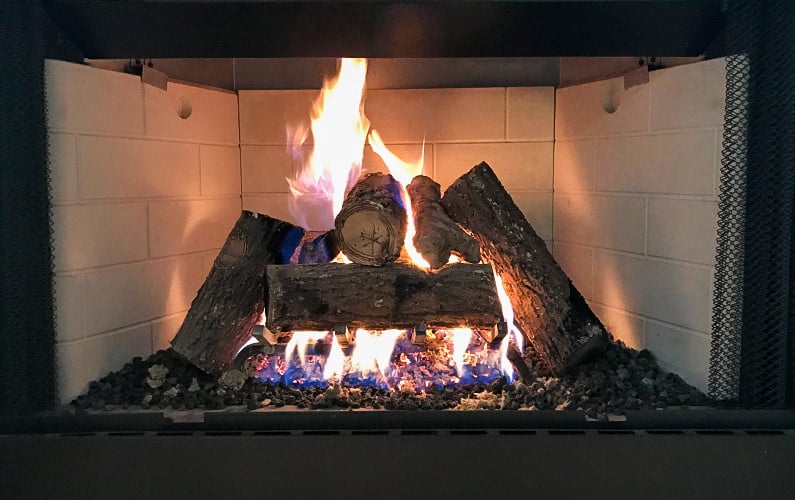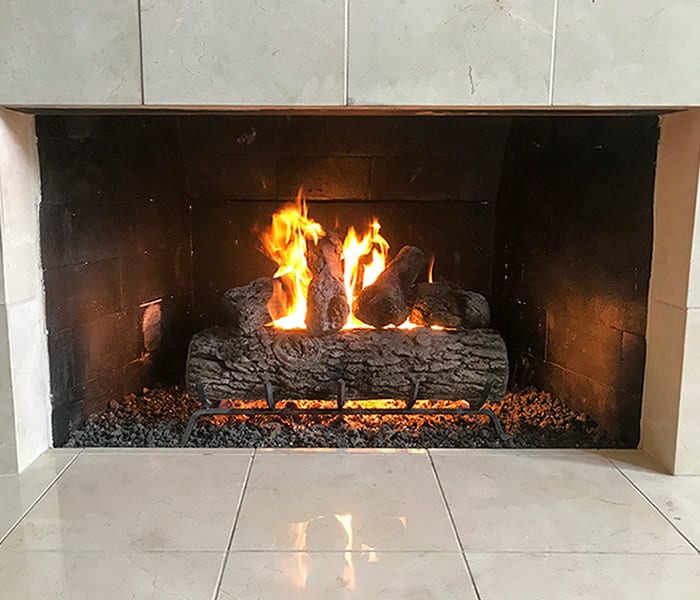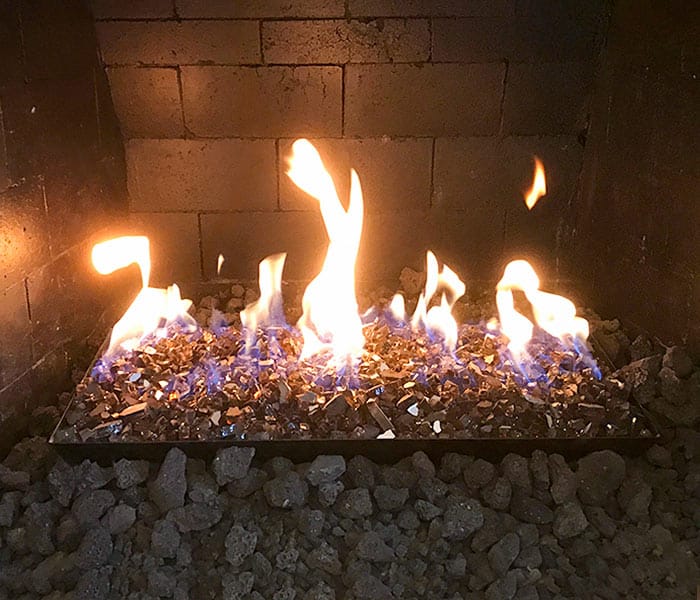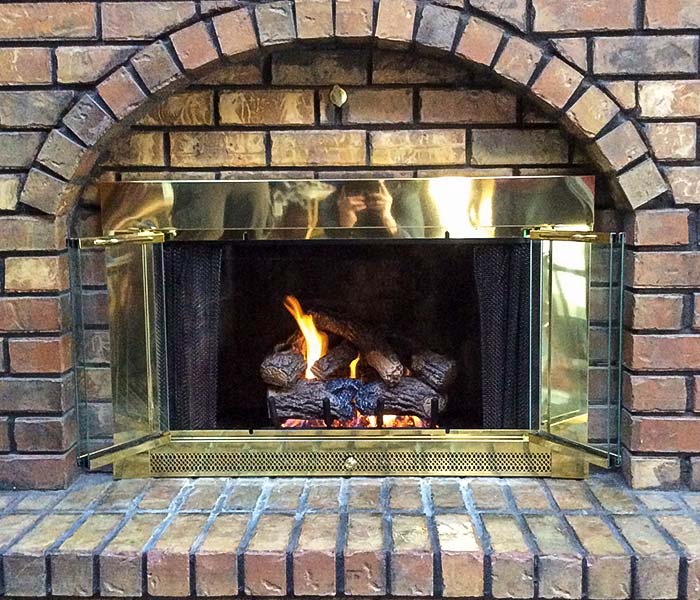 "First, I had my chimney inspected and Sam Berry did a great job of showing me what was amiss making my fireplace not safe to use. He used a camera that went all the way up to the top. He explained what needed to be done, and I agreed to have Full Service do the work. Accommodating my schedule, they came out a week and a half to 2 weeks later. Three very courteous guys arrived to do ..."
"Every step of the process from scheduling, getting an estimate, and ultimately with the on-site workers was professional, polite, and respectful of both my time and my family. Special kudos to Shane and his partner for their work. What was meant to be a 4-day job turned into 5 and easily could have been 6 or 7 if not for their hard work and determination to not only finish the repa..."
"Certified tech who is professional and very thorough. Before starting Chris explained what he would be doing and looking for both inside and outside of the house. He then provided a document showing each part of the fireplace/chimney along with recommended repairs. I will definitely use this company again."
"Great company! Knowledgeable, courteous and they clean up well. I was very impressed with the demeanor of everyone I spoke to on the phone, or at my house. They definitely know what theyÔÇÖre doing. I highly recommend using this company for cleaning or repairs to your fireplace or chimney."
"I was highly impressed with the printed inspection report I was provided that included pictures of our fireplace and chimney with the corresponding recommendations. Our unit was unsafe and the home inspection company missed everything Full Service Chimney found. We are so thankful we took the recommendation to use Full Service Chimney. That promptly ordered the parts needed to repai..."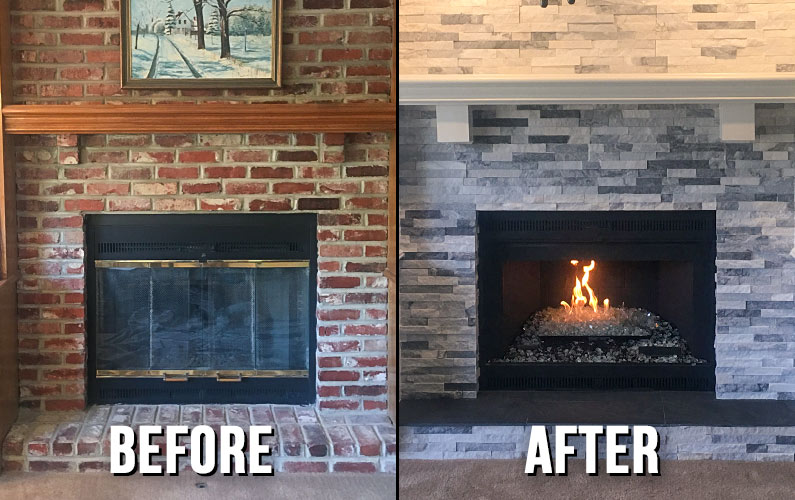 New & Improved
Updated gas fireplaces before and after remodel projects.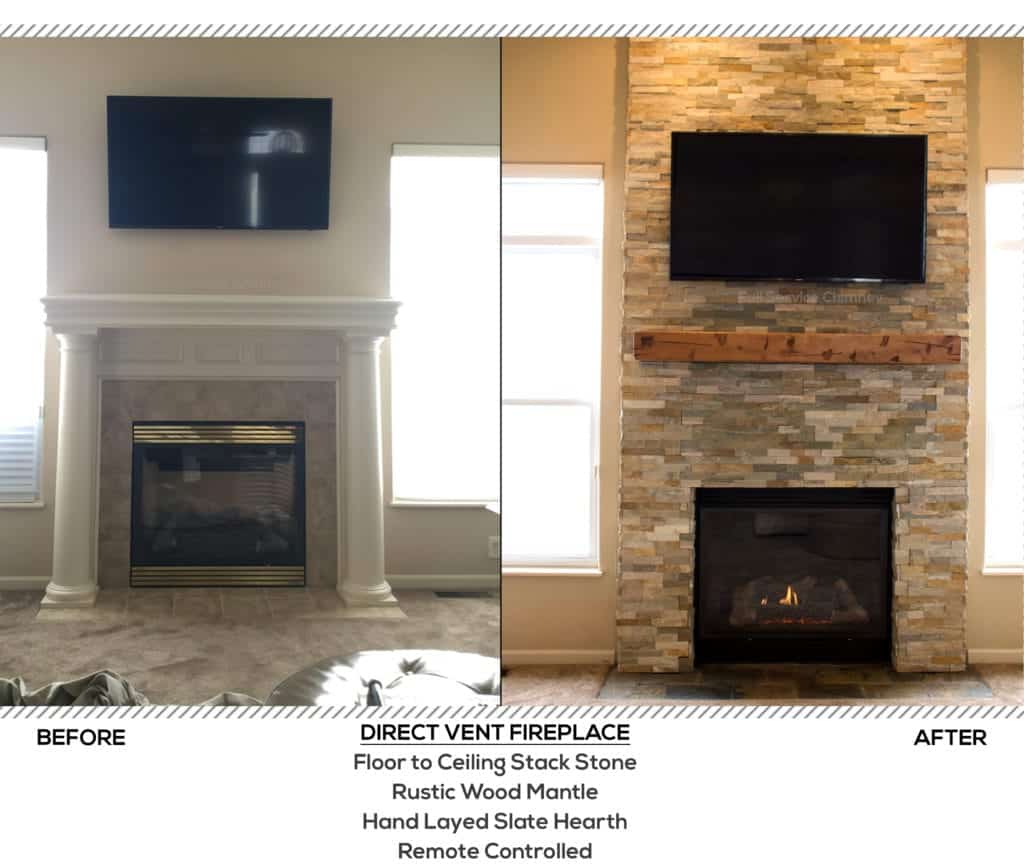 New & Improved
Remote Controlled. Direct Vent Installation.
When you're ready to put the ax away… try gas logs to make it easy!
Nothing changes the look and feel of a fireplace quicker or for less cost than a stunning set of gas logs. With the extra effort manufacturers are putting into making their gas logs more "tree-like," most people have trouble telling them apart from the real thing. Logs are no longer the only option; however, stones and glass beads are popular choices for a contemporary look.
Direct-vent fireplaces and gas inserts also offer various fronts and look that, regardless of if the family wants traditional or contemporary, there is a gas hearth product that's right for them. 
"Gas Fireplace is to Wood Fireplace, as Lightning Bolt is to Lightning Bug!"┬á –┬á Bob Berry
When it comes to the services and/or products for a wood-burning vs. a gas-burning systems, the processes are drastically different.
Gas hearth products include gas logs, gas fireplaces, gas fireplace inserts, and stoves. Due to the numerous performance and safety features, extensive inspection and delicate treatment of all components is part of our process.
Ready to Enjoy the Full Service Difference?
Full Service Chimney is always focused on customer satisfaction. We do that by using the highest quality materials and products. Our team of Certified Technicians offers the best installation services in the Kansas City area for new gas fireplaces and ceramic gas log sets.
There are unlimited hearth products available on the market today. Which is why we choose to partner with only the best brands and offer select models that deliver unparalleled performance without compromising beauty.
Not just the right products but the right team, for support, before and after installation.
If you simply want to better enjoy your fireplace or you are wanting something different for those special moments with family and friends, give one of our certified technicians a call today 913-642-6171. 
Describe your situation to us over the phone and see if we are not everything you need to become your "sweeps for life".
Your Best KC Gas Fireplace Professionals
Full Service Chimney sweeps have repaired,  installed, and serviced tens of thousands of fireplace/chimneys in the Kansas City area.
We'd love to help you too!