We Are Your Trusted Repair Specialist Since 1987
Schedule an Appointment Today!
Why Your Chimney Needs Roof Flashing
The #1 reason your chimney needs roof flashing repair to stop leaks before they start! Leaks in a home are the biggest complaint among homeowners, and water entry into fireplaces are absolutely the most common signs of a leaking chimney.
Water damage from your flashing leaking will lead to other critical problems such as:
ceiling stains
mold
roof damage
By keeping your chimney roof flashing in good repair, you can prevent a water damage now, and costly home repairs later.
Know the Different Types of Metal Chimney Flashing
How does installing chimney flashing help you protect your home from water damage?
First, let's cover how flashing and roof crickets are built.  Different companies may use various methods of construction or use different types of roof flashing materials to build your system. Long ago sweeps used types of lead flashing materials. We've also seen copper chimney flashing materials used but at Full Service Chimney we primarily use Stainless Steel or Galvanized Steel to construct our roof protection systems. 
How it's Made
Chimney and roof flashing is made of carefully cut and shaped sheet metal that is installed in the mortar joints of the chimney and between the shingles of the surrounding roof. Consider how caulking and weatherstripping help seal your home's windows airtight.
Flashing performs a similar job to water seal the union point where your chimney meets the roof. When constructed and installed correctly flashing is long-lasting.
Can Bad Chimney Flashing Cause Leaks?
Yes. You must understand, damaged or missing flashing causes more leaks into homes than all other chimneys/roofing issues combined.
You need a water barrier between the roof itself and your brickwork. When installed properly, brick chimney flashing will prevent leaks. 
Without sturdy flashing, water can enter your roof and attic, causing chimney leaks. When a chimney is built into your home, it must come through an opening in your roof.  If the chimney is not built to keep the water out, then it will use the same opening to allow water inside the home. Delay in repairs must be avoided. 
3 Types of Roof Flashing to Prevent Water Entry
There are three different types of flashing for roofs that need installed on your chimney to keep water out. Each is described in more detail below. 
The 3 Roof Flashing Types are: 
Step Flashing
Counter flashing
Roof Cricket 
Step Flashing diverts water from the roof away from the chimney.
Counter Flashing around a chimney prevents water from leaking into the home.
The added Cricket Installation stops water from ponding on your roof. See more details for each type of flashing below.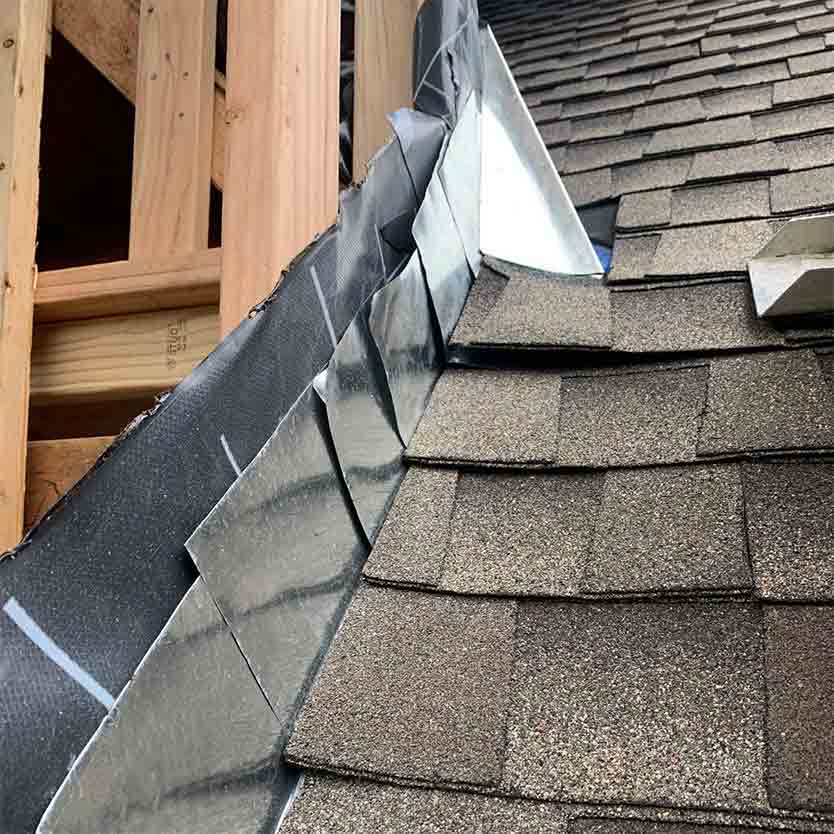 Step Flashing in Progress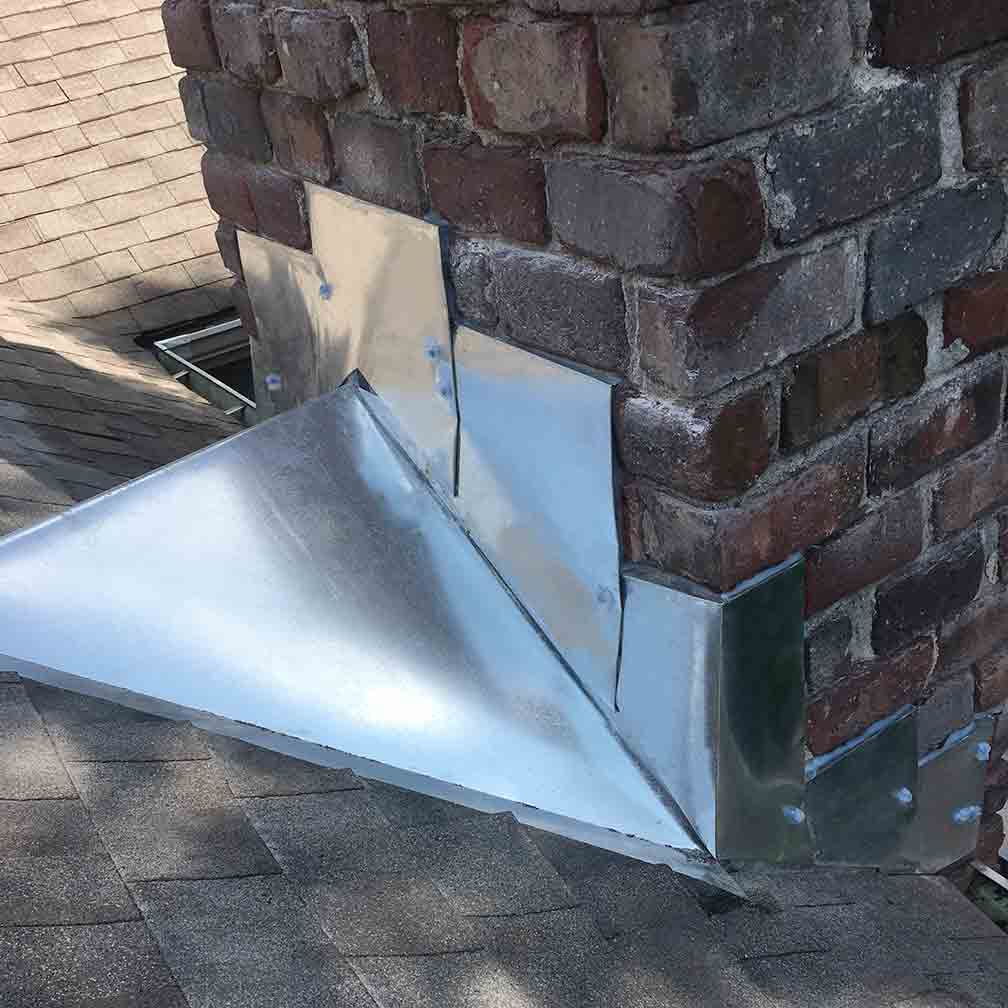 Step and Counter Flashing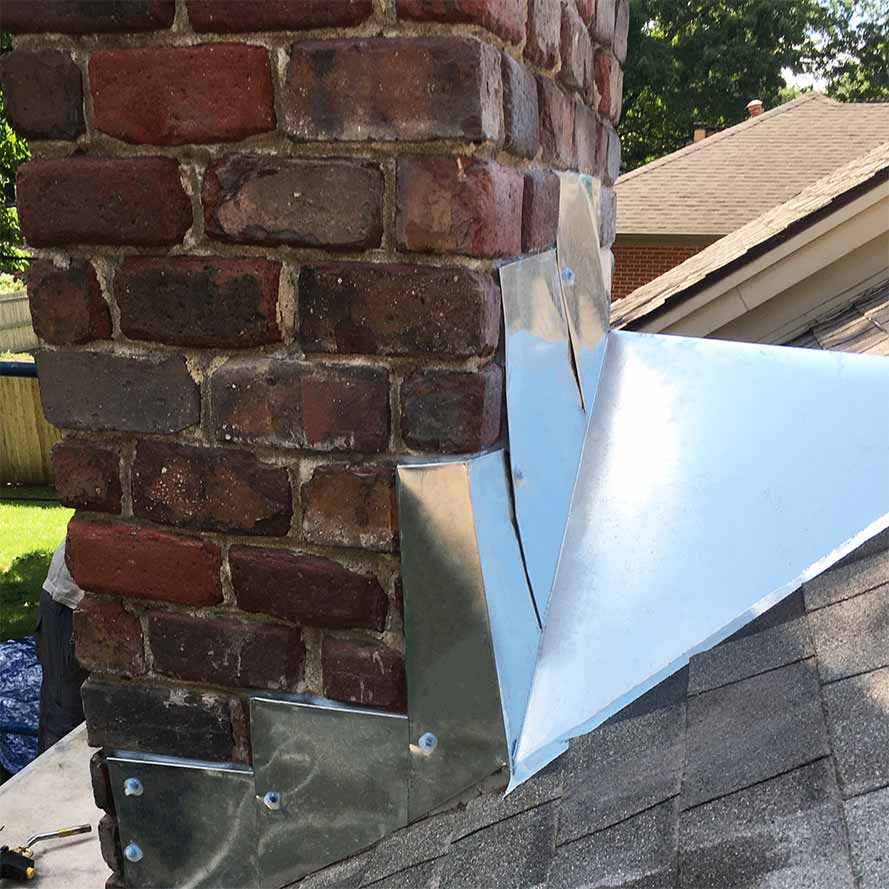 Step and Counter Flashing with Cricket
Find out what's wrong with your chimney with the Chimney Detective Tool!
How to Do Flashing Around a Chimney 
1. Step Flashing
As the name implies, the step flashing goes between the rows of shingles in steps. Each piece is bent to a 90-degree angle, allowing it to rest on a shingle and sit against the chimney's brickwork. Because roofing around the chimney is made up of many rows, each row of shingles must have its own piece of step flashing.
Step flashing ensures any water that flows past a shingle and then to the chimney is carried to the next roofing row and flows finally off the roof. When the step flashing is too short or nailed incorrectly, water gets through and leaks into the attic.
To properly install flashing on your chimney, we must first remove the shingles that border the brickwork.
Then, we'll replace the step flashing, starting at the lowest point of the roof, weaving together shingles and the flashing in the proper order.
2. Counter Flashing
Counter Flashing is installed after the step flashing. It has the job of directing rainwater that drains down the chimney's brickwork onto the roof and away from inside your home.
The trick to making counter flashing watertight is found in how it's made and installed. Built with a 90-degree tab inserted into a cut mortar joint and sealed in place, counter flashing installed in this fashion not only is watertight, it is very secure against the elements for many years.
3. Chimney Cricket
It's rare for a chimney to come through a roof's peak, so there is an opportunity for water to accumulate on the uphill side. When water ponds on your rooftop, even temporarily, it will leak. It's only a matter of time because shingles will always leak if water persists on them for too long.
Standing water on roofs must be avoided! Chimneys without the added component called a cricket (or saddle) always form a small pond of water when it rains. Crickets incorporate counter and step flashing in their design, but they solve water ponding problems by dividing the water uphill into two halves, directing the rainfall to either side of the chimney. If your chimney has a waterproof cricket, your home will avoid most chimney leaks.
A home's roof must drain the rainwater that falls on them. If they don't, the weight of heavy rainwater can cause the roof to collapse. Roofs are pitched or slanted to encourage draining water for this reason. If there is a chimney chase coming through our pitched roof, it becomes an obstacle to easy water flow! For this reason, the installation of chimney cricket flashing is a frequent repair.
A Chimney's Cricket is a specialty type of flashing for chimneys. It will divert the water flow on the roof, so rain is forced around your chimney, rather than against it. Ultimately preventing leaks!
Missing or leaky chimney crickets are so common that the IRC building code requires chimney crickets to be installed on all chimneys 30" or wider. If you're experiencing leaks around your chimney, especially on the high roof side of your chimney, a cricket may be what you need.
Trust Your Local Chimney Experts
Our Certified Repair Technicians can install new or replace worn out flashing to fix your leaky chimney problems. Your leak protection systems are fully tested before every project is complete.
Servicing homes across Kansas City for over 3 decades! We can help you too!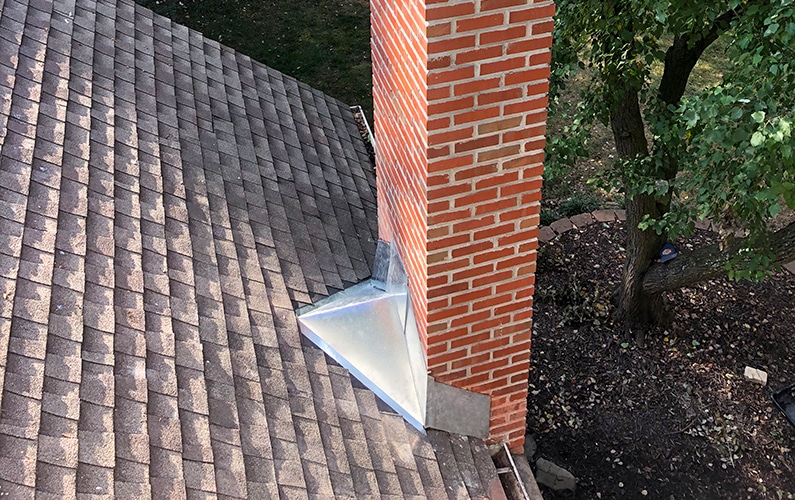 Common Problems that Lead to Chimney Flashing Repairs
1. Water Leaks Into Chimneys That Don't Have Proper Barriers Installed
Proper Chimney Flashing serves as the only water barrier between the roof and your brickwork to help prevent leaks. Without sturdy flashing, water enters the roof and attic causing chimney leaks.
Avoid this problem with professional waterproofing, a well-built chimney crown constructed properly. Our leak repairs are tested rigorously before completion.
2. Your Original Flashing is Old, Worn Out, or Damaged
Repairs and replacement must be performed once it's compromised due to age or injury. If damage is allowed to remain, further leaks and damage to the structure and your home will result.
3. Missing Chimney Crickets Allow Water Inside a Home
Draining rainwater accumulates on the uphill side of your chimney, this area will cause the roof / chimney to start leaking. A "cricket" is a Metal Chimney Saddle that diverts cascading water to either side of your chimney. Protecting your roof from ponding water.
"I did call Full Service Chimney to ask for advice regarding my old chimney as I was considering to buy a wooden stove to heat the basement. overall the service was very efficient, professional and friendly. They explain the different options to me in detail and now I have a better understanding of what I can and can't do and also the current condition of the chimney. I will recomme..."
"Great company! Knowledgeable, courteous and they clean up well. I was very impressed with the demeanor of everyone I spoke to on the phone, or at my house. They definitely know what they're doing. I highly recommend using this company for cleaning or repairs to your fireplace or chimney."
"The crew was great. Very pleasant and workmanship was great. Will recommend very highly."
"All around excellent service I have nothing bad to say about this company."
"We hired Full Service Chimney to repair flu's in three fireplaces at our lake house that were built incorrectly and would never draw the smoke, hence for 5 years we rarely if ever used them. Now they all three work perfectly!! These guys are incredibly professional, reliable and they communicate effectively every step of the way. When I wrote the last check (not a small one) I c..."
Call the Flashing Repair Experts Near You
Full Service Chimney sweeps have repaired and replaced chimney systems in the Kansas City area for over 3 decades. Let us help solve your leak problems with a new installation or by fully replacing your flashing. Call us today!