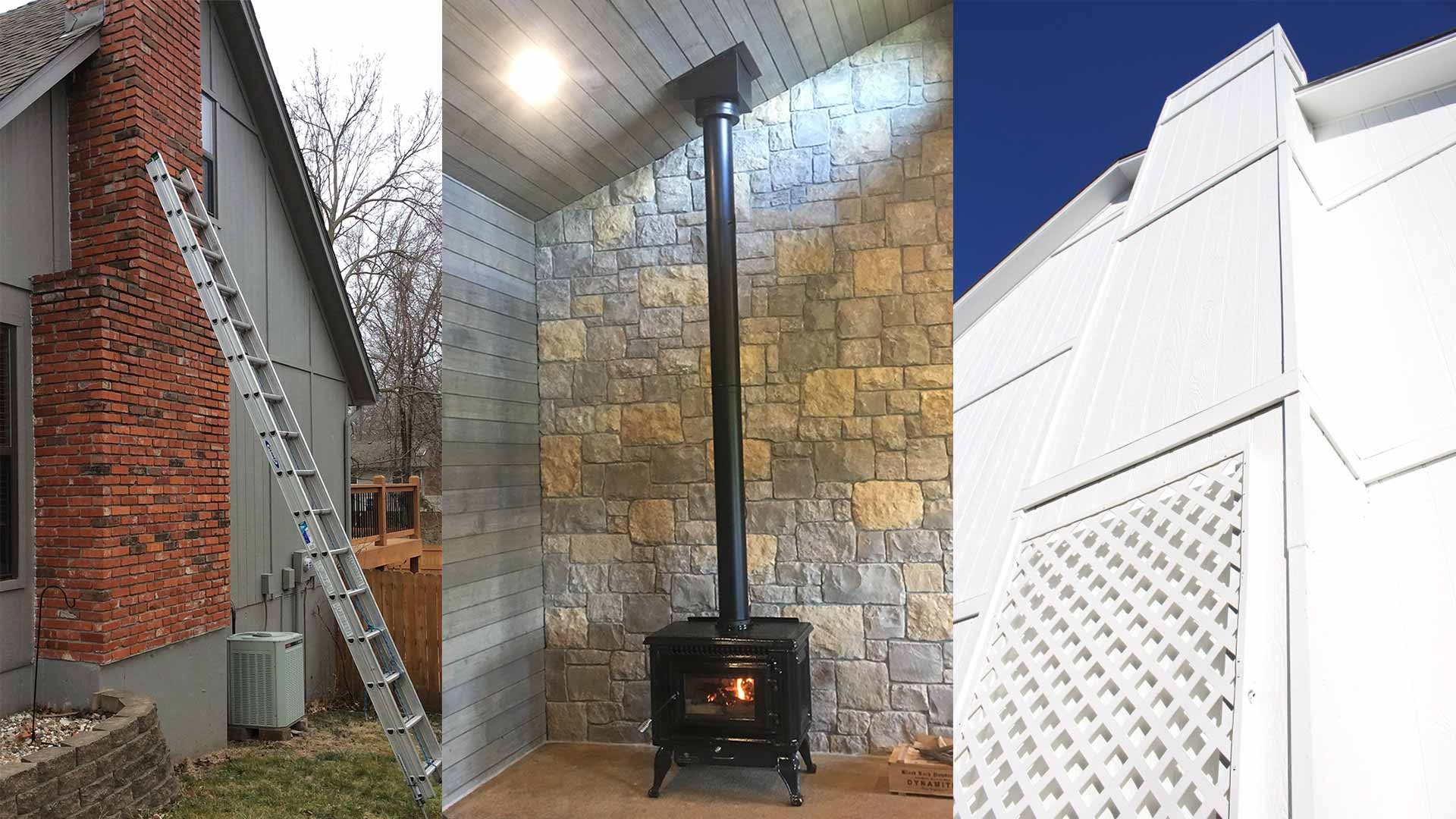 Chimney Types: Compare Masonry, Prefab, & Stoves
Types of chimneys and their different styles will vary across geographic areas of the world, and even look dramatically different across the nation depending on the type of house or roof, but the fundamentals of how the systems operate are the same.
Considering visual elements this page will not discuss the different styles of chimneys but rather common titles used to describe the various types.
The information on this page is for reference and to be used as an educational resource for understanding the basic types of chimneys. While not an exhaustive list, these are the most common words used to describe chimneys, in our local area. 
If you're looking for information on the complete system, then check out our full list of parts on our Chimney and Fireplace Anatomy page.
TABLE OF CONTENTS
3 Types of Chimneys:
*CAUTION: DO NOT attempt to fix your own chimney. If you think your system is not operating properly contact a professional immediately. If there's fire, smoke, or you think you smell gas, call 911 or the appropriate emergency responders for your location.
Different Designs = Different Parts
Different types of chimneys are referred to by different names. When searching online you may notice some types of pipes used in chimneys have a variety of different labels but may appear to be same part.  This is where professional certifications become important. The components used to help a fireplace function properly are NOT always the same and the elements vary per type of system.
There are different types of fireplaces and each with a different style, so it makes sense that the parts used to build each system and its chimney are designed differently. Certain parts are not interchangeable and we always recommend hiring only certified technicians to inspect or repair the chimney systems for your fireplace and/or gas appliance utilities.
If you're looking for information on utility flue chimneys like those connected to your furnace or water heater, then please visit one of these pages: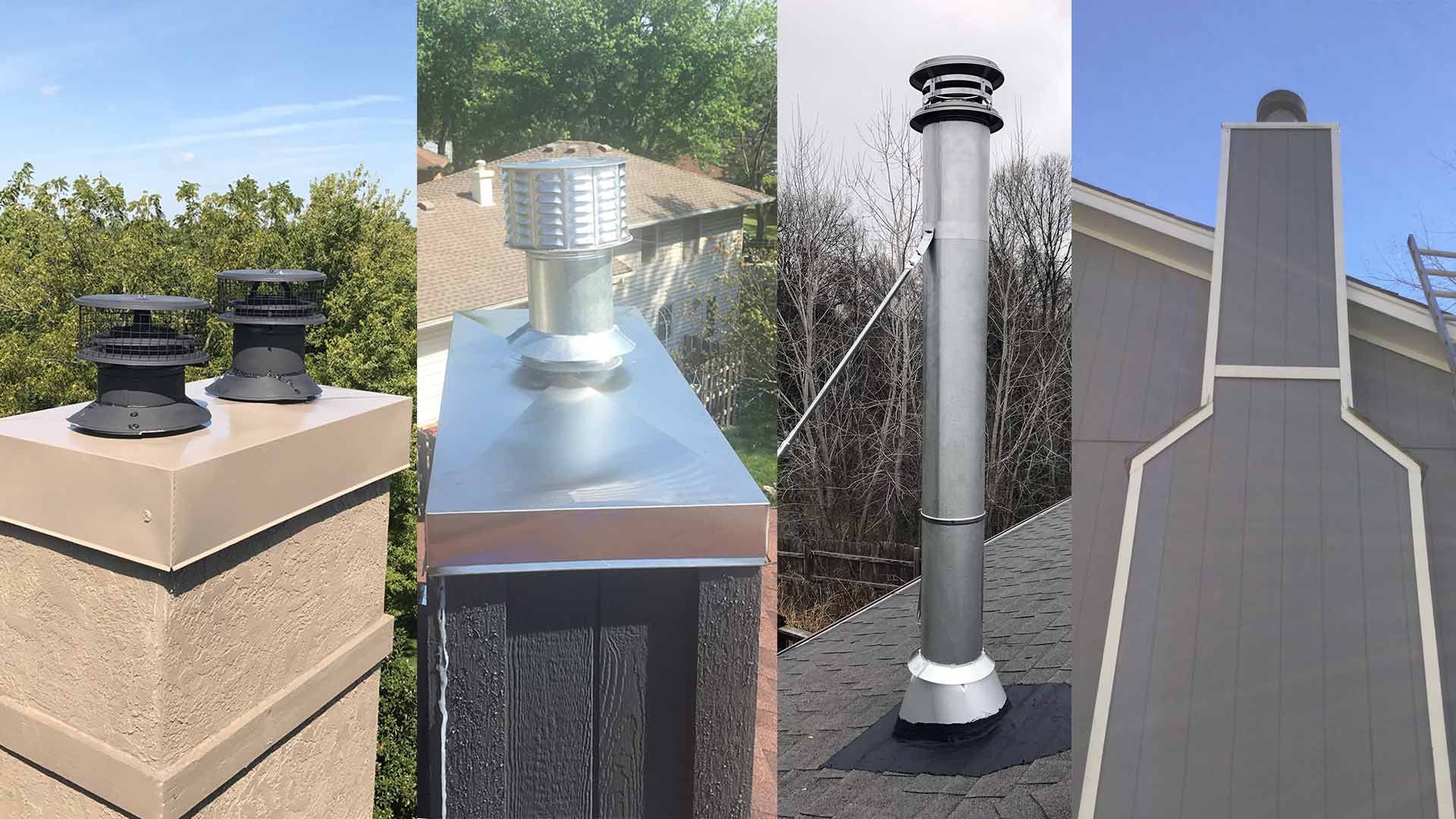 A factory-built or prefabricated type is a metal chimney and this type is typically made of stainless steel and can be double or triple walled. Older air-cooled chimneys used three walls and a thermosyphon design to bring outside air in and back out again to keep the chimney from getting too hot and catching the chimney chase on fire. Double-wall air-cooled chimneys introduce cooling air into the chimney pipe outer wall just above the fireplace, this air is expelled just below the chimney cap at the top of the chimney. 
Prefabricated
A prefab fireplace must have a prefab chimney. All parts of a prefabricated system are manufactured in a factory and later assembled at the job site. The prefabricated chimney type is a metal flue pipe system designed to vent smoke out of the house. Prefabricated units function similarly to a brick-and-mortar masonry system, but the design and cost are where they differ. Prefab chimneys offer the ability to vent a wood-burning fire and are made of sheet metal (stainless steel and galvanized steel) rather than thousands of pounds of masonry.
Factory-Built
Factory-built chimneys are the same as "Prefabs" and/or "Prefabricated". It's a less commonly used phrase outside of industry professionals or parts vendors. Factory-built systems have been around since the 1920s. Their popularity has only grown into the most common method of adding a fireplace to a new home. New factory-built chimneys are subject to stringent testing to ensure, if installed to instructions, are safe and functional for the home's residents. But just like their masonry counterparts, they have similar maintenance requirements and even some drawbacks.
What is the Difference Between Class A and B-Vent?
If you've done any research on how a chimney vents then it's likely you've stumbled upon the phrase Class A Chimneys or B-Vent Pipes.  As mentioned above, there are significant differences between systems and the types of pipes used in their construction and/or installation. Understanding the nuances of each chimney type as well as its' unique parts and purpose is critical to your family's home safety.
CLASS A
The purpose of a Class A Chimney is to vent high-temperature exhaust from wood-stoves or other appliances such as a furnace or boiler. Class A pipes are used with all types of fuel, and for that reason are often called "All-Fuel Pipes". Often referred to as Double or Triple Wall Pipes as well as Insulated Chimney Pipes.
B-VENT
B-Vent Chimneys are metal pipes used strictly for gas appliances. Often still used by contractors but is becoming less common. We've seen these pipes called many things online. Often b-vents are referred to as "Class B" or "B-Class", "natural vent" or a "Type-B".
WARNING:
B-Vents should not be used with coal or wood-burning systems. Whether you have a gas or wood-fueled system, a Chimney Installation is never a DIY project.
Always call a Certifed Professional who knows and will follow all necessary building codes.
Air-Cooled vs. Insulated Chimneys
Chimney pipes come in different types and varieties but you should never mix and match brands. It's best to trust your local certified professional when it comes to choosing the proper chimney pipes for your home. When it comes to factory-built fireplace systems, not all parts are engineered to be compatible. Mixing brands creates unnecessary fire hazards. 
Common factors used to determine the right pipe for your chimney:
type of fuel used
area weather conditions
in-home position of the fireplace
proper and available clearances
budget or price range
What we've discussed so far are mostly hidden parts that aren't always seen, with the exception of by the contractors and handy homeowners.
Now let's talk about the visual elements of a factory-built unit. These are parts of your chimney that people can view extending from the roof of a home: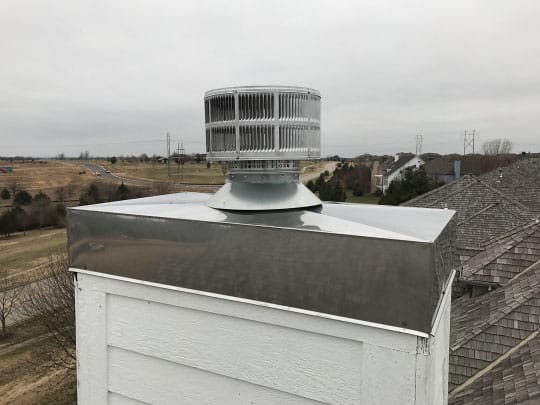 Chase Cover = Chase Top
The metal cover that is installed on top of the wood-framed chase is called the chase cover. These metal chimney coverings are also commonly referred to as "chase tops".
No matter what you call it, the purpose of your chimney top chase cover helps protect the top from rain and acts as a fire prevention device to stop sparks or embers from landing on your roof. When installed correctly, essentially eliminating that as a fire hazard.
Wood Framed Chase
Many modern homes are designed with a chimney that blends in nicely with the house. When metal prefabricated systems (factory-built) are installed in a home they're often concealed for an aesthetically pleasing look that can increase the resale value of your home.  The system is encased in wood framing and often finished with siding that matches the house. This is called the Chimney Chase. For obvious reasons it is commonly referred to as the "wood-framed chase".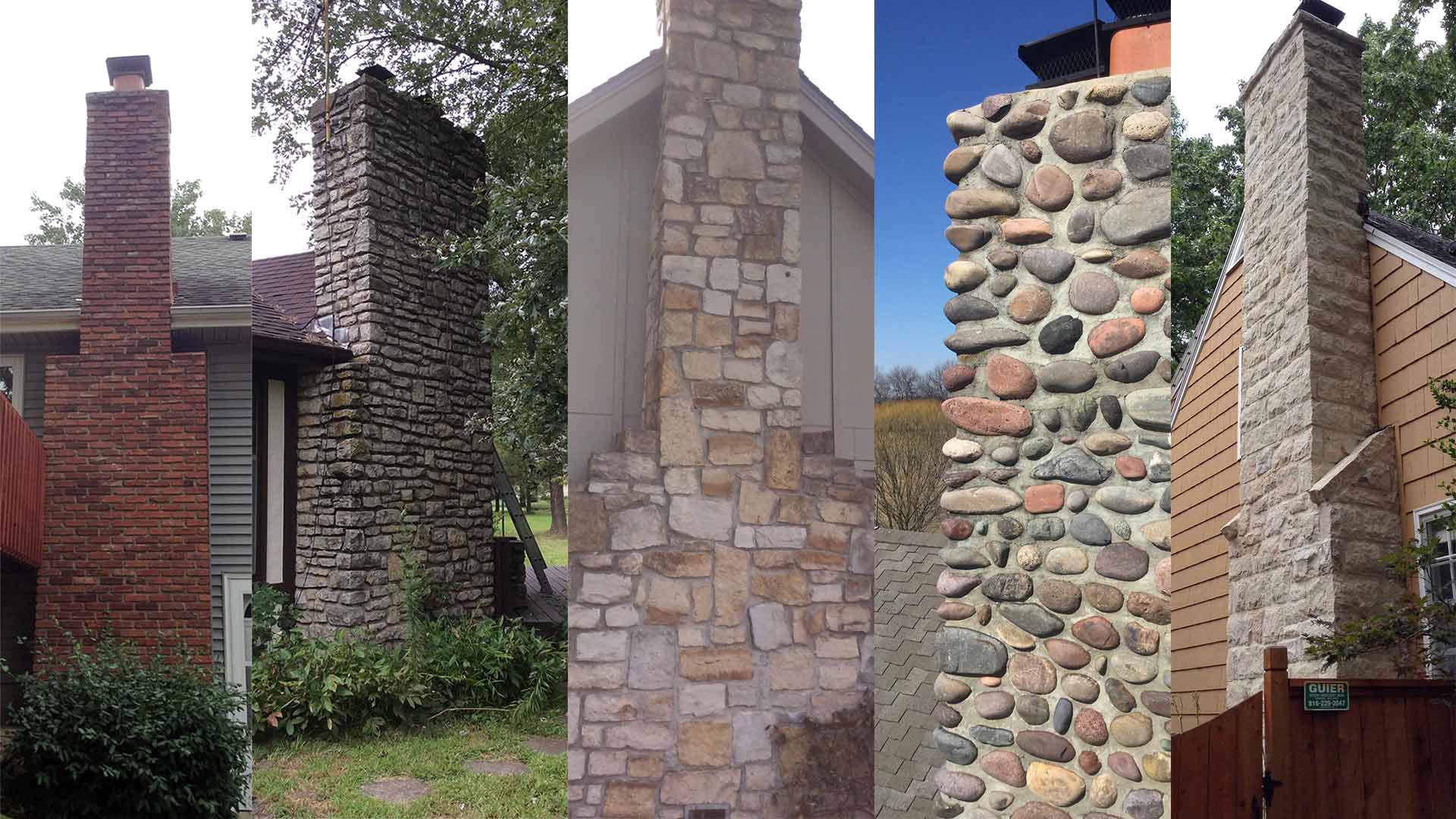 Masonry Chimneys are likely the style most people see in their minds when they think of a fireplace. Brick or stone masonry work is what makes the traditional dwelling structure that's served as a smokestack for most fireplaces throughout history. These often remarkable stacks are not just fine craftsmanship but the type of heating system that's kept families warm for thousands of years.
No other type of chimney venting system offers the same sort of longevity and style as a masonry chimney does. When kept in good condition, a well-maintained masonry chimney can provide thousands of dollars worth of value to the home it serves.
Brick & Mortar Construction
Masonry Chimneys are a kind of chimney that is built on-site from accessible, non-combustible materials. Assembled or constructed using bricks, blocks or stone, and always mortar. These components are weather-resistant, capable of handling medium temperatures, and extremely durable. When brick and mortar chimneys fail, it's often due to misuse, poor original construction, or flawed design.
Masonry Chimney Types have the following characteristics:
square or rectangular terra-cotta flue tiles, often one or two feet in length
the crown on the top row of brick is cast mortar or cement
a deep foundation of blocks, stone or reinforced concrete
a pyramid-shaped smoke chamber roughly as tall as the fireplace opening is wide, bridging the flue tile liner to the firebox
a rectangular cast iron fireplace damper, in the throat of the fireplace, located below the smoke chamber
firebrick in the firebox, hand-assembled with high-temperature refractory mortar
an iron or steel grate, wider in the front than the back
a steel or cast iron lintel at the top of the fireplace opening
When well maintained, these types of masonry chimneys can last for hundreds of years. All too often, however, these brick or stone structures can suffer from freeze and thaw damage caused by water soaking the porous surfaces. Lightning and flue fires are also to blame for the early demise of brick chimneys! Learn more about our Masonry Repair and Tuck-pointing.
Masonry Chimney Inserts
Fireplace inserts are a special type of wood, gas, or pellet stove and are specifically designed to fit into an existing open masonry fireplace. Since the insert must be smaller than the fireplace opening, there is usually a surround panel attached to the stove which extends out around the fireplace opening to seal the firebox from room air.
Stainless steel or other specialty liner systems should directly connect the stove to the top of the chimney, but many do not.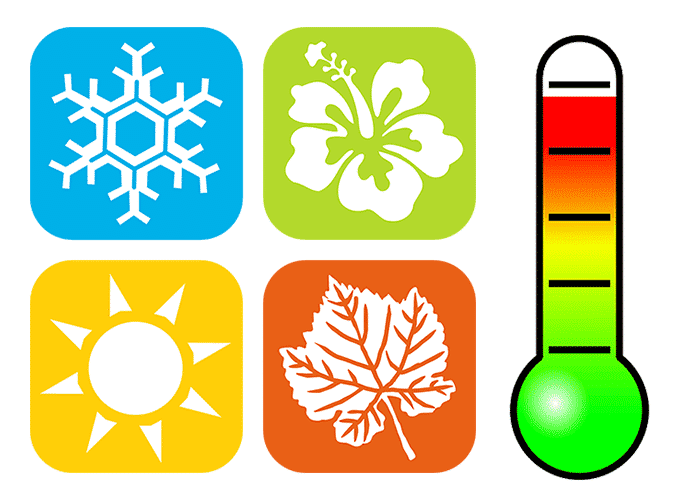 Water from rain, if allowed to freeze, will fracture the tiny crevices that are common both in bricks and mortar structures. If a soft or defective brick is used, the chimney can have a lifespan of only a few decades. Waterproofing treatments will help but are often applied much too late.
Types of Freestanding Stove Chimneys
Freestanding stoves can be connected to chimneys built especially for them. The chimneys may be of masonry construction or be a factory-built metal system that's been designed, tested, and listed for use with wood-burning appliances.
The 3 types of freestanding stove chimneys are:
If the height and position of the stove's flue collar permit it, then freestanding stoves can also connect to an existing fireplace chimney. With this type of installation, the stoves may be called "Hearth Stoves".
System Compatibility
Since Freestanding stoves now have the option of gas, wood, or pellet-burning it's important to know that some types of chimneys are designed only for appliances that burn certain fuels. For instance, it could be disastrous to connect a wood stove to a chimney designed only for a specific fireplace. Also, any adaptations to your venting/burning system i.e. glass doors, chimney caps, etc. should be approved by the manufacturer.
Summary | Factory-Built Prefabs vs. Brick Masonry
Whether you're building a new home, are in the market for converting your current fireplace, or are buying a new house that has a pre-built system installed your options are likely not as set in stone as you might think!  Just remember no matter which type of chimney you currently have or want installed, you'll need an annual inspection to maintain its value and confirm it's safe for use.
Let's recap what we've learned with a comparison of masonry and factory-built systems:
PREFABRICATED
Prefab systems may only last 10-30 years, at best. When repairs are needed, parts must be replaced and that's the biggest drawback to the type of chimney system that is constructed in a warehouse. Parts for factory-built type chimneys are often discontinued and not available after 10 or so years. This means when repairs are needed, then the system will often have to be removed and completely replaced.
While the initial price of a prefab may be inexpensive, keep in mind the cost is usually repeated in about 20 years.
BRICK MASONRY
Brick Masonry systems will often need repairs, but with proper upkeep, a chimney constructed of brick masonry can outlast even the home itself because they are sturdy and substantial structures. With a regular maintenance plan and a qualified repair team, your brick chimney can stand the test of time.
The choice is yours. Just remember that all chimneys that burn wood, gas, or propane will require annual cleaning and inspections.
Thanks for reading!
Now that you know all about different types of chimneys, why don't you head over to the blog and check out all the action…
Our Memberships & Accreditations