Your Trusted Chimney Inspector Since 1987
Schedule an Appointment Today!
10 Reasons To Inspect Your Chimney
1. Verify Safety & Function
A fireplace needs to function properly in order to be safe to use. A Chimney Inspection is recommended yearly to help maintain a working chimney and fireplace venting system.
2. Missing a Cap
If your chimney is missing a cap, then you need an evaluation. Caps keep animals and debris out of your chimney. To prevent damage, you'll need a cap, and that starts with an inspection.
3. Prevent Animal Entry
Animals love chimneys. Squirrels, raccoons, bats, birds, and more. We can help stop animals from getting inside your chimney and fireplace.
4. Diagnose Issues
Fireplace problems come in many forms. From chimney leaks to downdrafts, we can help detect the issues and diagnose the problem. Then we solve it.
5. Detect Hidden Problems
Responsible homeowners know annual maintenance is necessary to keep a home safe while you live there and the property value up if you ever decide to sell.
6. Change Fuel Source
If you'd like to switch your gas fireplace to woodburning or convert a wood fireplace to gas, then you need an inspection to make it happen.
7. Troubleshoot Water Leaks
Water is one of the worst things that can happen to your chimney. Stay ahead of it by hiring a chimney inspector to evaluate your home from the chimney to the fireplace.
8. Chimney Flue Fires
If you've had a flue fire in your chimney, then your home insurance may pay for your chimney inspection, cleaning, and possibly repairs.
9. Weather & Seasonal Damage
Wind, water, lightning, and heavy storms can wreak havoc on your chimney over time. Annual inspections can help minimize the need for major repairs.
10. Masonry Repairs Needed
If your chimney or fireplace has noticeable damage to the brick or stone masonry, then it's time for an inspection. The earlier we catch damage the more you'll save on repairs.
Get fast and reliable chimney issue diagnostics with the Chimney Detective Tool!
Meet Your Chimney Inspection Team 
If your home has a fireplace or gas utility appliances, then it's likely you have chimneys that need a yearly inspection and maintenance servicing. 
Full Service Chimney™ Inspectors help you maintain your chimneys year round. Serving the Kansas City Metro area since 1987.
We have a full team of Certified Professionals dedicated to your service Monday-Friday 8am-5pm. Give us a call at 913-642-6171.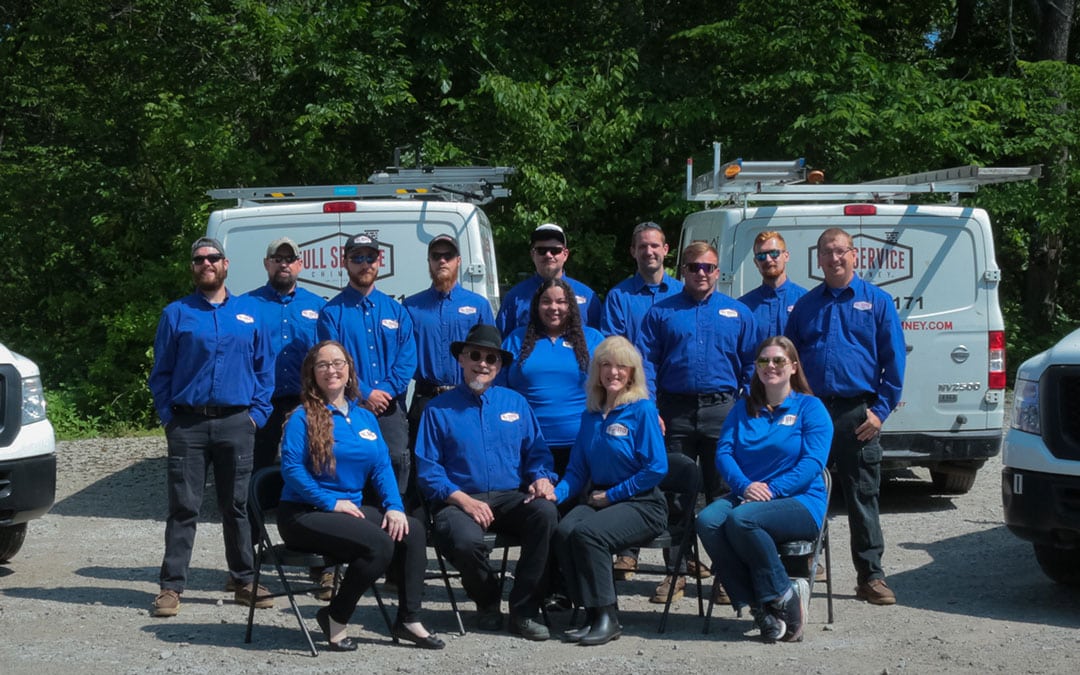 We Offer 3 Levels of Inspection
At Full Service Chimney our Certified Chimney Inspectors offer three levels of inspections, providing homeowners the necessary chimney service depending on their level of need.
If a chimney inspection reveals a repair is needed, then your Full Service Chimney sweep offers options for chimney repairs, depending on how the fireplace will be used.
Level 1
During a Level 1 Inspection, we check your chimney and fireplace for blockages and the readily accessible portions of the system and give the hearth space a fireplace inspection.
Level 2
A Level 2 Inspection includes a video evaluation of the chimney flue liner, to ensure the condition of the chimney flue liner is in serviceable condition. When warranted, your certified chimney sweep can also perform an examination of the hearth and chases using U.V. technology.
Level 3
A level 3 inspection of a fireplace/chimney would dictate the removal of concealing material and determining the condition of otherwise unseen portions of the system. While level 3 evaluations are more rare, they do happen occasionally.
*Level 2 Chimney Inspection is the most common evaluation we perform for local Kansas City area residents. Accessible areas of your basement, attic, and roof are often the places our Certified Chimney Inspector will visit during a level 2  chimney inspection.
Book a Chimney Inspection today!
Your Inspection Report Matters
When called to evaluate a fireplace and chimney or gas chimney, our Certified Technicians first discuss with you how you're enjoying the fireplace and your plans for the venting system. We take the time to understand any issues you're having.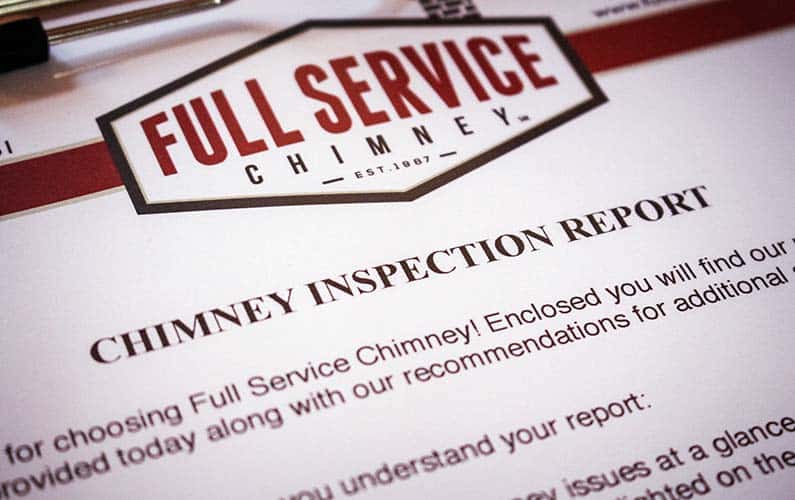 Then, using a multipoint process, covering various parts of the chimney and fireplace, we evaluate and take photos. Depending on the type of evaluation warranted, the appropriate level of inspection is performed. This simple process allows your Chimney Sweep to troubleshoot fireplace problems and help you find the right solutions.
Your chimney is only as good as it's inspection report. – Robert Berry | Owner & Master Chimney Sweep
Do We Need a Chimney Inspection?
Annual chimney and fireplace inspections are just as important as having your chimney swept regularly. Chimneys, like the rest of our homes, develop issues from use and exposure to the elements.
Your Chimney flue liners and hearths may have changed since they were originally installed. These changes can lead to a fireplace smoking into the home and causing dangerous indoor conditions.
Full Service Chimney provides the proper inspection with every chimney sweeping visit.
Stay Warm & Cozy with a Fireplace that Works When You Need it Most!
Responsible homeowners know the health of a fireplace's chimney system is just as important as whether or not it's clean.
Why? Because using a masonry fireplace or gas chimney without knowing its safe is an unnecessary risk!
To keep your homes fireplace and gas appliance chimneys working properly, then you need a chimney inspection at least once per year. 
Choose a Certified Inspector 
A Level II is our most common level chimney Inspection. However, say you're interested in changing your fireplace. Converting wood to a gas fireplace is a common fireplace remodeling project. The Level 2 Chimney Inspection is appropriate. If after a Level II chimney inspection, it is discovered that an unsafe condition may exist in a concealed area, we will suggest a Level III chimney inspection.
Our staff makes getting a quote for your fireplace's chimney cleaning easy! Call 913-642-6171 to speak with a Certified Sweep today.
"I highly recommend Full Service Chimney for anyone needing a Kansas City Chimney Sweep. Following a routine chimney inspection the experts at Full Service Chimney quickly identified a major defect in the utility flue system in my chimney. Due to the severity of the situation they adjusted their schedule to get the repair team onsite as soon as possible. My top two concerns when d..."
"Very thorough. Excellent photos of exterior & interior of the chimney. Tech walked through the issues with recommendations. Answered all my questions in good detail. Iliked them well enough to agree to gas log installation. I also like the fact they are locally owned & the initial conversation was with one of the owners."
"Full Service Chimney came exactly when they promised to, repaired my chimney and charged exactly what they had bid. They are also very nice people."
"Super friendly, professional and efficient!"
"We used Full Service Chimney for the first time and I could not be more pleased. They are professional, thorough and most of all they provided excellent customer service. They explained everything in detail and are working with us on some needed repairs. I highly recommend them to come out and service your fireplace. Thank you Full Service Chimney for your professionalism and fo..."
Chimney Inspections in 
Kansas City
Full Service Chimney provides fireplace & chimney inspections in Kansas City and surrounding area.
Local families have trusted us to help maintain their chimney & fireplace systems for over three decades. We can help you too! Call us to book an inspection today.