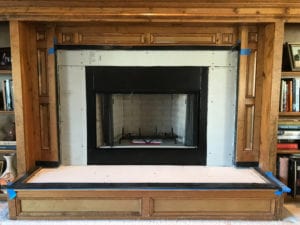 Fireplace repair and maintenance is essential to ensure you have many enjoyable evenings by the fireplace hearth. If we allowed it to fall into neglect, our chimney and fireplace could be a liability to your health and home. 
Call 913-642-6171 today. 
Check out a few common problems and solutions below to decide if your fireplace and chimney could benefit from maintenance or repairs by one of our Certified Chimney-Fireplace Repairman.
But first…
What is the Purpose of a Fireplace?
Although simple in appearance, the beauty and warmth of your chimney's fireplace is a carefully engineered appliance, one that if maintained, has the potential to last over 100 years.
First and foremost, our fireplace has two jobs:
Keep the heat in the fireplace firebox from nearby combustibles (walls, mantle, flooring, etc).

With the chimney's help, carry the fireplace smoke and exhaust up and out of the home.
Time spent by the fireplace is an unmatched pleasure when shared with loved ones. Don't let a delayed fireplace repair make your time by the fire a dangerous risk.
We, at Full Service Chimney, will make your fireplace the cozy hearth it was meant to be with the same quality repair service Kansas City has counted on for over thirty years.
7 Common Problems & Fireplace Repairs
1. Chimney Soot or Creosote Build-Up
Fireplace creosote and soot are a common source of fireplace and chimney problems. The use of a wood or gas fireplace will produce smoke, carbon monoxide, water vapor, soot and/or creosote. If allowed to build up, chimney soot and creosote can become a chimney blockage and chimney fire hazard. Along with causing fireplace smoking problems and risk of a chimney fire, creosote is very acidic. Creosote can damage fireplace chimney liners and connecters.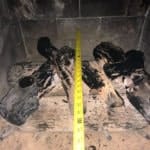 Fireplace soot can make a mess of fireplaces and gas logs. Often fireplace soot is unavoidable, but with gas fireplaces soot is a sign of a serious chimney safety issue, requiring fireplace repair service. Your fireplace needs an annual fireplace cleaning and chimney inspection to avoid making fireplace repair necessary.
2. Water Leaking into Firebox from Flue
Chimney and fireplaces are susceptible to water damage and chimney leaks. A leaky chimney can cost a homeowner thousands of dollars in damage and the aggravation of a water leak in the home. Fireplace water problems begin as chimney leaks, and it takes the expertise of a Certified Chimney Inspector to determine what fireplace repair is needed. The chimney cap, chimney flashing and chimney waterproofing need to work together to keep the fireplace safe and dry.
Full Service Chimney, Kansas City's fireplace repair and chimney service professionals are experts at finding and fixing leaky chimneys.
Call 913-642-6171 for help today
3. Firebox Damage
Your fireplace firebox is made up of firebrick or fireplace panels. Both have a long service life if protected from chimney leaks and are not injured from over firing the fireplace. If you do discover firebox damage, then fear not!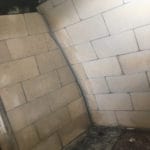 Fireplace Repair in the Kansas City metro, is quick and easy from your Full Service Chimney professionals. By ensuring the proper firebricks, fireplace panels and refractory mortar is in place, installed by Certified Chimney Sweep technicians, your fireplace will be ready to burn in no time.
4. Broken Dampers Need Fixed or Replaced
A Chimney Fireplace Damper serves as a "valve" to close off the fireplace flue when not in use. This ensures that after a fire is enjoyed, you can minimize heating and air loss by closing the fireplace damper. A broken fireplace damper is a common fireplace repair for the fireplace repairmen of Full Service Chimney. Often, we can offer flue damper repair or install a top sealing chimney damper on your first visit.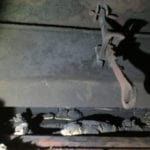 5. Gas Systems Need Regular Maintenance
Gas fireplaces and gas logs need fireplace service as often as wood-burning fireplace chimneys. Gas logs and gas fireplaces are common in the Kansas City Area, and their popularity isn't slowing down. We at Full Service Chimney are gas fireplace maintenance experts and have installed gas logs and gas fireplaces for the last 30 years. We service gas fireplace products on a daily basis. Ensuring your gas logs and gas fireplace stays beautiful and functional for years to come.
6. Smoke & Cold Air Coming Down Your Chimney
Smoke leaking from your fireplace and cold air coming down your chimney are common fireplace problems that every hearth lover has experienced at one time or another.
Many times, fireplace repair or replacement of the fireplace glass doors and screens make all the difference with cold fireplaces and smokey chimneys.
Fireplace Screens and Glass doors may become damaged and discolored over time. Often Fireplace Glass Doors Replacement is due to appearance, but fireplace screens and glass doors serve a safety function as well. Fireplace screens help keep embers and sparks from escaping the fireplace while enjoying your fire. Glass doors allow the fireplace to be closed, as the fire is dying down to embers.
Full Service Chimney Service, your fireplace & chimney repair experts, helping Kansas City for over thirty years.
7. Remodeling For Aesthetics & Safety
Fireplace Remodeling and replacement is often your choice when a prefabricated fireplace is outdated or has outlived its ability to reliably provide chimney safety and performance. Many older prefabricated fireplaces do not have replacement fireplace parts available and some older fireplaces lack the ability to be repaired due to their design. 
Allow a Friendly Fireplace Repairman from Full Service Chimney to pay you a visit and explore options for chimney repair or fireplace remodeling project. We Can Help You Create the Hearth of Your Dreams.
How Much Does it Cost to Replace a Fireplace?
New Prefabricated Fireplaces can be purchased at a big box store for around $500. The professional installation by fireplace repairmen is where the bulk of the expense will be. Considering the enjoyment of a new fireplace and chimney will bring, and the added value they add to your home, a new fireplace doesn't cost you as much as it gives.
Trust the Kansas City Fireplace Repair Professionals.
Full Service Chimney sweeps have repaired and replaced ten's of thousands of fireplaces and chimneys in the Kansas City area. We can help you too!
Call us today at 913-642-6171
"It's unavoidable. Fireplaces, like all mechanical equipment, must be maintained to ensure both safety and performance."
Robert Berry – Owner / Master Chimney Sweep