We Are Your Trusted Repair Specialist Since 1987
Schedule an Appointment Today!
What is the Purpose of a Fireplace?
Although simple in appearance, the beauty and warmth received by a fireplace require it to be a carefully engineered appliance that, if maintained properly, can last for over 100 years. 
At Full Service Chimney, we work to make your fireplace the cozy fixture it was meant to be with the same quality repair service that the residents of Kansas City have counted on for over 35 Years.
Your Fireplace Has Two Jobs
Keep heat in the fireplace firebox from coming into contact with nearby combustibles like walls, the mantle, and flooring.
With the chimney's help, the fireplace carries smoke and exhaust upwards and out of the home for safe operation.
When to Replace Your Fireplace?
Fireplace replacement is often the only choice you will have when your prefabricated or outdated fireplace has outlived its ability to provide reliable performance and safety. Unfortunately, many older prefabricated fireplaces do not have replacement parts available and some older fireplaces lack the ability to be repaired due to their design.
Whether you just want to update the look or need to protect your home from fire danger when in use, Full Service Chimney can help meets your needs.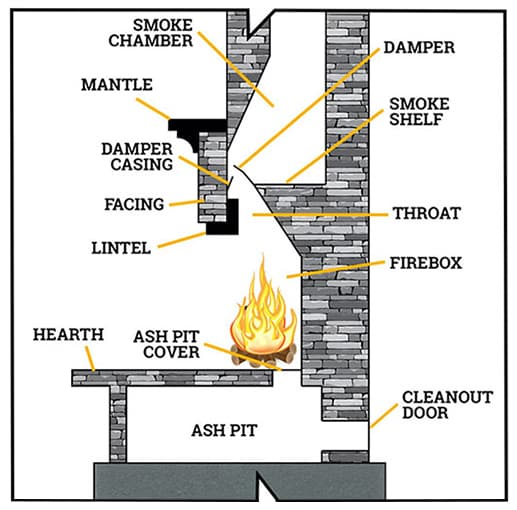 How Much Does it Cost to Replace a Fireplace?
New prefabricated fireplaces can be purchased at most big box stores for around $500; however, the bulk of the expense will likely come from the professional installation required for use. When considering the enjoyment and added value that a new fireplace provides to your home, the benefits outway the costs.
Try the Chimney Detective Tool today and get a free chimney problem diagnosis!
Trust Your Local Fireplace Repair Experts
The reason our customers return every year is trust. Full Service Chimney sweeps have repaired or replaced more fireplaces and their connected chimney systems than any other service company in the greater Kansas City Metro area. 
Our team of CSIA Certified Technicians can help you too!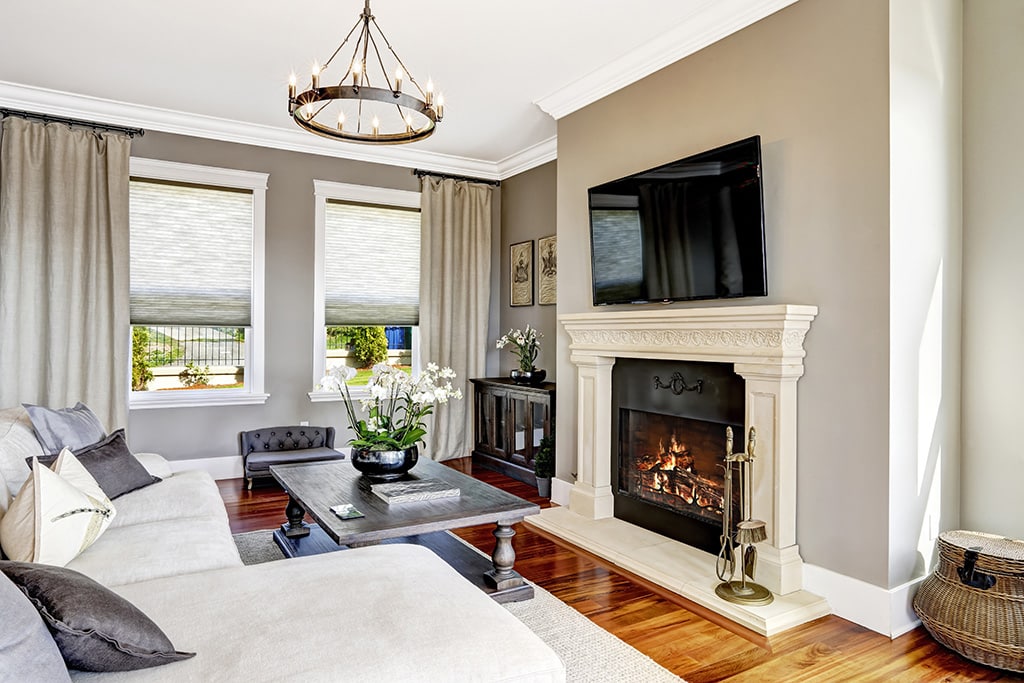 Common Fireplace Problems
1. Chimney Soot or Creosote Build-up
The build-up of soot or creosote within the fireplace is a common cause of many problems. Whether you are using a wood or gas fireplace, you still produce carbon monoxide, smoke, water vapor, soot and sometimes creosote during normal use.
2. Water Leaking into Firebox from Flue
Fireplaces are often susceptible to water damage if a chimney leak is present. In fact, a leaky chimney can cause thousands of dollars in damage or lead to a water leak inside the home.
3. Firebox Damage
As you continually use your fireplace, the masonry can become damaged. You will typically see cracks flaking, staining, etc. When this happens, the heat from your fires can weaken the wood and frame surrounding the fireplace which can result in structural damage and even fire.
4. Broken Dampers Need Fixing or Replacement
The chimney fireplace damper will often serve as a "valve" that closes off the fireplace flue when not in use. When a damper doesn't function properly, smoke may be held indoors or heating costs of your home would rise.
5. Gas Systems Need Regular Maintenance
While they may seem like a better option, gas fireplaces need servicing just as often as their wood-burning counterparts.
6. Smoke & Cold Air Coming Down Your Chimney
Smoke leaking from your fireplace and cold air coming down your chimney are common fireplace problems that every hearth lover has experienced at one time or another.
"Super friendly, professional and efficient!"
"Honest, helpful, clean, and actually helped us learn about the way our chimney works. We had our chimney relined and the crown rebuilt. From the estimate through the final days of work, everything about working with Full Service was outstanding. Rebuilt the top of our chimney masterfully with some old bricks we had in the back yard, and it looks brand new. We're super pleased with t..."
"We have used them for many years. They are friendly courteous, and take pride in their work. I would definitely recommend them."
"We had our chimney removed and the team was fantastic! They were great to work with, communicated about everything, answered all our questions, etc. It was quieter than I expected and the team cleaned up everything everyday. I recommend them to all of our friends!!"
"I had Full Service Chimney come to my home to do an inspection and cleaning of my fireplace/chimney. Sam was very helpful. He showed up at the quoted time, which was great since I had to come home from work. He was quick, but thorough. As a first-time homeowner who has never had a fireplace, he helped walk me through the ins and outs of my fireplace and how it works. He made sure to..."
Your #1 KC Fireplace Restoration Team
Full Service Chimney sweeps have repaired and replaced tens of thousands of fireplaces and chimneys in the Kansas City area. We can help you too!