The Most Trusted Chimney Company in KC Since 1987
Schedule an Appointment Today!
Need your chimney swept? Then you've come to the right place. Regular maintenance of a chimney and fireplace system is essential for safety and optimal performance. Chimney/fireplace cleaning is an annual service offered in combination with our inspections.
Full Service Chimney has been serving residents in Kansas City for over 35 Years, giving us an edge on flue sweeping with local expertise. Plus, each of our technicians is highly trained, allowing us to provide you with the best possible chimney sweeping services. Partner with a team that Kansas City residents have been counting on for decades. 
5 Reasons to Clean Your Chimney
1. Preventing Fires
Chimney Soot Creosote Dangers are dangerous substances that naturally accumulate in wood-burning fireplaces. Too much creosote build-up is a ticking time bomb, acting as the catalyst for a chimney fire. According to the Chimney Safety Institute of America (CSIA), only 1/8" of sooty build-up is enough to cause a fire. A chimney fire would not only be detrimental to your chimney system, but it could also destroy your entire home. Secure the safety of your hearth and home by scheduling an inspection and cleaning with one of our CSIA Certified Technicians.
2. Protecting the Flue
An annual chimney cleaning by an experienced professional will significantly increase the lifespan of your chimney's flue liner and ensure your home's safety. The flue is the gateway that takes harmful toxins, smoke, and gas to the outdoors. Suppose the chimney flue becomes compromised by an excessive build-up of creosote and soot. In that case, it can cause the fires as mentioned above. It could also allow exhaust fumes to enter your home, leading to health concerns for everyone inside.
3. Improve Heating Efficiency 
One of the top benefits of owning a fireplace is the ability to efficiently and cost-effectively heat your home. Of course, if your fireplace and chimney become clogged by excessive amounts of soot or creosote, then it will fail to efficiently heat your home. An annual chimney cleaning will keep your home feeling warm, comfortable, and cozy throughout the winter months.
4. Remove Obstructions or Discover Pests
Chimneys are a frequent nesting place for birds, squirrels, and other outdoor critters and other obstructions! Suppose you attempt to start a fire with a clogged chimney. In that case, the smoke cannot properly escape outside, risking carbon monoxide poisoning. Trying to burn away the obstructions is very dangerous! Hire a certified professional to remove blockages safely. 
5. Prevent a Smelly Chimney
In the warm months, a smelly chimney is one of the most common signs that your chimney needs cleaning. The smell is likely a result of creosote, soot, and animal obstructions building-up, moisture entering the chimney, or negative air pressure in the home. Avoid the stinky chimney experience altogether by scheduling your annual chimney sweep appointment with Full Service Chimney. 
Keep Your Chimney Clean and Safe
Have you been looking for a chimney service company that takes care of every aspect of chimney cleaning? Are you in need of a service that gets your fireplaces cleaned out and prevents fire hazards from debris buildup in your chimneys?
If you've found yourself hunting for "chimney sweep near me" on Google hoping to find a reliable chimney sweep in Kansas City, your search is over.  
The expert chimney and fireplace technicians on our team keep Kansas City chimneys clear of creosote buildup and soot. Count on a team to help with chimney sweeping and fire safety checks to ensure that your home is protected from potential fire hazards.
Get started with Full Service Chimney, a Kansas City chimney sweep that knows how to care for your home. 
Johnson County's Local No-Mess Chimney Sweep
We're proud to be a Johnson County Chimney and Fireplace Company, dedicating over 35 Years to maintaining the safety and integrity of fireplaces and gas heating systems in your local area neighborhoods. Servicing many types of chimneys found across the Greater KC Metro, Full Service Chimney masters the craft of clean chimney sweeping for the best possible experience every time.
Now you may have some general questions, and we have answers.
How Does a Chimney Get Dirty?
Chimney's get dirty by a build-up residue; we call soot and creosote. Both naturally occur by burning gas and wood. Without a proper cover on a chimney top, animals, tree leaves, twigs, or other natural elements can enter the chimney leaving behind a trail of environmental debris.
Similar to how a table gets dusty, whether it's used or not… Over time, a chimney gets dirty whether you burn wood or maintain the fireplace just for its beauty and aesthetic value that a nice hearth adds to a home.
How Often Do You Need a Chimney Sweeping?
More often than not, customers call to schedule an appointment due to the foul odor from the messy soot and creosote.
As mentioned above, the Chimney Safety Institute of America (CSIA) recommends that a fireplace be swept if 1/8-inch of build-up is present. (Even sooner if you notice smelly glazed creosote!)
All of your furnaces, flues, and gas fireplaces need annual chimney service to maintain good performance levels and to reduce the chance of carbon monoxide leaks into your home. 
Trust Your Chimney and Fireplace Experts
Full Service Chimney has cleaned tens of thousands of chimneys in the Kansas City area. We can help you too!
Check our Locations page to see if we service to your local neighborhood.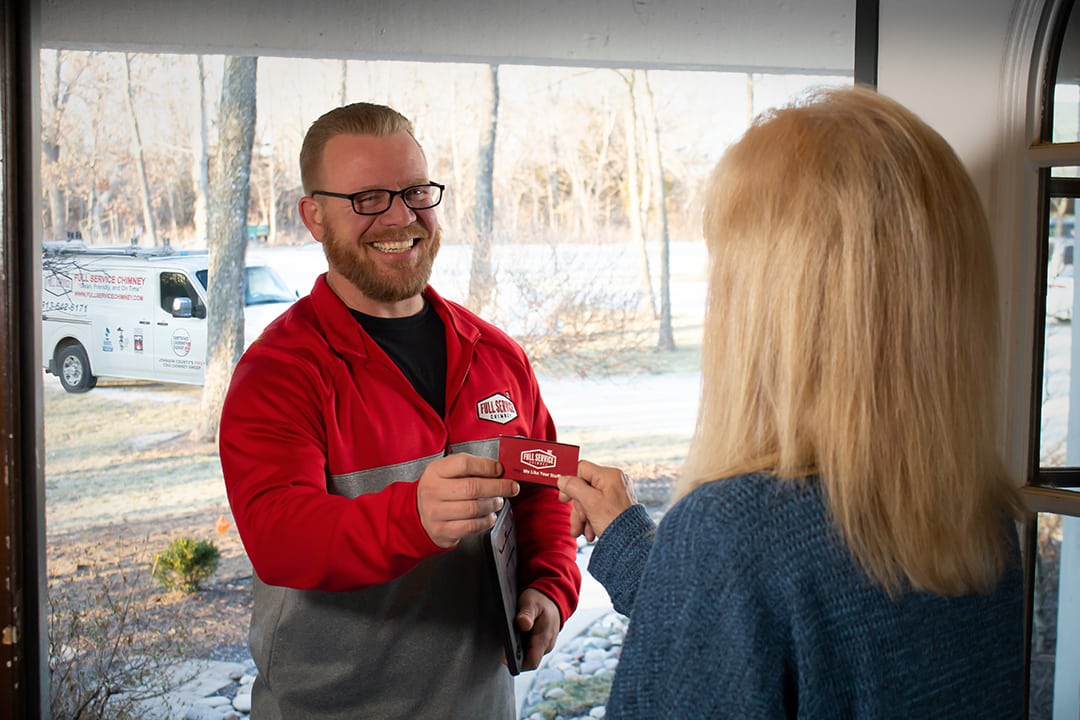 Get fast and reliable chimney issue diagnostics with the Chimney Detective Tool!
"I will always use these people as long as they are in business. They have done the best of any sweeps we used."
"We had a great experience with Full Service Chimney. Scheduling was easy and they showed up on time. We are very pleased with the quality level of their workmanship. Looking forward to our first fire in our new fireplace!"
"Every time I request service they are prompt, courteous, and professional. They explain every part of the inspections in detail I can easily understand, showing photographs they take during the process. They work extra hard to leave everything perfect. Financing options also help to make expensive repairs affordable for those of us that can't afford thousands of dollars on repairs..."
"Great people who are good at their work but also care about the details that make up the overall experience."
"I was highly impressed with the printed inspection report I was provided that included pictures of our fireplace and chimney with the corresponding recommendations. Our unit was unsafe and the home inspection company missed everything Full Service Chimney found. We are so thankful we took the recommendation to use Full Service Chimney. That promptly ordered the parts needed to repai..."
Your Best Chimney and Fireplace Services in the KC Metro Area
Over the past 3 decades, our team has swept over 16,000 thousand flues in the Greater Kansas City Metropolitan area. We can help you too!