Gas Chimney Service for Utility Flues
Your Trusted Chimney Service Company Since 1987
Schedule an Appointment Today!
7 Most Common Chimney Issues
1. Utility Flue Blockages
If your utility flue is blocked or damaged, one possible result is carbon monoxide back drafting into the home, which is extremely dangerous.
2. Carbon Monoxide Leaking Into Home
Outdoor debris or broken flue tiles can block the flue pipe that vents your gas appliances, causing people inside the home to suffer fatal carbon monoxide poisoning.
3. Missing Gas Flue Chimney Cap
All chimneys need a cap, including gas flue caps installed on a gas furnace or hot water heater. Many problem arise when a chimney flue is without a cap.
4. Gas Flue Liner Deterioration
If a gas log fireplace has gaps or cracks in its chimney flue liner, the exhaust will not draw properly, causing a back draft.
5. Condensation
Flue gas exhaust is saturated with water vapor.  This dampness will speed up damage, otherwise avoided.
6. Efflorescence
Gas chimney water issues damage brickwork, flue liners, and cause a white chalky residue called efflorescence. If you see this substance, then it is likely damage is already present.
7. Improper Connectors
Gas furnaces and water heaters use pipes to attach the appliances to the chimney. If the connectors are improperly installed or damaged, then it will cause drafting and other issues that may allow carbon monoxide (CO) to back up inside the home.
Stop guessing and get the facts with the Chimney Detective Tool!
Trust Your Gas Chimney Service Experts
Even if you don't have a fireplace, you may still need a Chimney Sweep!
If you have any gas utility in your home, it must be serviced annually. Full Service Chimney sweeps maintain gas chimney flues in the Kansas City area.
If you have a Gas Furnace or Water Heater, then we can help you too!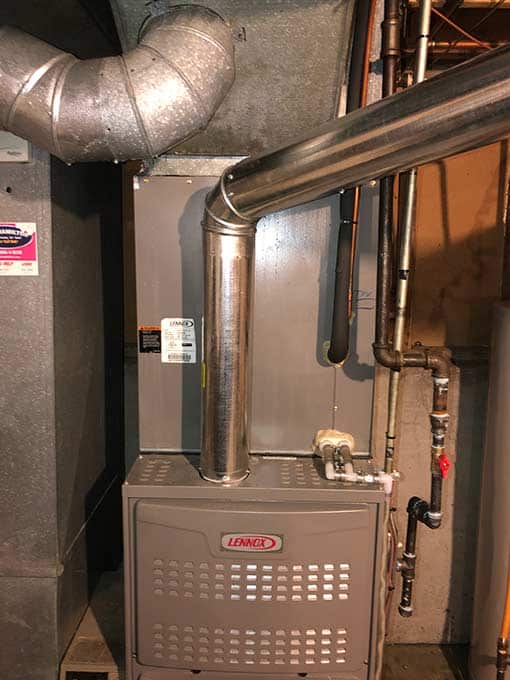 What Makes a Gas Furnace Safe?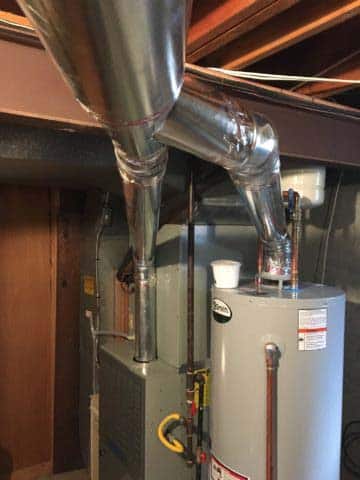 What is the Purpose of a Gas Flue Vent?
When properly maintained, your gas flue provides safe and reliable venting of utility flue gases to the outdoors. That way your family can enjoy warm water and heat in the cold months of winter.
Does a Gas Chimney Need Cleaning?
Furnace flues and gas chimneys, like any other part of your home, will offer the least trouble if well maintained. Furnace Flue Servicing is needed every year depending on the type of appliance and gas flue that needs chimney service. 
Cost to Replace Gas Chimney Liner
The cost to replace or repair a gas flue liner system can often be under $2000. The cost of installing a stainless steel liner for a gas flue depends on several factors: 
Height of the furnace flue

Length of the flue liner

BTUs of the gas appliances
All this will affect the cost of a gas chimney repair. Keep in mind the final price will still be far cheaper than the resulting damage or danger of having an improper gas flue liner.
Furnace flues and water heaters need regular maintenance. Gas furnace chimney liners are exposed to exhaust containing water vapor and acidic materials that damage the gas chimney's flue tiles. It eats away at the mortar and gas flue tiles in the flue.
For this reason gas appliances need a chimney inspector to visit yearly to evaluate the vent pipes condition and clean sweep the flue if necessary.
"We had a very professional technician come out to inspect our chimney and give it a clean. He did a very thorough job, taking several pictures as he went through the inspection and cleaning process. When he was finished, he sat down with us and went through the pictures and described what he saw and if any follow up work would be needed."
"We had Full Service Chimney reline the chimney on our 35 year old house and put on a new crown. The initial inspector provided photographic evidence of need for repair. We were very satisfied with the quality of the work and the politeness of the two man crew, Jacob and Ian. Jacob, the lead tech, carefully explained all our questions and took pains to avoid disturbing plantings ..."
"Polite and professional. Explained in detail what needs to be done. Arrived on time.Pricing is within norms."
"The team concluded the project with great care. I was kept fully informed throughout the process. They left after a thorough clean up. I would not hesitate to work with them again."
"They were prompt and provided great service (even though it was probably 95 degrees outside and not a great day to be working on a chimney!)"
Your Kansas City Gas Furnace and Water Heater Experts
Full Service Chimney provides gas chimney service for gas furnaces and hot water heaters in the Kansas City area.
Let us help maintain the chimney flues that vent your gas utilities.