Bookmark this page. Consider it your new ENCYCLOPEDIA of all things Fireplace Accessories.
Your resource for information on the MOST ESSENTIAL ITEMS for your fireplace maintenance, ambiance, and home safety.
Table of Contents
Click to any section on this page.
Gas Fireplace Accessories
Fireplace Tools & Supplies
As frequent chimney users know, there are a dense variety of products available that make it confusing to know what fireplace equipment is best for you. To clear the air on this topic, we've compiled a list of the best fireplace accessory options for hearth owners. *As well as some other items you may want to steer clear of… in your journey to build the most amazing home and hearth!
Many fireplace items, such as your metal poker, have been successfully used for centuries, while others are more contemporary innovations. Nevertheless, each of the accessories listed below will significantly improve your fireplace operating experience. 
Find a Quick Solution to Your  Fireplace Problems:
I want to…
Discover All the Accessories You Need and Eliminate Those You Don't.
If you're looking for supplies and accessory items to help you improve the look or performance of your fireplaces, then you've come to the right place! We hope the information will help you make the best of your treasured home & hearth!
INSTRUCTIONS:
Use the Quick Menus/Table of Contents to navigate to any section on this page. Return to the top of the page easily by clicking the up-arrow in the bottom right-hand corner of your screen.
1. Fire Starter Accessories
With the assistance of fire starter accessories, anyone can learn how to properly start and keep a fire burning in the fireplace!
The fire accessories in this section will help you consistently start fireplace fires with ease. If you have a wood-burning system, you should first check out this blog post to learn the best fire-building technique.
SECTION #1 TABLE OF CONTENTS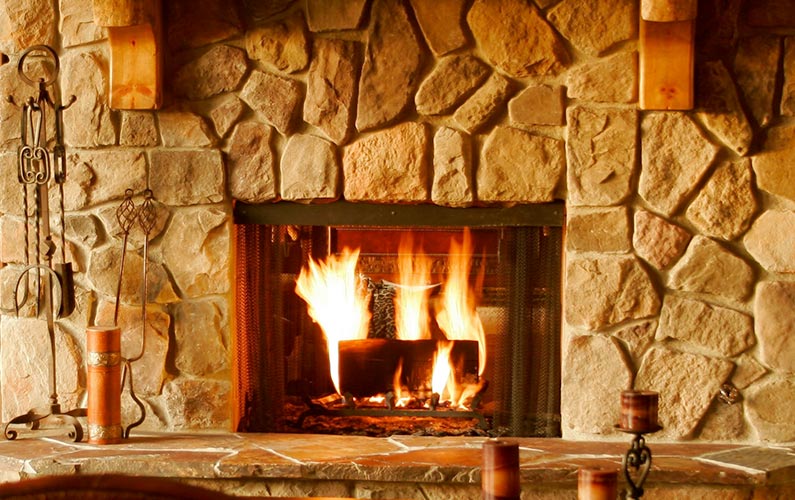 Use your Fire Starter Accessory Items to get a nice flame burning!
Supplies to Help Get Your Flame Going
Crate
Whether you have fatwood or some other type of fire kindling, you'll need a place to safely and efficiently store it. A wood crate is an excellent option for storing because it's light, will keep your wood moisture-free, and adds a farmhouse and rustic feel to the room.
Discover more wood storage options...
Fatwood
Fatwood is a stump loaded with pine pitch tar and pinewood. It's a natural and chemical-free fire starter derived from splitting highly resin and sap concentrated pine tree stumps. Mostly cut in long and thin chunks, Fatwood is an efficient and convenient option for not only fireplaces but pellet stoves, campfires, and BBQs as well.
How it Works:
A chunk of Fatwood receives a flame from your match and it burns.
Use your split wood as a candle.
Hold it up to your easily ignitable tender. Enjoy.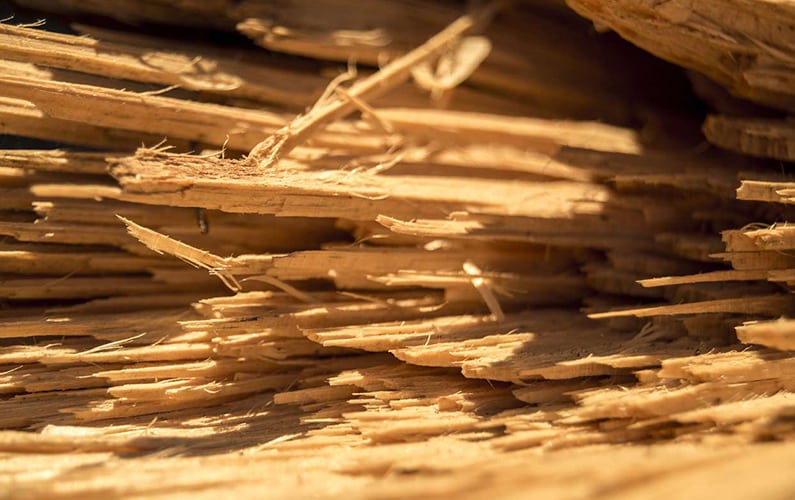 Wood Split to Help Light Your Fire
Fire Starter Bricks
If you want a vibrant fire in a hurry, fire starter bricks are the option for you. These convenient accessories typically come in pouches, cubes, or pods and consist of materials such as sawdust, paper, wax, oil, and lint. If you build your upside-down fire correctly, lighting the bricks should provide a consistent flame that will quickly ignite the nearby kindling.
Gas Lighter Bar
Building and starting a fire in your wood-burning system can, at times, be tedious and frustrating. Installing a gas lighter bar is one of the easiest ways to achieve a fire in your home. It merely consists of a long burner pipe connected to a propane or natural gas fuel source. Place the wood on a grate, light the bar with a long-stemmed match or lighter to start and establish a fire, gradually turn on the gas, and then, finally, crank off the gas once the logs are lit. And just like that, you started a beautiful fire with ease.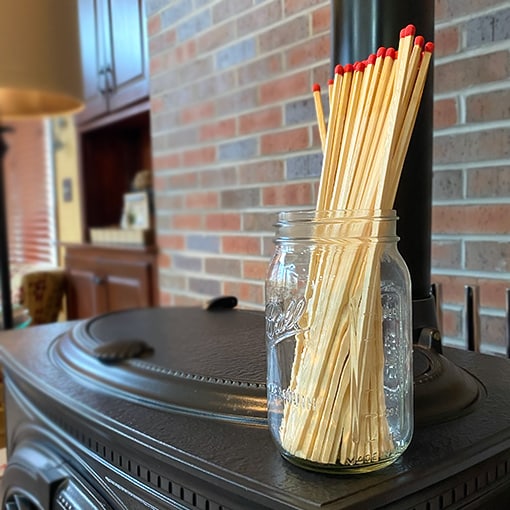 Long "BBQ Grill" Lighter
Like the long-handled matches, lighters are fire-starting tools that almost everyone is familiar with. The convenience of having a readily available flame with the pull of a trigger is unmatched. Again, we recommend models that feature a long stem to ensure your hands are safe in case of an accident. In most cases, the more expensive the lighter, the greater the flame, but as long as your fire is built correctly, any size flame will do the trick.
Long Handle Matches
While the options listed above are excellent, they are useless without one thing: a heat source. Matches are a classic fire starter accessory ubiquitously utilized for over a century. But regardless of the type of fire you're starting; you'll be required to place the match within close proximity to the wood, grill, stove, etc. With that in mind, we recommend that you use long-handle matches when starting fires to keep your hands safe!
That's okay. We've got you covered! For step-by-step image instructions on getting a fire started and to learn all the supplies you need to start a great fire START HERE…
2. Gas Fireplace Accessories
Gas fireplace accessories are extraordinary additions for anyone seeking to improve their home and fireplace aesthetic. Gas systems have various advantages over classic wood-burning and electric; however, frequently, the traditional look cannot be closely replicated for gas.
The accessories listed below are affordable and practical ways to improve your hearth experience.
Decorative Glass Media for Your Fire
Gas Fireplaces can be much more exciting than your standard gas logs. Modern fireplace designs add extra flare using other types of decorative media such as:
Reflective Fire Glass

Fire Stones

Ceramic Branches

Decorative Fire Logs

Ceramic Embers

Glass Crystals

Fire Beads 

Tempered Fire Diamonds

and more…
Tempered Glass Media covers the gas burner bar on a new gas burner fireplace installation
Fireglass
Otherwise known as Glass Crystals for your Gas Fireplace, Fireglass is an outstanding decorative media accessory for your fireplace or fire pit. It features a tempered glass design, made to withstand any heat, keep its color, and never produce smoke. The glass radiates heat effectively and won't produce any soot or ash. 
Arguably its most significant advantage is the various shapes, styles, and colors available for purchase. From aqua blue stone-shaped beads to bright red jewel-shaped reflective glass, we guarantee you will be satisfied with the sleek and modern look of fire glass.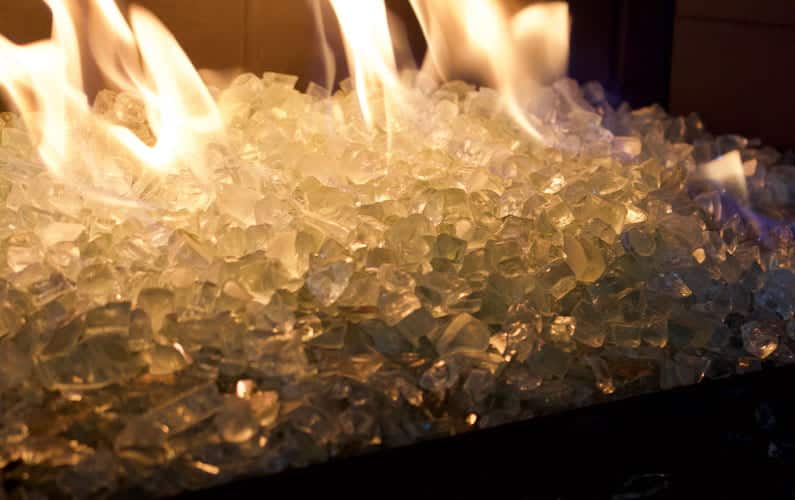 Fireglass covers the gas burner bar in new fireplace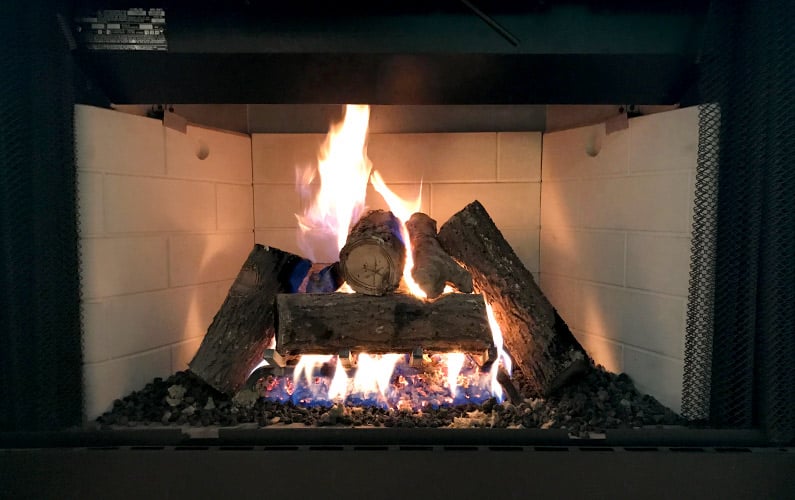 Gas Log Set installed into a prefab fireplace with white firebox panels
Gas Log Sets
A gas log set is a fireplace accessory that closely mimics a traditional wood-burning fireplace for a lower price and none of the mess. The logs consist of refractory ceramic or cement and, depending on usage of the system, last at least two years. The diverse design and style options will immediately complement whatever your home style may be. You can even choose between ventless and vented models! 
At Full Service Chimney, we offer a variety of vented gas log sets. Click the button below to learn more about our Gas Log Installation services in Kansas/Missouri.
Glowing Embers for Gas Logs
Let's face it, while gas log sets do an extraordinary job of close resembling wood-burning, but in most cases, it's just not the same. But gas log embers take things to the next level by safely imitating the embers commonly found in the bottom of a classic wood fire. They are mostly for visual purposes, adding a beautiful orange glow around the bottom of the gas logs. If you're disappointed with your gas logs' lack of realism, consider buying some cheap and long-lasting gas log embers. 
Lava Rocks or Stones
One of the most popular types of decorative media for fireplaces is lava rocks, also known as lava stones. These rocks are timeless choices for fireplace and fire pits alike, formed by earth's minerals over thousands of years. While this is a visually stunning accessory, there's even more to it than meet's the eye.
Lava rocks are arid and porous, meaning they absorb heat exceptionally well and circulate air efficiently. The majority of these rocks are dark in complexion, but they come in various sizes and styles for you to choose from. 
Safety Gas Key
As with all things fireplace and chimney, safety and convenience are essential. So too with the use of natural gas and propane-fueled units.  To keep things secure, we do not want children to activate a gas appliance, creating a dangerous situation.  So the gas key that operates the valve of your fireplace needs a secure location. Because when it's time to turn the gas flow off, we do not want to have to look for it. 
A fireplace gas key is used because the valve assembly is concealed in a wall or floor.  The valve is activated via a hole, with the gas key's square socket engaging the valve's stem.  The Gas Key is a critical accessory for your fireplaces.
3. Items to Enhance Fireplace Performance
Discover a variety of fireplace accessories designed to enhance performance. Some products like Damper Caps help to stop cold air drafts. We'll talk about specialty grates, fans, and firebacks with the purpose of giving you more heat at the hearth by reflecting or increasing warmth in your living room.  We'll also briefly touch on Smoke Guards that are designed to decrease fire smoking in your home.  
SECTION #3 TABLE OF CONTENTS
How to Stop Cold Air Drafts…
New Chimney Liner Systems

Installing New Damper Caps
One of the best ways to stop a cold draft is by installing a specialty cap called a damper that has a pull handle for opening and closing the cap.  The greatest virtue of a damper cap is both the airtight performance and unlike a traditional damper, they can be installed without needing a complete firebox rebuild.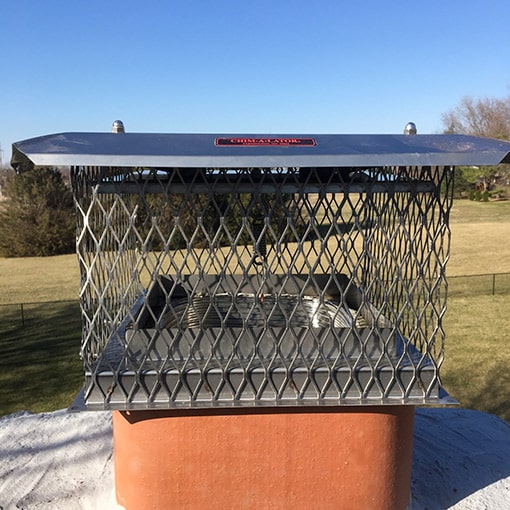 Example: Stainless Steel Damper Cap Open 
Damper Cap
A fireplace damper (often called a chimney damper) is the door between the fireplace firebox and the chimney flue. Problems with the damper are often the cause of cold air drafts.
Top Sealing Damper Caps are those where the damper serves as both a cap and a damper. It is installed at the top of the chimney flue and is operated by means of a cable that extends from the damper cap to a bracket in the fireplace. It is a spring-loaded system that can be adjusted pursuant to the opening you want to achieve. 
Damper Pulls
If your fireplace flue damper is out of sight or out of reach we suggest the fireplace damper pull. This accessory extends your reach to the handle and serves as a reminder to open or close your damper. On older dampers, you may see ornate lettering that reads OPEN and CLOSED.
The purpose of a damper pull is to help stop cold air drafts by closing the damper cap that sits on your chimney top. Always be sure to remove it while enjoying your fireplace!
Ways to Help Get More Heat from your Fireplace…
Specialty Fire Grates
"No Smoke" Fireplace Grates are designed to promote getting your fire established early, helping the draft process, and often reducing smoke that may spill into your home. These specialty grates will shorten the time it takes to get the chimney warm. In-turn provides relief from smoke that otherwise may enter the home during the beginning of a fire. These little wonders also have a reputation of giving the user more sensible heat, because the fire is positioned vertically as opposed to horizontally as with a traditional grate.
If you're looking for the Specialty Heater Grates with Tubes please visit our previous post all about your options for blowers, fans, and similar accessory items for your fireplaces.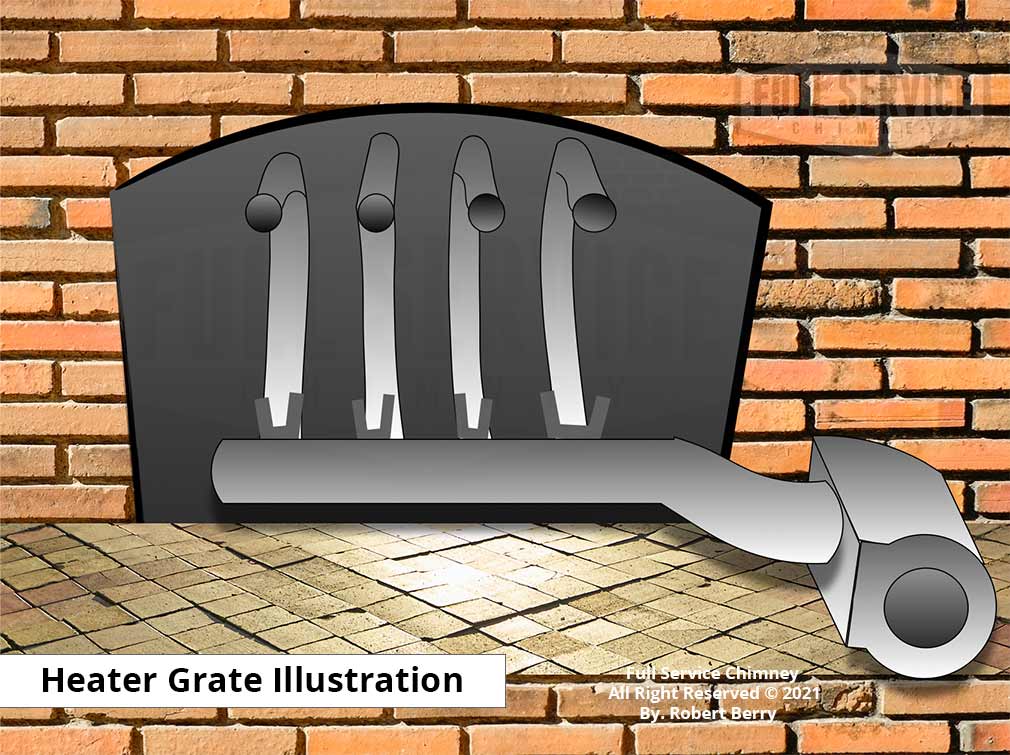 We DO NOT recommend this type of fireplace heater.
Fireplace Fan Blower Kits
Heater Grates with Blowers push more fireplace heat into the room using simple exchanger tubes and a motorized blower fan. A standard heater grate is designed to use a convection process to draw the room's cold air into steel tubes, heat the air, and blow it back into the room at temperatures up to 500-degrees!
In addition to adding more heat to your hearth and living room, manufacturers claim that heater grates prevent smoke-filled rooms and also reduce your energy costs. Blower Grates for wood-burning fireplaces can be purchased for a few hundred dollars and there are many varieties from which to choose.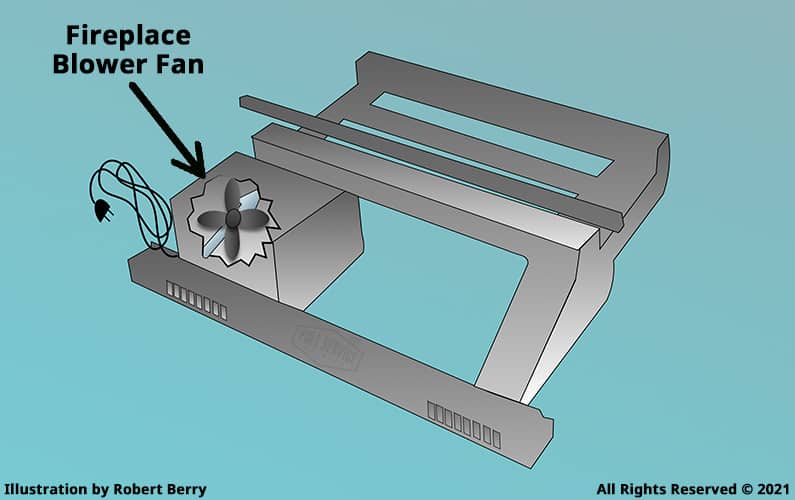 Some grates incorporate an internal fan in order to put more heat from the fireplace into the home.
Reflective Firebacks
A firebox accessory that goes behind your grate and allows the reflection of hot flames in your fireplace to push more heat into the hearth room is called a Reflective Fireback. These cast iron firebacks DO help slightly with heat output but are NOT a substitute for proper repairs and are not a complete solution. But it may offer enough heat to feel a difference.
A Reflective Fireback with a Heater Grate combined might add 10,000 BTUs and that's great. But why stop there?
You could install a Fireplace Insert that would add 55,000 BTUs of heat to the room!
Now we're talking REAL heat!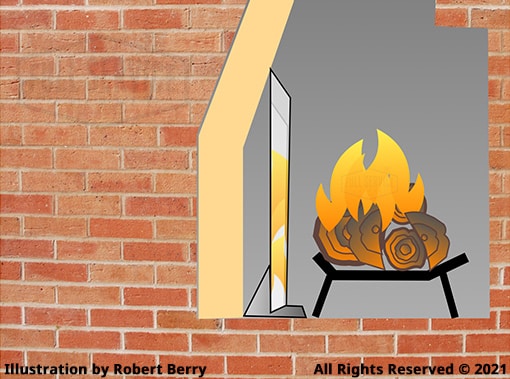 Add a reflective fireback to your grate to put more heat from the fireplace into your room.
How to Reduce Fireplace Smoking…
Chimney Exhaust Fan
Exhaust fans are an outdoor accessory for chimneys, used when a fireplace liner is too small. They're sold as easy-to-install fans with the intention to fix smoking-fireplace problems. The purpose is to induce draft and draw the smoke up and out of the flue.
While this can work, it's often a temporary solution. The better option to update your chimney flue liner. Call us at 913-642-6171 for more information on why this is your best choice. Or check out some images in our portfolio.
Smoke Guard
A smoke guard is an optional accessory that assists to reduce fireplace smoking problems. After installation, the guard artificially makes your opening smaller encouraging the smoke exhaust from the fire to find its way up into the chimney. The smoke guards are usually made of steel or other non-combustible material and can be especially helpful for large opening fireboxes that frequently have too small a chimney flue.
This simple solution reduces the size making the fireplace smaller which promotes a vigorous draft. Smoke guards DO help properly built fireplaces and chimneys that otherwise smoke. But in truth, it may or may not work to SOLVE your problem.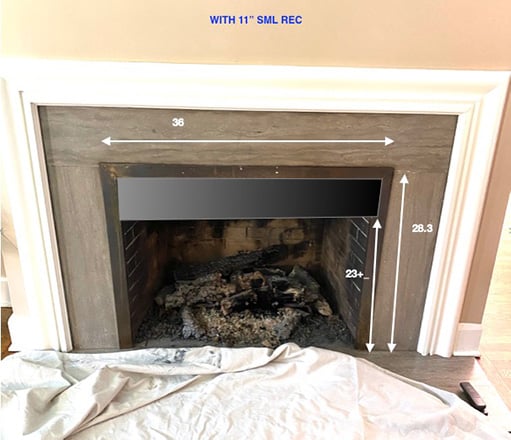 Example 1:
A fireplace smoke guard effectively reduces the opening area, making the limited draft your chimney has capable of capturing all the smoke.
A Smoke Guard is more often than not, a quick DIY solution for the easy-to-fix smoking problems, but will not help if your smoke or draft issues are caused by an improperly built system. The images shown are meant as an example of what they'd look like if you were to install a smoke guard but we do not typically recommend them. 
If you've tried to install a smoke guard before and you're still looking for solutions on how to stop fire smoking problems, then your best bet is to call a Local Certified Inspector to take a look.
You are a responsible homeowner. Every single year like clockwork you have your chimney inspected and serviced to get that stamp of approval by your certified technician!
If that sounds like you, then chances are you don't need any major repairs. Sometimes your system is well maintained, working great. It's already been cleaned, but perhaps you just need a few quick touch-ups.
In a pinch, these two Accessory Items can often help with temporary "patch-up" repairs in-between your annual maintenance calls:
Fireplace Mortar
While fireboxes and chimneys need rebuilding and major repairs every few decades, year to year repairs of gaps and cracks will keep a system in order in the short term. The bricks in a masonry fireplace are made to withstand a high-temperature environment.  So the mortar that keeps those bricks in-place should be meant for high heat as well.
Refractory fireplace mortar is intended for this repair and will last far longer (if properly applied) than other cement compounds. Refractory cements and mortars come in a variety of colors that will help "camouflage" the repair.
NOTE: Mortar application can be tricky for the novice. Learn more about Professional Masonry Repairs.
High-Temperature Paint
Even after servicing your fireplace with a thorough cleaning, stains on the hearth floor and firebox walls will remain. Beauty can be restored by painting the inside of the firebox with high-temperature paint, specially designed to tolerate the harsh environment of your firebox.
High-temp paints can be found in both brush and spray variations. Just be careful to follow the instructions, as with all painting products. One more thing…. undried paint is flammable, so you must allow the paint to fully cure before having your next fire.
WARNING: Do Not Use the fireplace until your paint is completely dry and cured.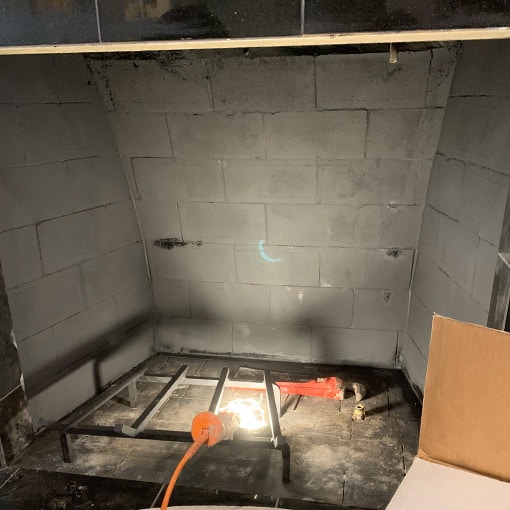 High Temperature Painted Firebox Black
4. Essential Fireplace Supplies
From burning to cleaning your fireplace there are dozens of supplies that are absolutely critical.
The items in this list are necessary additions to your hearth that will help make your fireplace experience a success! While you won't find every product available on this list, it is overflowing with the most crucial items.
Don't worry, we'll let you know clearly which supplies are optional as opposed to which items you cannot do without.
SECTION #4 TABLE OF CONTENTS
Accessories for Using Your Fireplace:
Fireplace Tools Necessary for Burning
In the Essential Fireplace Supplies section, you'll learn the most common accessories required for using your fireplace. These are items you will need to use your fireplace safely.
It's one thing to get the fire started and it's another to keep it going!  Find the most crucial accessory items you'll need after lighting your fire, and while using your firebox for burning.
For your most successful fire burning experience start here. 
Fireplace Bellows
Fireplace bellows provide a way to get more airflow into your burning fire by manually pushing oxygen out of the bellows and into the flames. Bellows are an ancient invention and have been in use since the 5th Century. Many people still enjoy using the simple bellows to help re-ignite the flames when your fire's warmth starts to die down.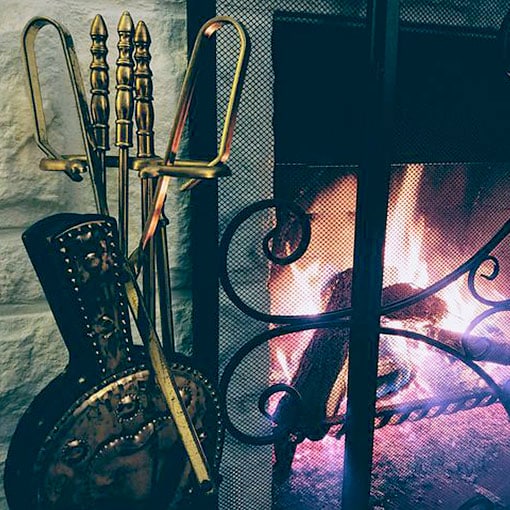 Heat Resistance or "Fireproof" Gloves
Don't burn yourself. Protect your hands by purchasing a set of Long Arm Hearth Gloves. Often made of cowhide and they come in a wide variety of colors, sizes, and are a very helpful, low-priced item. These long gloves are heat resistant to provide hand and arm protection anytime you're handling the fire to prevent sparks from burning your skin. Fire-resistant gloves also allow you to briefly grab a hot log to move or reposition it when tending to your flame.
Heat-resistant fireplace gloves are a necessary item to have near your hearth.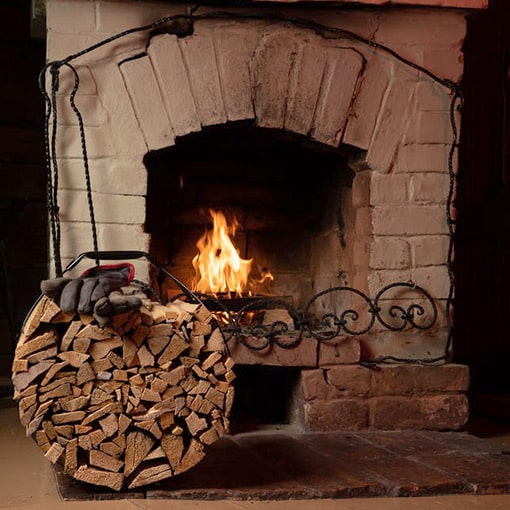 Andirons
A useful accessory known as a "Fire-Dog", Andirons are large rectangular support brackets for your firewood to sit on while burning. Often decorative you can match your style or choose a basic type for use.
The andiron base is usually constructed of wrought-iron, but the front-facing, decorative side of your firedogs can be made of materials such as:
Brass
Bronze
Cast-Iron
Copper
Ormolu (Note: Ormolu was used historically for decorative purposes, ormolu is a golden-colored alloy made up of copper, zinc, and sometimes tin. This is now mostly only seen on antiques and is known for its health hazards.)
Fire Baskets
A metal fire basket usually has hooks on the edges to go over a set of andirons. Which is an optional fireplace accessory that provides a means for ash to fall as your firewood is consumed. Andiron brackets allow for air circulation for less smoke while burning your wood.
Traditional Fire Grates
The simple standard grate for wood fires is made of cast-iron and is a basic accessory with no special features. The benefit to this simplicity is the ability to build a proper fire.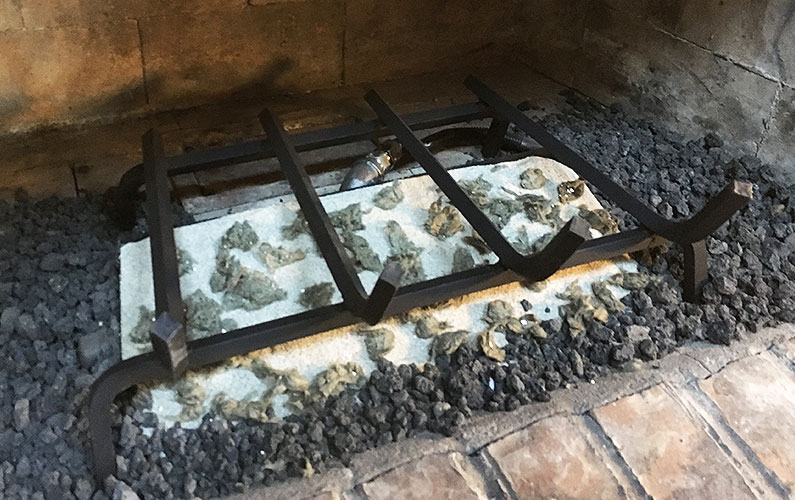 Among your most necessary fireplace tools are a fire poker set and log grabber tongs. These are made of either copper or wrought-iron tools typically come in a 5-piece set including a stand. Your possibilities are endless when it comes to choosing the right fireplace poker set to match your home's decor.
There's an overabundance of options available to buy a set of fire tools at most home retail stores or e-commerce retailers.
The Basic Fire Utensil Sets include the following items:
Poker
Broom
Log Tongs (aka log lifters or log grabbers)
Shovel (aka spade)
Stand
All you have to do is choose the type of fire poker tools you prefer and the style to match your home and fireplace decor.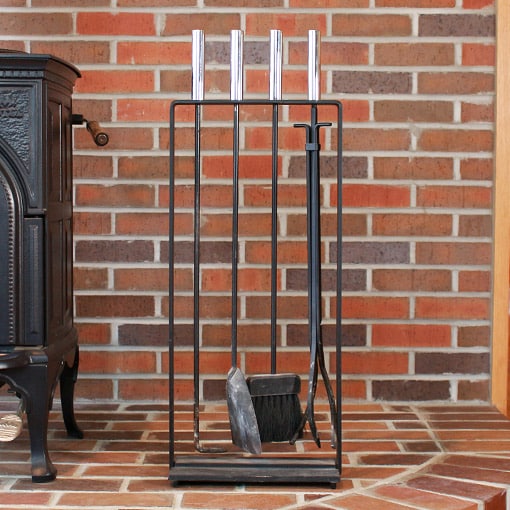 The Most Popular Fireplace Tools come in a variety of metal finishes. You can find options such as:
Antique Brass
Black Iron/Zinc
Brass Plated
Cast-Iron
Bronzed Iron
Heavy-Weight Steel
Polished Brass
Stainless Steel
Wrought-Iron
Cost of Fire Toolsets
While a single fire poker could cost as little as $6.00, a full 5-Piece Set of Fireplace Tools could cost significantly more depending on the style. The cheapest miniature fire poker set may cost approximately $25.00 and the most expensive full-height fire tool set is priced over $1,083! (not including antiques or celebrity-owned sets which we seen for outrageous prices over $18,000).
The most popular sets of metal fireplace tools cost between $199-799.
Cheapest
Lowest Price Available
A single metal fire stoking tool/poker could cost you as low as $6.00

"Miniature Fire Poker Sets" are designed for use with your woodstoves

WARNING: Mini-pokers are NOT meant for fireplaces since they are not long enough to extend past the outer hearth. 
Standard Cost
Typical Price Range
Standard Full-Height Fire Tool Sets designed for fireplace use

Made of Wrought Iron or other Select Metals (as shown above)

Usually come in 5-Piece set including a Stand
Most Expensive
Highest Price Available
Some higher-end luxury sets of fireplace tools range between $800-$1,200+ 

Antiques or celebrity-owned fireplace tool sets can be discovered at online auctions for over $18,000+
Hearth Screens & Glass Doors
Fireplace Covers
Many homeowners consider covering their fireplaces merely for decorative or aesthetic purposes, with zero concern for safety. There are different reasons and countless ways to cover your fireplace's opening from mesh screens, to glass doors, and more.
None should be ordered or installed without professional assistance. That's primarily due to safety hazards caused unnecessarily by ordering the wrong type of door or installing your cover improperly.
Serious care must be taken, when shopping for accessories for your fireplace. When it comes to fire screens and doors, unfortunately, the look of it is NOT the only thing consumers must consider. Adding additional parts and extras to your hearth may affect the safe operation of many factory-built units, otherwise known as prefabricated or zero clearance fireplaces.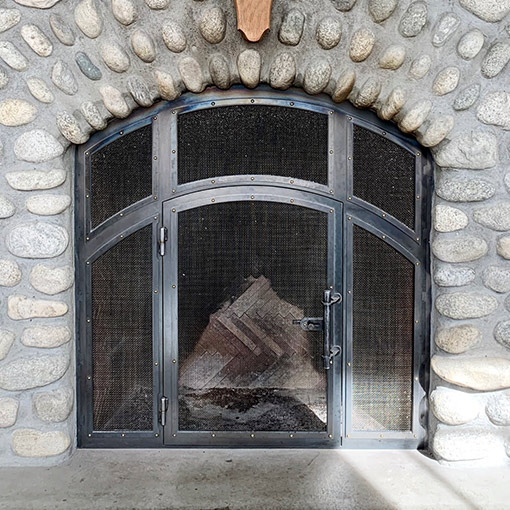 Example: Black Metal Screen Door Built-in to an Arched Stone Fireplace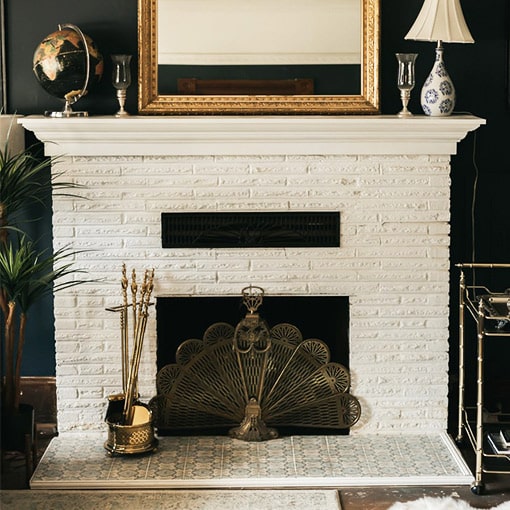 Example: Decorative Brass Fireplace Screen that also provides some spark protection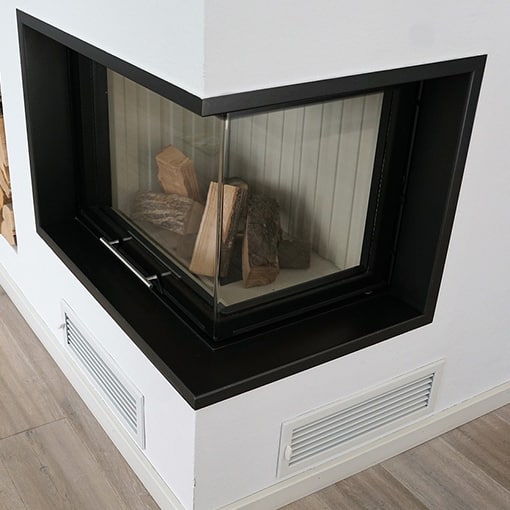 Example: Glass Doors on a Black Corner Fireplace Screen against white walls
Warning
When shopping for doors, please be aware that NOT all fireplace covers sold are designed for high temperatures. It's crucial to know whether your fire cover is heat-resistant or not. Any decorative type of cover should only be used out of season or when the fireplace is not being operated.
Request an Appointment with your local Service Technician to assist in choosing the right doors for your fireplace.
5. Supplies to Help You Clean Your Fireplace 
In this section, you'll discover a variety of items that can help you clean your fireplace. Whether you have a wood-burning system or a direct vent system, your fireplace comes with its own set of issues that require cleaning throughout the year.  Some accessories are optional while others are must-haves for any homeowner with a hearth.
We won't get into the details on rotary brush cleaners that professionals use to clean flues on this page however you can visit our more in-depth article on DIY chimney cleaning accessories.
How to Clean-Up After Wood-Burning
If you've ever burned an indoor fire then you know there's a mess to clean up afterward. From wood ash clean-up to scrubbing your glass doors we provide a list of household items to help you clean your fireplace.
Ash Bucket
One of the most critical accessories for wood-burning fireplaces is the ash bucket for your fire's ash disposal. Use the broom and metal dustpan that came with your poker toolset to remove the ashes. After the logs are burnt and the firebox had time to cool completely you can use your ash shovel to remove the cooled fireplace ashes and place them in the bucket.
Fireplace Ash Buckets MUST be made of non-combustible material with a tight-fitting metal lid. For safety, store your bucket away from your home. on a non-combustible surface.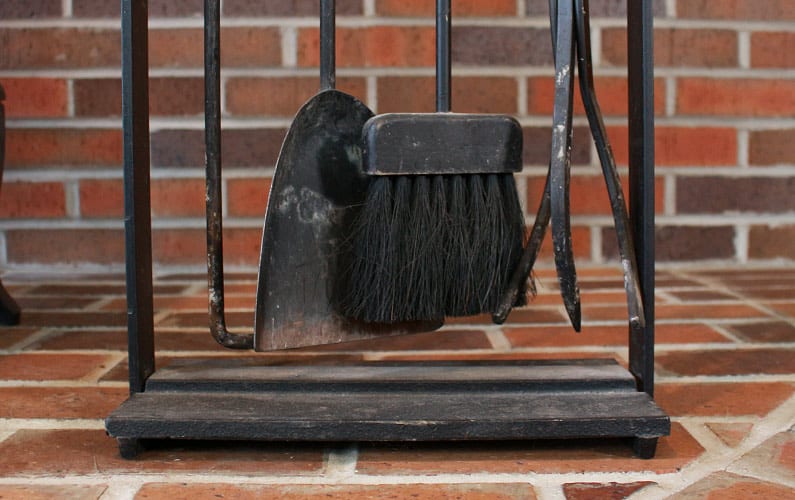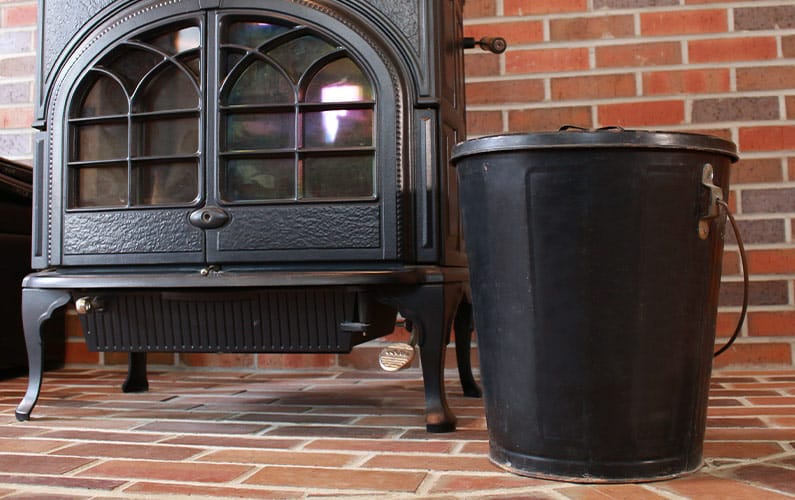 Ash Vacuum
Why use a broom and bucket if you can make life a little easier with an ash vacuum. You can find these handy tools at your local hardware stores. Remember never vacuum up hot ash. Wait until the fire has died down and the ash is completely cooled before handling.
One benefit to using the old-school method of broom and bucket is your ability to keep the ashes to use in your garden or as a glass cleaner to rid of soot residue.
Helpful Tip:
When brushing the inside of your firebox, have your canister or a shop-vac running with a HEPA filter to minimize dust coming back into your home.
Use N95 face masks during this process for your safety.
Creosote Removing Sprays
Soot on gas logs and creosote in your chimney can be stubborn to remove and allowing them to remain is a hazard.  There are products commercially available that aid in the removal of deposits. Many claim to dissolve creosote. If used while enjoying your fireplace, will loosen build-up through a catalytic reaction.  Creosote removal sprays also beautify gas logs, by eliminating the soot deposits.  Always read and follow label directions on any product.
Of course, there is a limit to what these sprays can do. It's good to know how much creosote is too much.
Fireplace Glass Cleaner
There's currently a large and ever-growing market full of supplies to clean your fireplace's glass doors. We won't go into detail on retail products or whether they work. But it's possible to make your own glass door cleaner using regular household ingredients, like vinegar by itself or non-gel toothpaste is also said to work.
Here are 2 simple recipes to help clean your glass fireplace doors. 
1. Cornstarch & Vinegar Glass Cleaner Recipe:
2-cups of warm water
1-tablespoon of cornstarch
¼-cup of vinegar
2. Vinegar & Alcohol Glass Cleaner Recipe:
2-cups of water
¼-cup vinegar
¼-cup rubbing alcohol
1-tablespoon cornstarch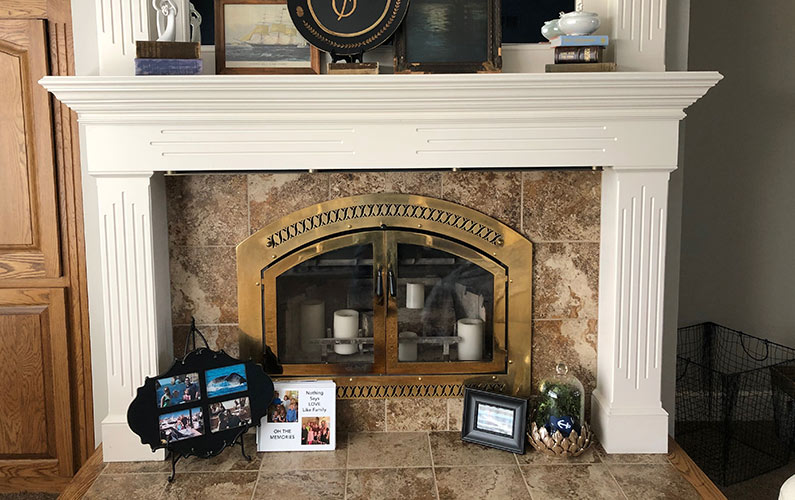 Image: Gold Glass Doors on a White Mantel Fireplace with Candles. 
Accessories to Help Clean Your Gas Fireplaces
Gas systems need regular chimney maintenance and cleaning the same as wood units do. Since gas-fueled fireplaces are constructed and operated differently than wood systems, the way they get dirty is also different. So it's no surprise that the tools you use to clean a gas fireplace vary from that of a wood-burning system.
There are two dirty problems with all gas-fireplaces.
Dust and Tarnish are both common issues among natural gas or propane-fueled units.  You must clean these on a regular basis but the fireplaces need professional cleaning at least once per year in order to keep your system functioning as well as looking clean and looking sharp.
How Dust Gets Inside Your DV or other gas-burning fireplaces
Much like the rest of your home, in all gas-fueled fireplaces, dust is a real problem. A large volume of air moves through the gas-burning system and with it naturally comes the dust that settles into the fireplace. That's where the brushes come in handy.
Cleaning Brushes
There are passages in Direct Vent Gas Insert and wiring both above and below inside the systems blower/fan. Air comes in the bottom, cools the valve, and collects heat. Inside the back of your gas fireplace where you cannot see are open passageways that get really dirty.
Every year when you use your DV for the first time, you may notice a bad smell and that is usually caused by the dust burning. This happens over time even if your system is not being used, and becomes a fire hazard.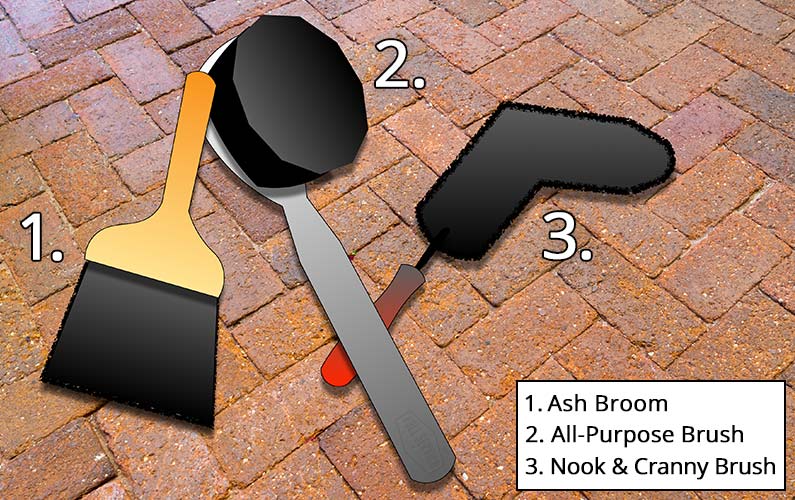 Illustration Example Brushes: 1. Broom for ashes 2. All-Purpose Brush for firebox walls or smoke chambers 3. Flexible Dust brush to get inside nooks and crannies.
Helpful Tip:
Always make sure you schedule your Annual Inspection before the busy season and your Chimney Technician can remove that dust for you during your appointment.
Glass Tarnish Remover for Direct Vents
Direct Vent safety components exposed to flame that tarnish that misinterpret the signal from the flame and it stops working. It tricks the system into behaving as if it's OFF when it's ON.
DV Glass is a fixed window and cannot be removed and there's a milky white corrosive residue on the glass. If not annually removed will cause permanent damage. You must clean DV passageways that collect dust with your flexible brush accessory.
Specialty glass cleaners for gas fireplaces can help remove the tarnish, but it's always better to stay on top of your annual maintenance.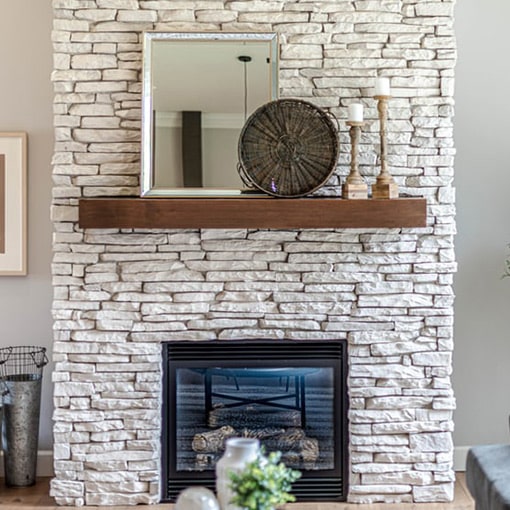 VISUAL ELEMENTS: Enhance your Hearths Appearance 
Log Carrier Totes
An item designed for domestic convenience. You need a place to put a few logs next to the fire or stove.
Why not use the same device to carry in your wood from the outdoors to also hold your indoor wood supply.
Wooden baskets, metal holders, leather cow-hide, or canvas totes are among the most common accessories for any traditional hearth.  They're popular because they're easy and they just make sense!
If you're interested in learning other storage methods you cannot miss this post all about storage accessories.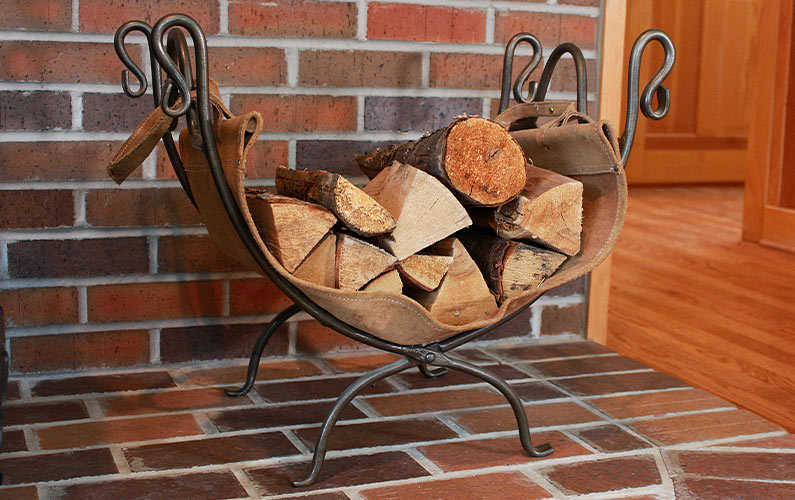 Mantels
For traditional site-built systems, mantels served as the top shelf of the front portion of the fireplace. And in many cases, they remain that way today. But for the more contemporary and site-built systems, mantels have become a valuable accessory that a certified technician can easily install.
Fireplace Mantels drastically improve the look of your hearth room. From modern to farmhouse, there are many different mantel designs, finishes, and materials on the market for you to choose from. Decorate it for the changing seasons, display family photos and home decor, or leave it bare for simplicity; whichever mantel accessory you pick will ensure the fireplace becomes the focal point of your room.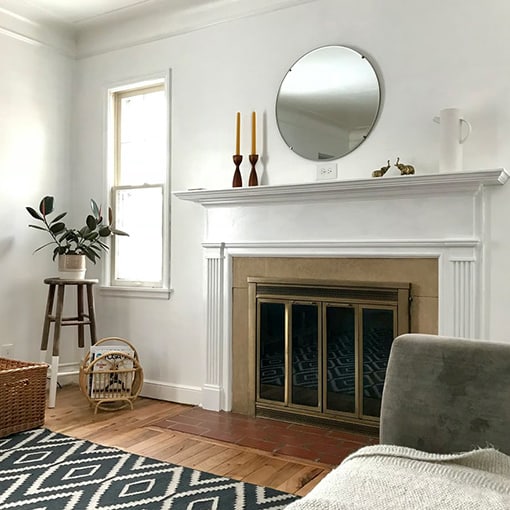 Fireplace TV Mounts
Both televisions and fireplaces are meant to be the centerpiece of a room. Why choose between them, when you can have both?!
You can buy a simple item called a TV Mount that often comes with an adjustable arm to move the television if you desire. This accessory could help you put your TV above your fireplace's mantel.
However, there are some serious considerations, and your ability to make this change to your living room successfully depends on the type of fireplace you have. TV mounting is a service we often provide to our customers during remodels or restorations.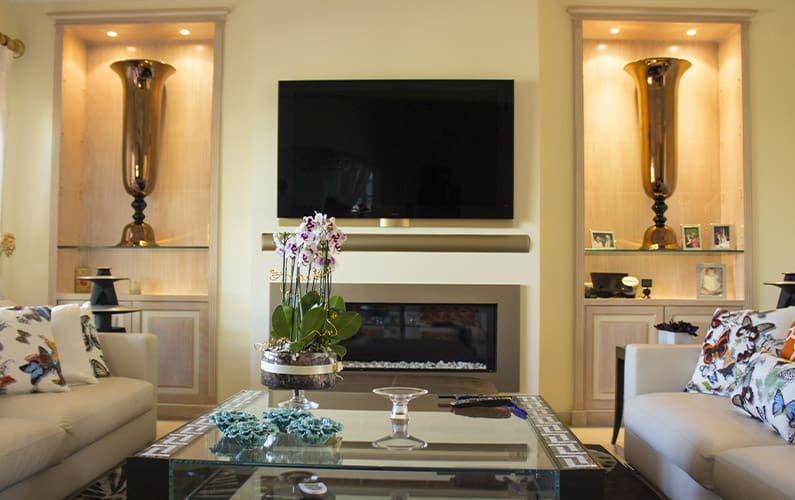 Rugs for Hearth Floor Protection
Fireplace rugs are heat-resistant carpets, pads, or floor mats are a worthwhile accessory to add to your hearth area. The purpose of a hearth rug is to protect your floor from heat and the occasional ember spark.
You can find many inexpensive options for less than $100 and they come in all sorts of shapes, sizes, and styles to suit the decor in your living room area or hearth space. The best fire rug shapes to choose are half-moon, rectangular, or square and are likely made of a blend of materials that naturally resist heat.
Hearth rugs that are heat resistant are usually made of one or more of the following materials:
Fiberglass
Nylon
Wool
Polyester
Polypropylene
No matter what hearth flooring option you choose for your home, the goal is to place the heat-resistant mat on the floor outside your hearth, directly in front of your fireplace's opening. Make sure to only buy from reputable suppliers and always read the full description to verify it is made of fire-resistant material. When in doubt contact a pro for assistance.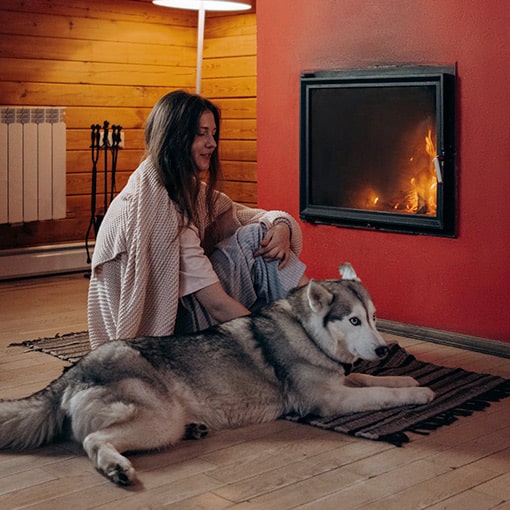 Image Example 1:
As dog lovers, we love this image for it feels cozy like a Sunday at home by the fireplace! However, as hearth professionals, we must point out the safety hazard. While there is fire protection from the screen door, when opened there is a potential for a spark to fly out and hit the rug or floor.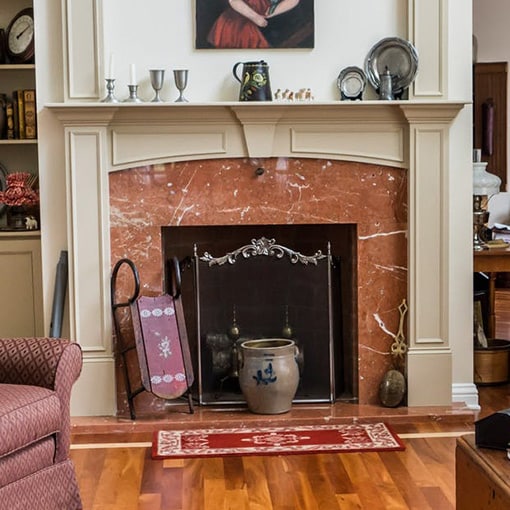 Example 2:
While this fireplace with a protective screen is not currently in use, having a flame-resistant rug directly in front of your hearth allows an added layer of protection. Preventing sparks from damaging your wood floors or unintentionally catching carpets on fire. 
Fireplace Cooking Accessories
Historically fireplace cooking was a popular option because it was the only option as opposed to cooking outside. Since old home's used a fire as the main source of heat and it was often built-in the kitchen.
It's rare in the modern-day to see people using their indoor fire to make dinner, especially when people love a good BBQ Grill for such occasions!
However, this method could still be useful in an emergency situation such as a power outage or strong storm to have the option to cook food indoors over a flame.
Dripping Pan
Grill Spit
Hanging Arm
Chain or Wire
Roasting Jack
Roasting Pot
Trammel Hook
Trivet
Safety Gloves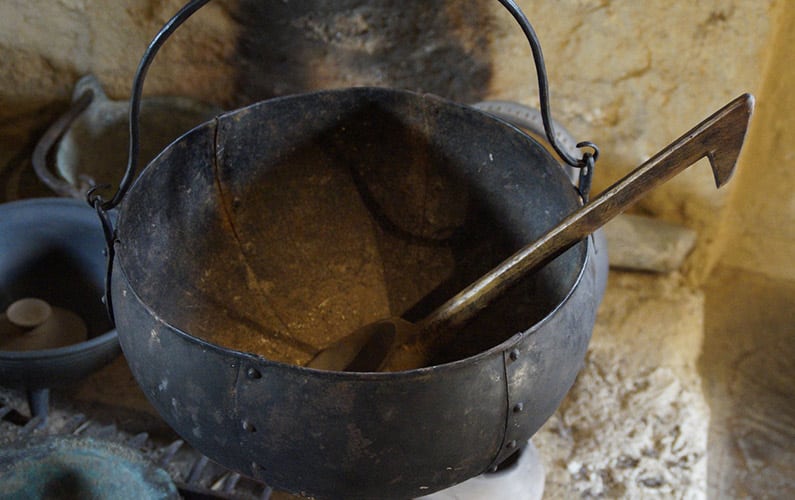 Cast-Iron Cooking Pot for the Fireplace
Some people enjoy cooking food in a fireplace using a trivet just like in the good old days. We don't recommend it since there are safety concerns whenever you burn anything in your indoor fire. Unless it's a campfire or you have a fireplace built to handle food, like a brick oven or a roasting pot with a hanging arm, we'd suggest NOT cooking outside your kitchen.
Cooking Accessories are ONLY for masonry systems.
In modern-day homes, the set-up to cook food inside your open-hearth MUST be professionally installed to ensure all safety requirements are upheld and your system is up to code.  Request a Consultation…
FAQ: Fireplace Accessories
FAQ: Fireplace Performance