We Are Your Trusted Repair Specialist Since 1987
Schedule an Appointment Today!
Are Chimney Caps Necessary?
Yes, caps are absolutely a must have on your chimney! Watch the video to learn why a cap is essential.
Hosted by Master Chimney Sweep, Robert Berry. Or read the video transcript below to discover all the reasons why chimney caps are necessary to preserve the integrity of your system.
Full Service Chimney™ Certified Technicians install Chimney Caps daily in the Kansas City Metro area. When dealing with fireplaces and home safety, experience matters. Since 1987, over 16,000 satisfied customers continue to choose us for their chimney repairs.
Transcript
START VIDEO TRANSCRIPTION: "Is a chimney cap necessary? What size do I really need?  These are common questions we get at Full Service Chimney when we help homeowners with their water and animal entry needs. You see chimney caps are very necessary.
Caps have two principal functions. First they keep outside things out and inside things in. They act as the guard of the gate, if you will, protecting your chimney from water, snow, animals and other entry which could do you and your chimney harm! 
Finally they let toxic things escape that should. For instance:
Smoke
Heat
Creosote
Carbon Monoxide
Other byproducts of combustion
The chimney cap is smart enough to know these things can exit without other things coming in! 
What size chimney cap might you need? Well the first question to that question is: Are we dealing with a masonry chimney or an air-cooled or factory built chimney? With masonry (at least here in the Kansas City metro) the common sizes are 8 by 8, 8 by 13, 13 by 13, 8 by 17, and 13 by 17. Now they do make one size caps that fit all but they do not work properly, they're a poor fit. My suggestion get someone at the top of your chimney that knows how to measure for chimney caps. Take careful measurements then select the most expensive cap you can afford.  Why do I say that? 
Most of the caps we sell are replacing older caps but if our customers had originally purchased a stainless steel chimney cap with a stainless steel spark guard, we wouldn't even be having this conversation! Stainless steel caps virtually last forever. That's why I say the cheapest cap you'll ever buy is the one that will not need to be replaced." – END TRANSCRIPTION.
Common Chimney Cap Problems
1. Moisture and Animals Entering the Chimney
Chimney caps provide protection from weather and animals year-round. It is essential to have a chimney flue cap (or gas fireplace chimney caps) installed.
Note: Distressed birds in a chimney cannot escape! If the passages for air circulation become clogged with nesting material, then the result is a system that can start a chimney fire instead of prevent one.
2. Chimney Cap and/or Guards are Missing
Weather, storms, time and decay can all add to the loss of a chimney cap from your roof. This essential part of your chimney must be cared for and maintained in good repair.
If the chimney top is protected from the rain with only a bonnet, but missing the animal guard and spark arrester, then animals are encouraged to live in that chimney. After all, they want to stay dry too!
3. Rust Causing Early Failure and Stains on the Chimney and Roof
The ever-changing, humid, and wet weather in Kansas City can cause rust on your chimney cap. This can lead to structural decay as well as unsightly stains on the chimney and roof. Replacing the chimney cap with an updated model will solve this issue.
4. The Wrong Types of Chimney Caps Cause Drafting and Safety Issues
Drastic differences in design mean that masonry chimney flue caps need to be specifically designed for each chimney. Brick/masonry chimneys are frequently seen with after-market chimney tops and caps that end up as the source of homeowner problems. 
If the cap is a "one size fits all" style or has window screening wrapped around it as a quick-fix "cap repair", the customer will often have drafting and smoking issues with the fireplace or gas chimney flue. The availability of chimney caps purchased from hardware stores and other online resources often does more harm than good.
Many of these "DIY" fireplace flue caps installed on brick & mortar (or factory-built ) chimneys rust quickly and have no lifetime warranty. The quality and craftsmanship of those style caps are lacking and can eventually fail, causing major damage. If you are considering installing your own cap, then we'd suggest reading our blog article "Everything You Need to Know About Chimney Cap Installation" before taking on that task! 
Get a reliable chimney diagnosis with the Chimney Detective Tool – it's free!
Trust Your Local Chimney Cap Experts
Full Service Chimney sweeps have repaired and replaced tens of thousands of fireplace chimneys and damper caps in the Kansas City area.
We can help you too!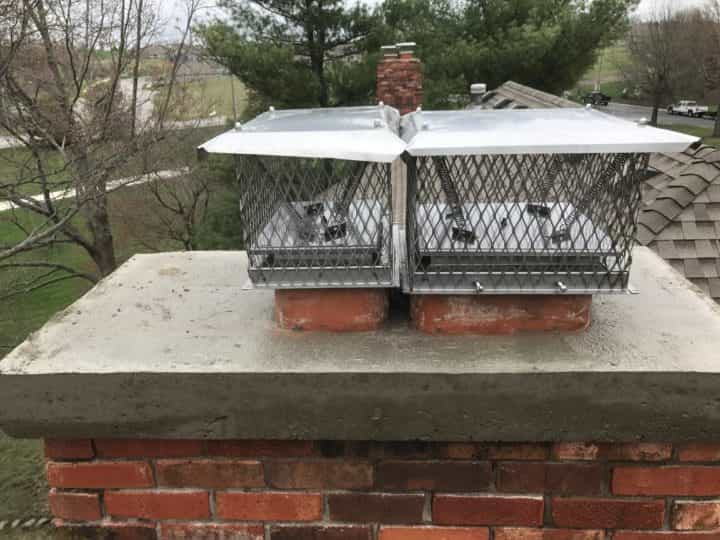 Caps are Important Part of the Chimney System
Caps are an important part of making your fireplace and chimney system operate successfully. Installing the right cap in the first place will save you big time in the future! By installing a stainless steel cap with a spark guard (otherwise known as a  spark arrestor) you help ensure your family's safety and prevent damage caused by water or pests.
In this section, we compare 3 types of caps we commonly see in our local Kansas City area.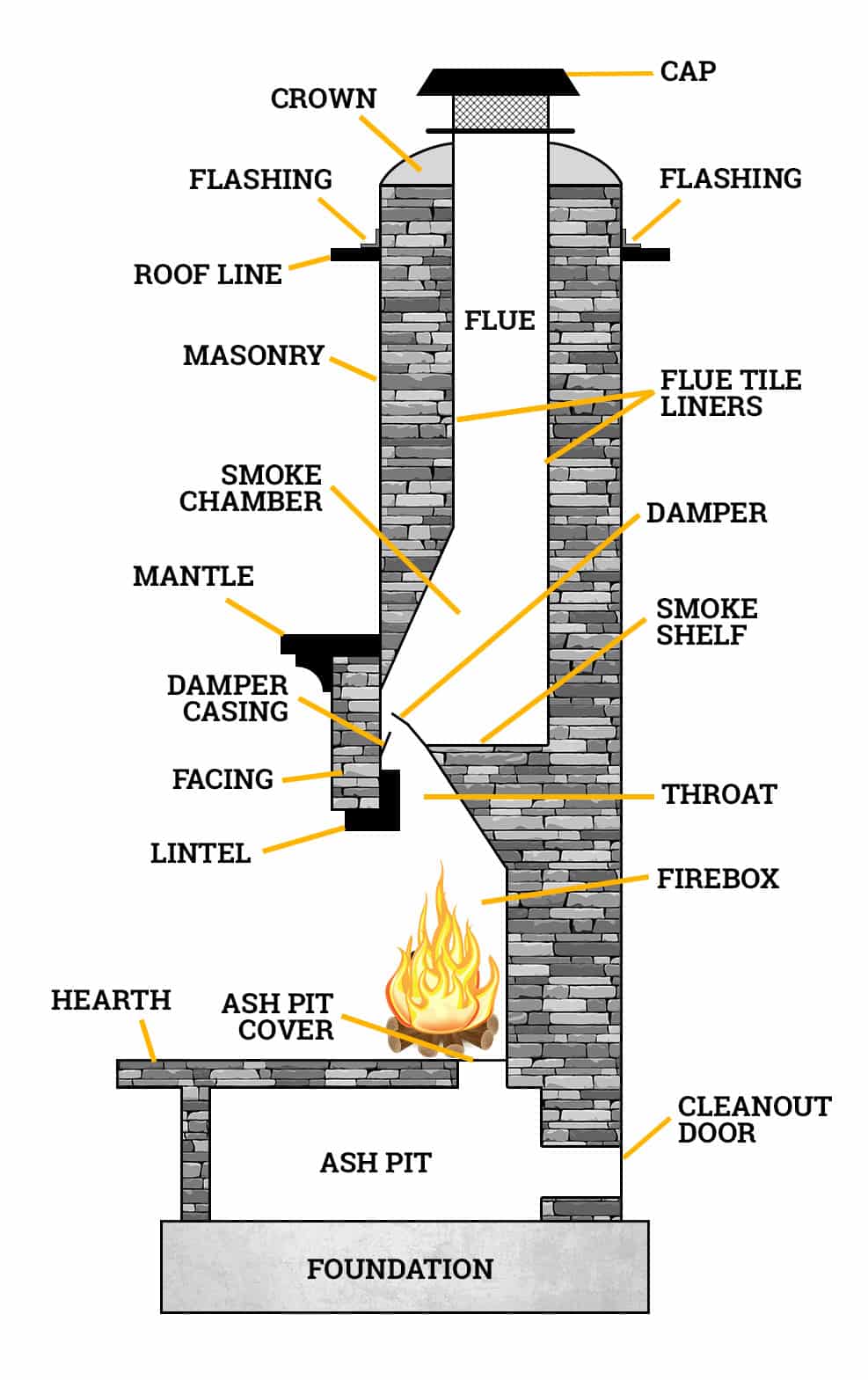 Homemade chimney caps are a common type of chimney cap we see. Many of these unique caps were made by local tinsmiths over a hundred years ago and are still serving the flue liner well. Others, however, were poorly designed and hamper the smoke and fumes trying to exit the flue liner.
These one-of-a-kind chimney caps address one problem but cause another!
If the chimney top is protected from rain with only a bonnet, and missing the animal guard and spark arrester, then animals are encouraged to live in that chimney. After all, they want to stay dry too!
Prefab chimney systems have dominated new home construction since the 1980s. Factory-built chimneys and prefabricated fireplaces frequently have the original manufacturers flue cap, but customers notice birds getting inside the chimney!
Just like other mass-produced consumer products, issues only become apparent when certain types of chimney caps are put into service. The introduction of animals into an air-cooled chimney system can have disastrous results.
Other types of the pre-fab/factory-built chimney tops and chase covers have a design flaw that allows chimney leaks to come in through the horizontal screen on the chimney caps lid, leading to early failure of the prefabricated fireplace due to water rusting out the unit and rotting the systems support structure.
Caps for Masonry Fireplaces
If you drive the KC Metro neighborhoods, you won't need to look for long to see stunning examples of craftsmanship in the types of chimneys that adorn our metro.
Masonry chimneys tolerate a lifetime of exterior moisture if waterproofing is considered; a repellent/chimney sealer. However, if rain is allowed to enter the clay flue tiles due to an absent chimney flue cap, the results are a ruined flue liner, chimney damper and/or firebox.
Brick chimneys that have a chimney damper cap – from day one – have twice the life of those that are missing. By installing a spark arrester (the type of chimney cap with a rain protection bonnet) to the flue of a wood or gas fireplace, the homeowner will potentially double the life of the system.
Full Service Chimney™ Installs Chimney Caps in Kansas City Metro Area
Full Service Chimney sweeps have installed, repaired and replaced tens of thousands of caps on chimneys in the Kansas City area. We can help you too. Contact us today!
"The employees were all courteous and knowledgeable. They explained what needed to be done and provided documentation of services that needed to be done, and upon completion. I have used other chimney services in the past, and feel Full Service was by far the most professional and complete."
"They a great job and we're very professional. I will definitely use Full Service Chimney again."
"We had Full Chimney reline the chimney on our 35 year old house and put on a new crown. The initial inspector provided photographic evidence of need for repair. We were very satisfied with the quality of the work and the politeness of the two man crew, Jacob and Ian. Jacob, the lead tech, carefully explained all our questions and took pains to avoid disturbing plantings around the..."
"Polite and professional. Explained in detail what needs to be done. Arrived on time.Pricing is within norms."
"We hired Full Service Chimney to repair flu's in three fireplaces at our lake house that were built incorrectly and would never draw the smoke, hence for 5 years we rarely if ever used them. Now they all three work perfectly!! These guys are incredibly professional, reliable and they communicate effectively every step of th..."