Masonry Chimney Repair & Tuckpointing
Your Trusted Brick Chimney Repair Specialist Since 1987
Schedule an Appointment Today!
Common Problems with Brick Masonry
When dealing with brick and mortar chimneys, you'll know at glance these masonry structures are sturdy strong, and built to last! However, just like other types of chimney systems, brick-masonry units are not without problems. Read below to discover the main causes of stress for these systems and 6+ common problems to look out for during your next home maintenance check.  
1. Leaking
Chimney leaks occur when water passes through masonry that has shifted or cracked or when the chimney cap, crown, or flashing is damaged or improperly installed. Moisture in the chimney system can cause mortar deterioration and brick discoloration. It can also cause issues for many other system components.
2. Mortar Deterioration
If the mortar between your bricks are beginning to fall apart, you're experiencing mortar deterioration. The most common reasons for mortar deterioration are excessive levels of moisture penetration and poor original construction.
Suppose you catch and address the deterioration early on. In that case, a long-lasting repointing and tuckpointing repair can salvage the chimney. If the deterioration is too excessive or ignored for too long, a chimney rebuild may be the only option.
3. Spalling
Spalling is when bricks crumble and flake from the masonry. In advanced spalling cases, the entire brick can come loose and potentially damage your property or YOU! Bricks spall when moisture is trapped inside of them and then expand when the temperature drops below freezing. Once the frozen moisture thaws, they flake apart because of brittleness. 
4. Compacted Bricks
Compaction occurs by the sinking or settling of your home's foundation. You can spot a compacted brick by looking for ones that have lost their original shape or are bowed or cracked. Bricks compacting is a significant issue because it opens up holes for moisture to enter the system. Which almost guarantees more compaction in the future due to adjacent bricks losing pressure.
5. Bulging Brick
Bulging brick occurs when moisture seeps through the mortar joints in the brick chimney. Often during heavy rains, moisture gets trapped on the chimney wall's backside, causing an outward bulging of the bricks.
6. Staining
Brick staining happens for a few different reasons. The color of the stain is important to understand the underlying cause. Black soot or creosote, white powdery efflorescence, green or brown mold caused by excessive moisture, or rust from an old cap. While the stain itself isn't detrimental to your chimney's structural integrity, it is unappealing to the eye and could be a sign of larger issues.
Staining can best be resolved by hiring a certified professional who knows what to look for and how to fix it.
Solve your chimney problem the right way with the Chimney Detective Tool!
Trust Your Local Masonry Repair Experts
Full Service Chimney sweeps have repaired damaged brick and masonry across the Kansas City Metro for over three decades!
Allow us to help you solve your masonry chimney problems.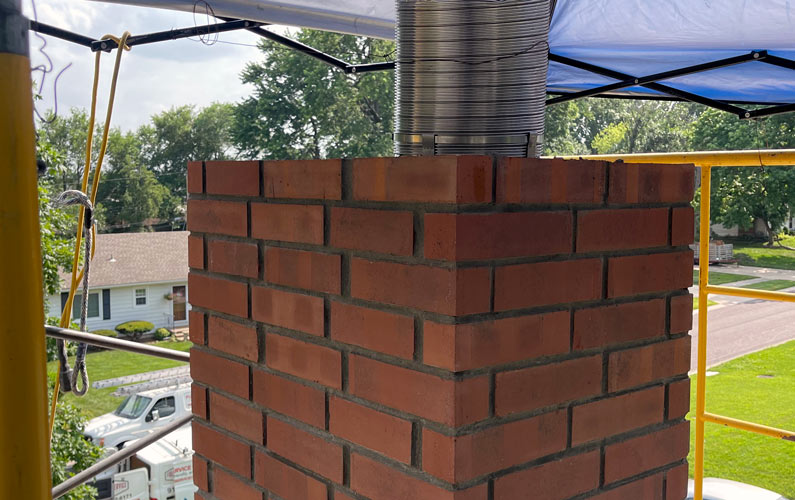 Masonry Chimney Repair,
pointing
, and rebuilding require skilled workmanship. If done poorly, it can look unsightly and will soon need to be re-done.
Full Service Chimney is your expert for brick chimney and fireplace repair. It's what we do full time, and we have over 36 Years of experience in chimney inspection and maintenance. When you decide it's time for maintenance to your chimney, consider the Certified Chimney Repairmen at Full Service Chimney.
Brickwork & Pointing Services
Full Service Chimney Service frequently provides maintenance and repairs for the homes of the Kansas City metro area. With proper chimney maintenance, you can have a hearth system that lasts a lifetime.
Taking care of your chimney and fireplace benefits you, the homeowner.
Professional upkeep repairs for your chimney are attractive as well as functional and can keep your home and hearth warm and cozy.
Our Certified Repair Technicians, who restore brick chimneys to like-new condition, enjoy the craft of bricklaying and helping our customers retain the value of one of their home's greatest assets – the chimney.
Full Service Chimney's services include spot brick and mortar restoration and reconstruction for the entire chimney stack. Our construction crews provide both full and partial brick chimney rebuilding services. With expertise in both exterior chimneys and interior fireplaces, we help you increase the aesthetic value of your chimney inside and out.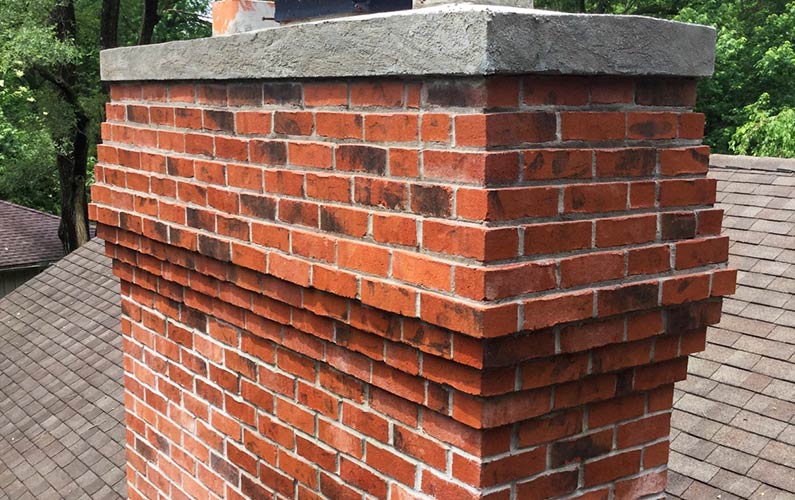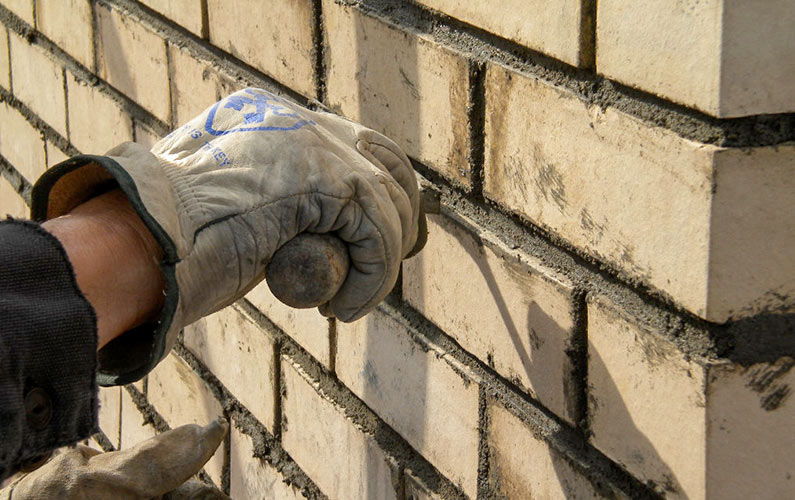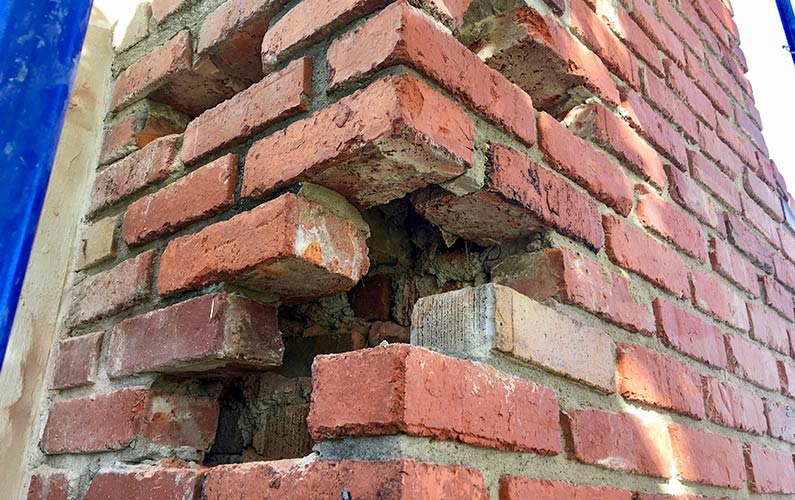 How Long Does Waterproofing Last?
Chimney Waterproofing is needed to keep it dry. A damp chimney freezes and becomes damaged from the expansion of water turning to ice. This protective service can last ten years or longer, depending on the chimney's condition when the protectant is applied. The quality of the waterproofing product is also a factor. Full Service Chimney Repair Technicians apply the highest quality waterproofing to every repaired and reconstructed chimney to maximize the structure's life.
Brick & Joint Repair
When joint repair is needed, the mason begins by removing the loose mortar between the chimney's bricks and replacing it with new masonry mortar. If your masonry brick chimney has solid brickwork, but the mortar is starting to crack and come loose, pointing your chimney could be an option to brick rebuilding. When a mason points the masonry and then applies waterproofing, damage may not escalate to the point of needing full restoration.
Is Reconstruction an Option?
Yes. Partial or complete reconstruction frequently costs over $10,000. It is for this reason that we recommend annual chimney care. If you repair your masonry when issues are first discovered, then major construction can be avoided.
Your Local Chimney Brick Reconstruction Experts
When it comes to building brick chimneys on the often extreme heights of Kansas City rooftops, our restoration crews are trained professionals ready for the challenges that come with these demanding projects.
Maintaining your home's safety and value is as important to us as it is to you. Few others are as dedicated to the craft of brick construction as Full Service Chimney.
Our Repair Technicians never stop training. We are always learning new ways to develop the best Masonry Construction skills and improve our brickwork techniques. Ensuring we provide you the highest quality results.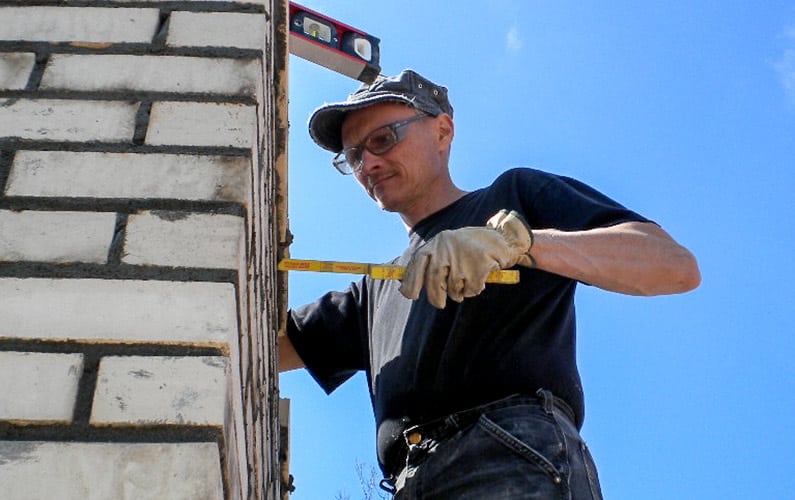 "Great experience from first appt with sales to installation guys. All are helpful, knowledgable and skilled. A good experience from the get go."
"Completion was delayed due to our inability to get electrical and plumbing completed. Once the preparations were complete we were very pleased with the quality of the workmanship. The fireplace works quite well and it is quite attractive. It is a classy addition to the room."
"We had a great experience with Full Service Chimney. Scheduling was easy and they showed up on time. We are very pleased with the quality level of their workmanship. Looking forward to our first fire in our new fireplace!"
"We hired Full Service Chimney to repair flu's in three fireplaces at our lake house that were built incorrectly and would never draw the smoke, hence for 5 years we rarely if ever used them. Now they all three work perfectly!! These guys are incredibly professional, reliable and they communicate effectively every step of th..."
"Everyone was very professional and courteous even when there was a problem with the gas line connection in the fireplace. They stayed until the problem was fixed which delayed their next project. I am very pleased with the results and the professionalism of everyone who worked on the project. This was the second project at my home and was very pleased both times. I highly reco..."
Your Kansas City Fireplace Masonry Chimney Repair Professionals
Full Service Chimney sweeps have performed tens of thousands of brick and masonry repairs in the Kansas City area. We can help you too!