Clean Your Chimney? We Do That!
We Are Your Trusted Chimney Specialist Since 1987
Schedule an Appointment Today!
8 Reasons To Clean Your Chimney
1. Improve Performance
Over time the inside of a chimney flue gets coated with creosote and soot. This coating makes the flue smaller, which reduces draft and flow, meaning smoke is likely to back draft into the home. Nothing is more frustrating than having a smoky fireplace!
2. Sweeping Helps Prevent Flue Fires
Regular maintenance of a your fireplace and chimney flue helps to keep your family safe by preventing flue fires from happening potentially reaching your home.
3. Reduce the Risk of Carbon Monoxide
All chimneys run the risk of pushing carbon monoxide back into a home. Chimney's that are not cleaned regularly are at a much higher risk for potentially fatal exhaust issues.
Annual Inspection and Cleaning are a must for homeowners with fireplaces or gas appliances.
4. Eliminate Foul Chimney Odor
If you've ever wondered why your living room smells like a campfire, then you can understand the need to stop chimney odors. So keeping a clean chimney has the benefit of fresher smelling home!
5. Remove Sooty Creosote & Debris
Creosote is a flammable fuel that could lead to chimney fires. Burning wood produces creosote. While this cannot be avoided, we can minimize its risk by sweeping it from your chimney flue.
6. Stop Animal Entry
When you clean a chimney, often there is evidence of animals and all types of critters that make homes in your flues. An inspection will provide options for animal entry solutions, like new chimney caps or other repairs.
7. Extend Your Chimneys Lifetime
Well maintained chimneys can increase the value of your home and last the span of many decades. Having Full Service Chimney clean your chimney every year can reduce the risk of costly chimney repairs in the future.
8. Peace of Mind
Furnace flues and fireplace systems have the responsibility of separating you from the fire. Keeping up on maintenance ensures your chimneys' condition when you wish to enjoy a fire.
Try the Chimney Detective Tool today and get a free chimney problem diagnosis!
Trust Your Chimney Cleaning Professionals
If your home has a fireplace, then its chimney needs cleaned every year.
Full Service Chimney sweeps maintain chimneys in the Kansas City area.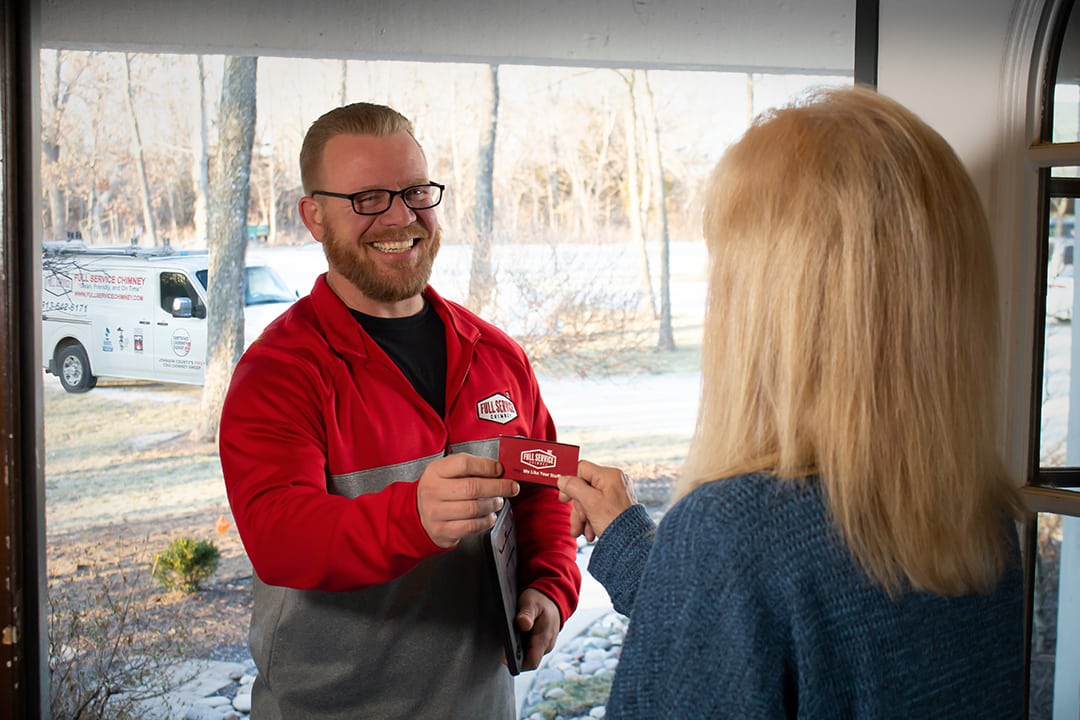 "Completion was delayed due to our inability to get electrical and plumbing completed. Once the preparations were complete we were very pleased with the quality of the workmanship. The fireplace works quite well and it is quite attractive. It is a classy addition to the room."
"I will always use these people as long as they are in business. They have done the best of any sweeps we used."
"Arrived on time and completed the job as promised. Both friendly and professional, answered all the questions I had after the installation was complete. Very happy with the fireplace gas insert that was installed!"
"Great service and very thorough."
"We had Full Service Chimney reline the chimney on our 35 year old house and put on a new crown. The initial inspector provided photographic evidence of need for repair. We were very satisfied with the quality of the work and the politeness of the two man crew, Jacob and Ian. Jacob, the lead tech, carefully explained all our questions and took pains to avoid disturbing plantings ..."
Your Kansas City Chimney Cleaning Experts
Full Service Chimney provides chimney cleaning service to homes across the KC Metro area.
Kansas City families have trusted us to help maintain their fireplace & chimney systems for over three decades.
Let us be your flues chimney cleaner.