We Are Your Trusted Repair Specialist Since 1987
Schedule an Appointment Today!
What to Consider Before Installing a NEW Fireplace 
Before you decide to repair your fireplace or install a brand new system, there are a few things you should consider. If you don't already have a fireplace in your home then you'll need a Professional Contractor to inspect the house and help you with the requirements of building a system into the home. 
However, if you already have a fireplace in your home but perhaps it's old, ugly, outdated, or doesn't work at all then it's time to start looking into your options. Which starts with understanding the type of burning system you currently have in your home. Whether it's gas or wood-burning there are many types of fireplaces.  Regardless of which type you have, you'll want a Certified Chimney Sweep to help make this project a success from start to finish!
1. Prefab or Masonry?
Prefabricated fireplaces and chimneys (also known as factory-built fireplaces) offer a cost-effective fireplace installation compared to a hand-built masonry wood-burning fireplace. Also, having us install your wood stove or fireplace requires just a few days, compared to a week or more for a masonry fireplace.
2. Factory Built Systems
It's easy to understand the appeal of factory-built fireplaces and chimney products to add warmth to home and hearth. Homeowners take comfort in knowing special steps were taken for you, the end user's benefit.
We should understand that these engineered hearth products (fireplaces, wood-stoves, fireplace inserts, etc.) are only safe and functional when the two main components, the chimney and fireplace installation, are done same time. The fireplace manufacturers undergo testing of the prefabricated fireplaces and chimneys together. This ensures many years of chimney safety and performance.
In Kansas City, your Full Service Chimney sweep has performed many fireplace installations and chimney rebuilds. We have seen first-hand that prefabricated fireplaces and chimneys can have just as many brick chimney and fireplace variety issues. Let us help you decide which system is right for you. 
Trust Your Local Chimney Experts
Our Certified Repair Technicians can install your new fireplace professionally and with attention to every detail.
Servicing homes across Kansas City for over 3 decades! We can help you too!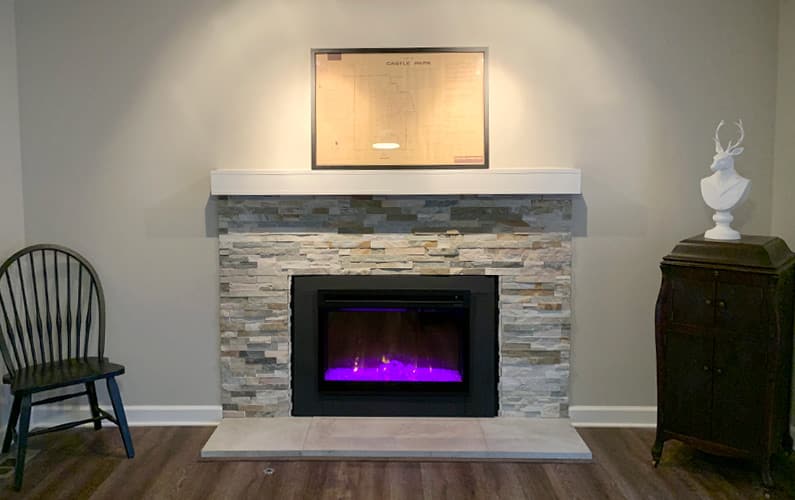 Get fast and reliable chimney issue diagnostics with the Chimney Detective Tool!
Why Choose to Install a Prefab Wood-Burning Fireplace?
It's a responsible choice if you're looking for an economical wood or

 

gas fireplace
Chimney safety is built into the prefabricated design
Unlike its

 

brick fireplace

 

counterpart, a "prefab fireplace" is:
Lightweight
Installed with minimal construction
Mass-produced, so the fireplace installation costs less
Prefab fireplaces are quickly installed on-site since each is a pre-assembled unit
Designed and built for fire safety
Design of Factory Built Heating Systems
A Factory-Built Fireplace Firebox is constructed of sheet metal pieces formed and riveted together. On the inside portion exposed to flame, refractory panels are placed on the walls and beneath the fireplace grate, where the heat is the greatest.
There are engineered air spaces that reduce the heat to nearby combustibles to minimize heat transfer between the sheet metal of the prefabricated fireplace and refractory panels. Finally, the fireplace damper, found at the top of the fireplace firebox, is incorporated into the prefab chimney flue base.
Many prefabricated fireplace installations have a fireplace glass door and a screen to limit the sparks that escape, which adds a sense of security to have a fire in the home. While prefabricated fireplace glass doors are frequently optional, the fireplace spark screen and prefabricated fireplace refractory panels should always be present.
Fireplace Installations Require Attention to Details
As with masonry chimneys and brick fireplaces, you should understand that proper construction and annual maintenance (chimney sweeping and fireplace inspections) are essential for your installed fireplace. Regarding proper fireplace installation, to avoid a home or chimney fire, it is important to follow the prefabricated fireplace's installation manual and use only proper chimney parts.
For example, the fireplace manufacturer installation manual required the prefabricated fireplace firebox to have an airspace of several inches to combustibles. Instead, it is too close (or worse touching), a house fire of nearby combustibles could result if those combustibles overheat.
Likewise, if the fireplace glass doors designed for a brick fireplace were accidentally installed on a prefabricated fireplace, cooling from air circulation around the refractory panels in the prefabricated fireplace firebox would be compromised, and overheating would likely result. For this reason, prefabricated fireplace inspections and chimney cleaning are critical.
During a fireplace cleaning, your Full Service Chimney sweep will not only remove soot and creosote to avoid a chimney fire but perform a Level 2 Chimney Inspection with a video inspection of the chimney flue. Fireplace Inspection performed by a Certified Chimney Inspector is important.
The NFPA211 (National Fire Protection Association code) requires a fireplace and chimney be inspected annually. Only close examination by a Full Service Chimney Inspector can detect deterioration or defects in the original fireplace installation.
"Great people who are good at their work but also care about the details that make up the overall experience."
"We had Full Chimney reline the chimney on our 35 year old house and put on a new crown. The initial inspector provided photographic evidence of need for repair. We were very satisfied with the quality of the work and the politeness of the two man crew, Jacob and Ian. Jacob, the lead tech, carefully explained all our questions and took pains to avoid disturbing plantings around the..."
"I did call Full Service Chimney to ask for advice regarding my old chimney as I was considering to buy a wooden stove to heat the basement. overall the service was very efficient, professional and friendly. They explain the different options to me in detail and now I have a better understanding of what I can and can't do and also the current condition of the chimney. I will recomme..."
"I just used Full Service Chimney to inspect and clean my fireplace and refresh my gas logs. They did a very thorough job and provided excellent customer service throughout the process. They were responsive and reliable to the timing of the appointment and knowledgeable about options to implement. I highly recommend this company to anyone that may need work done on their fireplace."
"Very helpful in an area totally unknown to me, appreciate his patience and professionalism"
Your #1 Contractor for Chimney and Fireplace Installs in KC
The Full Service Chimney team of Certified Technicians install fireplaces daily in the Greater KC metro area. We can fully install your brand new system in no time!
Or if you're having problems with an old setup, then we can help you troubleshoot. If the unit can't be repaired, then rest assured we can replace your fireplace system with ease.