Fixing Leaky Chimneys in Kansas City Since 1987
Schedule an Appointment Today!
How to Know Your Chimney is Leaking
If you've had a tornado or lightning strike your chimney, then it's easy to see the damage. However, detecting leaks is not always so straightforward. Your Local Chimney Sweep can help find leaks in your fireplace system.
First, watch this video and then read below to learn about the most common ways to know your chimney is leaking. Certain issues you find in your house may alert you to the roof/water leaking problem, but you must know what to look for!
1. Missing Chimney Cap
The most obvious reason for leaks is rain water falling straight down the chimneys flue because the top is lacking a proper crown and cap. When rain is allowed to drain into the firebox, condensation problems start to develop.
2. Water Dripping Into Fireplace
There are many reasons for a damp fireplace. A full inspection of the system is necessary to determine the source of the leak and how to best solve the problem.
3. Wall or Ceiling Stains
A water stain on your ceiling is preventable damage often caused by a leaky chimney. Peeling wallpaper is also a sign of a leak. If you notice this level of damage, you've got a bad leak and need to call your local chimney sweep for help.
4. Musty Smell After Heavy Rain
If you have a fireplace and the room smells musty, like mold or mildew, then it's likely your chimney is leaking.
5. Cracked Chimney Crown
It's often hard to know there's a crack in your chimney tops crown unless you can see it. This is why we recommend having a Certified Sweep out annually to seal cracks before water entry starts!
6. Damaged or Spalling Brickwork
Eventually all masonry chimney start to crack, especially when regular maintenance is neglected. If you have an old masonry chimney and notice brick falling off, then it's likely leaks have already started.
7. Deteriorated Mortar Joints
Brick masonry chimneys crack and the mortar joints start to deteriorate. When bricks lack proper mortar, rain water, snow, and other bad weather can start to eat away at the brickwork from inside and out, causing the bricks to crumble over time.
Solve your chimney problem the right way with the Chimney Detective Tool!
Your #1 Chimney Leak Repair Experts
Full Service Chimney is the most experienced source for chimney leak repair in the Kansas City area. For over 3 decades we've helped families just like yours, fix chimney leaks for good.
We can help you too!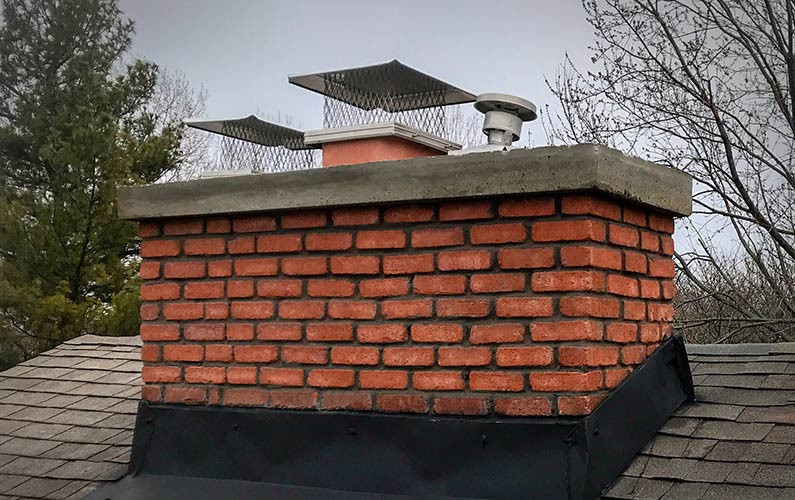 Why Is Your Fireplace Wet?
A leaking fireplace is miserable. It can lead to expensive chimney repairs and fills a homeowners heart (and hearth) with dread every time it rains! Full Service Chimney Inspectors find leaks in chimney flashing or the chimney flue cap in 4 out of 5 chimneys inspected.
Chimney leaks take a specially trained technician with chimney repair experience. It isn't as simple as getting on the roof and looking for holes in the chimney flashing.
A leaky chimney can be frustrating to diagnose because masonry and chimney flashing can leak without a noticeable indication of injury to the chimney. Most chimney leaks (even new leaks) are often caused by a poor design in the chimney crown or chimney flashing when the home was built.
For example, a chimney that is allowed to have rainwater pool on its peak side may not leak for a few years! By the time the damage shows up, it's too late.
Only after years of "ponding" water does the chimney flashing rust to the point of water entry into the home and then fireplace leaks or ceiling stains appear.
If on the other hand, the home builder insisted on a chimney cricket, the pooling and subsequent rusting would likely never have happened.
Similarly, prefab chimneys have issues with the home siding resulting in chimney leaks. Prefabricated chimneys are covered with the same siding product as the rest of the home. If the sections of hardboard siding are not installed with a water diverter, in time the caulking will fail and a leaky fireplace will result.
Even well-built gas chimney or fireplace flue can develop gaps and cracks that allow water in, causing a variety of chimney leaks. This is because masonry chimneys are prone to freeze/thaw damage. Since the chimney must extend above the roofline, it doesn't stay above freezing in the winter. Consequently, the damp chimney forms small cracks that only get bigger as time goes by. While waterproofing alone won't keep a crack from leaking, it can help our cold chimney from freeze/thaw damage on those cold winter nights.
Installations & Repairs We Perform to Stop Water Entry Into Your Home
The chimney cap/crown, brick waterproofing and professional flashing all play a part in our plan to keep your hearth safe and dry.
As Leak Repair Specialists, we understand the frustration and consequences of a leaky chimney (and sometimes a wet fireplace surround). A Full Service Chimney Inspector will perform a complete evaluation of the roof flashing, crown/cap, the "chimneys cricket" and can even waterproof a chimney to protect against future moisture issues that threaten your home.

5 Ways to Fix Your Water Problems
1. Chimney Caps
A Chimney Cap or rain cover protects your chimneys liner, the smoke chamber, fireplace damper and firebox from water damage.  An open flue liner (a chimney top missing a cap) allows the most water into a chimney. Chimney Caps with spark arrestors keep embers from escaping and keeps birds/animals out.
2. Chimney Crown Repair
Chimney Crown damage is responsible for the most common cause of water related masonry damage. The chimney crown should extend past the edge of the brickwork for added masonry protection. 
3. Brick Waterproofing
Waterproofing masonry goes beyond applying a chimney sealer. It includes quality bricks and masonry mortar properly assembled. Chimney Waterproofing treatments should be vapor permeable, to allow moisture inside to evaporate out.
4. Counter Flashing
Counter Flashing is embedded into the brickwork/masonry chimney and then sealed. The counter flashing diverts water to cascade down the brick chimney onto the roofing below. Counter Flashing protects your home from water leaking in from the chimney.
5. Step Flashing
Step Flashing is layered into the roof shingles to ensure water always drains onto a lower surface. The way Step Flashing is designed keeps moisture from reaching the roof decking or attic, which protects your home from chimney leaks.
"The workers/technicians were great, very professional and hard workers, it was two very hot days and they did not let the heat slow them down. The work on the chimney looked great, they shared before and after photos and went over all they done at the end of the job. From the time the estimate was done to the completion of the work I have nothing but good to say about everyone inv..."
"Great company! Knowledgeable, courteous and they clean up well. I was very impressed with the demeanor of everyone I spoke to on the phone, or at my house. They definitely know what they're doing. I highly recommend using this company for cleaning or repairs to your fireplace or chimney."
"I did call Full Service Chimney to ask for advice regarding my old chimney as I was considering to buy a wooden stove to heat the basement. overall the service was very efficient, professional and friendly. They explain the different options to me in detail and now I have a better understanding of what I can and can't do and also the current condition of the chimney. I will recomme..."
"All around excellent service I have nothing bad to say about this company."
"They were prompt and provided great service (even though it was probably 95 degrees outside and not a great day to be working on a chimney!)"
Don't Patch the Drip! Stop Leaky Chimneys at the Source
Full Service Chimney sweeps have repaired and replaced tens of thousands of fireplaces and chimneys in the Kansas City area. We can help you too!
Put fireplace leaks behind you, call your Full Service Chimney team today.