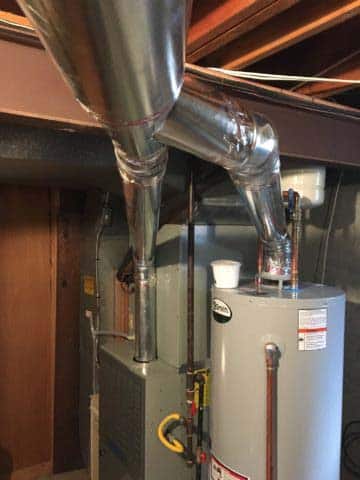 Gas Chimney Service provides proper venting for appliances in your home. Your water heater or furnace flue vents exhaust gases to the outdoors.
If your utility flue is blocked or damaged, one possibly fatal result is carbon monoxide back drafting into the home. Ask your Full Service Chimney Sweep for advice on a gas flue cap and a gas flue liner.
Do you need your chimney flue inspected? Call your chimney flue headquarters, Full Service Chimney.
Don't Wait. Call 913-642-6171
Furnace/Water Heater Vent Inspection
Full Service Chimney Sweeps have serviced thousands of Gas Chimneys/gas flue liners in the Kansas City Metro over the last thirty years. All of our Chimney Inspectors have seen first hand the C.O. dangers of gas chimneys becoming damaged and falling into disrepair.
Many times a year we receive a phone call from a desperate customer suffering from carbon monoxide leaking from their furnace flue into their home. To protect the family, the gas company shuts off the gas-heating appliances (gas furnace/water heater) until the chimney gas/utility flue is repaired. This puts the homeowner in a tough spot when given the choice between heat for the home or poisonous chimney gas.
That's when homeowners in need of Gas Chimney Service call us.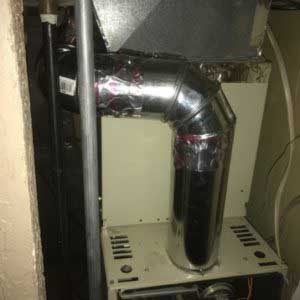 The Certified Chimney Inspectors at FSC perform a variety of gas chimney services:
Gas Flue Service (often known as Gas Utility Flue Service)
Gas Chimney Repair
Gas Chimney Cleaning
and more…
By following the recommendation of the Chimney Safety Institute of America and the National Fire Protection Association, a Chimney Inspection every year can keep your gas chimney furnace flue functioning as intended.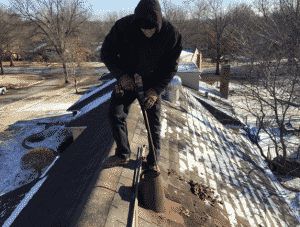 Does a Gas Chimney Need Cleaning?
Furnace flues and gas chimneys, like any other part of your home, will offer the least trouble if well maintained. Furnace Flue Cleaning is needed every year, depending on the type of appliance and gas flue that need chimney service. All coal and oil fired heating equipment leave a considerable amount of soot and deposits in their masonry chimney utility flue that need to be removed. Gas flues servicing furnaces, boilers and water heaters have annual chimney service needs as well.
A gas furnace chimney liner is exposed to exhaust containing water vapor and acidic products that are damaging to the gas chimney's flue tiles. The acidic exhaust and water vapor that is present in gas chimney exhaust eats away the mortar and gas flue tiles in the furnace flue. It is for this reason gas chimneys need a chimney inspector to visit annually to keep an eye on the chimney flue liner condition and sweep the gas flue if it becomes clogged with crumble debris. If the gas chimney liner becomes blocked with broken furnace flue tiles and crumbled mortar, exhaust and carbon monoxide is likely going to backdraft into the home.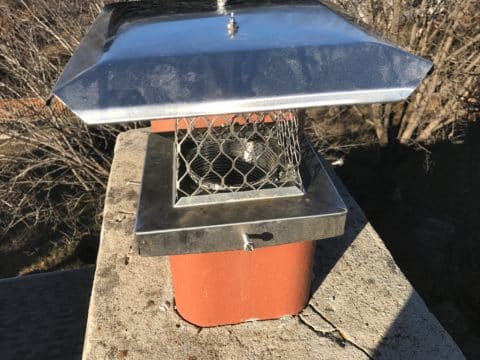 What's the Purpose of a Furnace/Water Heater Flue Liner?
The planning of the venting system of natural gas furnaces, is part of the gas heating appliances installation process. Since the gas chimney exhaust contains acids, carbon monoxide and water vapor, gas heating appliances are not allowed to simply vent into the home. However, not all gas heating appliances use a chimney utility flue per se to rid the home of furnace and gas water heater exhaust.
Do Utility Flues Need Annual Maintenance?
Yes. Gas heating appliances do need an annual chimney inspection and regular maintenance such as flue cleaning. This includes gas fireplaces and gas hearth stoves.
Gas fireplaces, both the Direct Vent gas fireplace insert variety and masonry fireplaces with gas logs, have annual gas chimney service needs essential for optimal performance and chimney safety.
For example, if the gas log fireplace has gaps or cracks in its chimney flue liner, the exhaust will not have the necessary draw, and the result could be a fireplace back drafting issue.
Direct Vent Fireplace Inserts have several needs to keep them operational and safe.
Can You Replace a Furnace Vent Pipe?
A replacement gas furnace chimney liner other wise known as a vent pipe is a great way to restore a gas flue's integrity without the expense of costly chimney rebuilding.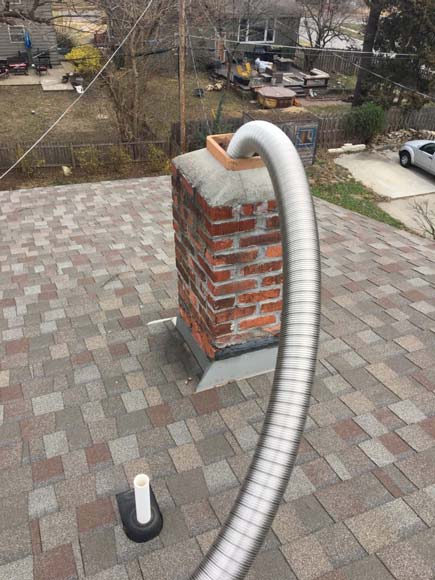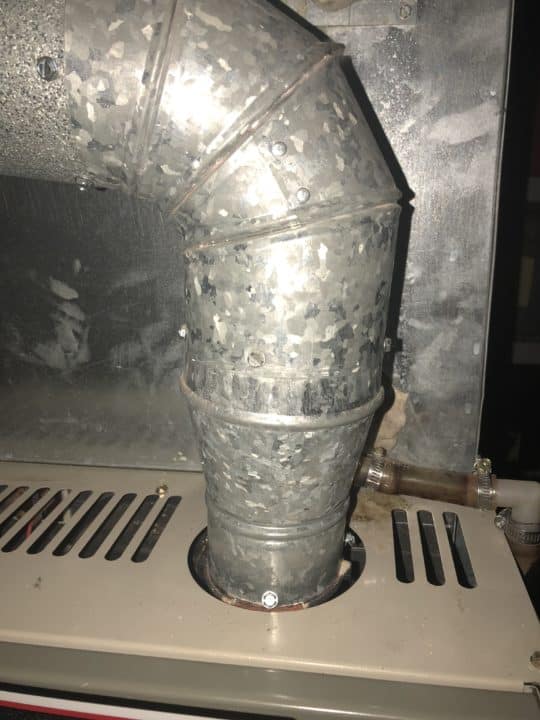 How Much Does it Cost to Replace/Repair a Gas Flue Liner System?
For example, if a chimney gas flue was servicing a gas water heater, the gas furnace chimney liner kit could be installed for under $2000. The cost of installing stainless steel liner for the gas flue depends on several factors:
Height of the furnace flue, length of the liner and the BTUs of the gas appliances will effect the cost of the gas chimney repair. But the final price will be far cheeper than masonry chimney rebuilding with new furnace flue tiles.
Some of the Kansas City metro's homes and furnace vents are over 100 years old, some are brand new. The gas flues and masonry chimney gas vents of both have unique issues, but share the same responsibility to chimney safety. That is, to provide safe and reliable venting of utility flue gases to the outdoors each and every time the family wants warmth from the gas furnace (and hot water to do the dishes).
Allow Full Service Chimney Sweeps to serve as your chimney care provider. To Inspect your gas flues on an annual basis and provide gas chimney repair as needed.
It is the surest way to keep gas contained, minimizing the potential dangers of owning gas heating appliances. Don't Wait.
Call 913-642-6171 or