Registered Apprenticeship Program
The Full Service Chimney Registered Apprenticeship Program allows individuals to gain experience in the chimney service industry. Through the program, apprentices will receive hands-on training in installing, repairing, and maintaining chimney systems. Apprentices will also gain knowledge about the operation and safety of chimney systems and the regulation of their operations.
The program is designed to provide apprentices with the skills and knowledge necessary to become certified chimney technicians. During the Registered Apprenticeship Program, apprentices will be required to complete on-the-job training and related instruction to expand their understanding of various topics such as chimney inspection, cleaning, and repair, as well as the installation of new chimneys and chimney systems.
What is a Registered Apprenticeship Program?
A Registered Apprenticeship Program is an educational and training program that provides hands-on experience and instruction in a specific field or trade. Apprentices are typically employed and paid by the employer while they learn the skills required to become fully qualified workers in their chosen field. The apprentice is provided with on-the-job training and related classroom instruction during the program.
The program is registered with the relevant governing body and must meet specific educational standards. The apprenticeship is designed to provide the apprentice with the skills, knowledge, and abilities required to become a highly qualified worker in their chosen field. Apprentices typically enter the program with a high school diploma or GED; however, candidates with advanced degrees are also invited to participate.
Once the apprentice completes their program, they are awarded a certificate or diploma that verifies their skills and achievements. They can then use this certificate to gain employment in their chosen field. They are an excellent option for those who are looking to enter a new career or those who want to develop their current skills!
Veterans Strongly Encouraged to Apply
Veterans, if you are looking for a career change or an opportunity to learn a new skill, the Full Service Chimney Registered Apprenticeship Program is a fantastic option. With this program, you will benefit from on-the-job training and classroom instruction to learn the skills needed to become a qualified chimney technician.
The Full Service Chimney Registered Apprenticeship Program also offers competitive wages and benefits and allows one to earn a nationally recognized certification. With this program, you can gain the skills and experience necessary to succeed in this ever-evolving industry, often with flexible hours and the ability to work in various locations around Kansas City. So don't wait; take advantage of this great opportunity!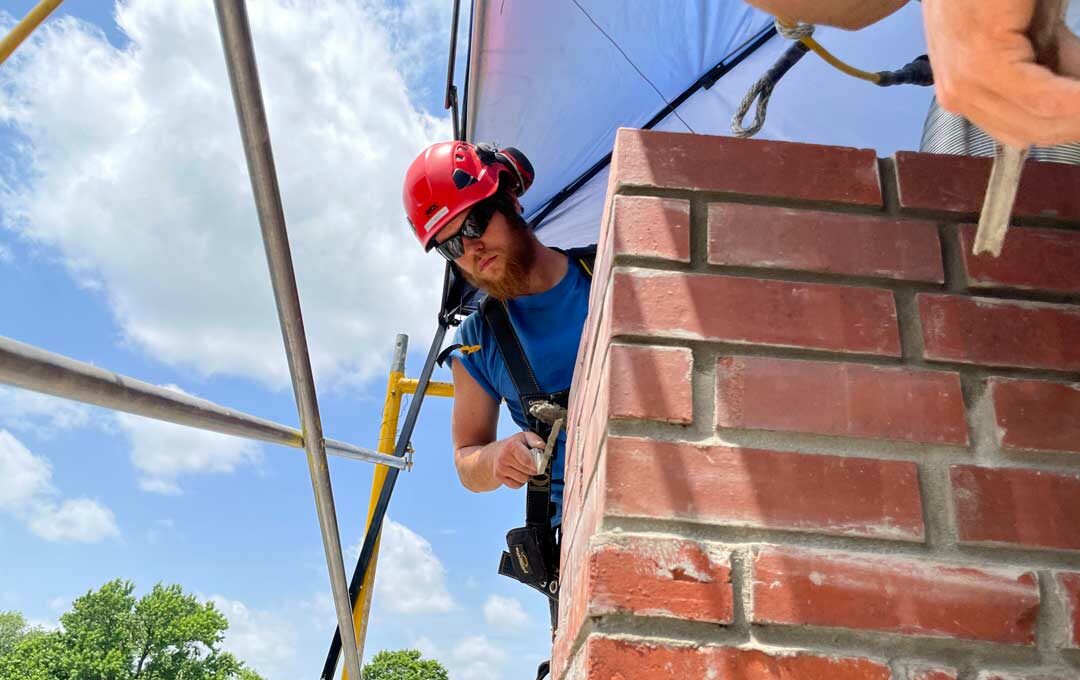 Frequently Asked Questions
How can I join the Full Service Chimney Registered Apprenticeship Program?
Full Service Chimney accepts applications year-round for our Registered Apprenticeship program. Space is limited; however, we work hard to ensure that new apprentices are being cycled through the program as quickly as possible to free up space for new candidates.
What opportunities are available after completing the program?
Full Service Chimney will always reward hard work, and we know that the Registered Apprenticeship program can be demanding. For this reason, additional certification opportunities become available once your apprenticeship is completed. For more information, visit our Careers page.
What skills or qualifications are required to start the program?
Anyone willing to put in the work and learn a new skill can benefit from the Full Service Chimney Registered Apprenticeship Program. Our primary goal is to ensure you have the resources and training required to make you the best chimney inspector, chimney sweep, chimney service technician, or chimney construction manager possible – no matter what your starting spot may be!
Why do you encourage service members and veterans to apply?
At Full Service Chimney, we highly value the unique talents and skills that those with military experience bring to the table. We proudly encourage those individuals to look into our company for potential openings in the Registered Apprenticeship program. Our team has seen first-hand that military personnel possess a strong work ethic, discipline, and the drive to succeed.
Ready to Join the Full Service Chimney Team?
Full Service Chimney™ is your #1 chimney and fireplace inspection, cleaning, and repair provider in the Kansas City area. We are a family-owned and operated company committed to providing world-class services to our local communities since 1987.
Personal and professional growth is important to us. We offer career-minded people an opportunity to grow into a position that fits their skills. We give you the equipment and software you need, plus train you to use it. We're always looking for talented people with quality skillsets who want to find a long-term career, not just another J.O.B.
"They did a great job... very professional! Jacob and his crew stuck to it in spite of the rain to get it done right."
"Very thorough examination of entire fireplace and furnace venting. Agent went into great detail about what everything was, how it worked, and what needed to be completed. Very confident in the work being done."
"The 3 person crew that installed a new fireplace liner did an excellent job: They were very professional and friendly, They cleaned up after finishing, and They clearly explained the warranty and operation of the new damper. It is obvious the guys took pride in their work! I could not have more pleased with the experience."
"We have used them for many years. They are friendly courteous, and take pride in their work. I would definitely recommend them."
"Very thorough. Excellent photos of exterior & interior of the chimney. Tech walked through the issues with recommendations. Answered all my questions in good detail. Iliked them well enough to agree to gas log installation. I also like the fact they are locally owned & the initial conversation was with one of the owners."
Your Best Chimney and Fireplace Services in the KC Metro Area
Over the past 3 decades, our team has swept over 16,000 thousand flues in the Greater Kansas City Metropolitan area. We can help you too!