Chimney Crown Repair & Replacement
Your Most Trusted Chimney Top Replacement Experts Since 1987
Schedule an Appointment Today!
Trust Your Local Chimney Experts
Our Certified Repair Technicians can repair the old crown if it's not too damaged. Or we can do a complete crown replacement; Install a brand new, hand-built, over-hanging chimney crown pour.
Servicing homes across Kansas City for over 3 decades! We can help you too!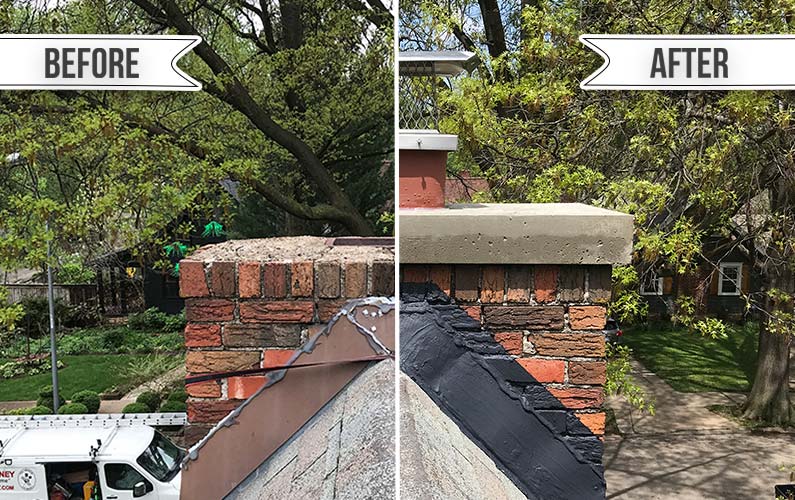 Try the Chimney Detective Tool today and get a free chimney problem diagnosis!
4 Signs Crown Repair is Necessary for Your Chimney
The crown cap is the shield that protects your home from damages caused by having an opening in your roof known as the flue. When the top/crown is not at its best, then it becomes susceptible to a variety of problems.
It's important to guard against seasonal elements.  Moisture gets inside your residence through a faulty cap, cracks, and crevices in cement or mortar joints. All of which have the potential to cause serious but avoidable damage to your home, fireplace, or furnace (depending on what types of chimneys you have in your house).
1. Cracked Chimney Crown
The most obvious sign is one most homeowners won't see unless they spend time on the roof! When cracks start to appear in concrete crowns and mortar joints of a brick structure, then it allows both water to get inside and start wreaking havoc on your home's heating system!
2. Rusted Firebox, Doors, or Damper
If your fireplace is starting to rust, then water is getting inside your home's chimney. Rust may start on the metal part of glass doors, damper, or firebox inside your fireplace. When we see rust in certain places we can determine the damage has been there long enough that the rust can now be seen visually.
3. Stained Ceilings and Wallpaper
If you see moldy water spot stains on your wallpaper or moisture starting to collapse your ceiling, then it's easy to see you have a big problem, but it may be difficult to know what's causing the issue. It's time to call your local chimney sweep to inspect for a leak (which could be caused by cracks in the crown or damage to the cap).
4. Damaged Mortar Joints
When not properly protected, moisture gets inside your chimney's mortar joints causing damage. Which leads to a deteriorating brick structure and eventually spalling brickwork.
Full Service Chimney's Signature Overhanging Crown Pour helps shed water away from your brick stack to prevent mortar joint damage to the top of your chimney.
2 Common Problems that Result in Chimney Crown Replacement
When damage occurs to the top of a chimney, water soon begins to damage other areas of the structure and other parts of your home. While there are more signs and symptoms, the two most common problems we see with chimney crowns are leaks and deteriorating crown seals.
 1. Leaking
Leaks are often caused by a problem with the chimney crown. More often than not, your crown was made from leftover mortar from the chimney construction (or a poor attempt at reconstruction).
Mortar cap crowns frequently form hairline cracks the very same night they set up! In no time, these small cracks begin to leak, fill with rainwater, freeze and then widen. Regrettably, a broken crown turns into loose brickwork at the top of the chimney in a few short years.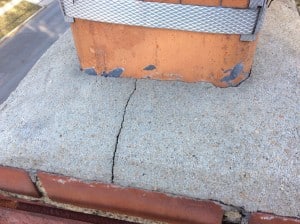 2. Seal is Failing or Has Failed
A Chimney Crown Seal is the most common chimney cap repair that we offer to customers who need chimney top service. Quality crown seal is the proper repair for cement chimney caps that have only small cracks but are otherwise sturdy.
By taking care of small cracks in a leaky chimney crown early, we can avoid additional leaks and a more extensive, more expensive repairs later!
BUT What If You Could Stop the Damage Before It Starts? Or at the very least reduce the chances of water entering your home due to crown issues…
Prevent Water Leaks By Installing a Proper Crown Cap
Unfortunately, complete chimney rebuilding (from the roof up) is a common service we offer because too often, people do not know about crown issues until it's much too late. All from what may have started a few years before as "just a few small cracks in the chimney's crown". 
In addition to causing brick damage, leaks due to a damaged crown will lead to rusted fireplace doors, ruined dampers that cannot be opened or shut because they're so rusty, or loose bricks in the fireplace's firebox.
While repairs and replacement of mortar caps and crowns are eventually necessary for most chimneys, Full Service Chimney makes repair and maintenance fast and easy.
"Full Service Chimney came exactly when they promised to, repaired my chimney and charged exactly what they had bid. They are also very nice people."
"We used Full Service Chimney for the first time and I could not be more pleased. They are professional, thorough and most of all they provided excellent customer service. They explained everything in detail and are working with us on some needed repairs. I highly recommend them to come out and service your fireplace. Thank you Full Service Chimney for your professionalism and fo..."
"The employees were all courteous and knowledgeable. They explained what needed to be done and provided documentation of services that needed to be done, and upon completion. I have used other chimney services in the past, and feel Full Service was by far the most professional and complete."
"Everyone was very professional and courteous even when there was a problem with the gas line connection in the fireplace. They stayed until the problem was fixed which delayed their next project. I am very pleased with the results and the professionalism of everyone who worked on the project.  This was the second project at my home and was very pleased both times.  <..."
"They a great job and we're very professional. I will definitely use Full Service Chimney again."
Your Crown Repair Experts
Full Service Chimney technicians have repaired/replaced crown caps on chimneys in the KC Metro area for over three decades!
Our team can help you diagnose and solve your chimney problems with a simple repair or complete crown replacement. Call now!