Your Chimney's Masonry Work May Have Structural Issues That Need Fixed
If your chimney isn't tall enough to create enough draft, then you may need to have a taller chimney built. Another common issue that may result in the need for restorations is when the flue is too small compared to the opening of your fireplace.
When your chimney is not up to code, or if it's tilting, leaning, cracking, spalling, or completely falling apart, then a rebuild is in your best interest. It may also boost the value of your home and improve resale value.
Reduce Risk of House Fires
The buildup of creosote is the main reason so many chimney fires start. Enlisting the help of a chimney sweep can help reduce this risk, but it's not always enough.
A chimney flue liner also helps reduce the risk of an uncontrolled fire. It works by protecting your house from flames, sparks, and carbon monoxide. Using one also protects the brickwork around the chimney.
It's Best to Install Liners at the Same Time
When you hire a chimney contractor to perform your rebuild, then it's a prime time to get flue liner repair or replacement. It can even save you money in the long run, to have it all refinished at once.
How Much Does It Cost to Rebuild a Chimney?
It could range between $1,000-$30,000. Again, the price depends on how much work you need, the size of your chimney, the number of fireplaces or utility flues to be restored… and dozens of other factors.
If you're considering the reconstruction of one or more chimneys on your property, then you might wonder how much it costs. The short answer is that the cost of chimney rebuilding varies depending on the amount of work and supplies it will take to finish a project and the circumstances are unique to every home and situation.
Other Factors that Affect Price
There are different types of chimneys. Some for fireplaces and others for utility appliances. You'll see price fluctuations depending on your home's needs. The total cost of restorations may vary if you have masonry chimneys as opposed to factory-built chimney (aka "prefab").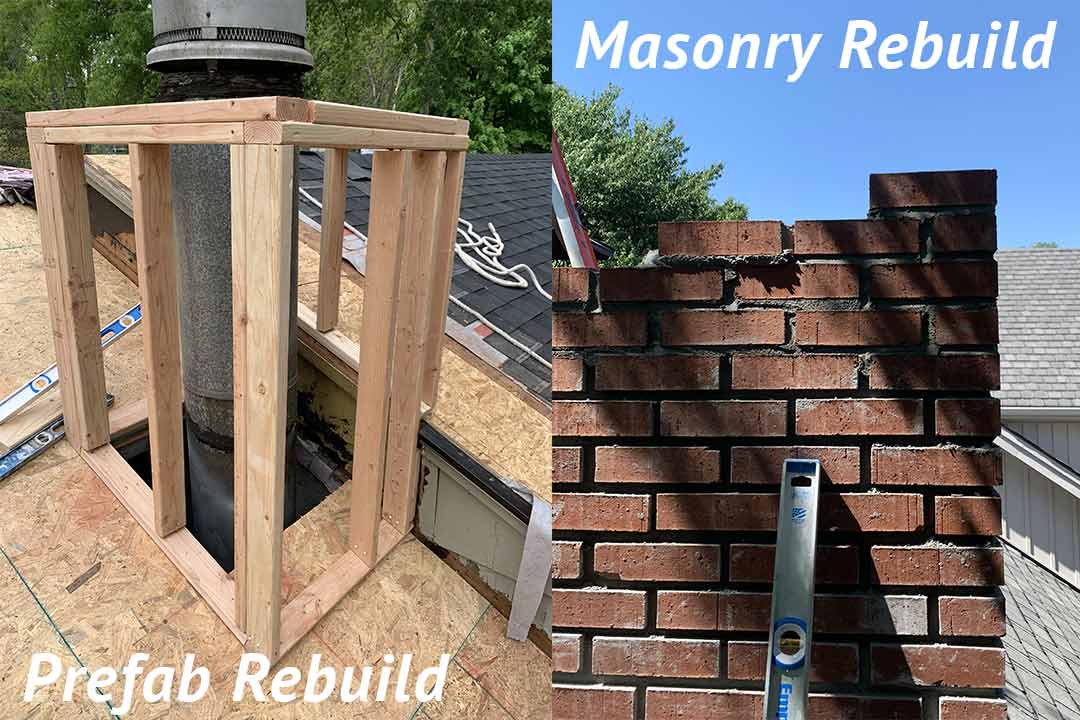 The cost of rebuilding depends on the type of chimney you need to rebuild. For instance, prefabricated systems or brick and mortar masonry rebuilds may vary in price because it's an entirely different process and materials. That's not to mention the tools or unique skills required for both.
Warning:
When you're calling around for quotes on repairs, if a contractor gives you a price without doing a documented evaluation (and showing you what they found), then keep looking.
A Certified Technician from Full Service Chimney will always review every element of the inspection with you, which ensures you understand and can make the decision that's right for you, the homeowner.
Finding the Right Restoration Service
Having yearly inspections performed can help spot potentially dangerous issues early on so you can protect your house and your family. If your inspection uncovers major problems, then you'll need to call a chimney rebuilding service to take care of the issue.
Having a chimney rebuilt means everything will be up to code and helping you prevent fires, leaks, or unwanted pests. Make sure you call the right chimney repair service company.
Remember:
Many inspectors can help you find problems, but not every company is qualified or prepared to offer you complete solutions. Full Service Chimney is ready for the challenge and provides top tier services to over 38 cities in our local area.
If you're experiencing problems with your chimney and you're in the Kansas City area,  then give us a call at 913-642-6171. Our certified inspectors will have your chimney working again in no time.