Masonry chimneys are thought of as sturdy and long lasting. Masonry Chimneys naturally wick water through their bricks and mortar joints. Once the brick masonry of the chimney freezes, the water soaked masonry will begin to crack. Chimney damage and chimney leaks are the inevitable results of a repeated cycle of water entry due to seasonal freezes and thaws.
You can prevent water damage by hiring a professional to provide a chimney water repellent service or build structural elements to help repel water away from areas prone to suffer weather damage. Trust the Kansas City Pros. Call Us today!
Masonry Chimney Water Problems
Chimney water problems are progressive, meaning they will get worse over time!
Once chimney leaks begin, we find masonry water entry gets worse over time. Long term moisture problems always lead to chimney damage. You should consider chimney waterproofing as the first step in a multi-step process that will extend the life of your chimney. Ask your Full Service Chimney sweep about options for chimney water leaks, chimney sealer, and other masonry chimney waterproofing repairs.
You may be aware that water penetration is the number one cause of damage to masonry chimneys. Water and moisture damages both the inside and outside of masonry chimneys. Damage is done to masonry chimneys when water trapped inside expands during freezing. That happens during the time of year when temperatures are above freezing during the day and dip below freezing at night, While it's impossible for you to keep your chimney warm, by waterproofing you can ensure it stays dry.
Different Ways to Seal a Chimney
You can think of chimney sealer in more ways than one. Ideally, chimneys should be designed and constructed to encourage water to shed from their structure. The masonry surfaces can be treated to prohibit that water from soaking in. All too often this holistic approach is absent in diagnosing and repairing chimney leaks. For example, if you only spread caulking in cracks and spray a water sealer on the crown and brickwork, most chimney leaks and brick damage will continue or even grow worse.
If water damaged masonry is removed and replaced, without treating the water entry design issue, the damage will repeat itself. Only by knowing proper chimney design and using the proper chimney waterproofing products can lasting chimney maintenance be achieved.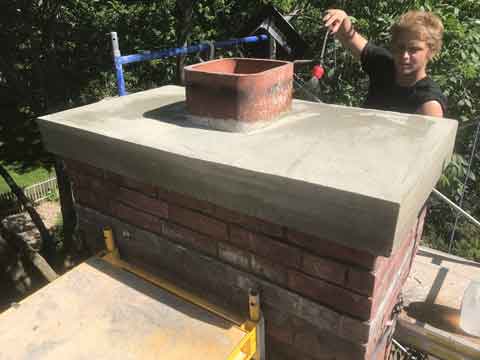 How to Seal Masonry Leaks
Sealing a leaky chimney begins with finding the leaks. Sounds simple, however, we've seen leaking chimney's smeared with silicon and tar by the homeowner or a handyman, only to continue to have water entry problems. You'll need a chimney inspection to diagnose chimney damage and the chimney leaks that cause the damage before you attempt to waterproof chimney masonry.
The surest way to seal your chimney is to contact your Full Service Chimney Inspector for expert advise and quality chimney repairs. We understand how the chimney crown, cap and flashing all work together to ensure the chimney repair seal will last.
How Much Does Waterproofing Cost?
A Chimney Waterproofing Repair can cost as little as $400, and be accomplished in less than a day! The price and scope of chimney waterproofing all depend on the waterproofing needs of the masonry. In truth, all brick chimneys need waterproofing, even if water isn't seen leaking inside the home. That is because the life of the bricks and mortar are cut short if the chimney waterproofing isn't up to snuff. Allow Your chimney care professionals to help extend the life of your chimney, who make chimney maintenance fast and easy.
Trust Your Full Service Chimney Professionals to make your hearth warm and dry. 
Serving Kansas City for 30 Years!
For Chimney Waterproofing Near You
Call 913-642-6171 or
Chimney Waterproofing Diagram by Robert Berry of Full Service Chimney.
Serving the Entire Kansas City Area for over 30 years with over 16,000 Satisfied Customers and counting!