Chimney Sweep in Raymore, MO
If you're looking for the best Chimney Sweep in Raymore, MO then look no further, you've found the right team to help with all your fireplace and chimney needs!
We provide Complete Fireplace and Chimney Service to Raymore, MO:
Have a Question?  Call now and speak with one of our CSIA Certified Chimney Sweeps.
Call us at 913-642-6171 or
Whether it's an inspection, cleaning, or repair, a Certified Technician will be on every job site. Backed by a team of support staff ready to help you with everything chimney and fireplace! 
The Chimneys & Fireplaces of Raymore, Missouri
As our service technicians visited the area over the last thirty years, we have seen a repeated pattern of chimney types and problems common to Raymore. We often see:
Manufactured Chimney (Pre-Fabricated Chimney) commonly seen in this local area: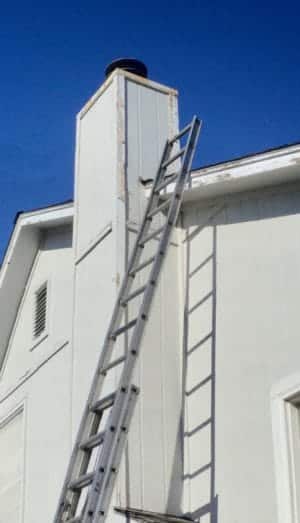 Manufactured Chimney, otherwise known as a Pre-Fabricated  or factory-built chimney is common to Raymore, MO 
Full Service Chimney can help repair brickwork that looks like this on Masonry Chimneys in your area.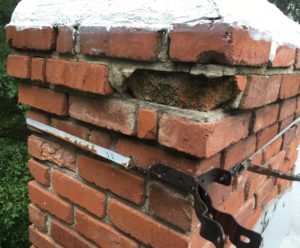 Damaged Brickwork in Raymore, MO
Full Service Chimney now inspects, cleans, and repairs Ottawa chimney's… as we've done across Kansas City for over 30 years! 
Our Local Satisfied Customers: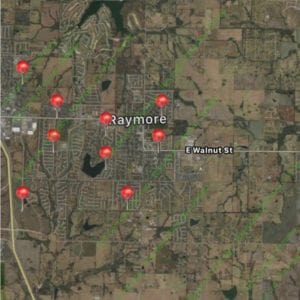 Map shows an actual count of chimneys serviced in Raymore, MO
Be Our NEXT Satisfied Customer …
A Quick History of Raymore, MO
Named after the original founders, George Rae and Henry Moore, Raymore was a late bloomer among the Kansas City metro cities. Prior to the Civil War, only three people lived in the prairie land with little natural resources. They platted the town in 1874 and incorporated it in 1877. The two men were key in getting the railroad to come through Raymore, leading to additional settlement and land use. After so much of Raymore was destroyed during Order No. 11, townspeople rebuilt and the town began to grow. The home of Dr. L.F. Gray, the first doctor, and postmaster in Raymore is still standing from when it was built in 1871. The Presbyterian Church built in 1876 is still used today as well. In 1887 the first official school building was constructed.
Raymore stayed small with under 1,000 until the 1970s when residential development occurred and brought the population to 3,100. Another major growth spurt took place in the 1990s and 2000s and brought the population to approximately 20,000 citizens on about 17 square miles of land. Located along I-71 and only 20 miles southeast of Kansas City, citizens benefit from a variety of housing options as well as the growing work and community opportunities both in Raymore, MO and in surrounding areas.
Sources:
http://www.raymore.com/Home/ShowDocument?id=360
https://en.wikipedia.org/wiki/Raymore,_Missouri