Chimney Sweep in Tonganoxie, KS
If you're looking for the best Chimney Sweep in Tonganoxie, KS then look no further, you've found the right team to help with all your fireplace and chimney needs!
We provide Complete Fireplace and Chimney Service to Tonganoxie, KS:
*Please note Tonganoxie is outside of our regular service area and there may be an additional trip charge due to seasonal adjustments. Rest assured we will always inform you at the time of scheduling.  
Have a Question?  Call now and speak with one of our CSIA Certified Chimney Sweeps.
Call us at 913-642-6171 or
Whether it's an inspection, cleaning, or repair, a Certified Technician will be on every job site. Backed by a team of support staff ready to help you with everything chimney and fireplace! 
The Fireplaces & Chimneys of Tonganoxie, Kansas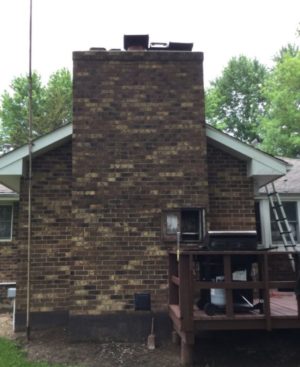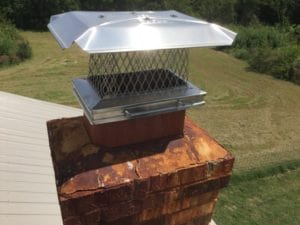 Full Service Chimney now inspects, cleans, and repairs Tonganoxie chimney's… as we've done throughout Kansas City for over 30 years!
Our Local Satisfied Customers: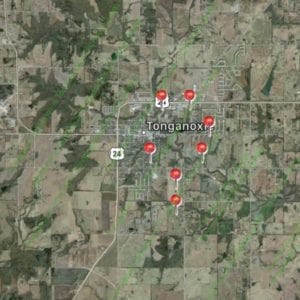 Be Our NEXT Satisfied Customer …
A Quick History of Tonganoxie, KS
Tonge-noxie (changed to its current spelling of "Tonganoxie" in 1900) was established and incorporated in 1866 by European immigrants. Tonganoxie, meaning "shorty" in the Delaware Indian language, was named after the Delaware Indian honorary chief from that area. Most Delaware Indians relocated to Oklahoma during the Civil War, though some stayed in what is now Leavenworth and part of Wyandotte counties. There were many skilled trades among the townspeople. Interestingly, the town attracted former slaves and the population was 25% African American. At the time, traders and settlers were using Tonganoxie as a point of passage between Leavenworth and Lawrence. When flooding happened along the river, it was nearly impossible to get through and Tonganoxie became a shelter to travelers. The town went from one hotel in 1868 to 15 hotels by 1900 in order to support its visitors. One of the hotels, called the Myers Hotel, was opened by Molly Myers in 1889. Molly's breakfast became well known to travelers on the stagecoach trail and even after the trail became a bus stop, people would still get off there just to have Molly's food. The Broadway play "Bus Stop" was based on the people that the playwright encountered at the Myers Hotel.
The population grew enough to support log cabin school built in 1869. Shortly after, in 1874, a brick schoolhouse was constructed and utilized until a high school was built in 1910. Although the town's population was under 500 in the 1870s, there were ten saloons but no official law enforcement. After this became an issue among residents who could not resolve issues independently, a marshal was appointed and a small jail was built. Before police transportation was provided, Marshals or citizens would give the marshal a ride to disputes and emergencies themselves. One Marshal, Bill Stone, was famous for riding his milk cow around town to do his rounds. Crime increased during the Depression since so many people were out of jobs and relying on bootlegging, gambling, and theft to make ends meet. The city realized they would need an automobile to make the police force more effective and the first town car was purchased. Things were relatively uneventful from then on as crime decreased so much so that Tonganoxie only just opened its first new city hall and police department in 105 years in 2016.
The town has stayed relatively small with less than 2,000 residents until the 1990s. It saw its largest growth from 2000-2010, with an estimated 5,300 now living there. Tyson Corporation announced in 2017 that it was interested in building a 320 million dollar plant just outside of the city that would create 1,600 new jobs. This announcement was met with resistance by citizens and school board officials who opposed everything from the company's ethics to the poultry smell, to the strain on the school district/town resources the new plant would surely bring. Residents were heard and the company currently has plans on hold.
Tonganoxie, affectionately nicknamed "Tongie", is proud of its small-town values and wants to remain a pleasant, accessible, and clean place to live for its residents.