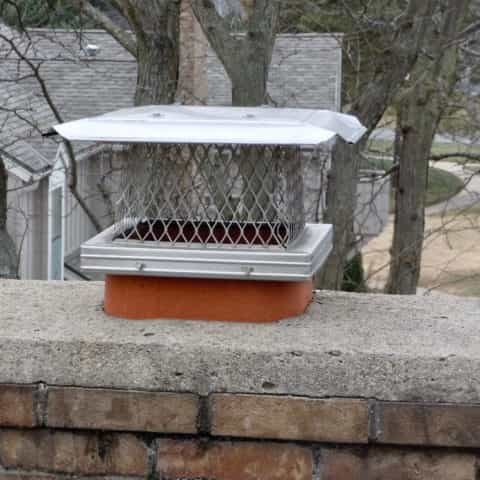 Chimney caps provide protection from weather and animals year round. In Kansas City, it is essential for a chimney flue cap or a gas fireplace chimney caps to be installed. If you need chimney cap repair or to cap a chimney, talk to your Full Service Chimney Sweep about a fireplace flue cover to serve you best.
Full Service Chimney has been installing the finest chimney caps and chimney chase covers in the Kansas City Metro for the last three decades.
We Specialize in Chimney Caps 
Kansas City Area Cap Installation & Repairs
Reasons to Hire Full Service Chimney for Your Chimney Cap Installation: 
Chimney Caps are a must for rain problems or animals/birds in chimney issues
We offer stainless steel chimney caps and chimney spark arrestors with a manufacturers warranty for life
A Chimney Cap with Spark Arrestor helps to protect the home from embers and sparks
We carry several sizes and styles of chimney caps/chimney damper caps
Taking the time to measure the chimney top ensures a proper fit, and our chimney inspectors do this every time
Expertly installed, therefore this cap will survive the life of the home
"Caps installed by a Full Service Chimney sweep are resourced from reputable suppliers to ensure the best chimney care is given to our customers."
Robert Berry – Owner / Master Chimney Sweep
Chimney Cap Installation
When Full Service Chimney services a flue liner in the Kansas City Metro, we notice right away if there is a proper Chimney cap installed. We have seen time and again the problems and damage that chimney flues have when weather and animals freely enter.
What about your chimney cap?
Common Chimney Cap Issues:
Chimney Caps Missing or in need of chimney cap repair
Rust causing early failure and stains on the chimney and roof
The wrong types of chimney caps causing drafting and safety issues
Chimney Caps damaged by storms
Trust Your Top Cover to the Experts
With multiple style options for chimney caps, your chimney can become the home's beautiful exterior feature.
Types of Metal Caps we offer: 
Stainless Steel… (Our sturdy favorite)
Customers have come to expect the Full Service Chimney difference.
Every Masonry Fireplace and it's Top are Unique
Drastic differences in design mean that masonry chimney flue caps need to be specifically designed for each chimney. Brick/masonry chimneys are frequently seen with after-market chimney tops and caps that end up as the source of a problem the homeowner is having.
If the cap is a "one size fits all" type or has window screening wrapped around it as a quick-fix "chimney cap repair", the customer will often have drafting and smoking issues with the fireplace or gas chimney flue.
Homemade chimney caps are a common type of chimney cap we see. Many of these unique caps were made by local tinsmiths over a hundred years ago and are still serving the flue liner well. Others however were poorly designed and hamper the smoke and fumes trying to exit the flue liner.
These one-of-a-kind chimney caps address one problem, but cause another!
If the chimney top is protected from rain with only a bonnet, but missing the animal guard and spark arrester, then animals are encouraged to live in that chimney. After all, they want to stay dry too!
Allow a Full Service Chimney sweep to be the only critter in your fireplace flue this season!
Call 913-642-6171 or email to talk to a Certified Chimney Sweep today regarding chimney cap repair or if you need to cap a chimney.
To protect the Chimney Swift Birds, chimney sweep every year and install a chimney cap!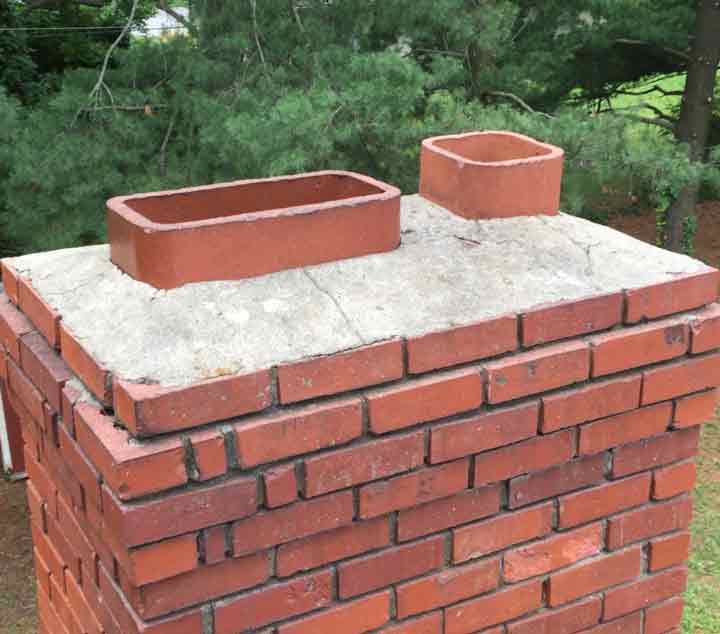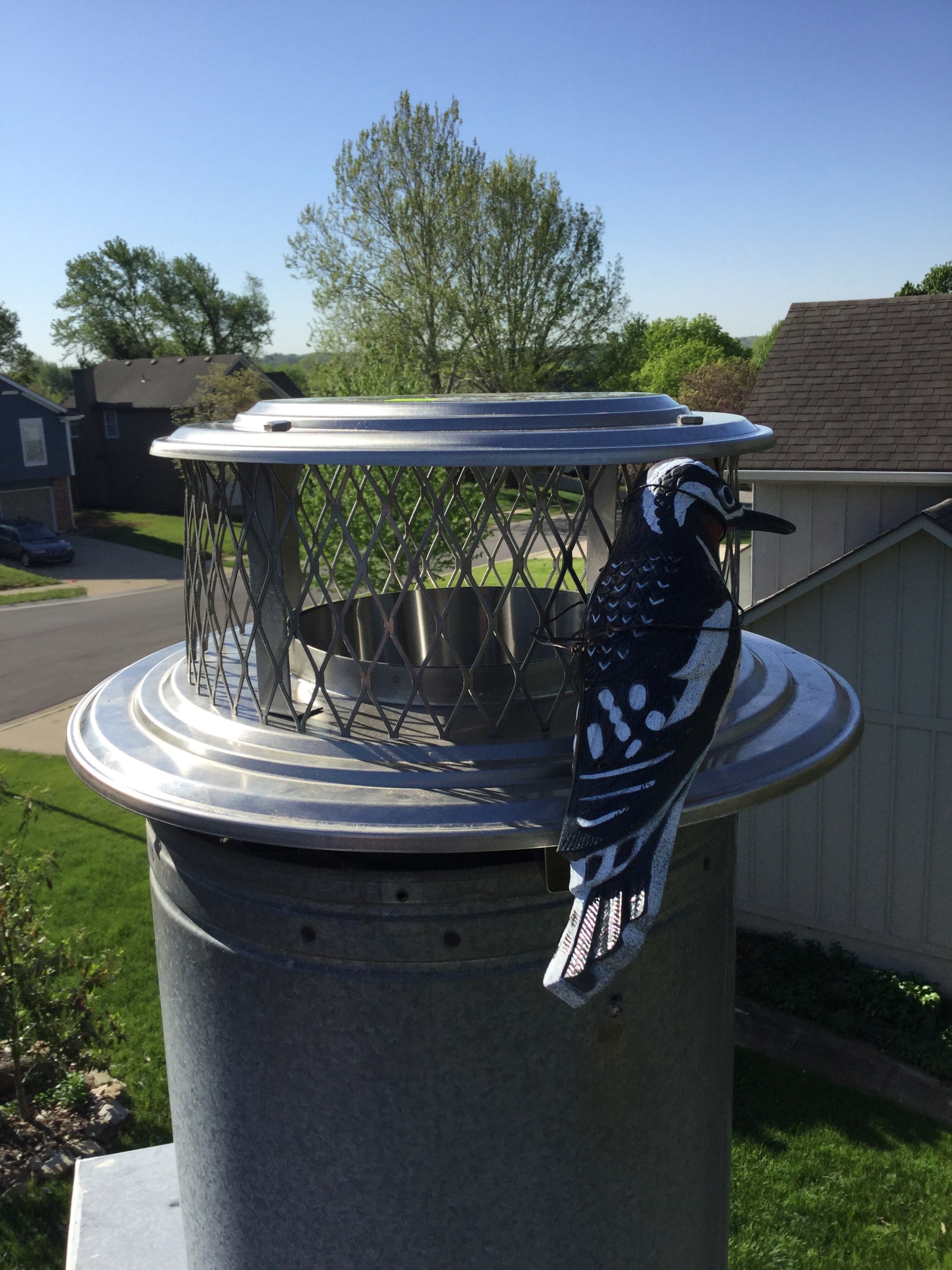 Factory-Built Chimney Cap Installers
Prefab chimney systems have dominated new home construction since the 1980s.
Factory-built chimneys and prefabricated fireplaces frequently have the original manufacturers flue cap, but customers are noticing birds getting inside the chimney!
Note: Distressed birds in a chimney cannot escape!
Just like other mass-produced consumer products, issues only become apparent when certain types of chimney caps are put into service. The introduction of animals into an air-cooled chimney system can have disastrous results.
If the passages that were intended to have air circulation become clogged with nesting materials, the result is a system that can start an unwanted chimney fire instead of preventing one.
Other types of the pre-fab/factory-built chimney tops and chase covers have a design flaw that allows chimney leaks to come in through the horizontal screen on the chimney caps lid, leading to early failure of the prefabricated fireplace due to water rusting out the unit and rotting the systems support structure.
Your Masonry Fireplace Chimney Cap is Necessary
If you drive the neighborhoods of the Kansas City metro, you would not have to look for long to see stunning examples of craftsmanship in the types of chimneys that adorn our metro.
Masonry chimneys tolerate a lifetime of exterior moisture if waterproofing is considered; a repellent/chimney sealer. However, if rain is allowed to enter the clay flue tiles due to an absent chimney flue cap, the results are a ruined flue liner, chimney damper and/or firebox.
Brick chimneys that have a chimney damper cap – from day one – have twice the life of those that are missing. By installing a spark arrester (the type of chimney cap with a rain protection bonnet) to the flue of a wood or gas fireplace, the homeowner will potentially double the life of the system.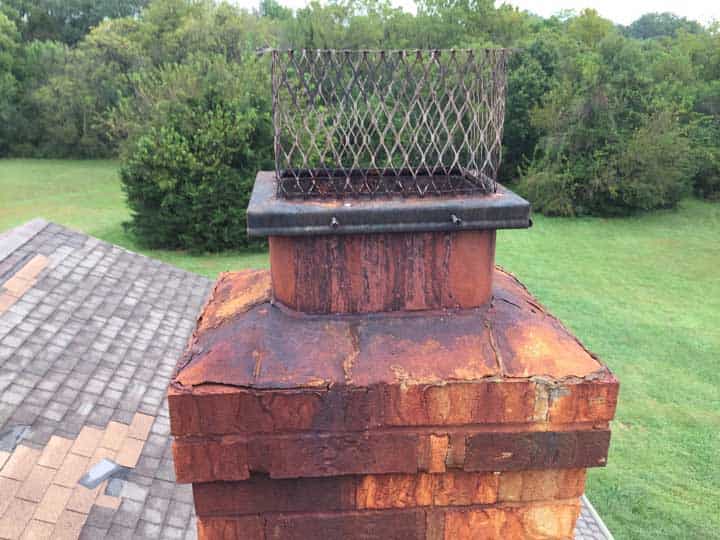 After learning of its importance, customers often ask Full Service Chimney to cap a chimney during a chimney inspection or fireplace cleaning. We are happy to install a chimney cap the same day!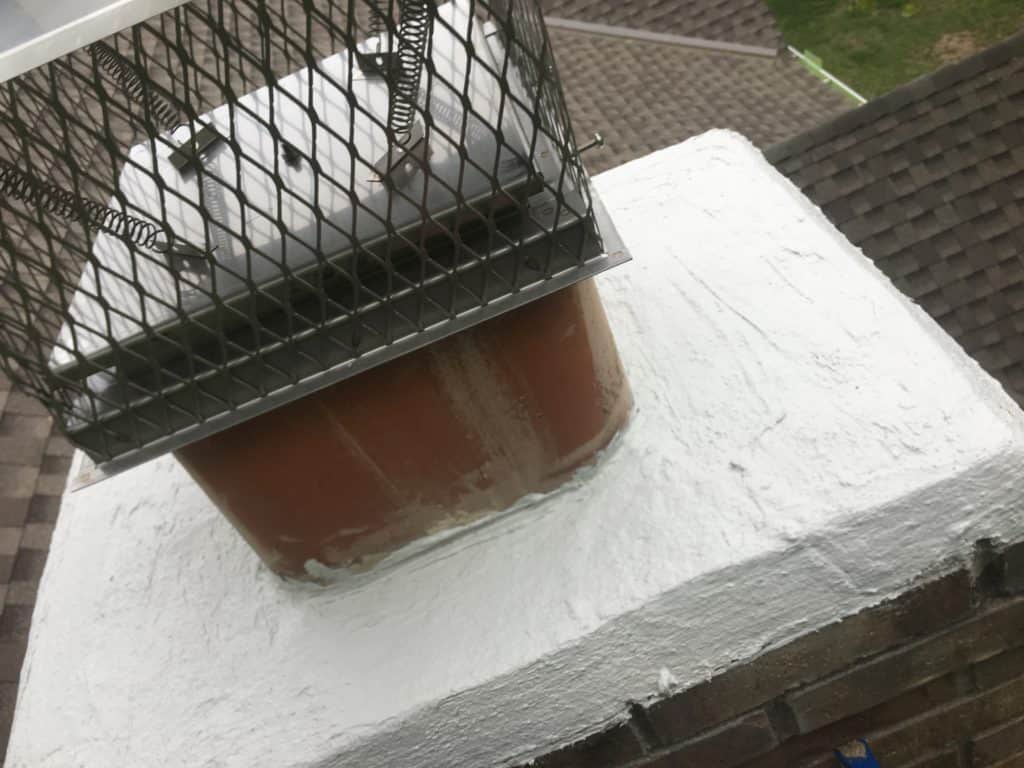 Specialty Caps
Top Loading Damper Caps provide essential rain & animal protection, spark arrester & proper air circulation.
Choosing the Right Type of Flue Pipe Cover
The availability of chimney caps purchased from hardware stores and other online resources often does more harm than good. Many of these "DIY style" fireplace flue caps found on brick & mortar or factory-built chimneys that have been installed rust quickly and have no lifetime warranty. The quality and craftsmanship of the chimney cap is lacking and can eventually fail, causing major damage.
Remember our factory-built systems above, if the improper cap is installed, the results are excessive heat in the chimney system threatening nearby combustibles with elevated temperatures and unplanned fires in the chimney chase. The best cap for our prefab/factory-built fireplaces are the ones that function in harmony with the original design of the system.
"The last chimney cap you will ever need. "
Robert Berry – Owner / Master Chimney Sweep