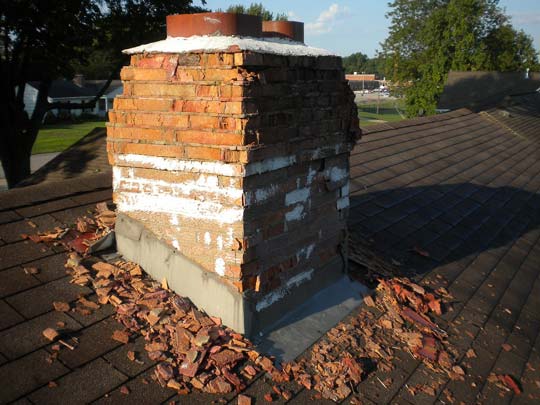 As Kansas City's chimney leak repair specialist, we understand the frustration and consequences of a leaky chimney. Your Full Service Chimney sweep performs a chimney inspection of the flashing, chimney crown, chimney cricket and waterproofing of the chimney.
Put fireplace leaks behind you with your Certified Chimney Sweep Company, Full Service Chimney.
Does Your Fireplace Leak?
A leaking fireplace is miserable. It can lead to expensive chimney repairs and fills a homeowners heart (and hearth) with dread every time it rains! Full Service Chimney Inspectors find leaks in chimney flashing or the chimney flue cap in 4 out of 5 chimneys inspected.
Chimney leaks take a specially trained technician with chimney repair experience. It isn't as simple as getting on the roof and looking for holes in the chimney flashing.
Chimney Leaks Go Unnoticed
A leaky chimney can be frustrating to diagnose because masonry and chimney flashing can leak without a noticeable indication of injury to the chimney. Most chimney leaks (even new leaks) are often caused by a poor design in the chimney crown or chimney flashing when the home was built.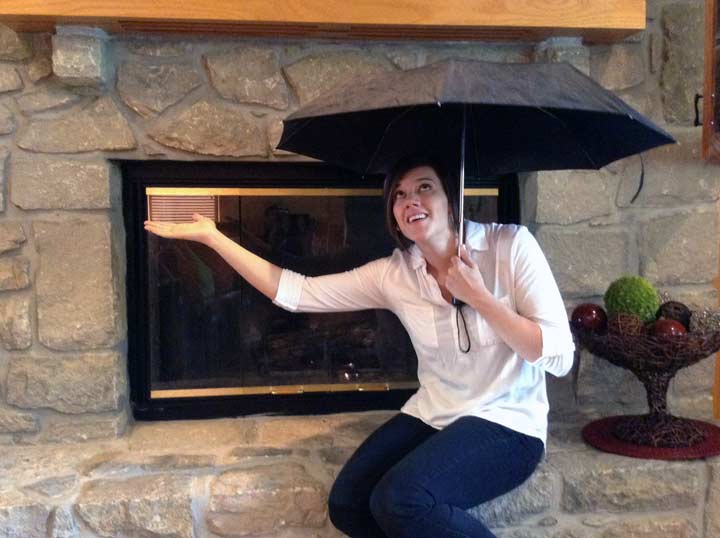 For example, a chimney that is allowed to have rainwater pool on its peak side may not leak for a few years! By the time the damage shows up, it's too late.
Only after years of "ponding" water does the chimney flashing rust to the point of water entry into the home and then fireplace leaks or ceiling stains appear.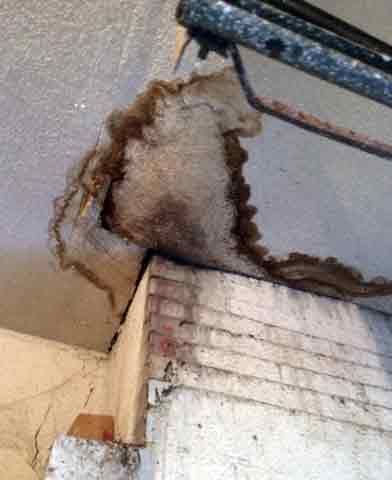 Do you have water stains on your ceiling?
This is an example of the damage a leaky chimney can do to your home.
We Offer Long Lasting Repairs
If on the other hand, the home builder insisted on a chimney cricket, the pooling and subsequent rusting would likely never have happened.
Similarly, prefab chimneys have issues with the home siding resulting in chimney leaks. Prefabricated chimneys are covered with the same siding product as the rest of the home. If the sections of hardboard siding are not installed with a water diverter, in time the caulking will fail and a "leaky fireplace" will result.
Even well-built gas chimney or fireplace flue can develop gaps and cracks that allow water in, causing a variety of chimney leaks. This is because masonry chimneys are prone to freeze/thaw damage. Since the chimney must extend above the roofline, it doesn't stay above freezing in the winter. Consequently, the damp chimney forms small cracks that only get bigger as time goes by. While waterproofing alone won't keep a crack from leaking, it can help our cold chimney from freeze/thaw damage on those cold winter nights.
The chimney cap, chimney crown, waterproofing and chimney flashing all play a part in our plan to keep your hearth safe and dry.