What to Expect at Your Appointment
If you are considering scheduling or have already scheduled an appointment with Full Service Chimney, then congratulations! Not only are you taking a critical step toward securing a safer future for your home and family, but you are also choosing the best chimney and fireplace service provider in Kansas City.
This detailed guide will help ease your anxieties by informing you of everything you should expect from an appointment with us.
How to Prepare for a Chimney Sweep Appointment
Follow these steps of preparation to make your chimney sweep appointment as efficient and safe as possible for both parties!
Clear your driveway. On the first day of the scheduled appointment, please try to have your driveway free of autos or equipment so we can utilize that space as a work area.
Make sure your fireplace is cool. To ensure our sweeps can safely inspect or repair your system, do not operate the fireplace for at least 24 hours leading up to your appointment.
Remove any items around the fireplace.  All of us here at Full Service Chimney love a beautifully decorated mantle and fireplace as much as you do, but we kindly request that you please remove any fragile decorations, toys, or other items that could be damaged or slow down the appointment. During inspection, cleaning, or repairs requiring equipment and other supplies, accidents can happen. Our promise is to treat your things as if they were their own.
Working electrical outlet and faucet. Please have a working electrical outlet and water faucet available outdoors for the workers to utilize.
Write down any issues you are experiencing. At the beginning of the appointment, your sweep will likely ask questions about your system, such as, "Have you noticed any foul odors or water leakages?", etc. Writing down a full list of concerns ahead of time will help us provide the best solutions and speed up the process.
Always on Time
We understand and respect that your time is precious. Although we cannot guarantee that our team will arrive at your home at a specific time, we promise that they will arrive within your appointment time slot.
Like any business that provides technical services, we sometimes run into unexpected issues. Still, no matter what, a member of our team will call you ahead of time to let you know that they are on the way to your home!
When your sweep arrives, they will do so with a positive attitude and a smile on their face, ready to clearly and effectively walk you through each stage of the appointment.
We are Certified Chimney Professionals
Whether you're scheduling an annual chimney cleaning or a massive repair project, our sweeps bring the dedication, consistency, and credibility you can trust.
Every sweep on the Full Service Chimney team is certified by the Chimney Service Institute of America (CSIA). Our sweeps are continuously engaged in training and education from our owner and Master Chimney Sweep with over 36 Years of experience, Robert Berry.
One or more of our CSIA Certified Sweeps will be present during each step of your appointment process!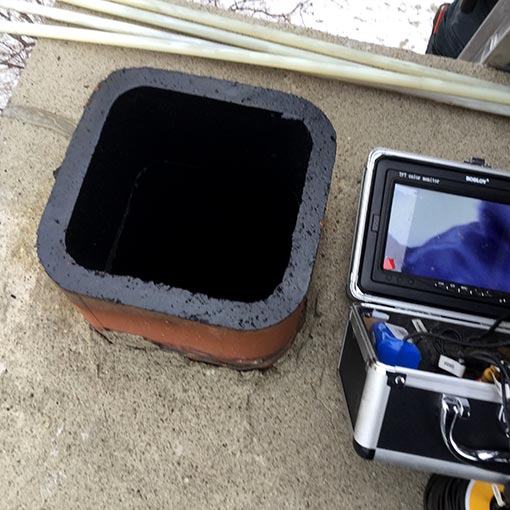 What Does a Chimney Sweep Technician Do?
Chimney Sweeps are much more versatile than they sound! Our certified sweeps have extensive experience in services ranging far beyond your typical cleaning or chimney cap installation. From gas fireplace installations to flashing repairs and crickets, our team will deliver the best results in Kansas City for any chimney and fireplace services you need.
How long will it take? With every appointment being different from the next, it's challenging to put a cap on the total expenditure of any chimney service. Our sweeps can typically complete a chimney inspection or cleaning within 45 minutes to an hour. However, factors such as weather, creosote build-up, and the type of chimney system can prolong the process. Of course, repair jobs, installations, and other more detailed services could take up to a full day or even multiple days.
How much equipment will the sweep use? We utilize top-quality equipment for every service we provide. The amount of equipment they use is dependent on your specific appointment. Video cameras, iPad's, vacuums, scaffolding, tools, ladders, and personal fall protection are just a few examples of the imperative equipment we use daily.
For more information on the specific steps of the services we provide in the Kansas City area, please visit our service pages, or call us our office Monday-Friday 8am-5pm at 913-642-6171.
Does Fireplace/Flue Sweeping Make a Mess?
The short answer: No.
The longer answer: We take every precaution necessary to ensure that we leave your home as clean as we found it.
Before we step foot in your home, our team members will put on shoe covers to prevent tracking in any contaminants from the outside. After entering, we will place down a large drop cloth around the fireplace and firebox to protect your home's hearth from getting dirty or damaged. Once the appointment has concluded, we will wrap the tarp up and place it in a plastic bag before exiting.
Suppose you scheduled an appointment for a repair project. In that case, our repair teams take specific precautions to maintain safety for themselves and your home. A number of those precautions include: building scaffolding, wearing hard hats, fall protection, and personal protection equipment, and much more.
Visit this page for more information on COVID-19 Safety Precautions.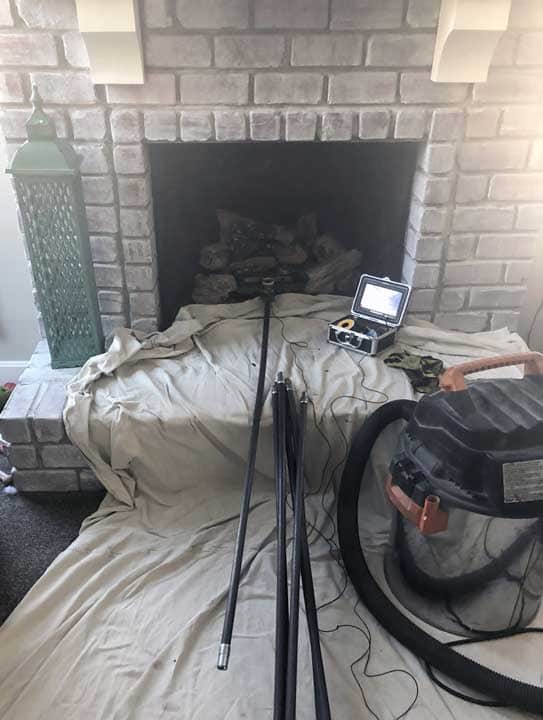 What If I Need to Reschedule?
Please keep in mind that due to weather, work, and life's other complications, adjustments to the start or movement of a scheduled appointment is something we will work with you on.
Full Service Chimney is a company made up of families, and we often realize that unavoidable "stuff" happens. Therefore, if the work needs to be adjusted to accommodate your schedule, please let us know at the earliest date possible. Likewise, if a repair needs to be canceled for some reason, a sooner than later notification is a must.
We Stay in Constant Communication
Throughout your appointment, our team members will communicate with you in a clear, honest, and friendly manner.
When you choose Full Service Chimney, you can expect complete transparency. We believe in treating others as we wish to be treated. That is true when interacting with co-workers, and it's especially true with customers. With that in mind, we will always update you throughout the stages of your appointment, regardless of the news being overwhelmingly negative or positive.
We also believe that educating the customer about their system is equally important as providing the best chimney services in Kansas City. Let's face it, unless you have experience working in the industry; you probably aren't an expert on the specifics of operating a chimney system.
Regardless of the services you have chosen, our certified technicians will sit down and walk you through the appointment's specifics. And for the more visual learners, our certified sweeps take high-resolution photos and videos to demonstrate your system's current state explicitly.
Conclusion of Your Appointment
Your sweep will inform you on what happens next immediately after completing your job.
Suppose you scheduled a repair, installation, or cleaning. In that case, your sweep will go over the steps it took to complete the job, present before and after photos, and explain how to preserve the future system.
If you scheduled an inspection, the technician would verbally and visually present the evidence found during the inspection process. Suppose your sweep found an issue and a repair is needed. In that case, the sweep will then offer various chimney repair options and answer any questions you have about our services.
Finally, the technician will return to the truck to quickly print out a laminated written report detailing an evaluation of our findings and a quote for any necessary repairs.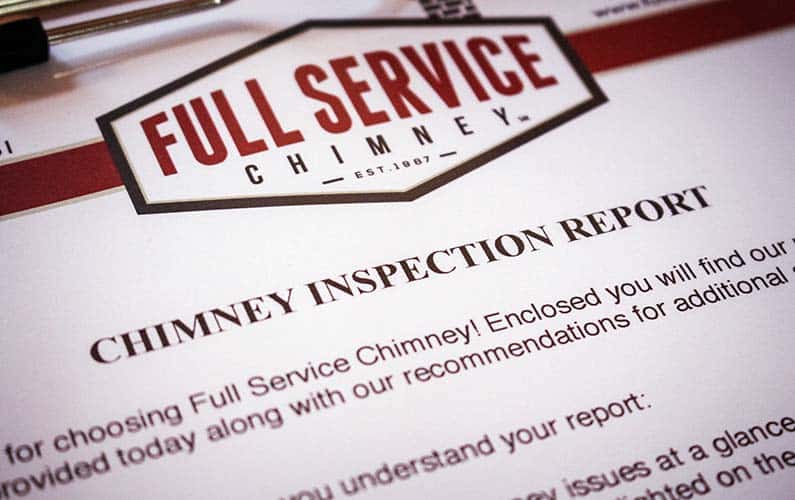 ★★★★★
Great company! Knowledgeable, courteous and they clean up well. I was very impressed with the demeanor of everyone I spoke to on the phone, or at my house. They definitely know what they're doing. I highly recommend using this company for cleaning or repairs to your fireplace or chimney.
We bought a home a few months. I didn't think the gas fireplace was working right. Full Service Chimney came and checked it. It was working, it was just dirty, filthy dirty. Apparently one should have it checked yearly. They cleaned it up. It looks and burns spectacularly. We are so pleased with the service.
We had a great experience with Full Service Chimney. Scheduling was easy and they showed up on time. We are very pleased with the quality level of their workmanship. Looking forward to our first fire in our new fireplace!
The men did a great job relining our utility and fireplace flues. They were very thoughtful in protecting the rest of the house from dirt or damage. I appreciated that they put extra workers on the job to meet a tight deadline. I highly recommend them.
"Whether it's your annual fireplace cleaning or a big chimney repair project, we bring the dedication and consistency you can trust."
Robert Berry – Owner / Master Chimney Sweep