Whether you're in a living room, office, or dining room, nothing is more eye-catching than a beautifully decorated fireplace mantel. The mantel is essentially a blank canvas for homeowners aiming to create a mood and match a room's interior. If paired with the right décor, colors, and other decorating accessories, your mantel will naturally stand out as the room's focal point.
Contrary to popular belief, you don't need a sophisticated understanding of interior design to decorate it perfectly. This blog post will outline and show images of fireplace mantel decor ideas that you can quickly implement in your home.   
How to Decorate a Fireplace Mantel
As mentioned before, decorating your fireplace mantel is like painting on an open canvas. Whatever you paint on that canvas, good or bad, creates visual interest that reflects you as an artist. The same is true for your mantelpiece. You can be as creative, simple, or elegant as you see fit, but regardless of your decision, it is a reflection of you and your home. Even changing the decor per season is like swapping out your favorite pieces of art. Doing both can completely alter the appearance of your main room!
 There are various styles, themes, and fireplace surround decor out there. But while the options are endless, you can't just throw random objects on it and expect a high-quality result.
Before you start decorating, you need to outline a goal regarding what mood, style, and characteristics you're trying to present through your surround. Once you do that, then you can begin with the creative decorating process.
Many searching for decorating ideas hold a common misconception that it's time-consuming and expensive. The truth is, the time and cost of decorating it are solely dependent upon what you're wanting. Like any decorating or home improvement project, you should budget your money and time carefully. Nevertheless, we guarantee at least one of the decorating ideas listed below will work as an excellent option for your home!
Modernizing your home is all about being clean, crisp, and simplistic. It's the perfect décor choice for homeowners who don't like clutter. Most interior designers utilize the "less is more" approach when deciding which modern fireplace mantel décor to purchase. They typically use a large centerpiece and matching accessories to go along with it.
Here are a few more characteristics of modern design:
Horizontal or vertical lines, never curved

Little to no loud or distracting elements

Exposed structural element

 

Stainless Steel or glass reflective surfaces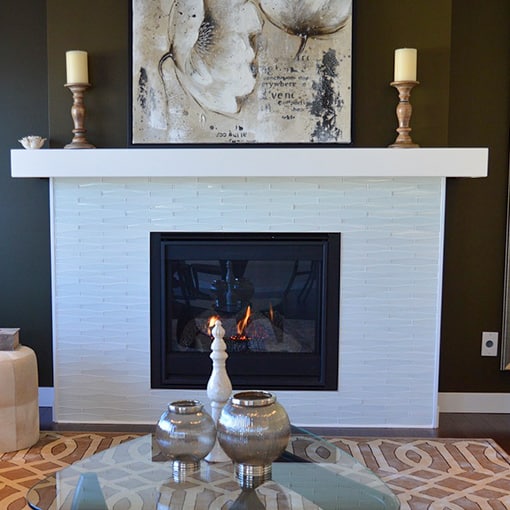 White mantelpiece decorated with modern decor
Rustic Fireplace Mantel Decor
The rustic style is growing increasingly popular with people who love the rustic farmhouse feel or are searching for how to decorate a mantel in a log home. It utilizes simplicity, warm and comforting colors, texture, and exposed natural elements. Rustic style mantelpieces are the perfect combination of charming country and eye-catching colors.
Here are some of the classic rustic fireplace mantel décor characteristics:
Exposed real wood (barn wood, weathered pine, etc.)

Real brick and stone

Handmade items (Clay vases, wicker baskets, etc.)

Whitewashed colors

Fall and Farm Decor
Decorate Your Fireplace Mantel with a Mirror
Suppose you're looking for a foolproof trick to quickly and effectively decorate above your fireplace. In that case, a mirror is the décor item for you! Centering a mirror above your fireplace makes an immediate impact because it adds significant light and an illusion of height and space.
 Whether your style is modern, country, or even if you have no style at all, a mantel mirror will add a new touch of beauty to the room. Find a frame that works with your theme, add a few attractive accessories around it, and just like that, you've easily decorated your hearth surround.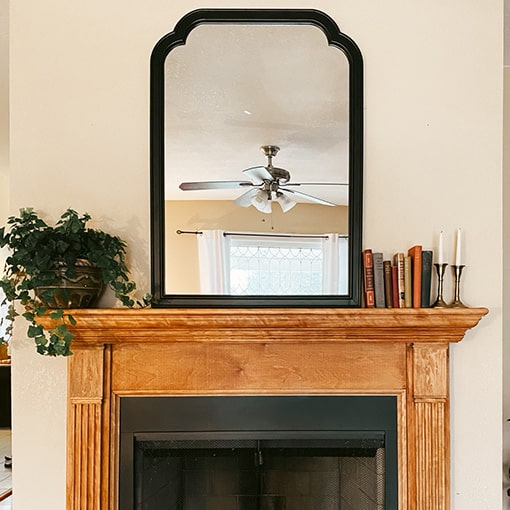 Large mirror above a wood fireplace surround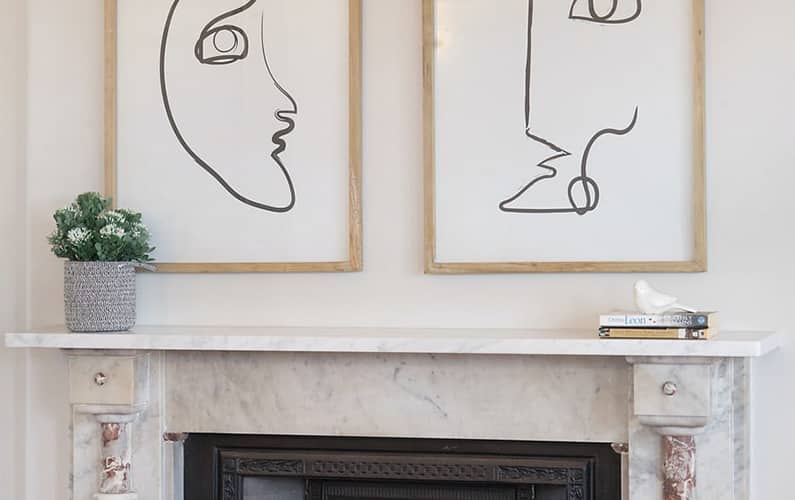 Simple and minimalistic artwork above a marble mantel
There's no better place to display artwork than on or above your fireplace mantelpiece. Not only will the art draw immediate attention to your hearth, but it will also reflect your taste in art. Of course, we understand that the average homeowner isn't an expert in the art field. But it doesn't matter if you choose a Mona Lisa replica or a painting of a cat you bought at the flea market. Displaying style appropriate artwork is a fun way to add some character to your home.
Greenery Above the Hearth
Plant lovers and Spring season decorators rejoice! Going green with your fireplace is a wonderful way to brighten up and add a layer of freshness to the room. This option works best for homeowners with traditional and modern aesthetics or an abundance of white colors.
 Eucalyptus plants, snake plants, succulent plants, and garland are a few excellent décor options. Of course, if you decide to purchase real plants instead of artificial ones, you need to understand their growth capabilities. A eucalyptus plant, for example, could grow to be so long that it becomes a fire hazard! Check out this blog post for tips on how to decorate your fireplace safely.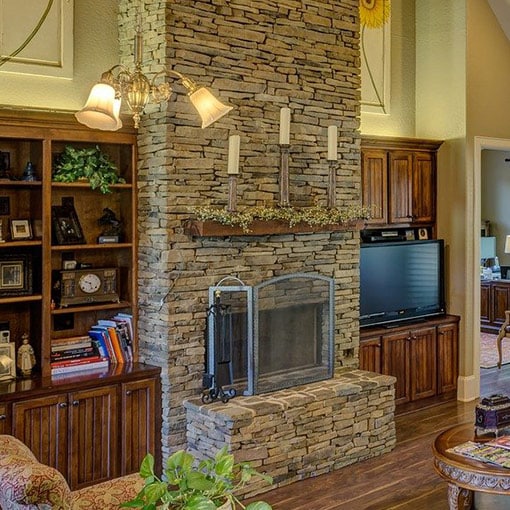 Greenery decorated around a stone hearth
Decorating Your Stone Fireplace
If you have a stone fireplace in your home, then congratulations! Your fireplace is a work of art in itself. Regardless of its size, stone type, or color, the stone exudes a natural and comforting beauty in the home. A light or dark piece of wood is typically attached to the stone system.
Considering the stone is so naturally stunning, you don't want to overdo it with the decorations. If too many additional objects clutter the area, it distracts from the stone. With that in mind, taking a more minimalistic and orderly approach would be the best way to achieve a balanced visual look in your hearth room.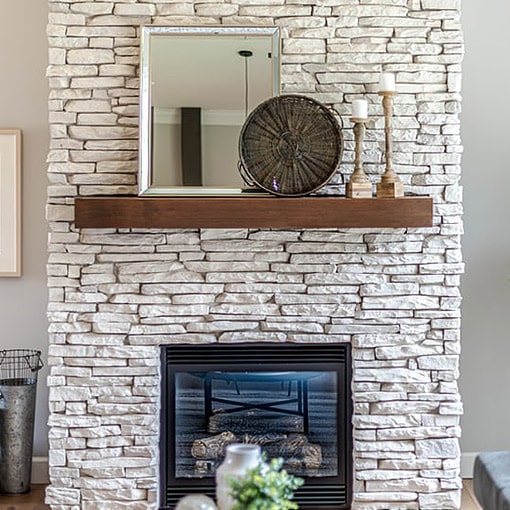 Rustic style decor on a stone fireplace mantel
Pairing the stone with rustic decorations is a popular choice, especially with log cabins homeowners. But as long as the decorations reflect the room's aesthetic and aren't too distracting, any style option will look fantastic.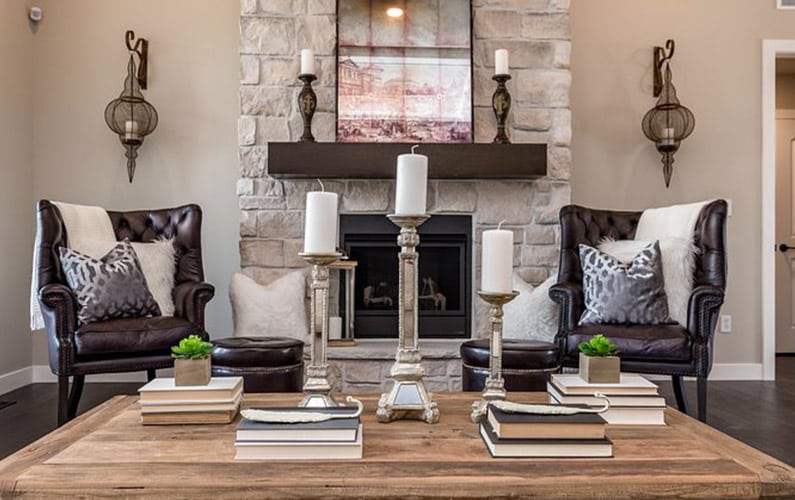 Traditionally decorated fireplace surround
The traditional style is all about symmetry and uniformity with the décor. It combines modern and minimalist themes to present a calm, elegant, and classic look to the space. It's not the antithesis of clutter like minimalistic is. Still, everything is placed in a specific way to keep the room feeling comfortable and orderly.
Here are a few more characteristics of traditional design:
Consistency with everything

Homey and familiar ambiance

Decor is always centered and often placed in pairs

Decor is typically modern style and light in color
In most cases, the decorative objects are all the same or of very similar shapes and colors. You can also find them decorated with a large centerpiece, two matching accessories evenly spaced on either side of the centerpiece, and an extended object directly underneath the centerpiece.
Layered Fireplace Mantel Decor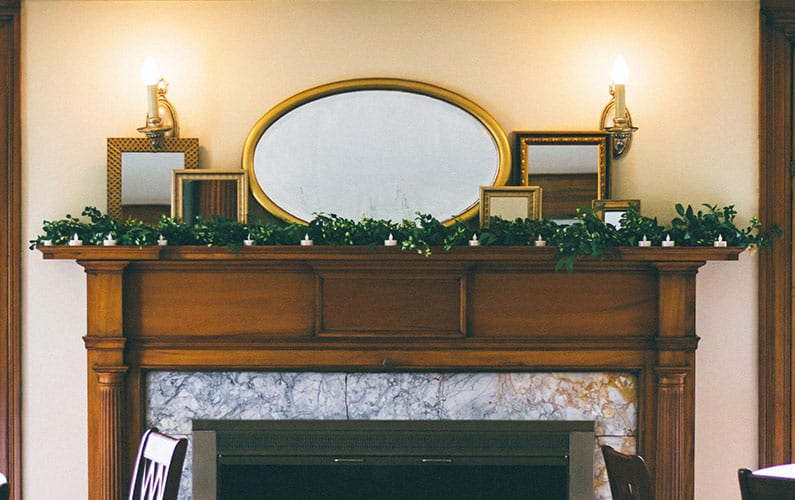 Layered frames with a garland accent piece
It doesn't get any easier than the layered fireplace surround look! No tools, DIY, or interior design expertise is required. All you'll have to do is layer various sizes of wood frames, prints, or artwork on the mantel. Place a few select pieces of décor around it, such as plants, candles, or books, and then you're done!
Be careful not to hide the items completely. Overlap them so all of your stunning accessories will be visible. Layering is an easy way to achieve depth and a visually stunning display in the room.
How to Decorate a Brick Fireplace Mantel
Brick fireplaces are naturally attention-grabbing and add an element of texture to any room. Considering most site-built systems were built with bricks for many decades, they epitomize the classic fireplace style.
 Decorating the brick surround is dependent on the color, size, and style of your bricks. They were built frequently with the classic red brick look with a wood mantel; however, some bricks are lighter in color with dark wood, and others are dark with white marble. Every house is different, so there is no "one style fits all" method for brick decorating. What we can do, however, is point you in the right direction.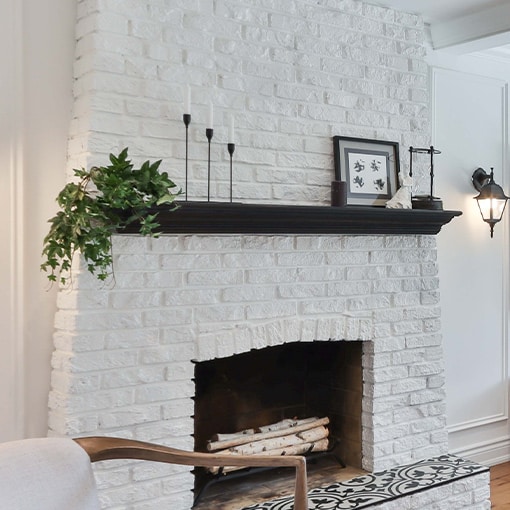 White Painted Brick Fireplace & Decorations
Say you have white brick with a white mantelpiece. In that case, a modern style with some additional greenery would add a comforting and clean touch to the room.
Say you have the classic red brick with a dark wood mantelpiece. In that case, the system would stand out well with a combination of the minimalistic and rustic styles.
Minimalize Your Fireplace Surround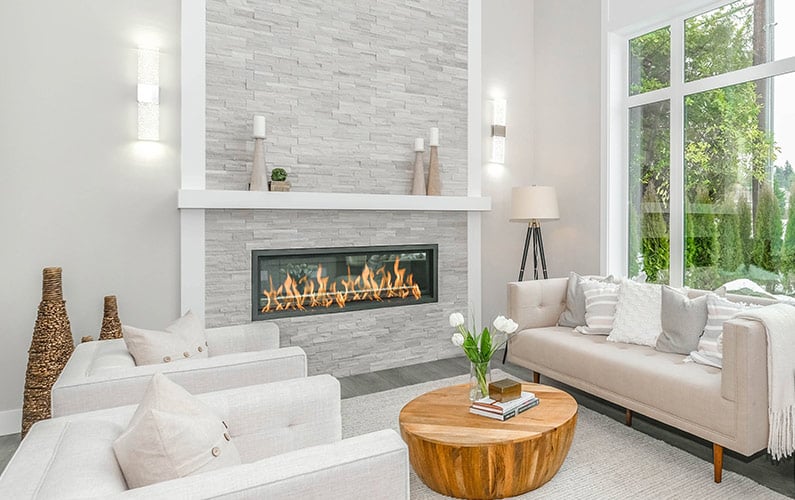 Minimalistic mantel in a modern style room
The minimalist decorating style prioritizes making the most out of everything in the room. Colors, lights, décor, and space all have equal importance to the overall design.
All you need to do to achieve a minimal style is carefully placing a few décor items on the mantelpiece. In many cases, a stack of small books, a picture frame, a candle, and a potted plant act as accent pieces around a centerpiece such as artwork or a mirror. If you appropriately match the objects with the room's color, the hearth will truly stand out as the focal point.
Install a New Fireplace Mantel
If these decorating ideas inspired you to buy and install a premade mantelpiece of your own, there are a few things you need to know beforehand.
There are various safety requirements involved with installing these by yourself. A couple of those include installing approved fasteners for security to avoid fire hazards and the mantel height above the hearth opening. Also, this isn't like hanging up a floating shelf on your wall. You'll need specific tools to hang it effectively.
These considerations are a lot for a novice DIYer or woodworker to handle. If you're one of those people or have little to no experience altogether, please consult a certified chimney technician for all your installation needs.
Full Service Chimney technicians install mantels in the Kansas City metro area.  Give us a call today!
For decades, fireplaces, and mantels by extension, were the go-to spot in the house because they were the primary heat source. If the fireplace had a piece above it, tools and fire starters were hung on it, or it was completely bare. Today, they are so commonplace in various homes that they can easily go unnoticed. But luckily, interior design has come a long way. And decorating the mantel has become an integral part of the design process for many homeowners.
Hopefully, these 10 fireplace mantel decorating ideas helped inspire you to start a new decorating project or have one professionally installed in your home.