With the holiday season soon to begin, one of the most popular traditions in which families partake is a beautifully decorated mantle. From hanging stockings to the stringing of lights, or hanging strands of garland for greenery, the decorations that you decide to put on your fireplace mantel can not only make your home and hearth more festive but can also be a fire hazard.
If you're looking to learn how to decorate your home and fireplace with Christmas decorations safely this season, we created a complete guide to show you how to use fireplace Christmas decorations safely. Keep reading to learn more!
The 3-foot Rule
The National Fire Protection Association states that they recommend a 3-foot zone around the fireplace to prevent fires. Any combustible material such as Christmas decorations, throws, blankets, pillows, and even wrapping paper should be kept 3-feet from your fireplace. Even your Christmas tree can serve as a fire hazard if it's not located far enough from your fireplace.
Both real trees and synthetic trees can catch fire if they are located too close to your fireplace. This is why the 3-foot rule is important, no matter what type of Christmas decorations you plan on having in your home.
Hang Your Christmas Stockings
You can hang your Christmas stockings from the mantle on your fireplace, but you can only do this when there is no fire lit. You must never hang stockings near a lit fireplace. Remember that any draped ribbon, garland, or Christmas stockings that you have hanging from your fireplace mantle are a beautiful decoration in your home, but can also be very dangerous.
No matter what, don't allow any type of decoration to hang from the mantle if there is a fire lit in the fireplace. Hanging decorations are extremely flammable and can ignite just from the heat that your fireplace puts out.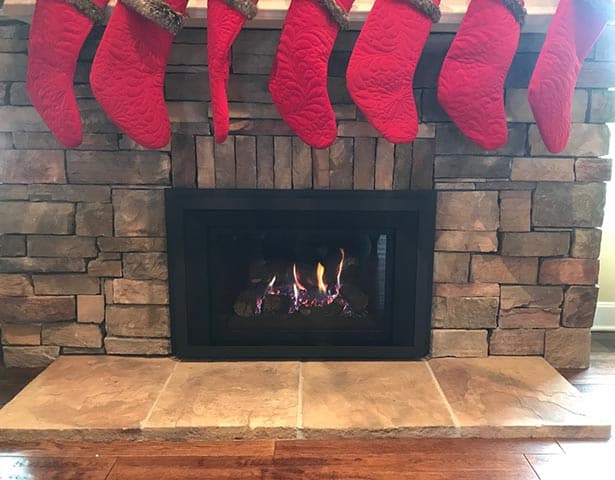 It's also important that when you remove decorations from your mantle, you observe the 3-foot rule. You can hang up the stockings, garland, or whatever other decorations that you have on your fireplace mantle around other areas of your house, such as on a stairway banister. Just make sure that they're at least 3 feet away from the open flame!
Shop Around for Fire-Resistant Decorations
There are decorations on the market that have been treated to have an increased level of fire resistance to make them safer to use closer to the fireplace. This doesn't mean that the objects that have been treated to be fire-resistant aren't flammable, it simply means that they are less likely to ignite accidentally.
If you're very concerned about the potential of a fire caused by your Christmas decorations igniting, search around for fire resistance decorations this holiday season.
Always Keep a Fire Extinguisher Easily Accessible
Even if you follow the above tips, there's still a chance that your Christmas decorations accidentally catch fire if there's an open flame. To prevent a fire from getting out of hand and potentially damaging your entire house, you must keep a fire extinguisher easily accessible for you to grab.
You should also make sure that the fire extinguisher is operational, is not past its expiration date, and that everyone in your home understands how to use the fire extinguisher.
Consider Purchasing a Fireplace Safety Gate
If you have pets or small children visiting your home for the holidays, and you're worried about them being injured by the fire, purchasing a fireplace safety gate or a fireplace child guard screen will help to prevent many fire-related accidents.
These gates were designed to keep children and pets at least 4-feet away from wood stoves and fireplaces. They were created to allow adults easy access to the fireplace to tend to the fire while keeping pets and young children a safe distance away from the open flames.
Don't Burn Used Wrapping Paper
On Christmas morning, as your opening gifts, do not burn used wrapping paper. Wrapping paper will create hot embers that can easily float to the air and land on a flammable object. As a result, this could cause something in your house to catch fire.
Besides, the colored paper that's used to create wrapping paper also releases toxic fumes when it's burned. The easiest way to keep your house and your family safe from an accidental fire on Christmas morning is avoiding burning the used wrapping paper in the fireplace and instead choose to recycle it.
Get Your Fireplace Cleaned
A great way to prevent your fireplace Christmas decorations from catching fire is to have your fireplace cleaned by a professional chimney sweep at least once a year. Not only does this help to ensure fireplace safety, but it also helps to reduce other fire causing threats such as glaze, soot, and creosote.
Creosote is a vapor and smoke mixture that's caused by wood-burning, but it builds up in your chimney and can even cause a chimney fire. By having your chimney cleaned annually, the fire hazards that are hidden in the inside of your chimney will be removed. This will result in a decreased possibility of a fire in your chimney, which could also cause your fireplace Christmas decorations to catch fire inside of your home if not cleaned properly.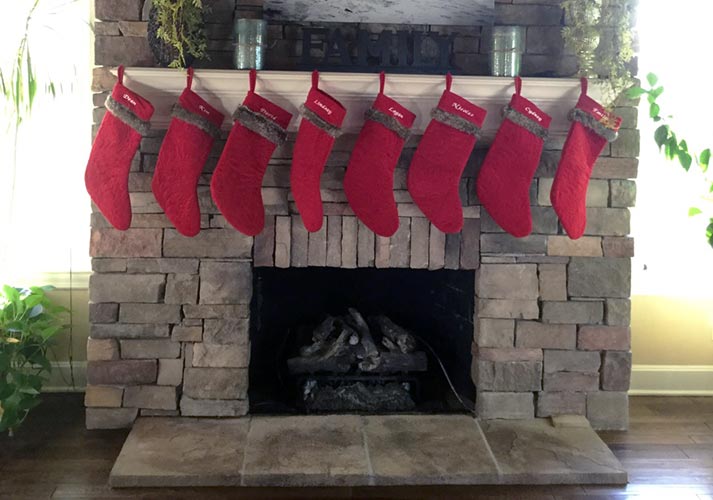 Decorate With Non-Flammable Objects
If you want to keep your fireplace decorated for the holiday season, but don't feel like removing all of the decorations every time you start a fire, consider decorating with non-flammable objects. Decorations that have been made with stone, ceramic, glass, and metal won't combust into flames if they get too hot or if a hot ember lands on them. Just make sure that these decorations don't have any flammable materials on them, as this defeats the purpose of decorating with non-flammable objects.
Be Careful With Candles
Fireplaces are not the only open flame source that threatens our homes during the holiday season. If you plan to have decorative candles on your fireplace mantle, use wide candleholders to reduce the possibility of a fire. By using wide candle holders, you'll prevent the flames from reaching the needles on the garland or any other flammable object if the candles happen to burn down all the way.
Whenever you light your candles, make sure they're safe lengths to use. If they're too short for you to safely light up, throw them away and replace them with a brand new candle. You should always remember to keep an eye on the candles that you're lighting and extinguish them before you leave the room, even if you're only leaving for a short time.
A safer alternative to using candles on your fireplace is to use battery-powered flameless candles. You won't have to worry about caring for an open flame on your fireplace, but you'll still be able to achieve the same effect as lit candles provide.
Examine Strings of Holiday Lights
The majority of garlands and wreaths that are hung around mantels have built-in lights. Before installing the garlands and or any wreaths you should make sure that all of the lightbulbs are properly screwed in. If they aren't, this creates an opportunity for exposed wiring to create a short circuit, which creates a fire hazard. so make sure to double-check any lightbulbs
In addition, you should also make sure to keep any wires and cords away from the firebox. This becomes a potential fire hazard if the cord's insulation becomes damaged from the heat of the flames.
Consider Using a Spark Screen
Are you interested in having a fire going on Christmas morning? Using a spark screen (hanging wire mesh) will help to prevent flying embers from escaping your fireplace. With paper flying in the air and lying haphazardly around the room, there's an increased chance for an unprotected fire to release a hot ember, which could land on wrapping paper.
By using a spark screen, the wire mesh will drastically reduce the number of hot embers that fly out into the room. You can also use a freestanding screen that will prevent hot debris from popping out of the fireplace.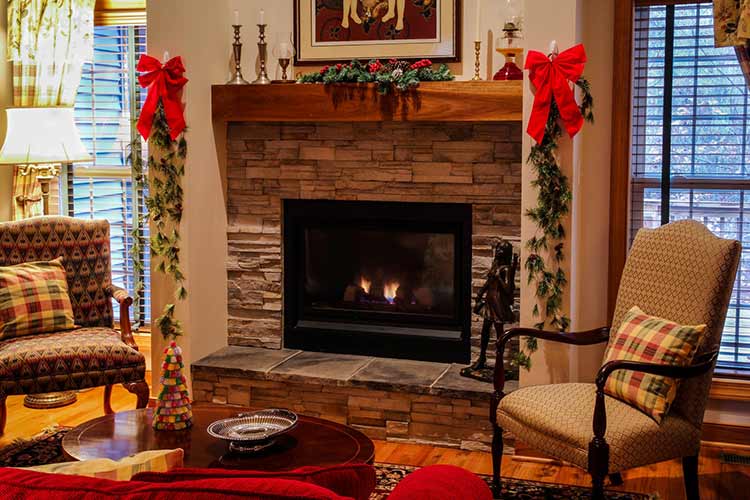 Buy a Non-Flammable Rug
Consider investing in a non-flammable rug to put in front of your hearth, you can easily add some Christmas flair to the room that you're decorating while also protecting your carpet and wood floors underneath. Not only will this help to ensure that your home's flooring doesn't get damaged with an open fire, but it will also prevent you're underneath carpet or wood floor from catching fire if any sparks happen to fly out of the fireplace.
Avoid Drilling Holes in Your Fireplace
While drilling holes in the mortar and your fireplace may sound like a good idea to easily hang wreaths of your mantle, you can increase your chances of having a fire. By drilling a hole in your fireplace, you raise the potential of damaging them water which is the liner inside of your chimney.
If you wish to hang something in front of your mantle, you could dangle it from the ceiling in front of the fireplace on a long clear string. You could also pick up tabs that stick to your fireplace and allow you to hang items off of the hook on the tab. This will allow you to decorate your fireplace as you wish, without damaging your fireplace.
Keep Your Christmas Tree Watered
Even if your Christmas tree happens to be 3-feet away from your fireplace, a dying Christmas tree serves as a fire hazard. As a Christmas tree dies, the needles on the tree will dry out, putting them at their most flammable point.
With children and pets running around, a breeze from opening your front door, or even tissue paper flying around the room on Christmas morning, embers can easily float in the air and land on a dry Christmas tree.
Since dying Christmas trees are easily combustible, you can prevent your Christmas tree from going up in flames by keeping it watered.
Keep Interactive Decorations Away From a Fire
Just as we discussed above, keeping all decorations at least 3-feet away from the fire is a great way to reduce your chances of a fire in your home this Christmas season. Children are especially curious about fire and may try to place things in the fireplace. If you're enjoying a fire in your fireplace, you must keep decorations away from the fireplace and out of a child's reach. You can do this by leaving the decorations that children like to play with, in another room that's away from the fire.
Christmas decorations that easily double as toys not only serve as a fire hazard, but can also increase your child's chances of being injured by the hot metal, burning logs, and other surrounding materials around an open fire. The easiest way to prevent this is to ensure that you aren't leaving any playable decorations around in a room that has the fireplace.
Understanding How to Best Decorate Your Fireplace With Christmas Decorations
When deciding how you're going to decorate your fireplace with Christmas decorations this holiday season, you must take preventative measures to avoid a fire. We hope that you remember the safety tips to keep your family and your guests both safe and warm during this Christmas season.
If you live in the Kansas City area and wish to keep your family warm & safe this holiday season, then call us at 913-642-6171 to schedule an appointment for an inspection and cleaning to prevent fires in your chimney.