Chimney Sweep in Leawood, KS
If you're looking for the best Chimney Sweep in Leawood, KS then look no further, you've found the right team to help with all your fireplace and chimney needs!
We provide Complete Fireplace and Chimney Service to Leawood and the surrounding area:
Have a Question?  Call now and speak with one of our CSIA Certified Chimney Sweeps.
Call us at 913-642-6171 or
Whether it's an inspection, cleaning, or repair, a Certified Technician will be on every job site. Backed by a team of support staff ready to help you with everything chimney and fireplace! 
The Fireplaces & Chimneys of Leawood, Kansas
BY. ROBERT BERRY, OWNER OF FULL SERVICE CHIMNEY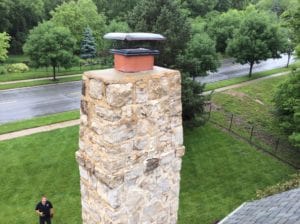 Beauty Inside and Out
Fireplaces, regardless of the time period, are uniquely adorned with tile and trim in keeping with the style of the home. Some of the first raised hearth fireplaces built in the city are found in here. This allowed the family and friends to sit by the fire and made tending the fireplace easier.
One of a Kind Hearth Design
Leawood homes, chimneys, and fireplaces are unlike any in the metro, mostly because of their level of craftsmanship and variety of designs. For example, off of Lee Boulevard, we've encountered round flue tiles going to both the fireplaces and utility flues. Even with 30 years in the business, we only have seen round tiles in the Kansas City area twice before. The masonry of the chimneys is frequently spectacular as well, as builders selected specially ordered bricks and stones instead of common types locally available.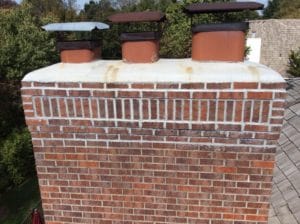 Dated Systems Need Specialized Attention During Inspection, Cleaning, and Repair
The city has homes in excess of 50 years old, 25% of them built prior to 1970. With fireplaces and chimneys of this age, even well-built hearths, need special attention regardless of the type of fuel burned or the amount they are used. A frequent venting method of the utility from the furnace and water heater are through the same chimney shared by a fireplace in a Leawood home. These flues were designed for a 30-year lifespan and frequently have fallen into disrepair. The utility flues prior to 1990 were intended for low-efficiency appliances as opposed to the 80% units sold to homeowners for the last few decades.
Full Service Chimney has the specialist you need to care for your old chimney and fireplace. 
Attractive Options: Gas Logs, Inserts, and Gas Fireplaces
Gas fireplaces are very popular in Leawood, and why not? With the ability to install a gas fireplace insert, its remote control, and ample heat output, a gas insert can be installed in less than a day in most cases.
Homes with factory-built fireplaces are not without gas fireplace options either. These pre-fab fireplaces and chimneys can be replaced with direct-vent gas fireplace and gas inserts. Once the family decides they are too busy for the time commitment of a wood burning fireplace, gas logs and inserts are a viable option.
FSC is Available to Serve You
Consider Full Service Chimney as your one-stop resource for all things fireplace and chimney. Call and talk to one of our certified technicians for advice and options available at 913-642-6171.
Our Local Satisfied Customers: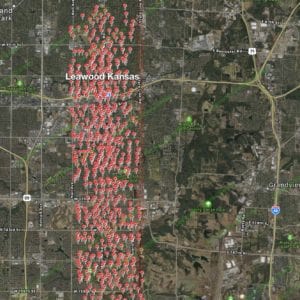 Map shows an actual count of chimneys serviced in Leawood, KS
Be Our NEXT Satisfied Customer …
A Quick History of Leawood, KS
Like a phoenix, Leawood rose from the ashes of its destruction into a beautiful, modern city. The land was first occupied as the Town of Oxford in the late 1800s, but it was destroyed during the Civil War.  Oscar G. Lee bought the land in 1922 to rebuild on. Leawood would later be named after Mr. Lee. He oversaw construction of Lee Boulevard on the property which was opened to public use. Eventually, a housing development was built on the property and the town became incorporated in 1948.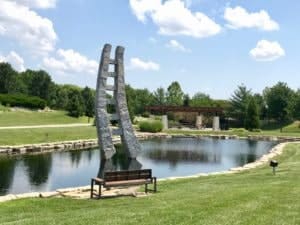 The population increased by a margin of over 6,000 people in the 1950s. Bordering Overland Park, Prairie Village, and Kansas City, Missouri, the city's location proved to be a prime spot for growth and commerce. Modern-day Leawood is known throughout the area as an elegant and prestigious host to shopping, dining, business, and beautiful homes for its 32,000 residents and visitors.
Full Service Chimney inspects, cleans, and repairs Leawood chimney's daily… as we've done for over 30 years!