Chimney Sweep in Merriam, KS
If you're looking for the best Chimney Sweep in Merriam, KS then look no further, you've found the right team to help with all your fireplace and chimney needs!
We provide Complete Fireplace and Chimney Service to Merriam, KS and surrounding areas:
Have a Question?  Call now and speak with one of our CSIA Certified Chimney Sweeps.
Call us at 913-642-6171 or
Whether it's an inspection, cleaning, or repair, a Certified Technician will be on every job site. Backed by a team of support staff ready to help you with everything chimney and fireplace! 
The Fireplaces & Chimneys of Merriam, Kansas
BY. ROBERT BERRY, OWNER OF FULL SERVICE CHIMNEY
The Finest Constructed Hearth Systems
The homes of Merriam, Kansas and the fireplaces and chimneys that serve them are some of the finest constructed anywhere! Masonry artisans consistently gave extra attention to the structure and specifications common to the chimneys of this period. With the bulk of the over five thousand households in the area constructed in the fifties and sixties, most of the chimneys were constructed of quality materials. Only a few of the chimneys in the city include reclaimed brick in their construction.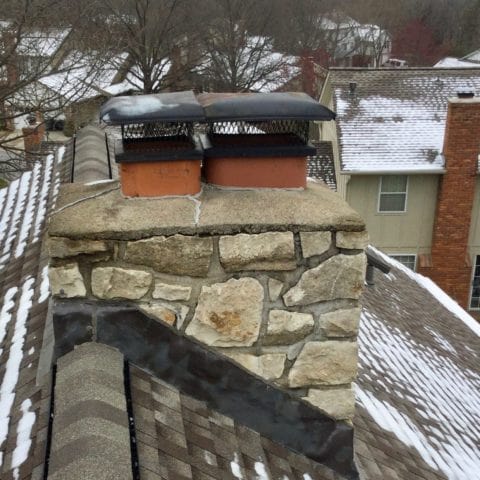 Merriam Stone Chimney in snow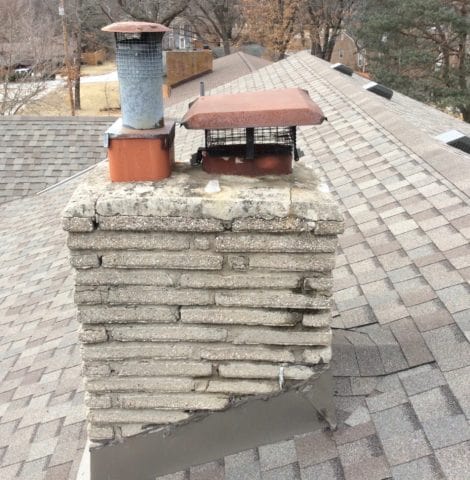 Merriam Masonry Chimney before repairs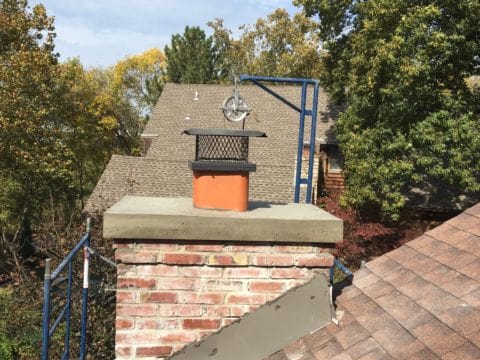 Merriam Brick Chimney – New Overhanging Crown Replacement by Full Service Chimney Sweeps
Time Takes its Toll, Leading to Unavoidable Repairs
Although most of Merriam's chimneys and fireplaces were built of new bricks, the passage of time on these well-built structures has started showing. Consistently, we find chimneys here with signs of the 60-plus years of life. Deterioration of mortar in these masonry units, are showing up with few exceptions. The flue liners, of both the fireplaces and utility flue, have missing mortar joints and/or damaged flue tiles. While the cracks and gaps to the exterior will introduce moisture into the home, damaged flue systems may allow exhaust and fire to the home.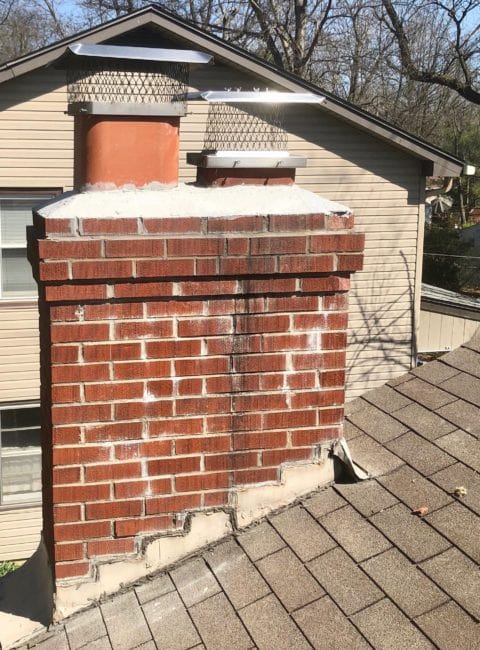 Dated Brick on a Merriam Chimney
FSC is a Chimney's Best Friend
Full Service Chimney has been servicing the fireplaces of Merriam for thirty years. In that time, we have learned to appreciate the original builders for their fine structures that still remain. These chimneys and fireplaces can be preserved if preventative servicing and maintenance are ongoing. By treating problems when they're small, families can safely enjoy their hearths for years to come. Only by having us out to evaluate can we determine what, if any, needs your venting and fireplace system may have. At that time we will ask you to share your vision for your hearth, and we will help make those dreams come true.
Give one of our Certified Sweeps a call today at 913-642-6171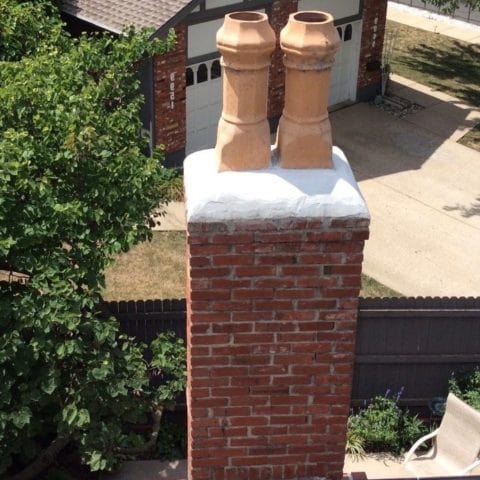 Updated Chimney with Chimney Pods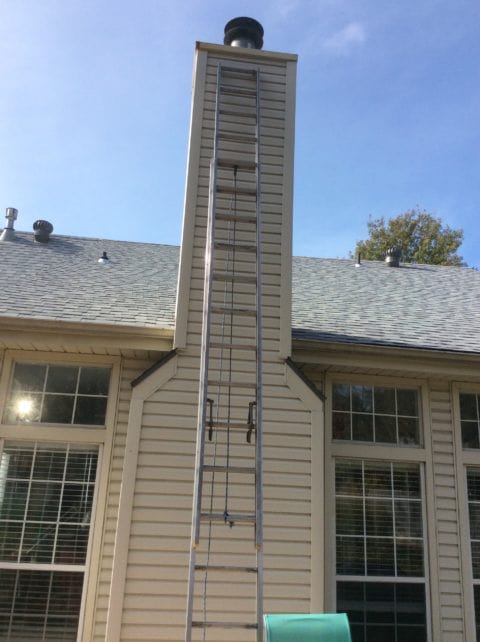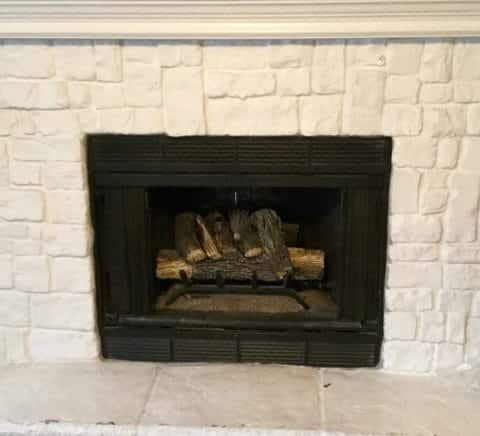 Our Local Satisfied Customers: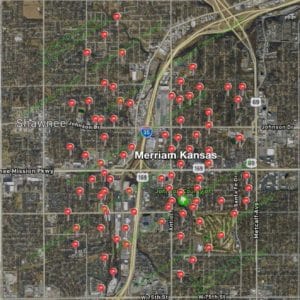 Map shows an actual count of chimneys serviced in Merriam, KS
Be Our NEXT Satisfied Customer …
A Quick History of Merriam, KS
In the 1920s, the Shawnee tribe moved to the new lands that they were allotted after the government took over the tribe's land in Ohio. Turkey Creek provided fresh water and resources to those who wanted to live further south than the Kansas River. Quaker settlers built a mission in 1836 on what is now 61st and Hemlock. The mission's purpose was to educate the natives about Christianity as well as agriculture and trade. After the Kansas-Nebraska Act, land rights changed again and Mary Parks, a native, sold her land to David Gee Campbell. When he moved his home on the south side of modern-day Johnson Drive he opened it to land to development. Around 20 homes were built in addition to a few businesses. The small community called itself Campbellton after Mr. Campbell. Soon after, in 1870, the first railroad depot was built in Campbellton for the Kansas City, Fort Scott, and Gulf rail line. At that time, Campbellton was changed to the name Merriam for Charles Merriam, an administrator for the railroad. The open land and accessibility of the town from the vastly growing Kansas City made it the ideal place to build a large amusement park in 1880. The amusement park, called Merriam Park, successfully drew in around 20,000 visitors per day. It was open until around 1900 when Kansas City built its own amusement parks and Merriam Park went out of business. The area was turned into a more traditional park with a baseball pavilion and play-sets and is still standing today.
As the population grew in the community, so did the need for schools. When a new elementary school, South Park Elementary, was built in the 1940s black children were denied admittance to the school based on color and race. They were forced to attend a school for blacks that was outdated and inadequate. Corinth Nutter, along with 39 other families, filed a lawsuit in Webb vs District 90. This lawsuit eventually played a roll in Brown v the Board of Education.
The town didn't become incorporated until 1950. As one of the most populated cities in Johnson County at the time, the city was home to the first public library, full-service hospital (Shawnee Mission Medical Center), and largest park in the area. It has continued to grow and develop over the decades. As Merriam is divided by the busy I-35, several corporate businesses and stores sit just off of the highway. With a current population of 11, 200 people, residents enjoy many housing options, quality schools, several parks, and accessibility to amenities and entertainment all around the area.
Full Service Chimney inspects, cleans, and repairs Merriam chimney's daily… as we've done for over 30 years!