Chimney Service in Mission Hills, KS
If you're looking for the best Chimney Service in Mission Hills, KS, then look no further. You've found the right team to help with all your fireplace and chimney needs! Whether it's an inspection, cleaning, or repair, a Certified Technician will be on every job site. Backed by a team of support staff ready to help you with everything chimney and fireplace!  Learn more about us.
We provide Complete Fireplace and Chimney Service to Mission Hills and the surrounding area:
Since 1987 Full Service Chimney™ has provided your local community with a large variety of services for all your chimney and fireplace needs.
Including Inspections, Cleanings, and Repairs such as:
We offer a variety of repair and installation services to Mission Hills and the surrounding area.  Our Certified Chimney Repair Technicians exceed the industry standard to provide our customers with the best experience and highest quality service.
The Fireplaces & Chimneys of Mission Hills, Kansas
BY: ROBERT BERRY, OWNER OF FULL SERVICE CHIMNEY
Mission Hills, Kansas, being so close to Kansas City, began to populate before World War II and developed into one of the most lovely communities in the Kansas City area. Rolling hills, tree-filled lots, and unique architecture are only a few of the reasons families find this area special. The hearths and chimneys are no less spectacular than the homes they serve. Over-sized bricks, multiple flues, and fireplaces large enough to sit in are common in these home's construction. Chimneys here are so majestic, and they are frequently built to show off on the curb facing side of the home, adjacent to the front door.
Sixty Years of Uniquely Beautiful Homes
Time has had an effect, however. The chimneys and flues in Mission Hills, Kansas, are some of the oldest in the metro. Many of these chimneys started without rain protection. Chimney caps are a must in keeping chimneys sound and their flues safe. The clay flue liners that service the furnaces and water heaters are first to wear out. This is due to the high moisture content in the natural gas exhaust. This constant dampness, made worse in the winter, will cause a flue liner to crumble in on itself.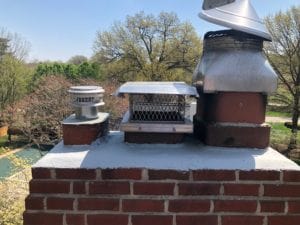 Mission Hills Masonry Chimney during repairs
One-of-a-Kind Designs Lead to Specialized Repairs
With the one-of-a-kind design features seen in Mission Hills hearths and chimneys comes the challenges of keeping chimneys healthy. The outside of a Mission Hills chimney will frequently be round, hexagon, or even octagon in shape. This non-traditional design makes repair and reconstruction a challenge. Full Service Chimney has been 
building and repairing chimneys and hearths
 for 35 Years. We employ some of the country's finest masonry craftsmen who take the extra care the original masons exercised. Have Full Service Chimney to your home to ensure all your moments by the hearth are happy ones.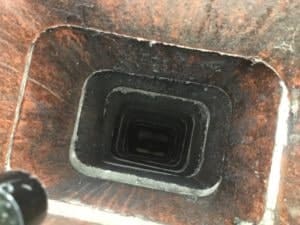 Mission Hills Clay Flue Liner after years of use needs a chimney sweep
The Right Team to Help with all your Fireplace
Call now and speak with one of our CSIA Certified Chimney Sweeps.
Call us at 913-642-6171 
A Quick History of Mission Hills, KS
Like most of the neighboring communities, Mission Hills originally began as part of the Mission built to provide education and training to the Shawnee tribe who inhabited the land after they were moved from their native home in Ohio in the 1820s. The area became a popular stop for travelers on the Santa Fe Trail who gathered water from the nearby spring. Eventually, the area was broken up and developed into independent communities. Real estate developer J.C. Nichols had visited France, Italy, and Spain in his early 20s. He brought back a vision of an upscale community that showcased fountains and statues like he saw in Europe.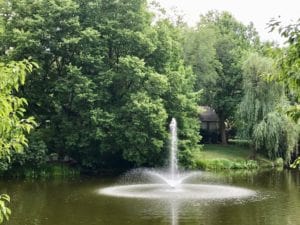 A beautiful Mission Hills Fountain
In 1908, Nichols purchased 229 acres near a golf course to develop the first garden community he envisioned. He recruited the wealthiest people in the Kansas City area to build homes on his exclusive lots. When the homes were built, Nichols didn't trust the local government to adequately cater to his resident's needs or enforce the policies he wanted his development to uphold. This prompted some creative thinking and forwent incorporation to establish its own management called the Mission Hills Home Company in 1914. This was the origination of the modern-day homeowners associations.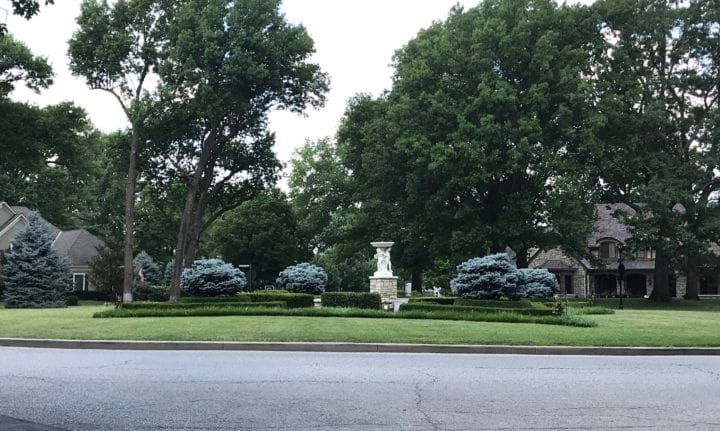 Mission Hills neighborhood Fountain
The community was successful but neighboring areas looked to annex it in to share the healthy tax source. In order to avoid being taken advantage of, Mission Hills was incorporated in 1949. Notably, Ernest Hemingway and his pregnant wife stayed at one of the homes while he wrote "A Farewell to Arms" and his son was born. An inscribed book was given to the doctor and still remains in the UMKC library. The city has maintained its original architecture and nature-inspired aesthetic. Surrounded by golf courses, large lots, gardens, and the infamous Verona Statues, residents continue to enjoy their peaceful community that J.C. Nichols made come to life.
Your Mission Hills, Kansas Fireplace Repair Professionals
Full Service Chimney sweeps have repaired and replaced tens of thousands of fireplaces and chimneys in the Mission Hills, KS area. We can help you too!