Full Service Chimney has performed over 16,000 Level 2 Chimney Inspections in the Kansas City metro over the last 30 years. Each of our chimney inspection reports is completed with easy to understand explanations and photos outlining the chimney safety condition of your system.
Allow a local Certified Chimney Inspector to evaluate your chimney safety today.
Do You Need to Hire a Chimney Inspector?
Annual chimney and fireplace inspections are just as important as having your chimney swept regularly. Chimneys, like the rest of our homes, develop issues from use and exposure to the elements.
Your Chimney flue liners and hearths may have changed since they were originally installed. These changes can lead to a fireplace smoking into the home and causing dangerous indoor conditions.
Full Service Chimney provides the proper inspection with every chimney sweeping visit.
Stay Cozy & Warm with Regular Maintenance
Most homeowners are aware that the condition of a fireplace chimney system is just as important as whether or not it's clean.
Why? Because the risk of using a masonry fireplace or gas chimney flue without knowing its safe is unnecessary!
When called to evaluate a chimney liner or gas chimney, our certified technicians discuss with you how you're enjoying the fireplace and your plans for the venting system. Then, using a multipoint process, covering the various parts of the chimney system, we evaluate and take photos. Depending on the type of evaluation warranted, the appropriate level of inspection is performed.
Choose Our Certified Inspectors in Kansas City
A Level II is our most common level chimney Inspection. However, say you're interested in changing your fireplace. Converting wood to a gas fireplace is a common fireplace remodeling project. The Level 2 Chimney Inspection is appropriate. If after a Level II chimney inspection, it is discovered that an unsafe condition may exist in a concealed area, we will suggest a Level III chimney inspection.
Talk to your Certified Chimney Inspector about the type of chimney care that best fits your fireplace hearth.
We Offer 3 Levels of Inspections
At Full Service Chimney our Certified Chimney Inspectors offer three levels of inspections, providing homeowners the necessary chimney service depending on their level of need.
If a chimney inspection reveals a repair is needed, then your Full Service Chimney sweep offers options for chimney repairs, depending on how the fireplace will be used.
Level 1
We check your chimney and fireplace for blockages and the readily accessible portions of the system and give the hearth space a fireplace inspection.
Level 2
Accessible areas of your basement, attic, and roof are often the places our Certified Chimney inspector will visit during a level 2  chimney inspection.
It includes a video inspection of the chimney flue liner, to ensure the condition of the chimney flue liner is in serviceable condition. When warranted, they can also perform an examination of hearth and chases using U.V. technology.
Level 3
A level 3 inspection of a fireplace/chimney would dictate the removal of concealing material and determining the condition of otherwise unseen portions of the system.
*Level 2 Chimney Inspection is the most common evaluation we perform for local Kansas City area residents.
Call For a Quote:
913-642-6171
The Inspection Report Matters
Chimney inspections are only as good as the condition report that concludes your evaluation.
With every Chimney Inspection and Fireplace Cleaning, a CSIA Certified Chimney Inspector will provide a complete report. Included in this chimney inspection report is the location and issue of the findings, complete with photos showing the affected areas.
Your Chimney Sweep explains the report and most importantly discusses exactly what it means with you, the homeowner. This process of documenting a chimney inspection, providing photos, explaining the findings, is part of what makes Full Service Chimney the Best Chimney Sweep in Kansas City.
Visiting with our customers every year, when we visit for a Chimney Cleaning and Inspection, knowing they can safely enjoy their hearth and fireplace with confidence because they participated in their chimney service, that's the Full Service Chimney difference. They know Full Service Chimney is the Kansas City chimney care professional.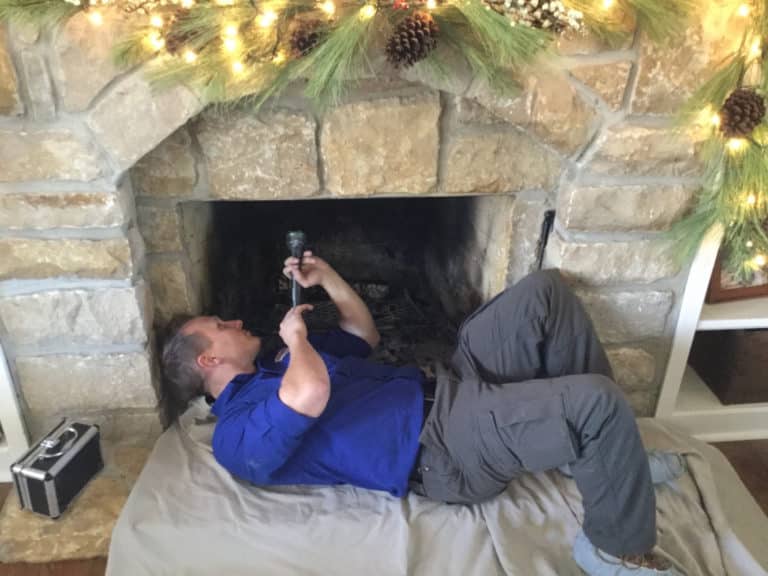 "Considering all that we ask of our chimney and hearth, don't you need a chimney inspection?"
Robert Berry – Owner / Master Chimney Sweep