So, you want to convert a wood fireplace to gas? Well, it's possible and you have options!
Changing a fireplace to gas logs or installing a new gas insert is a common home improvement choice that many homeowners have chosen in recent years.
If you're motivated by enjoying a fire without the fuss, no longer need fireplace heat or if wood-burning has lost its appeal, then there are several options for getting started with a new gas fireplace. The results can be impressive.
What's the Difference Between a Gas Insert and a Gas Fireplace?
A fireplace is a "place" in which "fire" can be located and it must have a vent for smoke and exhaust to escape. An insert assumes you have a fireplace already. The gas-burning insert is then inserted into an existing fireplace.
No matter the type of fuel, you cannot have an insert without first having a fireplace.
Since your new insert needs a fireplace, it could be considered an accessory appliance with the intent of adding features and benefits lacking in the original system.
Inserts allow for additional heat not available with just a fireplace.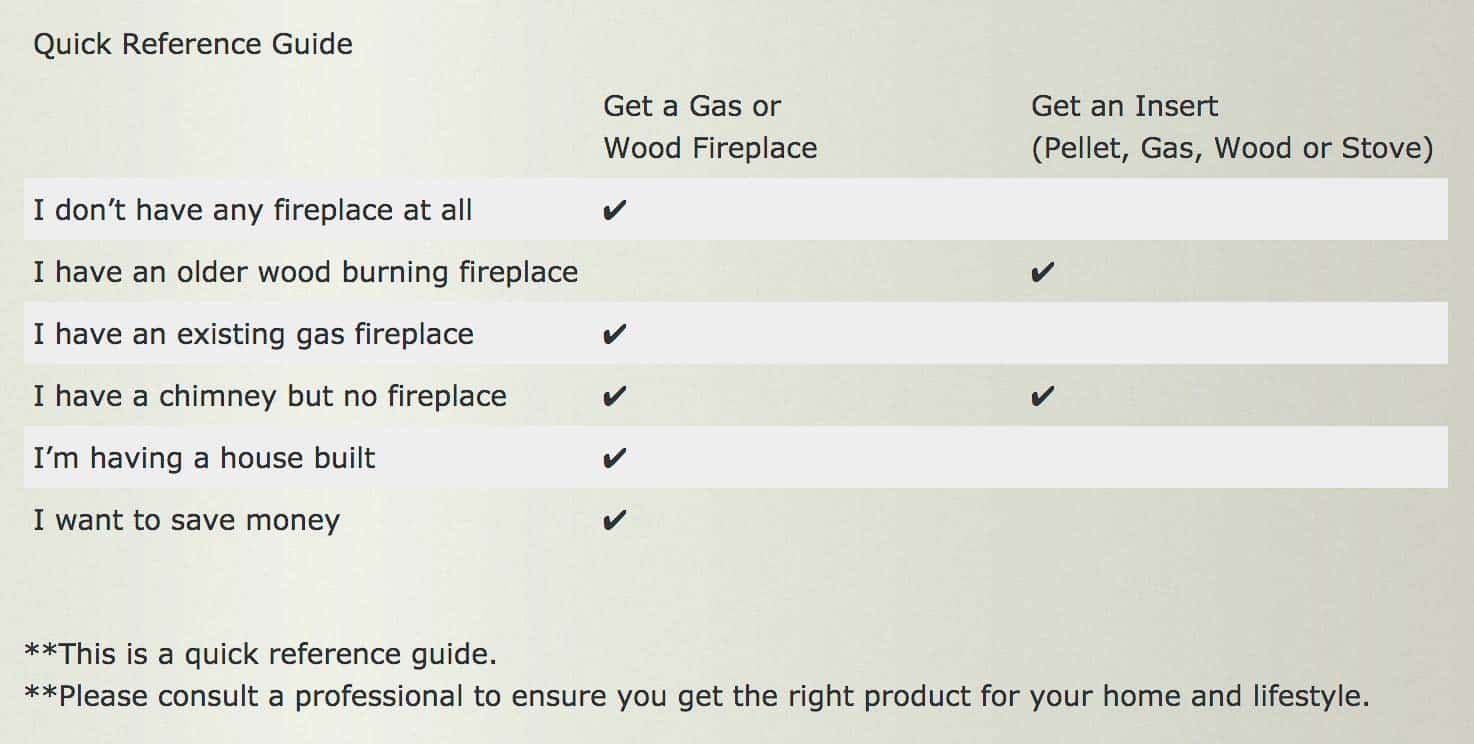 How Much Does Fireplace Conversion Cost?
The cost to convert a fireplace to gas is a major consideration. $150.00 will get you a set of gas logs with burner and parts. Installation and other options add to the total cost.
If you know the necessary steps, you'll be able to burn gas in your fireplace in no time (and without breaking the bank). Or if you desire heat or a stunning appearance, you'll need something more than the budget gas logs found on the internet.
First, let's take a look at the cost benefits of different types of fireplace conversions, then you can choose what works best for your needs:
Gas Logs in an Existing Fireplace
Installing gas logs into an existing fireplace is possible in both prefabricated fireplaces and masonry chimney systems.
Heat Output:
Medium to low (depending on vented or unvented gas logs)
Cost:
From $150 to over $2,000 depending on the quality and installation
Time to Install:
Installation could be less than half a day
There are two requirements we must keep in mind when converting a fireplace to gas using gas logs:
the availability of gas to the fireplace
does the condition of the existing fireplace support safe gas burning?
Gas supply, to an existing wood burning fireplace (masonry or prefabricated), is often already available. In the event, these fireplaces were not provided gas supplies at the time of installation, gas or propane can be run to the fireplace by a gas supply technician.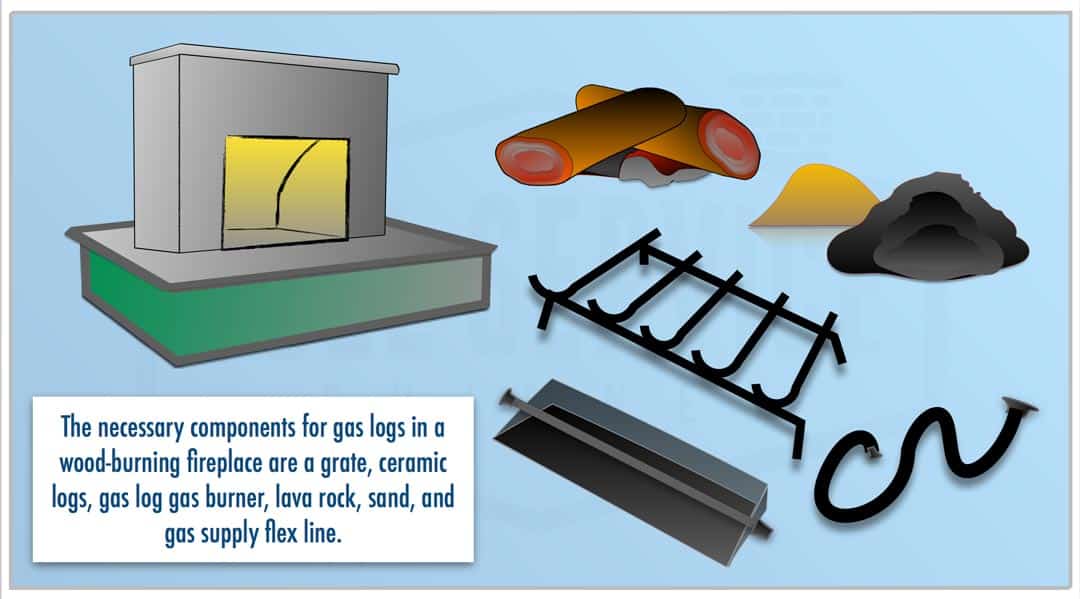 Components needed to install gas logs into prefab or masonry fireplace.
The exhaust of gas logs is invisible, therefore the damper must be fixed or removed. The flue vent must remain permanently open. The damper can be welded fully open and is required by some jurisdictions. Check state and local codes.
Code requires that dampers be removed or "Locked open' to ensure there isn't an accidental use of the vented gas logs and asphyxiation of the occupants. Regarding vented vs non-vented gas logs. Before choosing either, look at the local codes for your area, only have a Certified Technician first evaluate your fireplace and perform the installation.
If your conversion from wood to gas involves logs, then check out our Pros and Cons of Ventless Gas Logs for additional helpful information.
Convert to Gas Fireplace Insert
Heat Output:
Medium to high
Cost:
as low as $1,200 plus parts and installation
Time to Install:
2-8 hours
The popularity of inserts shows how consumers have a high degree of satisfaction with this factory built hearth product. The installation of gas inserts into a wood burning system is a straight forward conversion, with the major considerations being:
clearance to combustibles
a functional gas supply
Steps to the gas fireplace conversion include:
Removal of the fireplace damper, providing 110-volt to the insert and pairing a remote control, to name a few. Because the existing chimney liner used by the wood fireplace is designed to burn only firewood, a gas insert would require the installation of a collinear liner in the fireplace flue to the chimney top.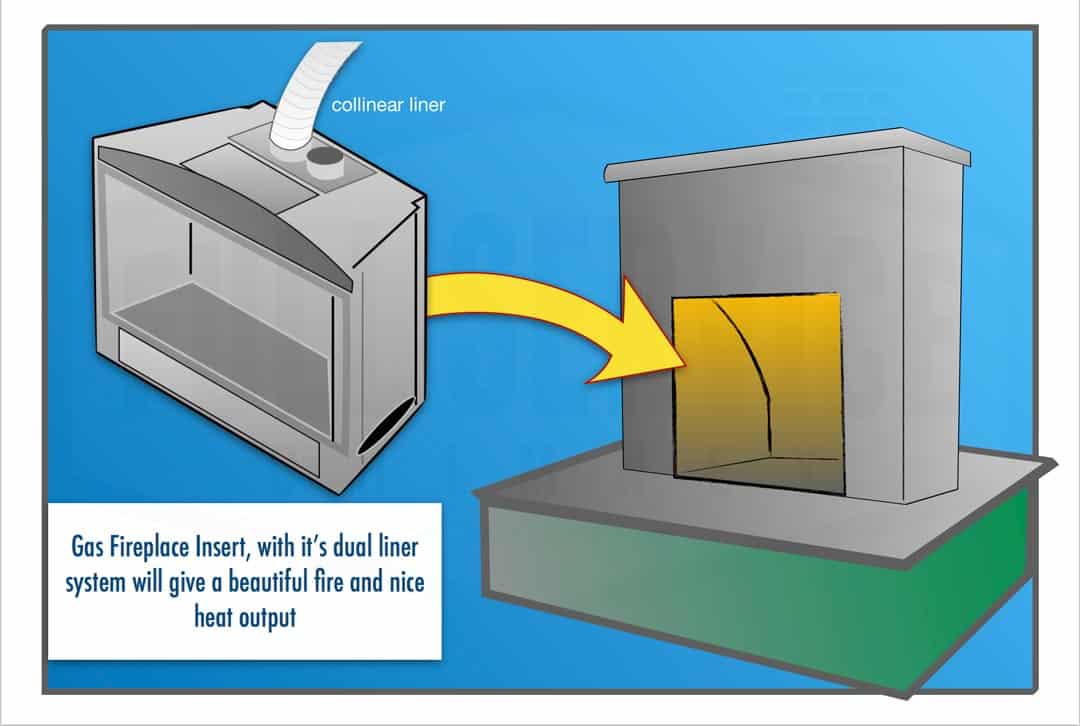 The example shows an insert with a collinear liner. The dual liner system goes inside an existing firebox to provide better heat output.
Note: Manufacturers approved termination (direct vent insert cap) is required to minimize animal and rain entry.
Convert a Prefab Fireplace to a Gas Insert:
Prefabricated fireplaces and chimneys are built with safety in mind. So much so, that the manufacturers of these hearth appliances test their products prior to mass production and sale.
The manual of both the fireplace and the insert must include the instruction indicating that installation of the gas insert into the wood-burning fireplace is acceptable and when. Included in this, would be specific instructions to avoid:
damaging or malfunction of the unit
overheating nearby combustibles
creation of a carbon monoxide hazard that, if instructions were followed, could have been avoided.
Absent clear instructions, installing a gas insert into a prefab fireplace (built to burn firewood) would not be approved and could threaten life and property with the very first use.
Check with local code officials for more information on keeping your home and family hearth safe.
Convert Existing Fireplace to Gas
Heat Output:
If the gas fireplace is a direct vent design, then it's best of all three options discussed.
Cost:
as low as $1,800 however the labor cost is substantially more due to the nature of the conversion.
Time to Install:
From a single day to over a week. Since it involves major construction to the home the time it takes varies per home.
Converting a wood-burning fireplace to a gas burning system would also include removing the wood fireplace and chimney to install a prefabricated gas fireplace with a chimney or vent system approved by the manufacturer.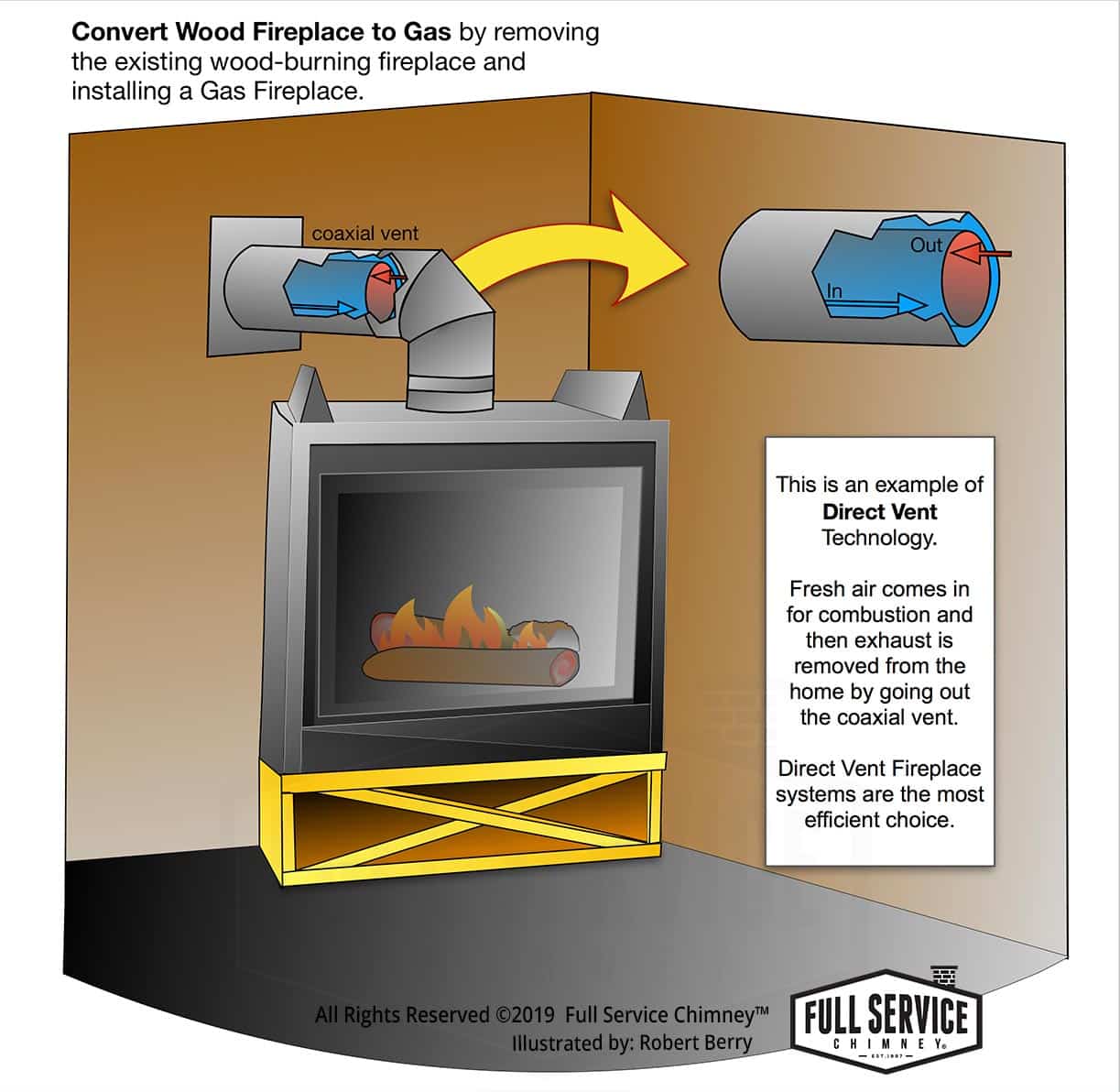 Example of how Direct Vent Technology works using one coaxial vent to pull in fresh combustion air and also remove exhaust, making it the most efficient conversion option.
Of the three types listed, this gas fireplace conversion is the most involved process but yields the most stunning results.
Prefabricated gas fireplaces (the direct vent fireplaces in particular) are some of the most visually stunning hearth products available. With options like a large viewing area, modern design, and LED lighting to produce a stunning effect set against the glass media or gas logs.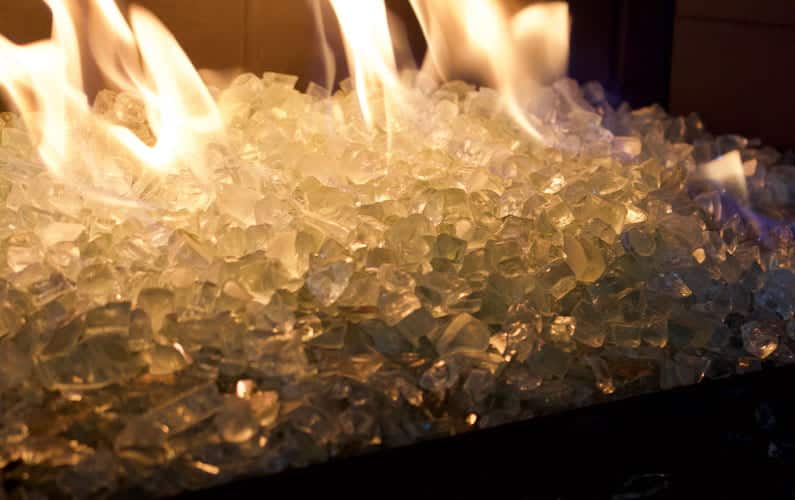 Example of a decorative fire glass media for a gas burner system
As you may expect, nice things come at an additional expense. Cost is a factor with this choice because it involves substantial demolition, plus the purchase of a vent or chimney system in addition to the fireplace.
The new gas fireplace and vent replace the old system after the wood-burning unit is removed. Frequently, the gas fireplace conversion involves running of the gas supply, roofing, siding, and drywall dependent on the path the old fireplace takes through the home.
Installation requires the skill of a professional hearth technician, with even greater attention to clearance of combustibles to the gas fireplace insert because the vent is traveling through combustible portions of the home.
Where to Begin?
A Full Service Chimney technician familiar with all types of gas fireplace options can visit your home for an assessment. They can determine what type of system you have now and discuss different options at varied price points and amenities to meet your home and hearth needs.
Call 913-642-6171 and speak to a Certified Chimney Professional in KC today.