Chimney Service is an "Essential Business", which means we will continue fireplace and chimney service in Kansas City and surrounding areas. For more information on other businesses that are considered essential and allowed to remain open, please see the Emergency Public Health Order by the Local Health Officer.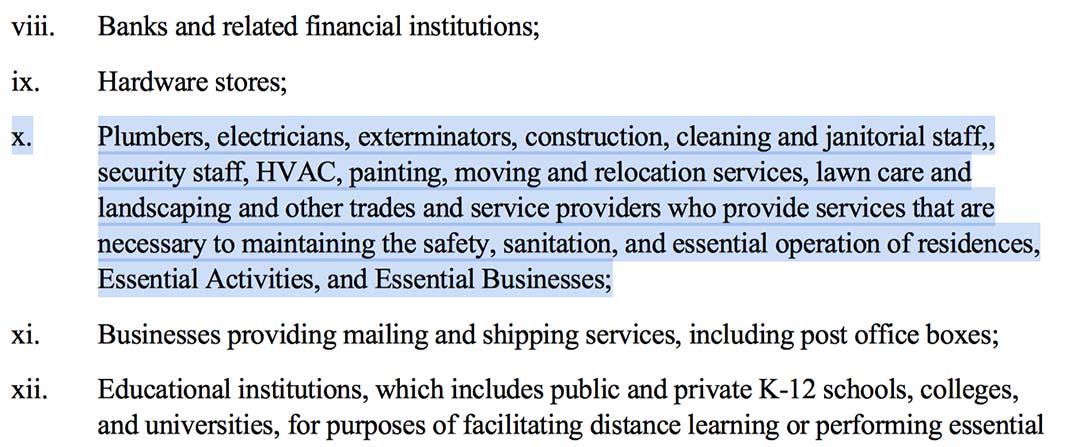 *Image is an excerpt from the Johnson County Stay at Home Order as issued on March 22, 2020.
Local families who have fireplaces in their homes, need to ensure their chimney and venting systems are in good working order. Chimney Sweep technicians help people maintain a safe home heating system. Our Chimney Services extend to not only residential fireplaces but also Gas Furnace and Gas Water Heater (boiler) flues , otherwise known as appliance utility flues or gas chimneys.
Fortunately we are able to keep chimney services available to the people in our community during the COVID-19 (Coronavirus) crisis. Our team is working around the clock to ensure the safest procedures are in place and being held as the new standard in our company.  
Our Fireplace & Chimney Service will remain open as an Essential Business.  For example: Our Office Team is working remotely and are still available Monday-Friday 8am-5pm.
We're Open to Service Kansas City Area
Our Chimney Sweep Technicians and Repair Teams are working to minimize risks. Fortunately, much of what we do are service jobs that can be completed without face-to-face conversation with the customer. For example: We're offering Exterior Chimney Inspections with the choice of (paperless) emailed reports.
We have many digital options that make it easy for us to stay in contact with our customers without ever having contact with our customers!
Our team members are striving to follow the guidelines on the latest safe distancing and health precautions as recommended in the official COVID-19 Response. For example:
Hand Washing
Social Distancing
Avoiding Meetings with 10 or more
Avoiding any unnecessary interaction with others
Our primary goal is to keep accomplish customer visits without face-to-face or hand-to-hand exchanges.
We have serviced homes fireplace and chimney systems for over 32 years in the Greater Kansas City Metropolitan Area, as well as many surrounding rural towns. Check our Locations page to see if we provide chimney service to your area. 
Learn more about our safety precautions and what to expect at appointments. Please understand that our team is responding daily and making adjustments to our policies as the official response to the corona virus pandemic situation unfolds.
If you have additional questions, there's many ways you can reach us:
Call us at 913-642-6171

Email us at

[email protected]

 

We also now offer a Request a Call form. Submit the form online and a member from our office team will return your call within 1-4 business hours.
Thank you, 
Robert Berry
Owner of Full Service Chimney