Let's be honest, nobody wants to hire a chimney company, but if your home has a fireplace, wood-burning stove or gas appliance, then you need a chimney inspector who is trained in fireplace and chimney repair.
 It's likely that all you really wanted was to use your fireplace when it's cold outside, but for some reason it's just not working right. OR Maybe the roofers said "You're gonna need chimney repairs before you sell your house!"... OR the previous homeowners couldn't remember the last time the fireplace was cleaned, let alone the chimney inspected! (Uh oh… now that's scary.) 
Regardless of your reasons for needing to hire a chimney sweep, you're here wondering where to start… and Full Service Chimney™ is here to help.
Start the Search for a Qualified Service Company
First, determine what you're searching for:
a chimney and fireplace service company in your local area. 

qualified professionals who are also CSIA Certified Chimney Technicians.

a dedicated team ready to help you keep up with chimney and fireplace maintenance, year round.
(Note: We are a Kansas City Chimney Company, but if you live elsewhere in the U.S., then search this Directory to find a CSIA Certified Chimney Sweep near you.)
Most people start by using a search engine like Google or Bing, but beware that not every chimney sweep listed on your local map is a "qualified" individual. It's unfortunate but like other scams, there will always be people out there, who claim to be certified but do not actually hold the proper credentials.
Keep your family's safety in mind when choosing your home's chimney service providers.  
Search for local chimney service listings. Look for those that have Certified Technicians and are backed by a legitimate company. This ensures they are dedicated to the success of the work you hire them to perform. 
Which could include inspections, cleanings and repairs to your chimney and fireplace.
Once you've gathered a list of Certified Chimney Sweeps in your area, take note of the companies and start making calls.
NOTE:
A company with Certified Technicians will be PROUD to show proof of certification! Full Service Chimney™ Sweeps will always have an official ID Badge.
Be Smart When Hiring for Home Maintenance
It's always wise to verify your chimney techs credentials BEFORE you hire! We have a team page where our customers can virtually meet our staff members by viewing images and information. We highly recommend checking this page before your first appointment to get to know us a bit before arrival.
When it comes to your fireplace and chimney, there is no room for error… after all the safety of your family and property is at stake. Trust in the professional you choose is key to success. It's important to feel confident that the company you decide to hire actually cares about the outcome of the project. Whether it's a regular inspection and cleaning or major fireplace or chimney repairs, you can count on us to treat every project with the same level of care and expertise.
With so many things to consider when searching for a chimney sweep service company, we thought it'd be helpful to provide a few sample questions. It's critical the company you hire, can answer these important starter questions. 
Here's 7 Questions You Should Ask Before Hiring a Chimney Company:
1. How long has your chimney company been in business?
Make sure the company you hire has real-world experience inspecting and sweeping chimneys. If you're interested in remodeling services, then you also want to make sure the company you hire is knowledgable in the specifics of restoring fireplaces and chimneys.
Full Service Chimney™ (FSC) has been in business for 33 years under the same ownership, which is longer than any other chimney company in the Kansas City area. Robert Berry, Owner of FSC is a Master Chimney Sweep who believes education never stops. He provides extensive and on-going training to his team of CSIA Certified Technicians.
2. What do the reviews say about the company?
When comparing service companies in the modern world, it's common practice to read online reviews. What customers have to say becomes extremely important when you consider the implications. Hiring a service company or contractor is different from just buying a product online or in a store. A product can be returned or exchanged, while the service obtained is often permanent.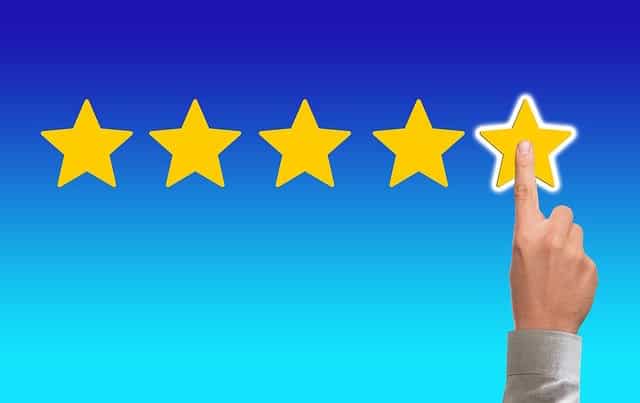 These days it's possible to buy a fireplace online or off the shelf, however, it takes a trained individual who understands the way the whole system works together to vent your fireplace through the chimney. Hiring a professional chimney service means much more than a new fireplace or tile facing. What you're looking for is a qualified individual who works for a quality company.
Our reviews speak for themselves and reflect our clients high level of satisfaction with the level of craftsmanship that Full Service Chimney™ provides the Kansas City metro.
Please feel free to check out our reviews.
3. Does the service provider have any unresolved complaints?
This advice goes for all businesses, not just chimney and fireplace service companies. It's wise to ask or do your own research to determine if your service provider has any unresolved complaints filed with the City/State Consumer Protection Agency or the Better Business Bureau?
Be sure to check out the company history for unresolved complaints, the overall company rating, and any complaints filed with the District Court in your area.
Full Service Chimney™ has an A+ rating with the Better Business Bureau.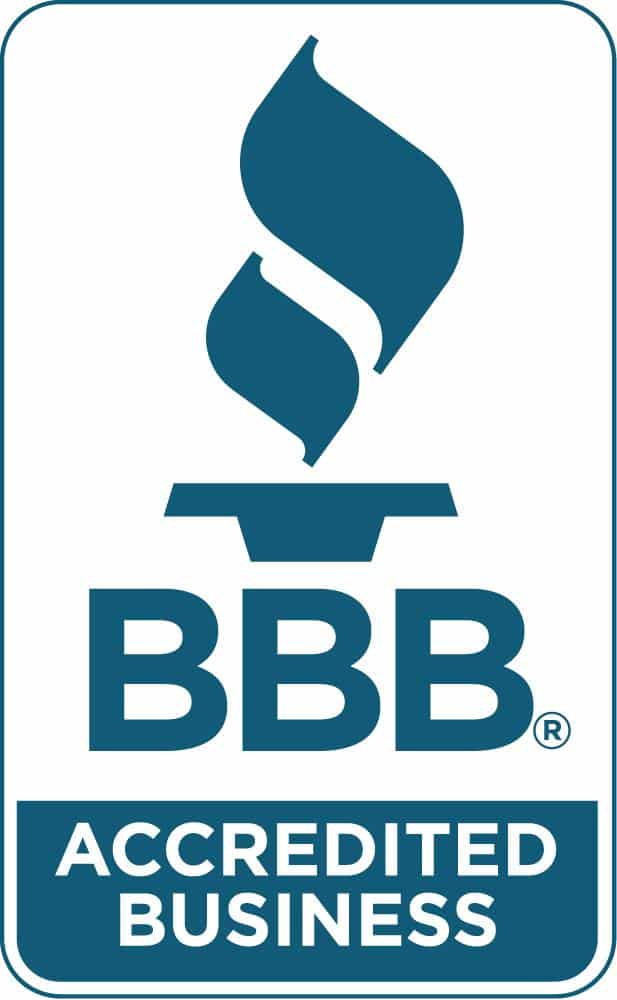 4. Does your professional carry valid business liability insurance and workers' compensation to protect your home and property?
While not a commonly asked question, it is very important to have this knowledge before hiring a chimney company. The information can only reliably be obtained from the insurance carrier itself. A properly insured company has the ability to get its insurance company to send you a Certificate of Insurance (by email/fax or an original in the mail) to authenticate that it is valid insurance.
Any chimney company that sends you a certificate directly from its office should be suspect as with the processing programs out there, an invalid or out-of-date Certificate of Insurance could be provided.
We are proud to have the same carrier for over 20 years.
5. Does your company send out trained and Certified Technicians on home visits?
It is most important that the chimney company you choose to service your homes chimney and fireplace venting system sends a CSIA Certified Technician to every job and in-home visit.
Each technician must earn the official certification as an individual. We encourage you to verify the certification badge and CSIA# of your chimney sweep before the appointment. Please note that a company cannot claim to be certified, so if you run into someone making the claim please do your due diligence and do a bit more research before hiring.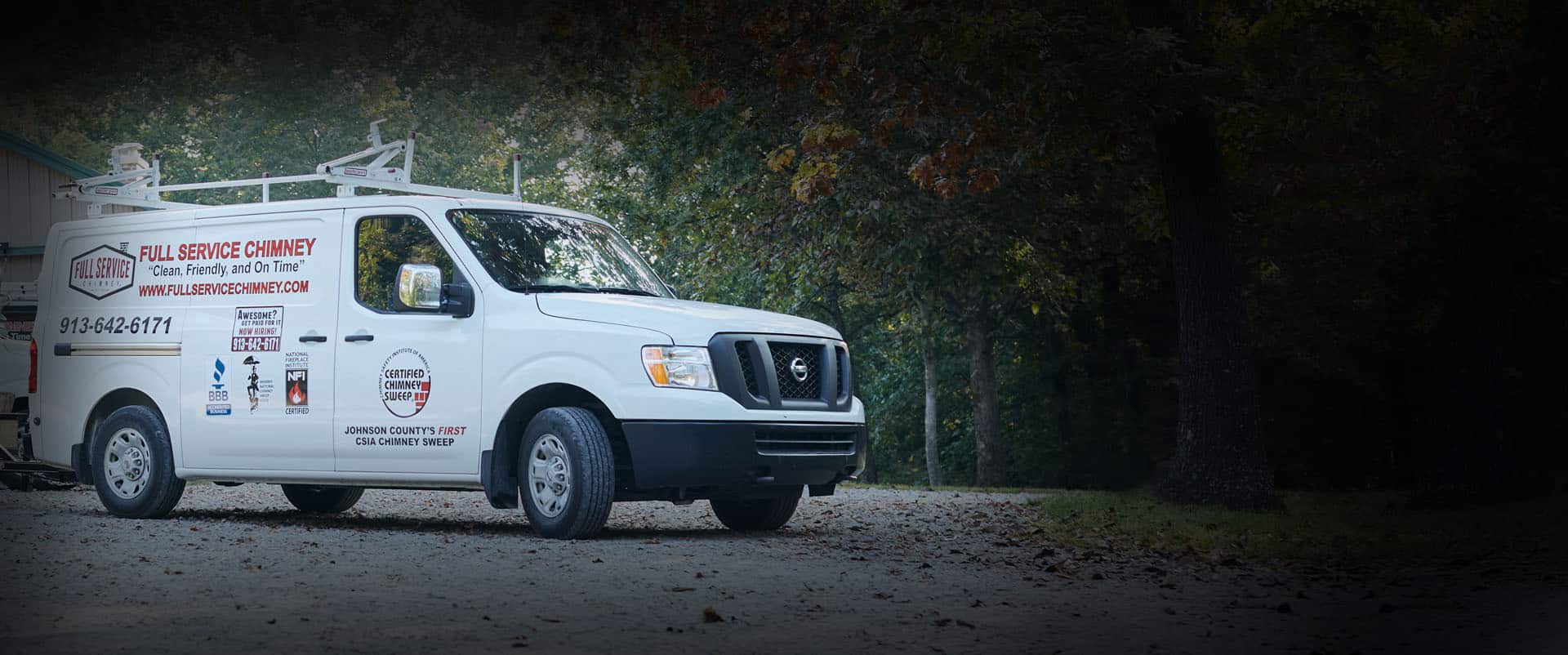 How to Find a Certified Chimney Sweep
There are a few ways to ensure the company you choose employs CSIA Certified Individuals:
Note: The companies represented in the following directories will display ALL the certified sweeps in each company's roster.
Option 1:
Visit the Homeowners Resources page on the CSIA's website.
Select "Find a Sweep" to find a Certified Technician near you.
Option 2:
Go to the National Chimney Sweep Guild NCSG's website.
Select "Find an NCSG Member" to find a Certified Technician in your area.
According to the Chimney Safety Institute of America (CSIA)
a chimney company can only maintain it is CSIA Certified™ if they send out a CSIA Certified Technician on the call that will either do the work or oversee and sign off on any work provided.
*NOTE: The  CSIA is the only valid national chimney certification authority.
Another important consideration is knowing that education along with experience is the best way to ensure the expertise of our contractors. Rest assured FSC management seeks out on-going educational opportunities for all our team members.
All too often service companies, in an effort to save money, send out good people who are inadequately trained. At FSC we realize that in order to set both our customers and technicians up to win we can only send out people who:
are trained and tested by our senior technicians.
are certified by the (CSIA) Chimney Safety Institute of America.
genuinely care for our customers and the well being of their family and property.
6. Will the company provide a "camera inspection" or do sweepers just use a flashlight for the examination?
Many home inspectors (even some chimney sweeps) do not have the extensive equipment necessary to comply with the inspection guidelines set out by the National Fire Protection Association Code 211 (NFPA 211) or the Chimney Safety Institute of America (CSIA).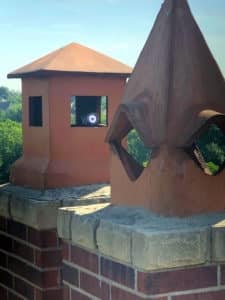 Full Service Chimney™ remains at the forefront of thorough inspections and complete chimney services. Our crews are the top of the line in both knowledge and equipment. We complete the inspection with video and also provide a variety of pictures of the exterior chimney parts.
We provide a full statement concerning everything found at your home's chimney inspection. Our evaluation documents detail the chimney and fireplace conditions from both structural AND safety viewpoints. The printed report is built on-site during the appointment and is left with the homeowner for their records.
7. What type of Inspection Report can you expect to get from your appointment?
The team at Full Service Chimney™ believes that the chimney is only as good as it's Inspection Report. 
We provide a computer-generated inspection report.  Each customer's evaluation is individualized. The details are clear, thorough, and complete at the conclusion of the appointment. Our technicians prepare a report on-site, complete with photos and an explanation for both maintenance and safety items.
Some companies provide only a handwritten report. While many other companies do not give any report at all! Some may give a verbal description of what they found while inspecting your fireplace's venting system. Even more, many insurance companies require a report. Having documentation of your systems condition is critical to maintaining a safe home.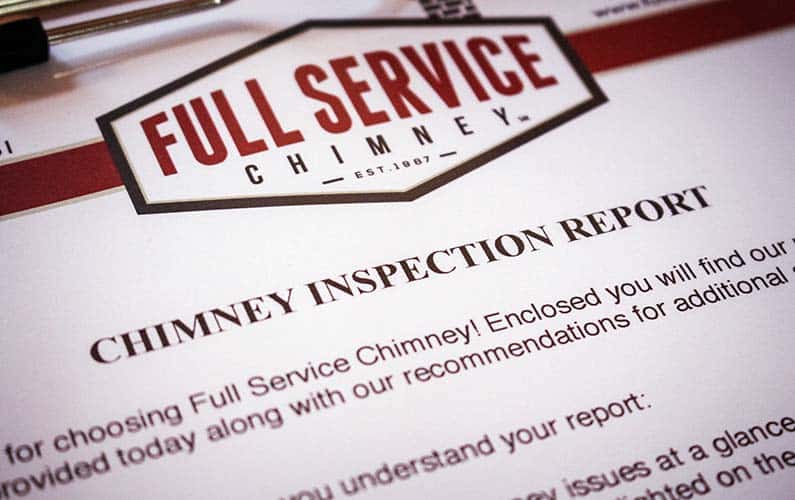 Furthermore, proof of an annual chimney service is often required to maintain manufacturers' warranties. With so much to consider, it pays to have a professional chimney company on your side.
Our inspectors take time to speak with homeowners, to provide a mutual understanding of everything observed during the evaluation. From reviewing images or video footage captured inside the flue, or reviewing options for any issues detected during the inspection.
Once we're sure you understand the report, our technician will then clearly explain your options for the next steps. Whether it's simple chimney repairs or a complete fireplace and chimney restoration project, we help you understand the details and how we can best help you achieve results.
If you're ready to hire the #1 Kansas City Chimney Company… call us at 913-642-6171 or fill out a quick form and we will return your call.