Can I convert my gas fireplace to wood burning? Many homeowners ask themselves this question when they find themselves seeking more enjoyment from their fireplace than they're currently getting. That's understandable.
Think of the pleasure you'll have of starting the fire. Sounds of crackling wood catching fire combined with the slight aroma of burning oak! The experience is second to none.
Sure, when we need a quick warmup on cold winter nights, it's hard to beat the convenience of a gas fireplace. But there's little comparison to an authentic wood fireplace.
If it's been a while since you enjoyed a wood-burning fireplace, you may have a few questions.
Is it Bad to Burn Wood Logs in a Gas Fireplace?
While it may be tempting to try to burn wood in your existing gas fireplace, that would be quite dangerous unless precautions were taken. It is possible to change from gas to wood burning safely. A professional gas to wood-burning fireplace conversion would be necessary.
Is Gas to Wood Conversion Possible?
Can you turn a gas fireplace to wood burning? Your fireplace design and chimney safety factors will determine how challenging it will be to convert your gas fireplace to wood burning. Just as wood-burning fireplaces aren't for everyone, so not all fireplaces are set to go with wood burning.
Gas burning fireplace conversion requires first, a fireplace and chimney inspection. Next, making any necessary adjustments to prepare the fireplace and chimney system for conversion. The chimney inspection will determine a few things you'll need to know.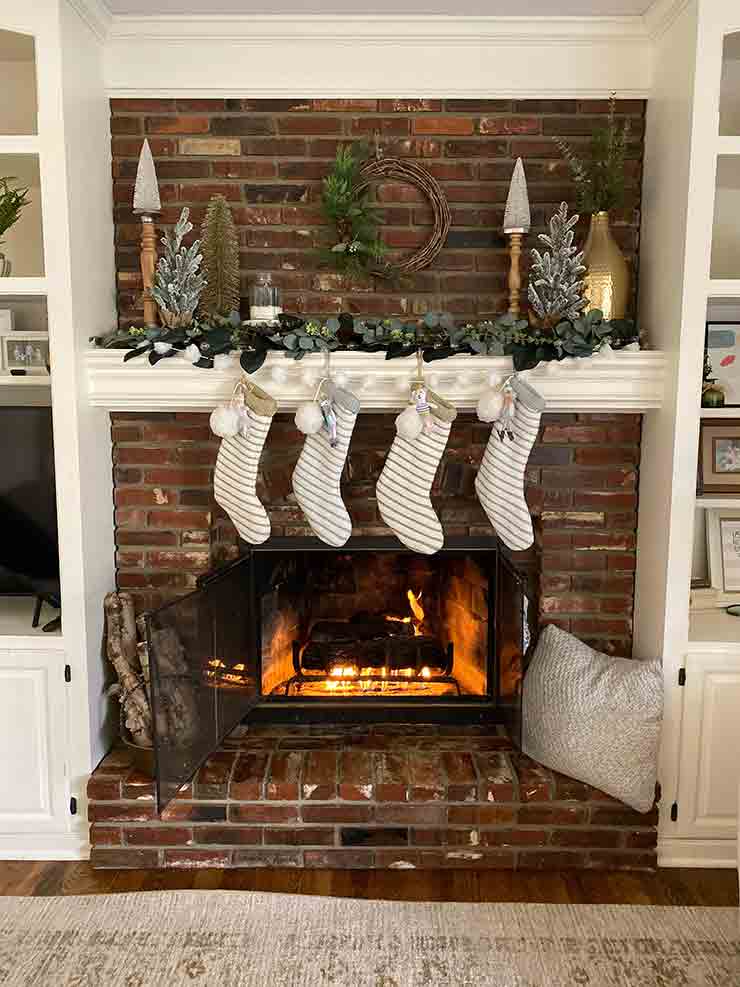 When considering your options for converting to a real wood log burning system you may find yourself asking a lot of questions.
Is my gas fireplace or chimney in the proper condition to burn wood fires and how to find out?
Do I have the right type of fireplace for conversion to be able to burn wood?
What to do if your fireplace and chimney system is not suitable for wood burning?
The first answer to all of these questions is to get a fireplace inspection. A chimney inspector will determine if the fireplace is gas burning only or if the fireplace was built as a wood-burning fireplace but simply had a set of gas logs installed.
The condition of the chimney flue liner or venting system is a serious consideration as well.
Some chimneys are equipped with a gas venting system, while sturdy enough for a gas burning unit, wood-burning fireplaces use a far sturdier chimney liner.
Even if the fireplace chimney liner was suitable for both gas and wood-burning, the condition of all elements that make up the whole system is critical to know before wood burning can be considered as an option.
The chimney cap, used for protection from rain and animals also needs to be evaluated. Chimney caps with spark arresters are suggested to minimize the occasional ember escaping to the roof.
How to Change from Gas to Wood Burning Fireplace?
When your chimney inspector determines that the condition of your fire ventilation system is sturdy enough for wood burning, then any necessary chimney repairs needed are planned. For example, the homes gas supply line will have to be addressed, since a fireplaces gas supply is not suitable for the high temperatures of a wood-burning system.
Many homeowners choose to cap off the line or to convert to a gas log lighter. A gas to wood burning firebox conversion allows the use of the fireplace damper (not available for gas fireplaces). Finally, removing the old gas log kit and then selection of a grate suitable for cradling the burning wood will be needed, as the gas log grate in the fireplace will be too fragile for the higher temperatures found in a new wood-burning fireplace.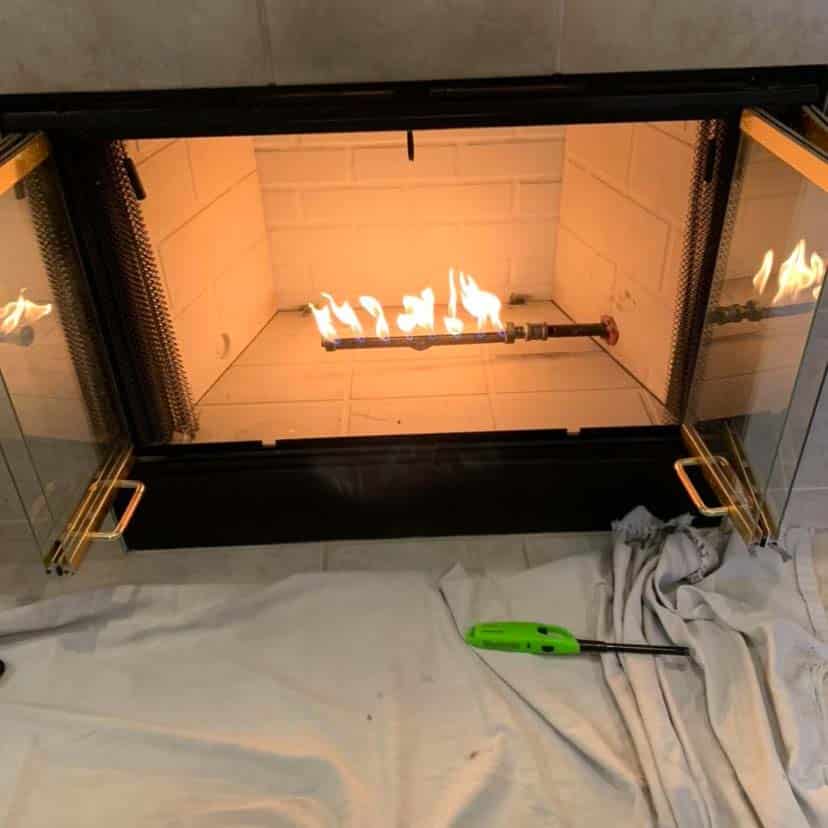 How Much Does Fireplace Conversion Cost?
With a little luck, converting a gas fireplace to wood burning can cost as low as few hundred dollars plus a few hours of labor. These are only some of the considerations when contemplating a system conversion.
Each home and chimney is different, so are their individual/mechanical needs. In the event the fireplace and/or chimney was exposed to water or suffered a chimney fire in the past, then the scope of chimney repairs and the cost to convert a gas fireplace back to wood burning would naturally be more expensive.
The Chimney Maintenance of Wood Fireplaces
Burning real wooden logs in your fireplace is very enjoyable. If you choose to burn wood, then you must become mindful to avoid the dangers of a chimney fire. Chimney fires occur as the result of creosote build up in the chimney flue, a natural and unavoidable result of burning wood. While burning wooden logs and creosote go hand in hand, there are steps to minimize the dreaded chimney fire.
First and foremost, you'll want to remove the creosote with a chimney sweeping appointment (once or twice a year). The chimney sweep will likely inspect the chimney and fireplace at the time of the chimney cleaning to ensure not only is the chimney free of creosote deposits but that all the parts of the chimney are in good working order.
Sweeping the chimney is only part of the chimney safety plan after converting a gas fireplace to wood burning, the additional step of choosing proper wood for our fireplace is essential.
Check out our firewood page for helpful hints on different types of logs and how to select the right fuel for your wood-burning fireplace.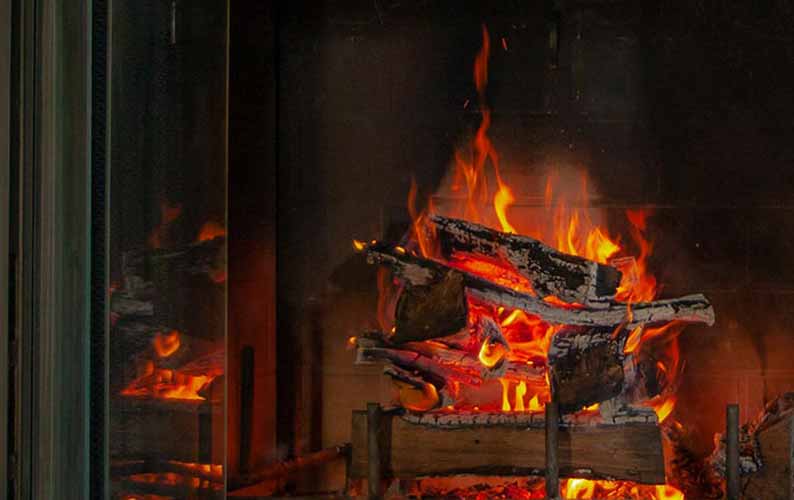 Make the Switch to a Fireplace Insert or Wood Stove in Kansas City
Converting a gas fireplace to wood burning is a frequent service performed by the Sweeps at Full Service Chimney. The reasons for switching to wood-burning are as varied as our customers.
It may be you desire the simple pleasures of stoking a fire, or you are tired of the high cost of a gas burning fireplace. Regardless of your motivation, many of our customers rediscover the love of a cozy home and warm hearth. We can help you too.