Chimney Chase Cover Installation
We Are Your Trusted Chase Cover Specialist Since 1987
Schedule an Appointment Today!
3 Signs You Need New Chimney Chase Cover
1. Rust Damage
The most obvious sign that you need a new chase cover is rusting and corrosion. If there are visible orange and brown spots on the chase cover, that means the metal is damaged. This increases the likelihood of further corrosion and water leaking into the fireplace system. If you notice rusting on the chase cover or water leakage, call a certified chimney professional as soon as possible!
2. Water Pooling
Water pooling on top of the chase cover is a clear sign that it was installed incorrectly. An adequately installed cover will allow water to run off the sides. Excessive pooling amounts will speed up the rusting and corrosion process, leading to inevitable water leaks and costly repairs to multiple parts of the system.
3. Swelling
Like masonry materials, wood can be severely damaged by water penetration over time. This water penetration into the chase and chimney system can cause the wood surrounding it to swell and rot.
Water damage in your chimney system will not only result in costly repairs down the road, but it will also become a fire hazard because sparks and heat can escape to the wood framing. Avoid the potential for harmful damage by hiring a certified chimney repair professional to install a beautiful and long-lasting stainless steel chase cover. 
Trust Your Chase Cover Installation Experts
Our Certified Repair Technicians can install your new chase cover professionally and with attention to every detail.
Servicing homes across Kansas City for over 3 decades! We can help you too!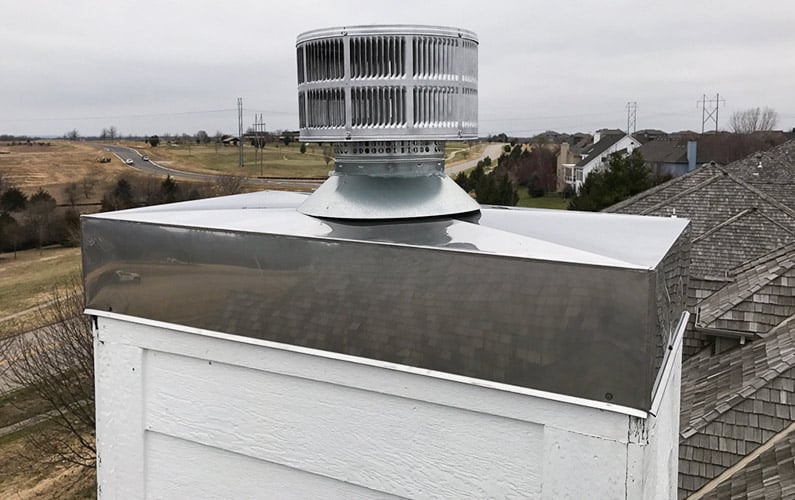 Get a reliable chimney diagnosis with the Chimney Detective Tool – it's free!
Chase Covers are the roof to a prefabricated fireplace. If you have a prefabricated chimney that has suffered damage or regular wear and tear, then you need to hire a chimney sweep to fix it before it's too late. 
So important are chase covers that even a small hole can be the major cause of chimney leaks.  Your Full Service Chimney technician can provide metal chimney top repairs and replacements. A knowledgeable technician can ensure your chimney's safety with a stainless steel cover to replace your leaky metal chimney crown.
#1 in Chimney Top Repair Kansas City
The most important part of a chimney's defense against the elements is the top cover. Water and animals are a constant challenge to the home, and the chimney top must be properly constructed. Flimsy covers are destined to be chimney leaks in the future.
Chase covers for prefab chimneys and factory-built fireplaces are vulnerable to leaks and deterioration, just like their brick chimney crown at the top of the chimney. The key water-shedding protection of a chimney chase is the chimney top, that is, the covers and chimney cap. With the lifespan of a builder grade covers as little as 10 years, chimney care of chase covers is a regular chimney service with us at Full Service Chimney.

Our custom stainless steel chase cover lasts for decades, designed and built for corrosion-free service to your home. Installed by trained craftsman who plan "this will be the last chimney top cover needed here."
Chimney Chase Cover Installation Near You
A leaky chase cover can ruin your prefab fireplace. and chimney chase in just a few weeks. Full Service Chimney provides the homeowner's waterproof chimney chase covers that last a lifetime.
Standard Stainless Steel construction provides years of rust-free service

Metal chimney crown replacement, Custom made from exact measurements

Installed by Trained and Certified Chimney Sweeps

Chase covers must be proper, to ensure a watertight finish on your chimney top

For most homeowners, the last chimney top they will ever buy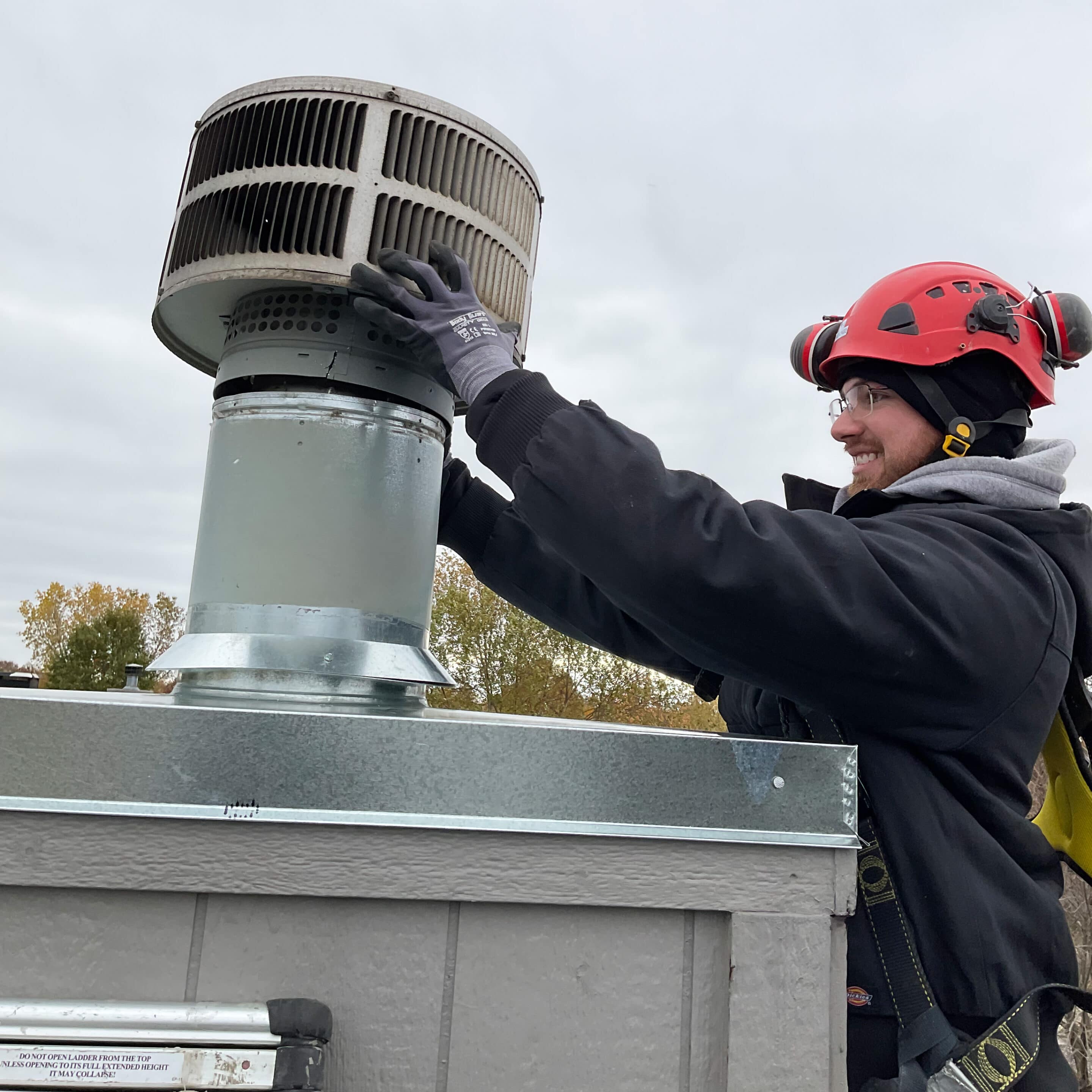 "I was highly impressed with the printed inspection report I was provided that included pictures of our fireplace and chimney with the corresponding recommendations. Our unit was unsafe and the home inspection company missed everything Full Service Chimney found. We are so thankful we took the recommendation to use Full Service Chimney. That promptly ordered the parts needed to repai..."
"We hired Full Service Chimney to repair flu's in three fireplaces at our lake house that were built incorrectly and would never draw the smoke, hence for 5 years we rarely if ever used them. Now they all three work perfectly!! These guys are incredibly professional, reliable and they communicate effectively every step of th..."
"Great people who are good at their work but also care about the details that make up the overall experience."
"They a great job and we're very professional. I will definitely use Full Service Chimney again."
"Full Service Chimney came exactly when they promised to, repaired my chimney and charged exactly what they had bid. They are also very nice people."
Your #1 Contractor for Chase Cover Installs in KC
The Full Service Chimney team of Certified Technicians have installed thousands of chase covers in the Greater KC metro area. We can fully install your brand new system in no time!
Or if you're having problems with an old setup, then we can help you troubleshoot. If the unit can't be repaired, then rest assured we can replace your fireplace system with ease.