Animals get stuck in chimneys all the time. The question is what can you do to prevent it? With warmer weather quickly approaching, our technicians are ready for animal-related chimney problems. Whenever we hear that an animal has entered a fireplace or chimney flue our first thought is to look at the cap. While this is not always the entry point for the animal, the chimney cap is our first stop.
Your cap or lack thereof is the most likely culprit and one of the most common problems we see. It's usually the easiest to solve, too! Other places we look at are your brickwork, the flashing, and caulking.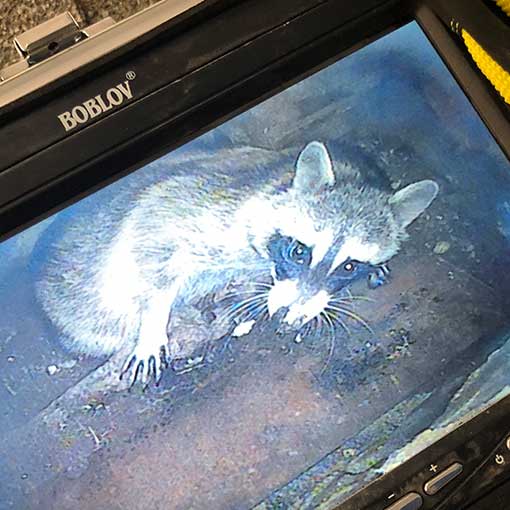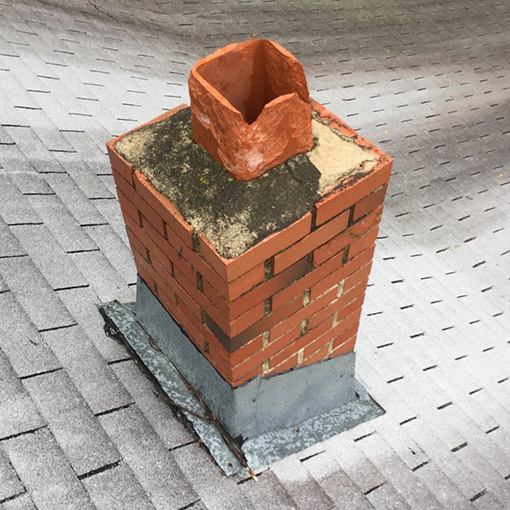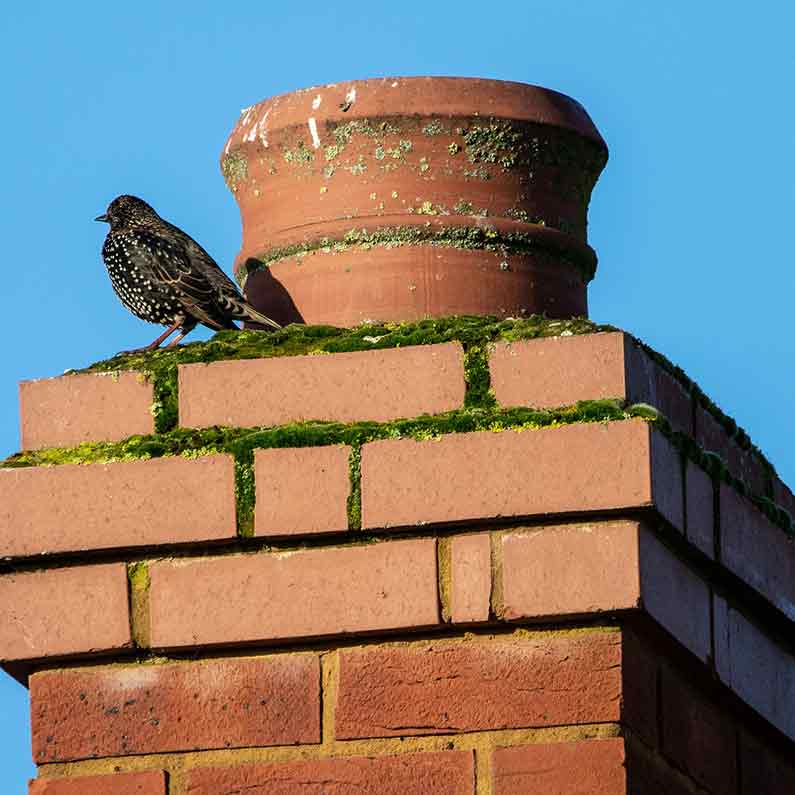 If you want to stop the critter invasion of your homes chimneys before it happens then we have you covered. We can help you stop animals such as raccoons, bats, birds, and other critters from getting inside your house through your fireplaces chimney flue!
Suggested Video:
Even cats get stuck in chimneys… and this one made the news back in 2019, after being trapped for 4-whole days in a historic brick chimney! Meet Marble, our favorite Kansas City Kitty who is forever ingrained in the heart of Full Service Chimney™.
Raccoons Stuck Your Chimney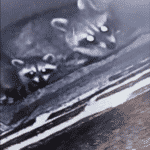 Raccoons can (and do) often get stuck in chimneys without caps!
Mama raccoons and their babies just love chimney flues! I mean what's not to love? They can stay out of sight and hidden from predators, stay nice and toasty warm all cuddled up together.
Some chimneys, especially those with a mesh screen type covering or a damaged cap, provide the animals a safe haven. The flue (or pipe depending on what type of system you have) provides shelter from the elements; wind, rain, or snow and hail, etc.
The only problem is that sometimes the raccoons get trapped inside the chimney with no way to reach the top or get back out and find food. When this happens, we're sorry to say often leads to the animal(s) dying in the chimney.
If you have any reason to suspect critters are living inside your homes fireplace flue then please call your local pest control as soon as possible.
Suggested Content...
Click here for Tips & Tricks on how to remove raccoons humanely!
Bats Roosting in Your Flues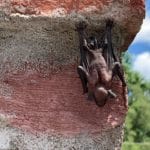 Bat Hanging on Side of Brick Chimney
We recently received a call from a customer who had us out for an inspection because she was getting bats in her chimney. After some examination, we recommended that she have her standard chimney cap replaced with a stainless steel damper. 
Once the customer had that damper cap installed she no longer had the issues with bats entering her home.
A damper-cap is a two-in-one option. It's an upgrade for people who are done messing around with problems that can be prevented.
It serves as the chimneys cap AND its damper. This is a grand solution that provides an air-tight seal at the top of the chimney, not allowing anything (animals, rain, etc) to get inside.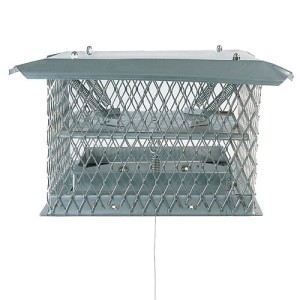 This is the style of damper cap that we install. In this picture, the damper is about halfway open.
Damper Caps Stop Animal Entry
Until you get proper top coverage installed on your chimney, the animal entry problems will continue. If you're still not sure and need more information check out this post that goes more in-depth on dampers. 
Suggested Content...
Learn what to do if you've got bats in your flue! 
Things to Consider If Birds or Other Animals Get Inside Your Fireplace and Chimneys Flue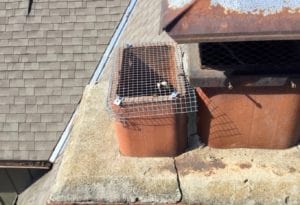 Screens are not a good protector for your flues and will not stop animals from getting inside. It may deter them for a short while, until you can get a professional inspection. 
First, when an animals, birds, and other pests enter and moves around inside your chimneys (ceramic flues, vents, liners, or piping) there is a possibility that the creature may do some damage within your chimney flue.
In order to be sure, our technicians will deploy a camera unit into your fireplace. With this specialty camera, our certified technicians are able to get a close-up and in-depth view of the inside of the chimney. If the pesky little buggers have done any damage our technician can see it and show you high resolution footage of the evaluations findings the very same day at your appointment.
Out of Sight, Out of Mind
Another thing to keep in mind is that many animals sole purpose to get inside your chimney is to start nesting. Birds are a likely culprit for leaving all sorts of natural debris behind for you to deal with and clean up!
The problem with cleaning up the animals mess inside a flue is that without the right equipment, people often don't know what's hiding inside their chimneys until it starts a fire or unintentionally roasts whatever was living in there! This is one reason why recommend the NFPA – National Fire Protection Association recommends annual system inspections.
Suggested Content...
What if it's BIRDS in the chimney? Check out our post all about "Flue Bird" Prevention
Pests Will Always Return If You Let Them!
If an animal begins to think of your chimney as home, they will bring materials such as sticks, twigs, leaves, etc. in to nest. All of these materials are very flammable and cause a safety hazard to your home if the fireplace is used.
Our technicians will provide you with a report with photos as well as recommendation for repair if the animal has caused any damage or left any nesting material in your chimney.
The biggest thing to remember is that if the animal is able to get in and out of your flues, it WILL continue to return. If there is any sort of entry point for your pests to get inside, they treat it like their home and come back anytime they need a place to stay.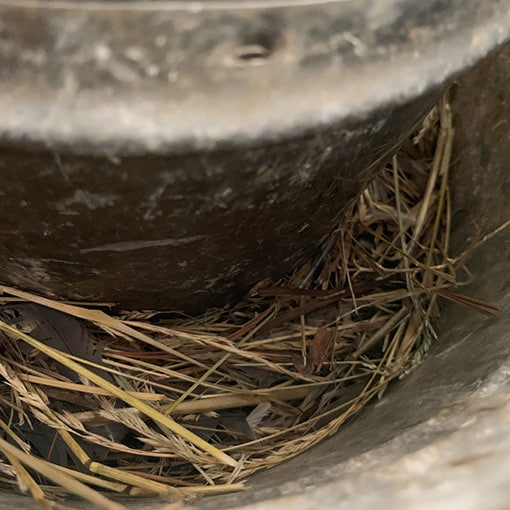 A bird nest inside a chimney is flammable and can start a house fire!
Get Help Now in the Kansas City Area
Until you take action to STOP the animals entry, this problem will not go away.
*This post was edited to improve content from it's original version published July 2, 2019. Thanks for reading!