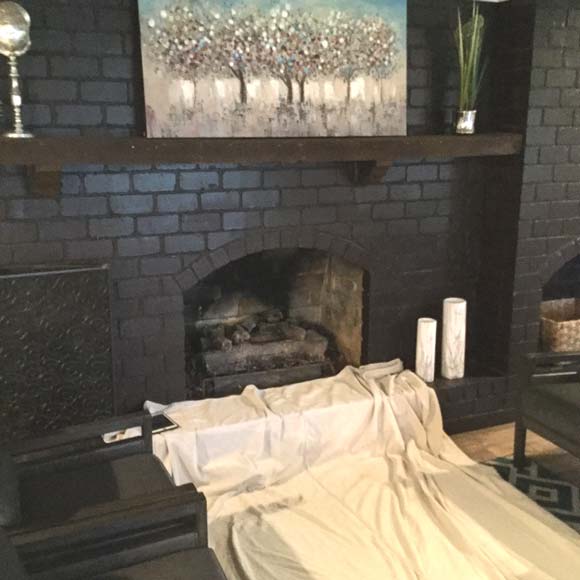 Our Certified Chimney Sweeps provide homeowners professional fireplace cleaning daily in Kansas City and surrounding areas.
Annual fireplace and chimney cleaning is your best method for continued cozy evenings by your hearth. Soot, creosote and flammable debris make fireplace cleaning an unavoidable necessity. 
Full Service Chimney masters the steps to perform a tidy fireplace cleaning. Call 913-642-6171 today. 
Fireplace Cleaning Kansas City Metro Area
How Often Does a Fireplace Need Cleaned?
Fireplaces, their vents and chimneys require annual cleaning and sweeping to keep hearths and fireplaces operating properly. By servicing fireplaces every year, the issues common to many home's hearths are avoided and the warm and pleasant times by the fireplace are a result.
Frequent servicing of fireplaces is the key to enjoying your fireplace for years to come.
By utilizing our "No-Mess" procedures, the fireplace sweeping with proper chimney sweeping brushes leaves the home clean and fresh.
Inspection of every fireplace and chimney we clean is standard with every visit, to keep up on the needs of a home's hearth and chimney.
At Full Service Chimney, only a CSIA Certified Chimney Sweep offers fireplace safety for your fireplace chimney.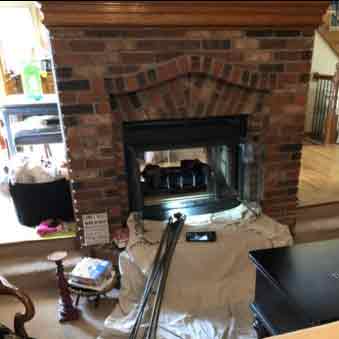 Our Process for a Clean Hearth
Full Service Chimney started servicing chimneys and fireplaces over 35 Years ago, always taking the extra steps to make the visit from the chimney sweep a No-Mess experience.
Then, as now, it is the extra care the Certified Chimney Sweeps at Full Service Chimney take in ensuring a home's fireplace flue cleaning is done with state of the art chimney sweeping tools and careful processes so the homes do not get dirty. We are able to do this over and over again, with thousands of customers every year.
A Full Service Chimney sweeper begins a fireplace cleaning by first chatting with the homeowner. The chimney sweep wants to be aware of any issues the hearth is having, so as to do far more than just clean, but to make fireplaces safer and more reliable.
After getting the input from the homeowner, tarps are generously laid out throughout the work area and from the door to the fireplace.
Then with specialized chimney sweeping brushes and vacuums, they very carefully sweep the fireplace, keeping the soot and creosote in the fireplace, not in the room. With the use of tarps and vacuums, a No-Mess servicing of the chimney and fireplace chimney liner is the result.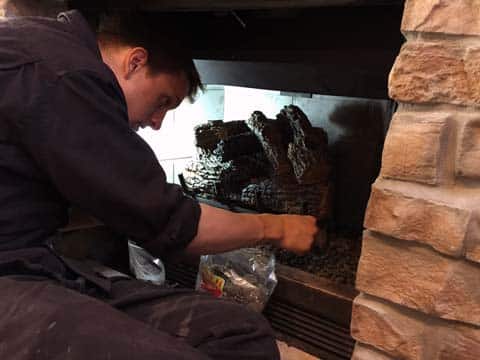 Every Fireplace Cleaning includes a Fireplace Inspection.
A fireplace sweeping is usually requested because the family desires fireplace safety. It is for that reason every Fireplace Cleaning includes a Fireplace Inspection. Once the build up is removed, the chimney sweep examines the interior and exterior of the chimney, keeping an eye out for areas that may need attention to keep "Fire in its Place".
Solve your chimney problem the right way with the Chimney Detective Tool!
The fireplace inspection checklist covers all areas of the chimney from the fireplace chimney covers to the fireplace chimney liner to all other chimney fireplace parts which include the Chimney Cap, Chimney Crown or Chimney Chase Cover and chimney's siding or brickwork.
Chimney Flashing and the chimney's ability to repel water via Waterproofing or Moisture Protection is also evaluated. Then at the hearth, the fireplace throat damper, firebrick, and flue liner are examined for fit and function. Finally, we examine the clearances to make sure fires by the hearth are happy ones.
The men and women at Full Service Chimney pride themselves on quality service, and families in the Kansas City Metro have come to expect just that. 
Call one of our Certified Technicians today at 913-642-6171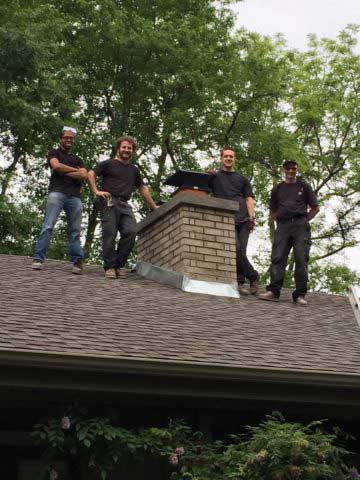 Do Gas Units Need Maintenance too?
Yes. The use of a gas log fireplace produces soot in the fireplace firebox, smoke chamber and chimney flue liner. For the same reasons of a wood burning fireplace, gas fireplaces need an annual chimney sweep and fireplace inspection to insure the fireplace is in a usable condition.
If a gas fireplace does not receive annual chimney maintenance, the system will fall into neglect, due to use and the passage of time.
How Much Does it Cost to Hire a Professional Chimney Sweep?
As little as $100 for Fireplace Cleaning in addition to the cost of the chimney inspection. By performing both the fireplace cleaning and chimney inspection, not only is the creosote is removed, but is in working order and safe to use.
How Do I Know it's Safe to Use?
Perhaps a better question might be: "What makes a fireplace unsafe?"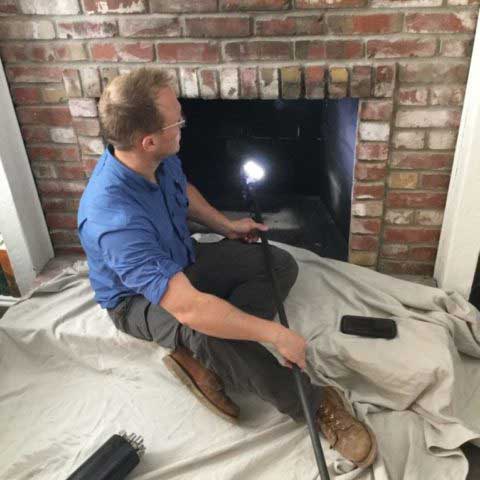 A chimney and fireplace have two main safety requirements:
Chimney design that encourages exhaust to leave the home
Fireplace design that protects near by combustibles from excessive heat
To determine if the chimney and fireplace can reliably perform these functions takes the watchful eye of a Certified Fireplace Inspector.
Only then can you, our chimney customer, become aware of your fireplaces and chimney's condition. Full Service Chimney Inspectors perform over a thousand chimney and fireplace inspections per year, and have offered this chimney service to the homes and hearth's of Kansas City for over 35 Years.
Take comfort in knowing, Chimney and fireplace safety is a primary focus for our Certified Technicians at Full Service Chimney.