Chimney Sweep in Basehor, KS
If you're looking for the best Chimney Sweep in Basehor, KS then look no further, you've found the right team to help with all your fireplace and chimney needs!
We provide Complete Fireplace and Chimney Service to Basehor, KS:
Have a Question?  Call now and speak with one of our CSIA Certified Chimney Sweeps.
Call us at 913-642-6171 or
Whether it's an inspection, cleaning, or repair, a Certified Technician will be on every job site. Backed by a team of support staff ready to help you with everything chimney and fireplace! 
The Chimneys & Fireplaces of Basehor, Kansas
BY. ROBERT BERRY, OWNER OF FULL SERVICE CHIMNEY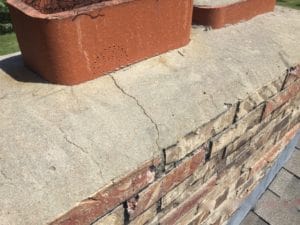 Cracked Crown and Damaged Brickwork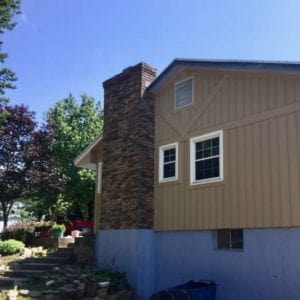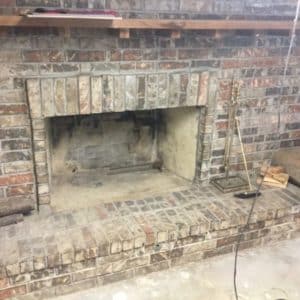 Call us at 913-642-6171 to schedule an appointment today.
Full Service Chimney now inspects, cleans, and repairs Basehor chimney's… as we've done across the Kansas City Metro for over 30 years! 
A Quick History of Basehor, KS
The first known occupants of what is now Basehor were the Delaware tribe from Indiana. They received the land in exchange for theirs in 1829. The tribe lived on the land until the 1860s when they were removed to Oklahoma. The Delaware Diminished Reserve was bought by both the secretary of state and the Leavenworth, Pawnee, and Western Railroad Company in 1866 and 1886. Thomas and Mary Towne bought a large plot of land from the railroad in 1873 and then sold 160 acres of it to Ephraim Basehor in 1874. The railroad was completed in 1889 so Ephraim and his brother, Reuben, plotted the land and founded Basehor as a town that year. The two brothers wanted their town to be prosperous and donated land and money for a school and library in the early 1900s. The original library structure is now in the city park where it was moved in 2016. The town has steadily grown over the years and is now home to around 5,000 people in its almost 7 square miles of land. Although Leavenworth and Kansas City are not far away, the town's residents enjoy a variety of housing options and a peaceful community.
Sources: https://en.wikipedia.org/wiki/Basehor,_Kansas