Chimney Sweep in Edwardsville, KS
If you're looking for the best Chimney Sweep in Edwardsville, KS then look no further, you've found the right team to help with all your fireplace and chimney needs!
We provide Complete Fireplace and Chimney Service to Edwardsville, KS:
Have a Question?  Call now and speak with one of our CSIA Certified Chimney Sweeps.
Call us at 913-642-6171 or
Whether it's an inspection, cleaning, or repair, a Certified Technician will be on every job site. Backed by a team of support staff ready to help you with everything chimney and fireplace! 
The Chimneys & Fireplaces of Edwardsville, Kansas
As our service technicians visited the area over the last thirty years, we have seen a pattern of chimney types and problems common to the city. We often see:
Dated chimneys often have damaged flue tiles and crowns. These chimneys usually did not have caps installed, which exposes them to potential debris and animal entry.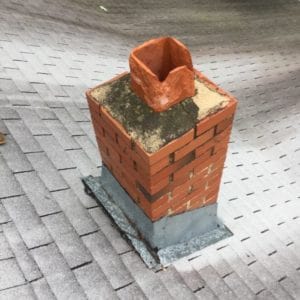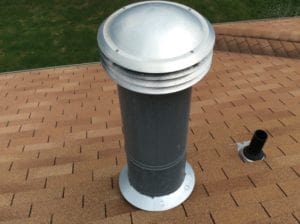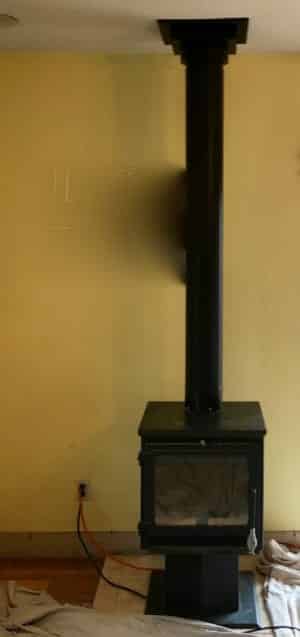 Full Service Chimney now inspects, cleans, and repairs Edwardsville chimney's… as we've done throughout KC for over 30 years! 
Our Local Satisfied Customers: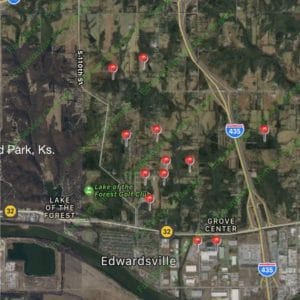 Map shows an actual count of chimneys serviced in Edwardsville, KS
Be Our NEXT Satisfied Customer …
A Quick History of Edwardsville, KS
Edwardsville was part of the frontier inhabited by the Delaware Indians when they were moved here from eastern states taken by the government in the 1820s. When fur and other tradespeople used the Missouri River to travel to the area, Edwardsville was part of the prairie that was settled by pioneers looking to benefit from the land and commercial opportunities. In 1869, the area was surveyed and named after John H. Edwards who worked in the railroad industry before becoming the justice of the peace and a state senator. The town stayed under 700 people until the 1970s when urban sprawl sparked development in the Kansas City metro areas. The population jumped to 3,300 during that time. Although it sits on 9 square miles, since then, Edwardsville has only increased by around 1,000 residents. People of the town can utilize the offerings of nearby larger cities while enjoying the peaceful scenery of their quiet community.