Chimney Sweep in Ottawa, KS
If you're looking for the best Chimney Sweep in Ottawa, KS then look no further, you've found the right team to help with all your fireplace and chimney needs!
We provide Complete Fireplace and Chimney Service to Ottawa, KS:
Have a Question?  Call now and speak with one of our CSIA Certified Chimney Sweeps.
Call us at 913-642-6171 or
Whether it's an inspection, cleaning, or repair, a Certified Technician will be on every job site. Backed by a team of support staff ready to help you with everything chimney and fireplace! 
The Fireplaces & Chimneys of Ottawa, Kansas
BY. ROBERT BERRY, OWNER OF FULL SERVICE CHIMNEY
The city's growth over the last one hundred years has seen many different housing trends as well as changes in codes and standards. With that, Full Service Chimney provides several services to maintain and update fireplaces and chimneys to modern looks and safety standards. Keeping the crown in proper working order and adding a cap to keep debris and animals out is essential for safety.
Crown and Cap Repair in Ottawa, KS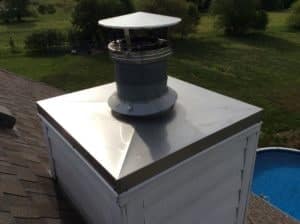 Chimney and Chase Cover in Ottawa, KS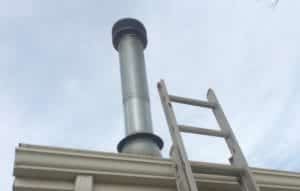 Manufactured Chimney Inspection in Ottawa, KS
Full Service Chimney now inspects, cleans, and repairs Ottawa chimney's… as we've done across Kansas City for over 30 years! 
Our Local Satisfied Customers: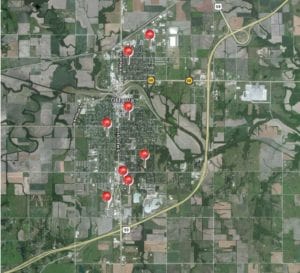 Map shows an actual count of chimneys serviced in Ottawa, KS
Be Our NEXT Satisfied Customer …
A Known History of Ottawa, KS
Co-Op and old depot in Ottawa, KS
When the Ottawa tribe agreed to give up their land in Ohio for 34,000 acres in Kansas in 1834, Ottawa, Kansas was established. John Tecumseh Jones, who was half Potawatomi and half Euro heritage, was appointed by the government to assist the tribe in establishing themselves in the area. Unfortunately, the new environment proved to be detrimental to the tribe's health. Reverend Jotham Meeker was living at the Shawnee Mission north of Ottawa's land and would visit the tribe to offer medical assistance and care for the people. He and his wife eventually moved there and established a trade and agricultural education center called the Ottawa Indian Baptist Mission. This was a place where missionaries would teach natives how to read and write and learn agricultural techniques. The first settlement off of the Mission was built in 1864 on what is now the corner of Walnut and 1st Street. In 1867, the Ottawa sold the rest of their land and moved to Indian Territory in Oklahoma.
The town prospered in the 1870s and the citizens worked hard to grow business and development opportunities to benefit the town and provide employment. A park and the courthouse were built by 1900. In 1925, a bridge was built over the river that flows through town extending Main Street to the north. Because of Ottawa's location in the Marias Des Cygne Valley, it was prone to flooding and did have some significant floods, even submerging one-third of the city in 1951. The U.S. Army Corp of Engineers built a system of pumps and levees in the 1960s to help prevent future floods.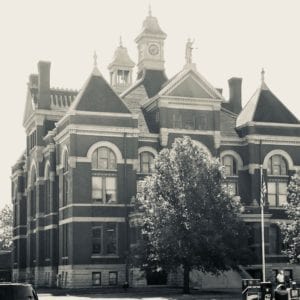 Although the town has had a few thousand residents since it was incorporated, it has steadily grown and is home to 12,300 people now. The biggest little town in the area offers everything from boutiques to large retail stores, local restaurants to well-known chains, several local businesses utilizing the historic downtown area, and higher education options like Ottawa University and Neosho County Community College.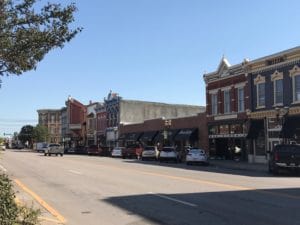 Buildings in Downtown Ottawa, KS
Sources:
http://www.kspatriot.org/index.php/articles/56-kansas-local-history/355-ottawa-kansas-history.html?showall=1
https://en.wikipedia.org/wiki/Ottawa,_Kansas