Professional Gas Fireplace Inserts, Installation and Services provided by CSIA Certified Technicians at Full Service Chimney
Gas Fireplace Service and Products
The beauty and convenience of gas in your fireplace cannot be overstated. We can service your existing gas logs, gas inserts, and gas fireplaces.
We handle the routine maintenance of your fireplace
We are trained in the care of gas hearth equipment
With thirty years of expertise, you can trust your gas hearth needs to Full Service Chimney
Want to Install a New Gas Fireplace?
Look to the experts at Full Service Chimney
Call 913-642-6171 to ask Our Certified Team Your Questions about gas fireplace service in Kansas City and surrounding areas.
"Full Service Chimney is dedicated to customer satisfaction!"
Robert Berry – Owner / Master Chimney Sweep
Gas Fireplace Service & Products
Gas usage in your home is both a beautiful convenience and a serious responsibility. Full Service Chimney, Kansas City's chimney expert, has and will continue to be the trusted company of all of your gas hearth needs. As with chimneys, maintenance and service are necessary for mechanical equipment to have a long service life. That is why when we install a new gas fireplace or gas logs, we schedule the first service appointment for the following year. That is one of the many ways Full Service Chimney brings quality service to the metro's home and hearths needs.
We Offer:
A grand selection of new gas logs, gas fireplaces and gas fireplace inserts
Regency, Napoleon, and Majestic are a few of the hearth products we carry
Quality equipment and expertly installed
Many gas log and glass or stone options to chose from
Most installs take less than one day
Remote control operation makes it easy to use
Call 913-642-6171 to ask us a question or Schedule an gas fireplace appointment.
Gas Fireplace Maintenance
Today's gas fireplaces are built with ease of operation in mind. Design components like the oxygen depletion sensor, flame rectification circuitry, thermocouples, and other features make a gas fireplace installed by Full Service Chimney a welcome addition to your home.
After spending three decades servicing and installing gas hearth products, we have seen the consequences of substandard installs or customers who put off annual servicing.
These 2 Factors are Key to Maintaining Your Gas Fireplace
Expert installation
Annual maintenance
By using only trained technicians for the placement of hearth products for our customers, we have developed a reputation for unparalleled satisfaction.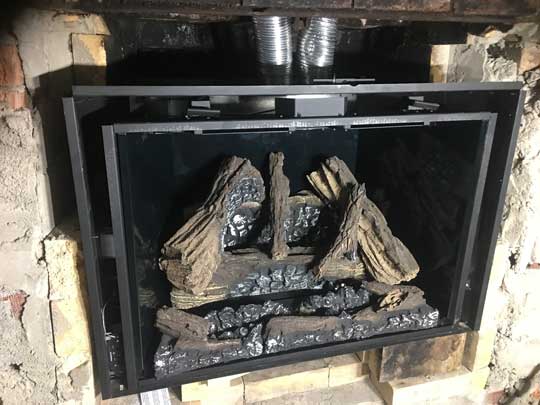 Maybe You're Ready to Put Away the Ax and Try Gas Logs
Nothing changes the look and feel of a fireplace quicker or for less cost than a stunning set of gas logs. With the extra effort manufacturers are putting into making their gas logs more "tree-like," most people have trouble telling them apart from the real thing. Logs are no longer the only option, however, stones and glass beads are popular choices for a contemporary look.
Direct-vent fireplaces and gas inserts also offer a variety of fronts and look that, regardless of if the family wants traditional or contemporary, there is a gas hearth product that's right for them.
Satisfaction Doesn't Just Happen
It begins when you call our office. You will talk with one of our hearth professionals, are trained in the challenging fields of chimneys and customer service. Dates are selected and a uniformed technician arrives at the appointed time, on time.
Since understanding a fireplace first begins with understanding what issues it is having, our people take the time to listen, both when scheduling and at the appointment. We listen to the person who wants our help. Customers continue to call us because of our dedication to fireplace and chimneys and the families who enjoy them.
Once we have an idea of what's going on with the hearth, we systematically inspect all portions of the gas fireplace and venting system. This information is recorded on camera and our Certified Technicians document the conditions.
Did animals get inside your fireplace?
Don't worry, our technician will bring these types of issues to your attention and discuss how we can help you find the right solution.
Does your gas fireplace system need a routine servicing or a chimney cleaning?
No Problem, we offer same day service!
Gas Fireplace is to Wood Fireplace, As Lightning Bolt is to Lightning Bug!
When it comes to the services and/or products for a wood-burning fireplace vs a gas burning system, the processes are drastically different.
Gas hearth products include gas logs, gas fireplaces, gas fireplace inserts and stoves. Due to the numerous performance and safety features, extensive inspection and delicate treatment of all components is part of our process.
Clients always ask us:
"What would you do if this were your fireplace?"
If it were our fireplace, we'd want only the best product, installed by the best people.
Ready to Enjoy the Full Service Difference?
Full Service Chimney has always had an even focus between device and installations of gas fireplace and gas logs. With the numerous gas hearth products available, we have chosen to focus on the brands and models that deliver unparalleled performance without a compromise in beauty.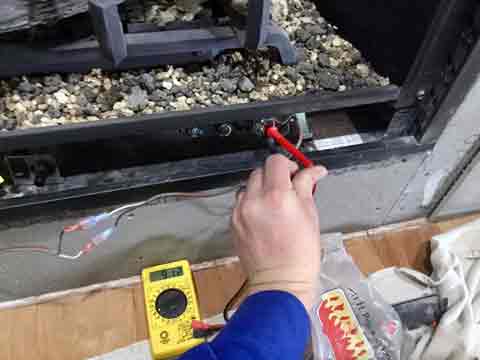 The Full Service Difference Means The Right Products & The Right Team for Support
If you simply want to better enjoy your fireplace or you are wanting something different for those special moments with family and friends, give one of our certified technicians a call today 913-642-6171. 
Describe your situation and see if we are not everything you need to be your "sweep for life".