If you enjoy burning wood, consider investing in a new energy-efficient heating system. Today's contemporary wood stoves are visually stunning! But if the look and reduced energy consumption aren't enough then you may still wonder why to choose a modern wood stove for your home? 
The first three reasons to choose a modern "wood-burner" type stove are that the new systems are also designed to:
consume less firewood
produce almost no visible smoke
and still have ample heat output!
Discover even MORE reasons to choose a new wood heater below.
Woodstove manufacturers have kept up with the EPA's requirements to keep emissions to a minimum; thus, they are environmentally friendly while still providing the vintage wood-burning stove warmth. As a result of this improvement in combustion technology, stoves consume less wood and produce ash.
This is why you should consider a solid fuel appliance if you need an alternate heat source for your home. As more and more consumers are increasingly conscious of their energy bill while having a concern for the environment, the choices to improve their home heating situation has been limited to improving insulation and adding a heat pump. But with the EPA 2020 mandate to improve the emissions of wood stoves, there is a responsible way to :
Add an attractive but functional hearth appliance

Have a secondary method of heating your home

Do so with an environmentally conscious appliance

Achieve "off the grid" sustainable heat, using a renewable fuel source
With an ever-growing concern for better air quality, Governments and industry alike have invested years and millions of dollars in research and development of more efficient heating appliances. And with the modern consumer's appetite for wood burning, the new contemporary wood stoves are the result.  
Watch the video to experience the future of wood burners! The Cascades Series by Regency uses a Hybrid Catalytic Combustion System with what they call "Triple Stage Burn Technology" which burns gases 3 times.
Which results in:
High Efficiency
Max Heat Control
Cleaner Combustion
What that means for you is that you'll get better heat, with less effort. Plus you'll even cut down on the amount of wood you use! 
Some of these modern wood burners can extend the burn time up to 50% longer, with up to 84% efficiency. This type of unit meets the new standard for reducing residential wood smoke and is EPA Approved.
EPA 2020 
Manufacturers of new wood-stove technology have, with considerable effort, achieved what many considered impossible just a few years ago, "2.0 grams of "fine particulate matter" emissions from a stove that burns wood.
All the more impressive is the generous amount of heat these stoves produce and reduced wood consumption. Homeowners are finally able to burn wood and feel responsible about doing it.
How Modern Wood Stoves Work
The advancements in wood stove emissions are achieved by re-burning the exhaust before it has a chance to leave the firebox. These technologies "clean" the byproducts of combustion and allow the stove to produce more usable heat from the same amount of wood.
An additional benefit to removing what amounts to "vaporized, unburned wood exhaust" is a substantial reduction in the wood stove chimney kit's creosote build-up.
The new hybrid burning systems are discussed above. Now let's briefly explore the other two types.
Read on to learn how contemporary wood stoves remove particles and harmful emissions: Catalytic vs Non-catalytic.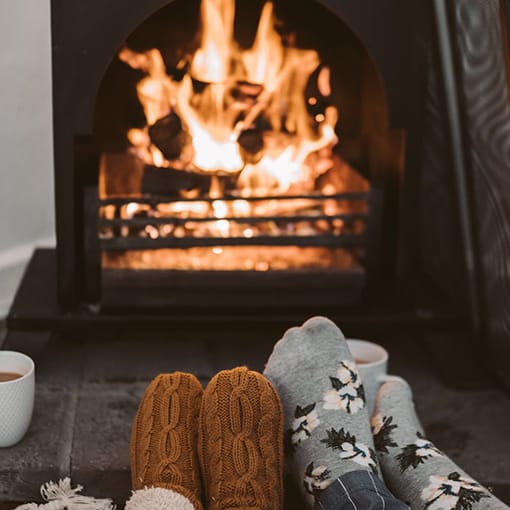 Family relaxing in the living room around their warm and cozy wood stove.
Catalytic Combustion Stoves
A catalytic stove utilizes a honeycomb combustor that, when up to temperature, burns the byproducts of combustion before they go to the chimney. These types of stoves require the operator to by-pass the catalytic device during the initial warm-up. 
Only when up to temperature can the by-pass be switched, diverting the smokey exhaust through the unit's honeycomb device. Although far from a passive system, "Non-Cats" produce more heat; however, the catalyst will wear out over time, making replacement necessary.
Non-Catalytic Stoves
The types of stoves that do not utilize a catalytic component burn the exhaust by using a baffle to keep it in the firebox longer; this increases the time and opportunity for that exhaust to burn. Further, by introducing additional secondary preheated air and insulating the firebox (to optimize ignition), the result is much of the exhaust burning before it ever reaches the chimney.
Non-catalytic stoves are simpler to operate, but the insulated firebox hinders some of the heat that would otherwise be available to the home. 
Venting Options
All heaters that burn wood as fuel need a complete chimney system. Even the new generation of burner stoves cannot operate without a pipe to vent smoke. Because of the potential of creosote build-up and possible chimney fire, a wood stoves chimney must be approved for that application.
If the chimney passes through ceilings, floors, or walls, it will require a chase to enclose it. But there are other options available. 
Wood Fireplace Inserts
If you have an existing masonry fireplace and chimney, then you should consider a wood-burning insert stove. They can truly be heat savers when correctly installed by professionals. 
Fireplaces are notorious for sending most of their heat up the chimney, but not when installing a wood stove insert. This way, you can utilize the fireplace flue as a passage for the chimney liner system your new stove will need. A stainless steel and insulation liner kit sized for the stove would save you:
Expense of a whole new chimney system

Floor space, as an "Insert stove" is inserted into the fireplace

Time, as most wood stoves and liners are inserted in a day.
Suggested Reading: If you're considering a DIY approach, read our Guide to Wood Stove Installation first!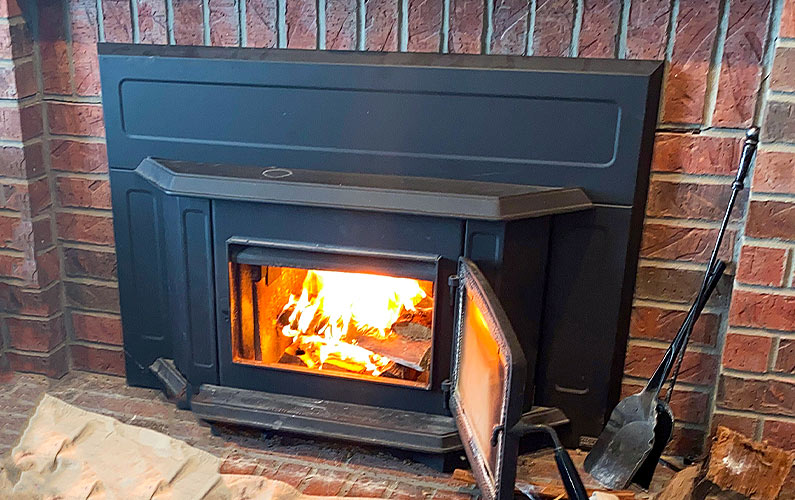 Install a New Wood Stove in your home!
Given the numerous options and the ability to heat your home (even during a power failure), you see why now is the time to consider a wood-burning stove to satisfy some of your home energy needs. Although costing a few thousand dollars, this investment saves utility cost, and the ambiance is second to none.
Full Service Chimney has a full line of wood stoves and fireplace inserts fit for all of our customers' needs (read the buying guide) . Plus we'll help you with all your annual chimney care and maintenance needs. Keeping KC families safe and warm for over thirty years.