Selling a home or buying one is a big process, to say the least. Arguably one of the most important factors is the home inspection. As much as 80-90% of the details get left OUT of the inspection report, at least when it comes to home chimneys. Leaving people asking: "Do home inspectors check fireplaces at all?"
Why is this so often the case? Well, it's because the average home inspector is not trained to perform fireplace inspections. It is a specialty.
Without the proper certifications, the person evaluating your new house may not know the correct level of inspection required for your fireplaces venting system.
When it comes to having a fire burning in your home, if you're like us (and most homeowners), then you want to be CERTAIN that your fireplace is functional and safe to use.
We all want to trust service professionals to do the job they're hired to perform. Sure, someone may come to inspect your house and claim they will check the MOST important items, but unfortunately, the fireplace and chimney often doesn't get the attention it requires.
The biggest problem is that the homeowners won't know about the oversight until it's too late.
There is a BIG Difference Between Home and Fireplace Inspections
A Home Inspector reviews a few external elements of fireplaces and chimneys during their inspection in our local experience. Then refers the customer to a certified chimney specialist.
After a home inspector's referral, our technicians visit a customer's house and usually see some common themes. What chimney or fireplace parts get examined during the initial home inspection varies and is generally based on the different types of systems in a home.
In Our Experience
The results our Fireplace Inspectors see too often on referrals (from home inspectors reports) are vague. And not always very helpful to homeowners, which is unfortunate, especially when it's related to the safety conditions of a home's heating system. Whether it's electric, wood, or gas heat, I think we can all agree that we'd like the able examiner to be proficient in their analysis of our property.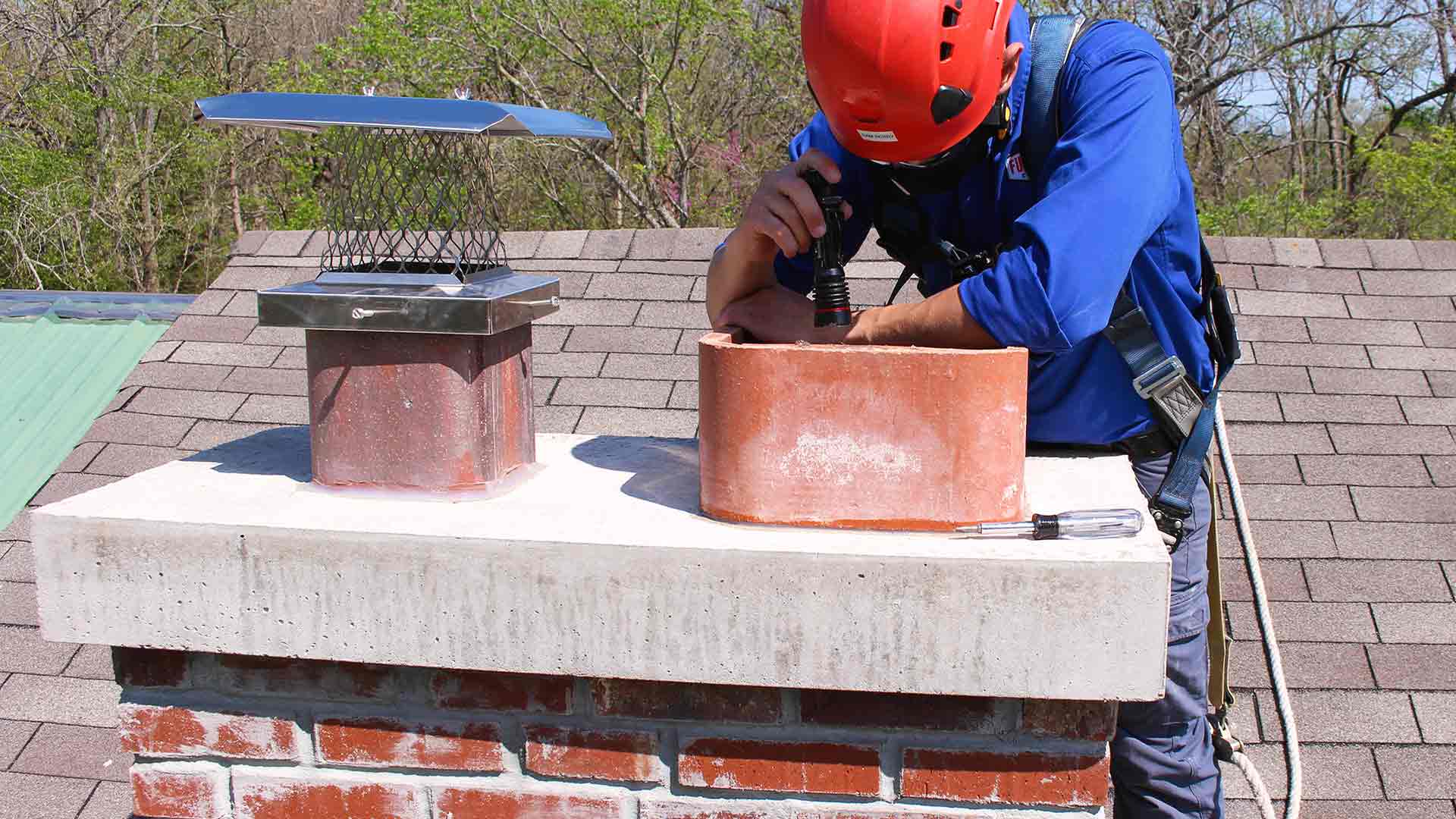 Certified Technician helps homeowners review and understand the results after their complete fireplace system was inspected. 
Evaluating Brick-Masonry Fireplace Systems
Let's review what our company's technicians routinely encounter in our local area.  After receiving a referral, we visit the home to further examine the brick masonry system.
Here's a list of things home inspectors usually report need further investigation on masonry units:
If a chimney is visually dirty with creosote, an inspector often notes, "chimney should be cleaned by a certified chimney professional". It's good they point this out, because these items are important in the structure, as they are symptoms of bigger, more severe problems.
What's most important is that the new home buyers actually take that advice sooner rather than later! Whether you do or don't purchase the house, it could save you tremendously in the long run.
Evaluating Factory-Built Fireplace Systems
Home inspections done on prefabricated fireplace systems are different when compared to masonry units, but not by much. Prefab chimney structures typically have siding, stucco, or decorative veneer on the outside (exterior). On the inside (interior), the fireplace often has tile, marble, or decorative facing.
List of items home inspectors usually report need further investigation on factory-built units:
Rusty chase cover (or metal roof)
Broken dampers
Improper doors or screens
Creosote Build-Up
"Being a Certified Technician (and the son of a Master Chimney Sweep) I grew up in the industry. So it's EASY for me to see how much is missing from a home inspection report. The problem is that most people assume it's complete… not knowing they're about to buy a home that could need major reconstruction!

Looking at a reports checklist, it may APPEAR everything was investigated. Unfortunately, the unreachable parts of your system also need examined. My advice is to make sure to talk to your inspector and ask questions on all items in the report to determine your next steps!"

– Sam Berry CSIA #8617 | NFI #177060
BEFORE You Purchase a Home: Inspect All Fireplaces and Chimneys in the House
A responsible homeowner wants a functional and safe fireplace. Especially if you plan on using it to burn wood or gas for heat, comfort, or even just the pleasure of an ambient fire experience.
Even if you never plan to use the fireplace for burning (wood or gas), you'll still want the unit to be structurally sound overall. This ensures your system is watertight, free from major damage, and low maintenance. Which helps keep up the resale value of your home.
If you ever plan to sell your home, you'll want to have a Certified Sweep perform a Level 2 Inspection.
The Homeowner's Experience
When we talk to customers who recently purchased their home, a remark we often hear is: "Well, the home inspector said I just needed a cleaning…" Then they ask "can I do it myself?"
It's true they often do need a thorough sweeping, we don't recommend the DIY approach.  And it usually comes as a surprise that we actually require an inspection before a cleaning. (This is standard practice and will be true with all Certified Professionals).
When hiring a chimney company, if someone offers a cleaning without first doing an inspection, then you should check their credentials to verify they are indeed certified.
Check the CSIA's website for a Certified Chimney Sweep Near You.
A dirty chimney cannot be inspected properly until it's cleaned. A video scan of the interior flue liner is critical. This involves a camera on a set of rods pushed up through the flue. Inspecting each joint to ensure there are no gaps or holes. Inspecting the flue tile (masonry units) or stainless inner piping (prefabricated units) for cracks, dents, obstructions, etc.
Each inspection tells our technician a specific and unique story. How it was used, was maintenance kept upon, was it built correctly, are their hidden combustibles warped from heat exposure, and sometimes we can tell if the chimney has suffered a flue fire.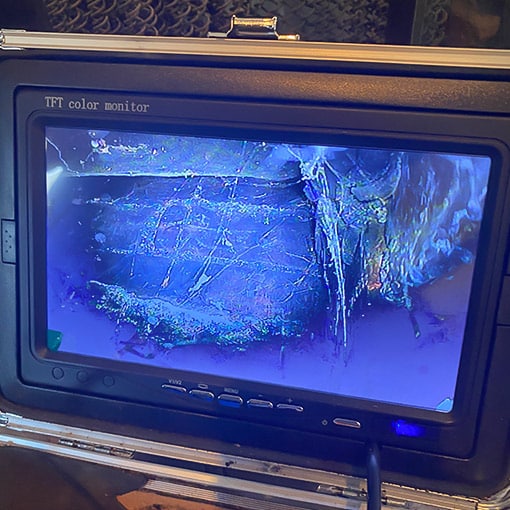 Do Home Inspectors Check Chimneys or Fireplaces?
Yes and No.
The typical home inspection report will tell you if a fireplace needs cleaning or if there's visual damage. But it's not revealing anything more than the obvious damage that you could often see with your own eyes!
Most home inspectors document what they observe and then recommend cleaning if it looks dirty.
This minimal assessment of a fireplace does not detect any unseen issues hidden in areas that people cannot see without the proper equipment. 
These are things that, when undetected, can lead to major problems down the road. We're talking about big problems like leaks or fires. Then insurance companies get involved, and that's never fun for anyone.
Using high-resolution flue scanners, a CSIA Certified Chimney Technician can show you the inside of the system and detect these little issues when they're small, helping you prevent major problems from happening in the future.
After inspecting your fireplace, our Certified Inspector will review high definition footage of the inside of your chimney system so you can see the complete picture and ask any questions.
How Our Fireplace Inspectors Can Help You
When a Full Service Chimney™ specialist inspects a fireplace (and its entire internal flue system ), we are fully aware of the consequences and risks involved with unsafe or improperly installed components. It's in our best interest to make sure you understand your system's true condition and, when needed, the options available for repairs or improvements.
Even if you are not buying or selling your home, choosing a CSIA certified professional to inspect your fireplace system is very important to know if it's safe to use, fully functional, watertight, and structurally sound.
If you're in our local metro area, then call us today at 913-642-6171. Our service is based in Johnson County, but we serve a variety of KS/MO locations.