Two of our
CSIA
certified chimney technicians, Zack and Sam arrived at our customer Jeff's home in Prairie Village, Kansas. Jeff had explained over our original appointment phone call, that a HVAC guy had mentioned bricks collapsing inside a chimney in Prairie Village Kansas. After we arrived and set up a ladder, we had quite a surprise when we reached the top. The crown was actually broken inside the chimney! Not only that, but the bricks that were falling into the fireplace were actually the clay flue tiles from the flue liner. The top 5 feet of flue tile was broken and some of it was missing. The pieces missing were extremely large so it made us wonder how much of the clay flue tiles had collapsed into the interior of the chimney and firebox prior to our arrival. We finished our thorough hands-on exterior inspection and then moved on to the closed circuit Level 2 camera
inspection
on the interior of the fireplace and chimney. During our careful high-def video inspection, we noticed multiple cracks and gaps suggesting a chimney fire may have occurred. We look forward to helping this customer with the repair work to install a new stainless steel liner system and new freshly poured concrete crown reinforced with rebar.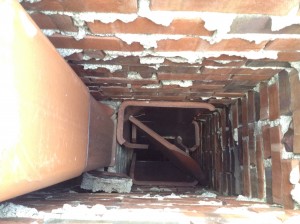 The interior of a brick chimney and the damaged clay flue tile as seen from the top of the chimney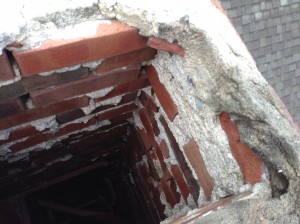 The damaged and missing concrete crown missing at the top of the chimney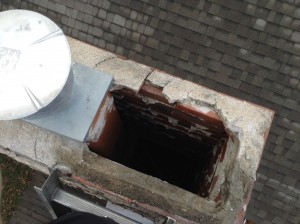 Our Full Service Chimney technicians found a damaged crown and missing clay flue tiles.