If you're searching for home improvements to boost your house value, then you're likely either considering putting it on the market or want to live more comfortably. Whatever the case may be, you've come to the right place.
When hearing the term "home improvements," it often comes with negative connotations such as major financial and time expenses, dusty and dirty messes, and an abundance of stress. While those are the experiences for many homeowners, that doesn't have to be the experience for you.
No matter your budget, home size, or renovation experience levels, there are many simple home improvement projects that will yield you a high return on investment.
In this blog post, we will concisely break down the costs, benefits, and required skill levels for eighteen area-specific projects that will quickly improve the look and value of your house!
Follow the table of contents below to easily navigate through the sections that interest you.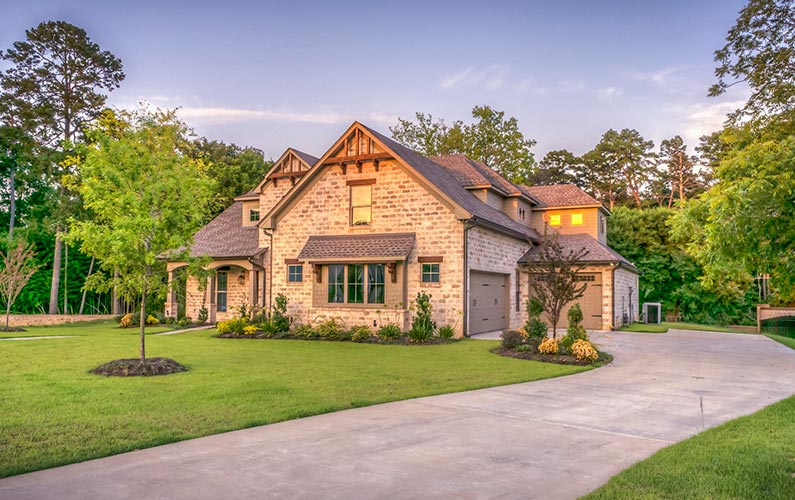 The term "curb appeal" refers to the exterior attractiveness of a listed home when viewed from the street.
Why is curb appeal so important? Simply put, it's the first impression for many homebuyers. What they see on the outside is a good indication of what they'll see inside. The old saying, "you can't judge a book by its cover," doesn't apply in the case of home buying.
Your house's exterior needs to look as good as it possibly can. And in this section, we'll detail three cost-effective ways to achieve that!
Low Maintenance Landscaping
Skill requirements: DIY
Cost range: $150-$400
Upgrading your landscaping is an easy way to improve your house value and exterior look, even on a budget.
Consistently watering your grass, weed-eating, removing dead vegetation, and mowing are a few of the primary ways to achieve an attractive yard. But one way to take it to the next level is by building a flower bed near the front door.
Planting bright and colorful flowers, plants, and mulch will help attract the attention of people driving by. And it's easier than you think! This great "how-to" blog from Better Homes & Gardens demonstrates multiple ways to build a beautiful flower bed. 
Power Wash the Outside 
Skill requirements: DIY or Professional
Cost range: $75-$275 for one-day rentals
Power washing your house will instantaneously improve curb appeal!
If it's multiple decades old, then the house exterior likely isn't as bright and shiny as it was at its inception. Over the years, your home's siding will collect stains and dirt, become discolored, and the paint on it inevitably will chip and peel.
Power washing the siding provides it with a fresh and youthful look again. You can also use it on your sidewalks, pavement, or deck. 
Be cautious when operating a power washer on your own. As detailed in our efflorescence blog post, ignorantly operating this equipment will quickly become dangerous. This fantastic article by The Family Handyman breaks down the proper cleaning techniques, maintenance, and operating procedures for power washers.  
Have Your Trees Trimmed 
Skill requirements: Professional
Cost range: $200-$600
Tree trimming is another instantaneous improvement and practical ROI project.
Having your trees trimmed is like getting a haircut. When you put off cutting your hair for a while, you become overheated easier, it gets in the way more often, and in most cases, you don't look as good as before. It's the same with trees.
Servicing them every 2-3 years allows more effortless airflow, more light, increases lifespan, and restores its natural beauty.
You can do this home improvement project yourself if you have only a few trees, but leave it to the professionals if the job is excessive.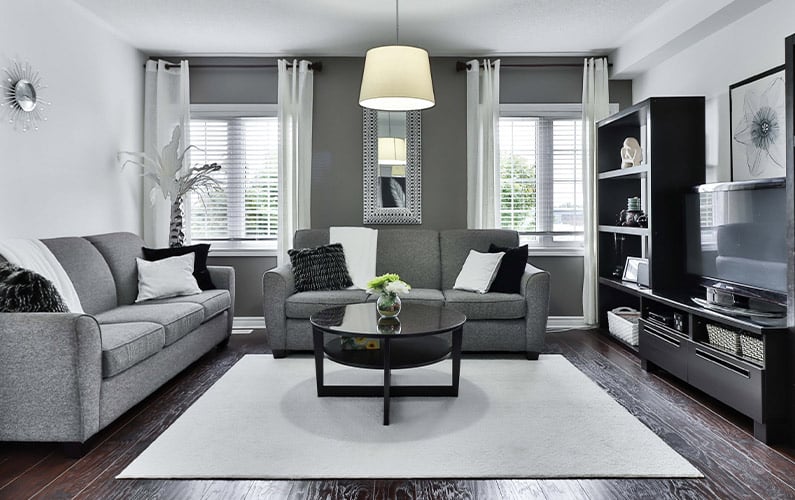 We talked about instantly improving the outside of your home, now let's talk about the inside.
If you want to add square footage and make things feel fresh again quickly, you need to roll up your sleeves and get to cleaning!
Declutter Your House 
Skill requirements: DIY
Cost range: $0
Let's face the facts: Many of us have WAY too much stuff. Whether it be clothes, blankets, sports memorabilia, or Knick knacks you bought at a neighborhood garage sale, it's easy for these things to become cluttered and pile up over time.
Some of the clutter may even be due to too much furniture, picture frames, or home decorations. Either way, homebuyers will be more attracted to a house that feels open and free.
Prioritizing, rearranging, and packing up unneeded things is a great way to declutter your house.
Donate, Sell, or Throw Away Your Junk 
Skill requirements: DIY
Cost range: $0
Once you've taken control of the clutter throughout the house, you need to decide what to do with it.
If you genuinely want to keep specific items, neatly organize them in a storage area. But for the junk items, another great option is donating what you can to your local Salvation Army or Goodwill. Of course, you can also make a few bucks by selling them online or at a garage sale.
Rent a Carpet Cleaner 
Skill requirements: DIY
Cost range: $30-$60
It's never a bad idea to deep clean your carpets. Unless you are the world's cleanest person, have no pets, and rarely go outside, your carpet will collect dirt, dust, hair, and stains over time.
Like power washing your siding, deep cleaning with a high-quality carpet shampooer will restore your carpet to its former glory. Plus, this helps remove any musty or dirty odors throughout the house, especially if you have pets.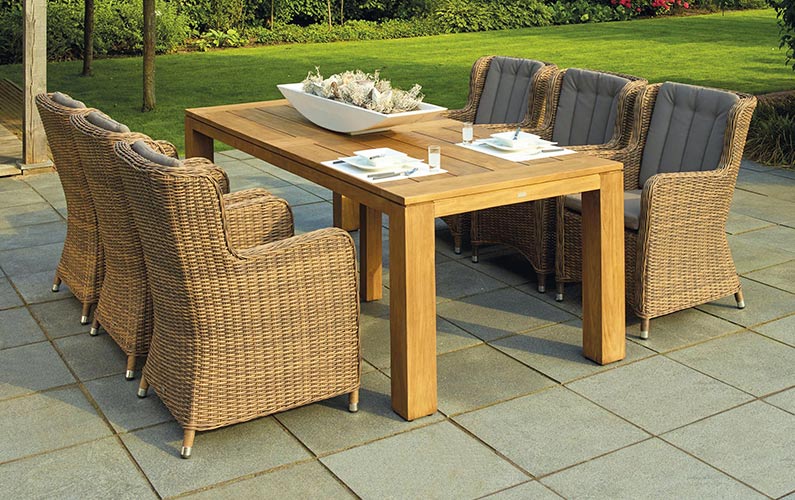 In an earlier section, we mentioned how homebuyers DO judge books by their covers. With that in mind, think of this section as one of the final chapters in your home's selling story. 
Say you made a great first impression by improving curb appeal. Then the homebuyers were impressed with the clean and updated interior. Finally, it's time to blow them away and complete the story by wowing them with a stunning outdoor area.
Install a Patio 
Skill requirements: Professional
Cost range: $1800-$6000
While this is a costly way to improve your house value, it will make a significant impact. The National Association of Realtors ranked it as the sixth most desired outdoor feature in their 2018 Remodeling Impact Report.  
The report also stated that 84% of the people were more inclined to stay home after installing the patio. In addition to these statistics, a patio serves as a gorgeous focal point for entertainment and relaxation in the backyard.
But we must insist an experienced pro complete this outdoor project. Professional contractors will complete the job safely, up to code, and ensure it lasts for many years.
Create a Seating Area 
Skill requirements: DIY
Cost range: $600-$2000
According to numerous remodeling and realtor reports, while people heavily desire professionally built patios, they don't yield the highest ROI.   
So, if you want your backyard to impress homebuyers for substantially less money, consider staging an outdoor seating area.
Comfortably and creatively organize patio furniture, grills, side tables, and fire pits. This outdoor entertainment area is a great way to show off your home's potential while also achieving an attractive focal point.
Build a Deck
Skill requirements: Professional
Cost range: $4000-$12,000
Building an additional wood deck is undoubtedly an expensive and time-consuming home improvement project; however, it yields the fourth-best ROI according to Remodeling magazine's 2019 Cost vs. Value Report.
According to the report, you will recoup 75.6% of your money. But if you consider the improved curb appeal, increased square footage, and aesthetic beauty of the deck, the ROI is worth far more than that.
When a potential buyer sees this professionally built deck, they'll see a space filled with endless possibilities with their friends and family in the future.
Kitchen and Bathroom Home Improvements
Kitchen and bathroom home improvement projects are popular choices for improving house value. And for a good reason, minor kitchen remodeling is listed as the third-best project for ROI at 80.5%.
Bathroom remodeling isn't in the top ten for ROI, but you can replicate these home improvement projects in your bathroom if it needs a makeover as well. 
Replace Your Countertops 
Skill requirements: Professional
Cost range: $1500-$4000
Many homebuyers prioritize the kitchen as the most crucial area of the house. This means their first impression of the kitchen could be the deciding factor in whether they buy or not.  
Hiring a professional to install new counters is a fantastic way to impact the look and value of your kitchen. Various materials are available, but granite and quartz countertops provide a modern and clean look popular in most contemporary houses. 
Paint Your Cabinets 
Skill requirements: DIY
Cost range: $100-$300
Painting your cabinets will give your kitchen a valuable facelift for minimal cost! Most homebuyers are attracted to a modern style home, so it's best to use white paint and chrome or gold hardware.
If you're new to painting, read through this excellent blog post! The author slowly walks you through the entire painting process with great detail. 
Add New Faucets 
Skill requirements: DIY or Professional
Cost range: $95-$300
The addition of updated faucets is another impactful kitchen home improvement project that won't break the bank. While installing a singular modern style faucet doesn't seem like much, sometimes, it's the little things that make the most significant difference.
While this is a visual improvement project, careful installation is imperative if you do it yourself. We understand that hiring a contractor is a pain at times, but it at least provides you peace of mind knowing that your faucets and plumbing are safe.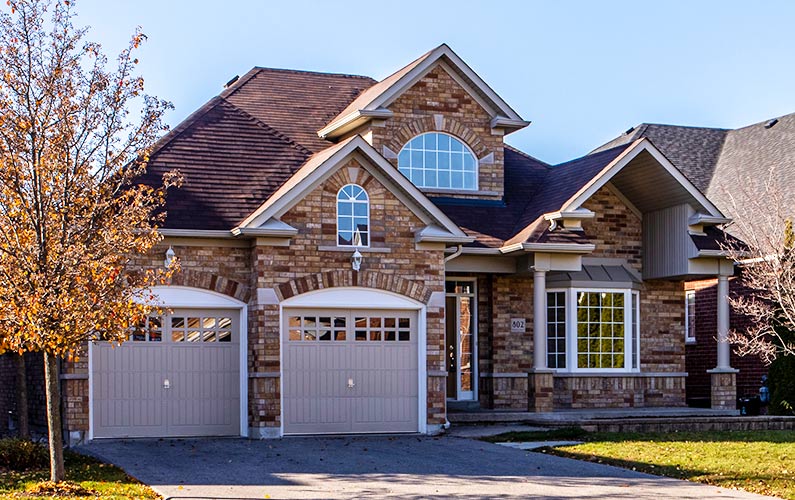 Believe it or not, your garage is a major factor in the house buying and selling process. Many see it as no more than a storage and parking area, but it's worth so much more. Stop neglecting your dirty garage; use the three projects listed below to unlock its hidden potential!
Install a New Garage Door 
Skill requirements: Professional
Cost Range: $800-$2500
According to Remodeling magazine's 2019 Cost vs. Value Report, replacing a garage door is the number one home improvement project for ROI, yielding a return of 97.5%.
Installing a new garage door is great for curb appeal, improves security, and lowers energy bills.
This is a relatively expensive job, especially if you have multiple doors. Still, by hiring a professional to install it, you'll know it will operate properly, and the house value will improve within a day.  
Paint the Garage Floor 
Skill requirements: DIY or Professional
Cost Range: $300-$3000
If your garage feels plain and dirty, then you should strongly consider painting the floor!
Use a neutral color with a shiny finish. Your garage will appear larger, brighter, and up to date. It will also feel so comfortable that you'll start seeing it more as another valuable room than a storage space.
We recommend investing in epoxy floor coating. It's more expensive than other options, but it will protect the concrete from cracks, stains, and moisture for multiple decades.  
Maximize Storage Space 
Skill requirement: DIY
Cost Range: $0-$350
On the topic of storage, garages inevitably become a catch-all storage area for many houses. Of course, that's normal, but the issue is, a messy and crowded garage is detrimental to its attractiveness.
Various functional factory-made shelves and storage containers will help clear up space. As mentioned in a previous section, getting rid of and organizing our junk isn't a fun process. But let's face it, a messy space of any kind won't impress homebuyers.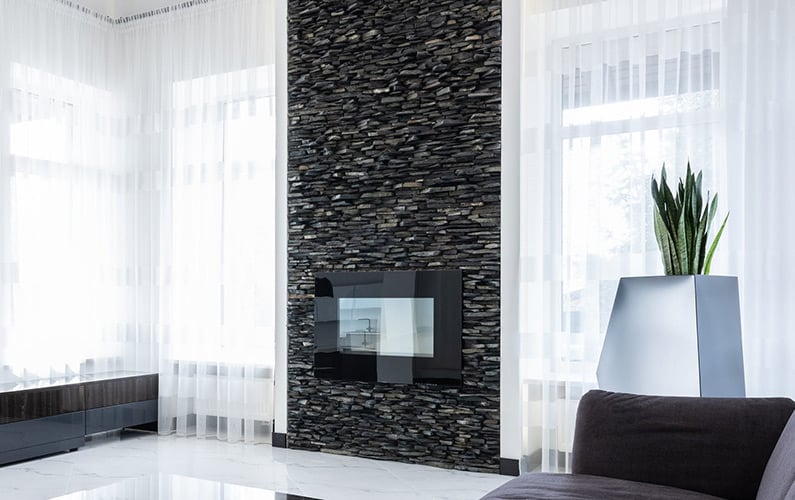 Upgrade Your Chimney and Fireplace
Those lucky enough to have fireplaces and chimneys in their home know that they're excellent additions with multiple uses.
Whether your fireplace is wood-burning, gas, or electric, everyone knows that the comfort of relaxing around a warm and bright fire is unmatched. But it's about more than just comfort and relaxation. Homeowners should also utilize fireplaces as a tool to safely save energy while improving the house exterior and interior attractiveness.
If your home has a working fireplace, then these home improvements will increase house value and safety for years to come.
Fireplace Facelift/Remodel
Skill requirement: Professional
Cost Range: $7000-$12000 (varies due to unique circumstances)
Remodeling your fireplace is one of the best ways to reflect your home's style and personality.
Considering people typically gather in the living room, one of the most trafficked areas of the house, a bland and outdated fireplace facing sticks out like a sore thumb.
Utilize a complete fireplace makeover as a method to find the perfect home ambiance and to create a natural focal point that will wow anyone who walks in your hearth room!  
If you're not ready to invest that much money into an interior design project, there are other ways to make the most out of that space. Check out our fireplace mantel decorating blog post to learn how!
Make Your Fireplace Operational
Skill requirement: Professional
Cost Range: $3500-$5500 (varies due to unique circumstances)
Flue liners are one of the most critical parts of the chimney system. Their job is to efficiently carry smoke and exhaust from the fireplace to the outdoors.
Chimneys without a flue liner draft poorly, allow more creosote to build up, and increase the risk of fire and harmful toxins entering your home.
Hiring a certified professional to install a stainless-steel liner will help keep the home and chimney safe for a lifetime. Whether you're planning to sell your property or pass it down to the coming generations of your family, the future owners of the house will thank you! 
Annual Chimney Maintenance
Skill requirement: Professional
Cost Range: $100-$450
 Whether you use the fireplace a few times a year or you burn wood weekly, the Chimney Safety Institute of America and the National Association of Realtors recommend that you schedule annual inspections and cleanings.
The chimney system is a complicated one that isn't ubiquitously understood. A certified chimney sweep ensures that the system is venting correctly and your home and family are safe from harmful toxins such as carbon monoxide poisoning.
Often, people purchase homes without realizing that the chimney and fireplace have major issues. For example, a common problem that goes unnoticed is chimney leaks. It takes a professionally trained eye to identify them, and if it goes too long without repair, it can result in thousands of dollars in damages.
Annual chimney maintenance ensures homebuyers that they're investing in a home with a fireplace that is safe and ready to enjoy from the moment they move in.  
Summary
Effectively adding house value doesn't have to be stressful for you mentally or financially! By carefully researching and implementing some of the home improvements to boost your house value listed in this blog post, your home will be sought after by many homebuyers once it hits the market.