Chimney Service in Mission, KS
If you're looking for the best Chimney Service in Mission, KS, then look no further. You've found the right team to help with all your fireplace and chimney needs! Whether it's an inspection, cleaning, or repair, a Certified Technician will be on every job site. Backed by a team of support staff ready to help you with everything chimney and fireplace!
We provide Complete Fireplace and Chimney Service to Mission, KS and surrounding areas:
Since 1987 Full Service Chimney™ has provided your local community with a large variety of services for all your chimney and fireplace needs.
Including Inspections, Cleanings, and Repairs such as:
We offer a variety of repair and installation services to Mission, KS and the surrounding area.  Our Certified Chimney Repair Technicians exceed the industry standard to provide our customers with the best experience and highest quality service.
The Chimneys & Fireplaces of Mission, Kansas
BY. ROBERT BERRY, OWNER OF FULL SERVICE CHIMNEY
With a rich history dating back to 1829, the city of Mission, Kansas, provides great examples of nearly every type of chimney that has been utilized within recent centuries. However, with impressive history, the need for chimney and fireplace care and maintenance ensures safe functionality and protects structural integrity. No matter what type of chimney you may have or what its age might be, the team at Full Service Chimney is here to help with superior repair and maintenance services. We look forward to helping you enjoy your fireplace year-round. 
Beautiful Homes & Hearths
The times and styles of the homes of the town of Mission are second to none in the Kansas City metro. The homes and hearths have a history that began before the town's construction boom of the 20s and 30s. Many of Mission's residences are over seventy years old. The chimneys and fireplaces that serve them were built before codes and standards established in later years. Though designed with the unique features common to the period, features like flue tile liners, refractory mortars, and necessary clearance to combustibles cause their fire worthiness to be questioned.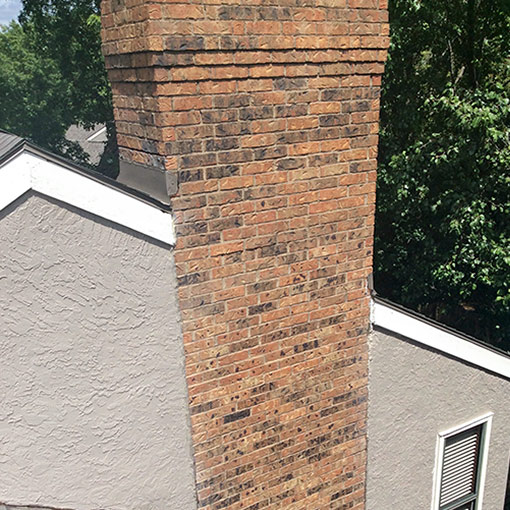 Sturdy Hearths, but Old Masonry
Many of the chimneys of Kansas City are in similar conditions to the ones found in Mission. The passage of time and spotty safety features requires that they are rehabilitated before they can safely serve families once again. Full Service Chimney has been repairing chimneys in the area for the past three decades. The hearths here are frequently rehabilitated with only a few adjustments of the safety features.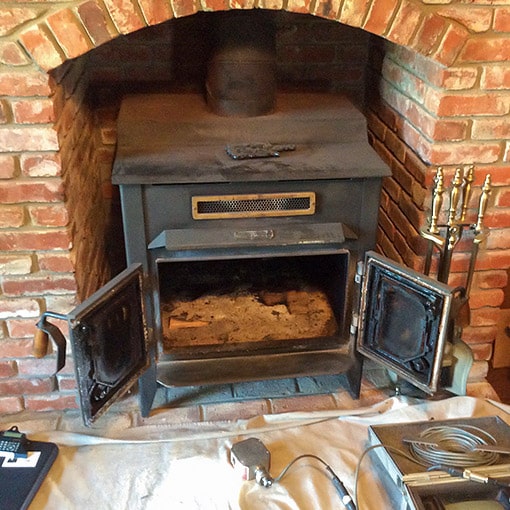 Repair & Restoration is an FSC Specialty
The furnace and water heater flues, for example, were built with a much larger appliance in mind. The repair is to return the passageway to its original gas-tight rating and size it to the more efficient ones the flues are now servicing.
The procedure of repairing these utility flues saves the chimney from damaging moisture exposure and protects the occupants from the toxin of carbon monoxide. Fireplaces in excess of thirty years old routinely need restoration of its clay flue liner and smoke chamber.
These fireplaces require properly sized liners to take the place of the deteriorated clay flue liners, and the smoke chambers are made usable with an application of high-temperature cement to ensure that smoke and fire stay in its place.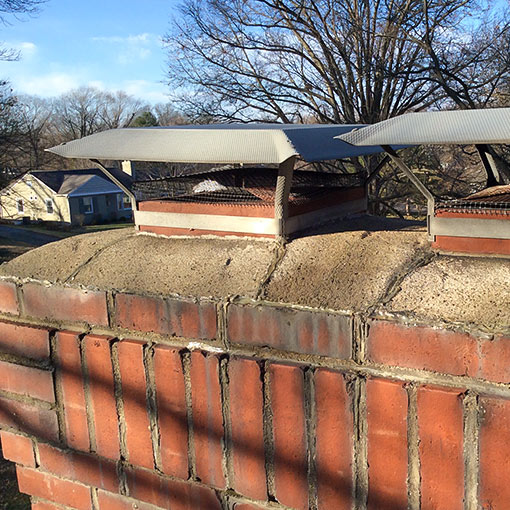 Crown Damage Needs Repair
Trust Us with Your Fireplace/Flue Repairs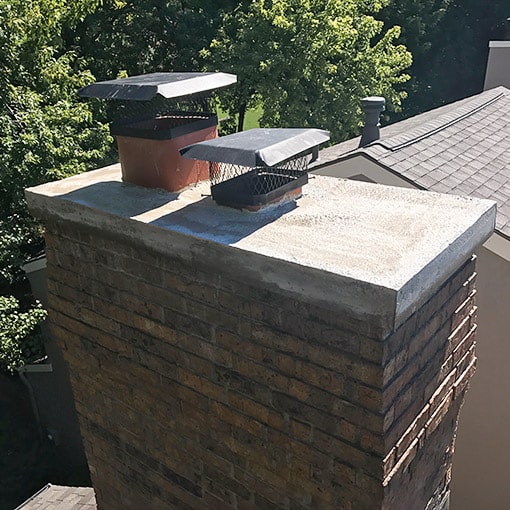 New Crown and Overhang by Full Service Chimney
Whether your home is only a few years old or a turn-of-the-century cottage, let Full Service Chimney be your one-stop resource for all things hearth and chimney. We are the chimney and fireplace experts. With a Full Service Chimney Certified Technician visit, you will understand what you have now and understand what options are available for your specific maintenance, repair, and remodeling needs. Take the steps many of your neighbors have and schedule a visit with us today! Call 913-642-6171. 
The Right Team to Help with all your Fireplace
Call now and speak with one of our CSIA Certified Chimney Sweeps.
Call us at 913-642-6171 
A Quick History of Mission, KS
Before the Kansas-Nebraska Act gave white settlers rights, the area that is now Mission was populated by small local tribes and the Shawnee tribe, which had relocated from Ohio. In 1829 a mission was built on the land that would serve as a place for religious and trade education for Native Americans. The Santa Fe Trail went through the area when the land was opened to pioneers and the mission became a popular place to stop for fresh water from the spring. In the 1920s, the family who owned most of the farmstead in the area sold off enough land to be subdivided into 245 lots for development. This new subdivision was called Mission Hill Acres and had its own small community by the 1930s.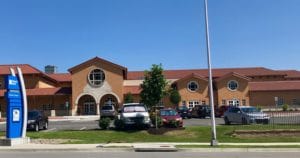 The name was shortened to Mission in 1938. As an outskirt of the Kansas City area, urban sprawl created growth after World War II into the 1970s. Though the town rests on a modest 3 square miles, it is home to over 9,000 people. Residents enjoy quality schools through the Shawnee Mission School District, a downtown shopping and dining district, and unique housing options throughout the city. 
Your Mission, Kansas Fireplace Repair Professionals
Full Service Chimney inspects, cleans, and repairs Mission chimney's daily… as we've done for over 36 Years!