Read a brief history of Full Service Chimney. The company, its owners, and the growing team it is today.
Full Service Chimney was founded in 1989 by Robert and Mary Jo Berry. Both raised by World War II Vets, they feel a duty to serve. They combined a mutual interest in community with a service business that aims to keep local residents cozy and safe year-round.
Our team's mission is to provide superior service and that's kept Full Service Chimney clients happy and satisfied for over three decades. 
The Full Service Chimney difference is seen in the way we treat one another and our customers. Courtesy, professionalism, and craftsmanship are the standards to which we hold each other accountable.

Once a person puts their faith in us, we view our responsibility to them very seriously. Robert often expresses "that it is the people we help, who allow us the opportunity to have a professional livelihood, that drives our business."  It is the focus on helping our customers that constantly push us to improve our company with education, safety, and technology while using clear communication and repeatable processes to ultimately benefit our loyal clients.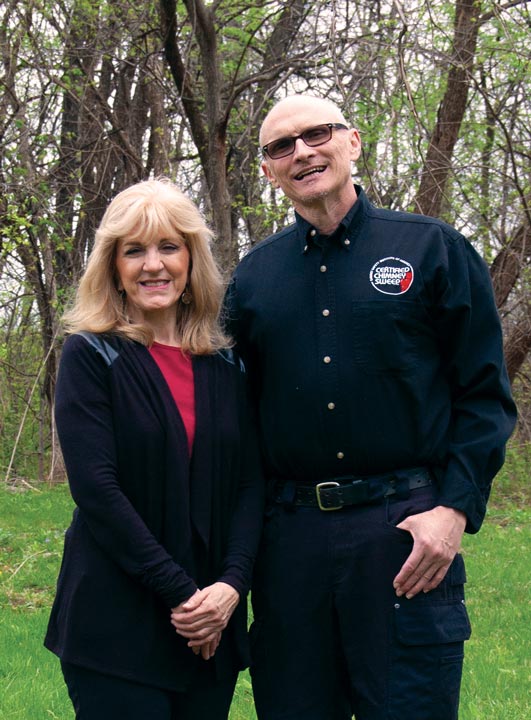 Education is and always has been a high priority at Full Service Chimney. Robert, who was the first to pass the riggers of the CSIA's Certified Chimney Sweep program in Johnson County, requires this level of certification plus additional training not only for himself but also for all our lead chimney technicians who visit our customers. We've added safety measures to improve not only the health and well being of our employees, but protection for the homeowner's property as well.
The focus doesn't stop with education, certifications, or safety. Attention is also given to how we serve our customers. Mary Jo made it a point from the beginning to schedule appointments courteously, allowing first Robert and now all our inspectors, time to carefully explain to each customer the unique nuances of their chimney.
We've incorporated technology to help us show customers our findings with pictures, videos and electronic reports specific to their home. This allows our customers to make informed decisions.
When our customers talk to us about their chimney needs, we listen! Our goal with each visit is for our clients to feel like they've been heard and to have a good understanding of what is happening every step of the way.
The process begins with the first call to our office. We aim for seamless communication from the start. Which is only possible with a powerful team. No longer just Robert and Mary Jo… now a whole tribe of men and women with families, who want to work for a company whose motto revolves around serving good people and helping each other, with no one prospering at the expense of the other.
"We Look Forward to Serving You"
Robert & Mary Jo Berry – Owners of Full Service Chimney